Someone Made Off With a 1,000-Pound Chicken Statue in North Carolina
It's valued at $1,100.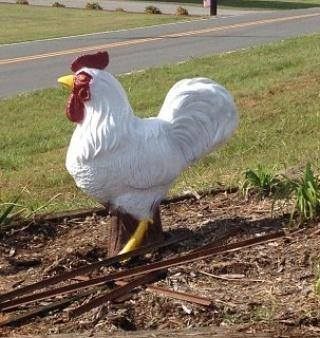 In a bit of foul play, a statue of a chicken was stolen over the weekend in Alexander County, North Carolina.
The statue, seen above, weighs 1,000 pounds and is said to be worth $1,100, according to the Alexander County Sheriff's Office. 
It was taken by an unknown thief or thieves overnight between Saturday and Sunday.
It's three feet tall and made of concrete, and while the base was recovered not long after the theft, the bird itself is still missing. 
Perhaps more mysterious is why the chicken statue existed at all. The Statesville Record & Landmark named the owner of the statue as Pete Gilleland, who did not immediately respond to a request for comment from Atlas Obscura. 
But the world needs more massive, unnecessary chicken statues so if you know where the statue is or you are in fact the thief, please return it. Thank you.