In This Mexican Town, One in 5 People Is a Glassmaker
Chignahuapan is famous for its handmade ornaments.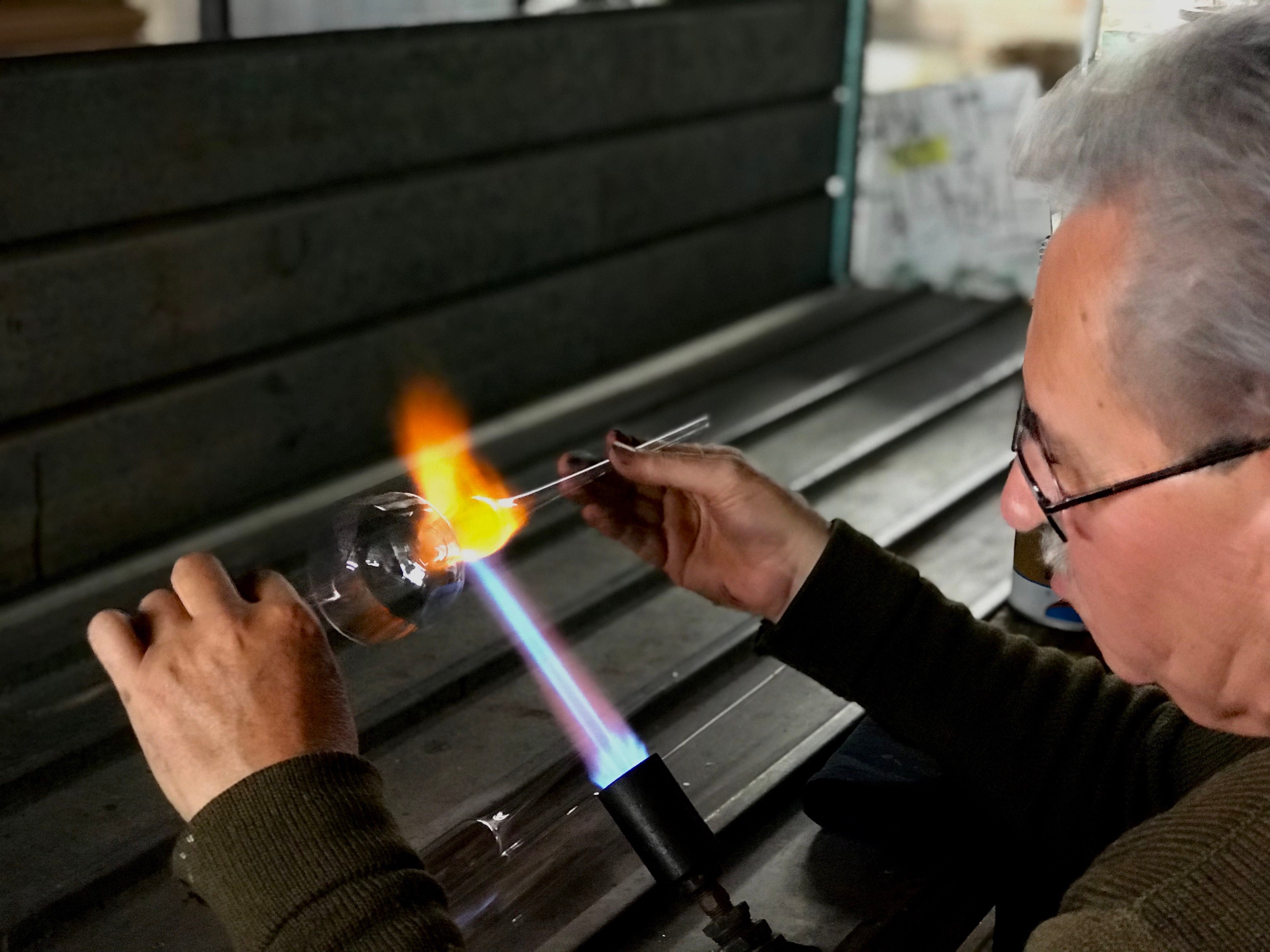 In October every year, a 213-foot synthetic Christmas tree is raised in the small pueblo of Chignahuapan, Puebla, about three hours east of Mexico City. The tree, adorned with lights and esferas—what all of the nearby shops call ornaments—is so grand that the tip-top of it disappears into the blanket of fog hovering over the town.
While the fog is what gives Chignahuapan the nickname "Pequeño Londres," or "Little London," the town is well-known throughout Mexico for its powerhouse production of esferas, and for the skilled families of sopladores de vidrios, the glassmakers who make them. A sign hanging proudly near the town's open-air bus terminal declares Chignahuapan as "EL MUNDO DE LA ESFERA." This claim is borne out by the numbers: More than 400 artisans and workshops have taken up shop around the pueblo in the last 45 years, and that number, along with the volume of visiting tourists, is growing. Together, these craftspeople make a collective 70 million glass items per year.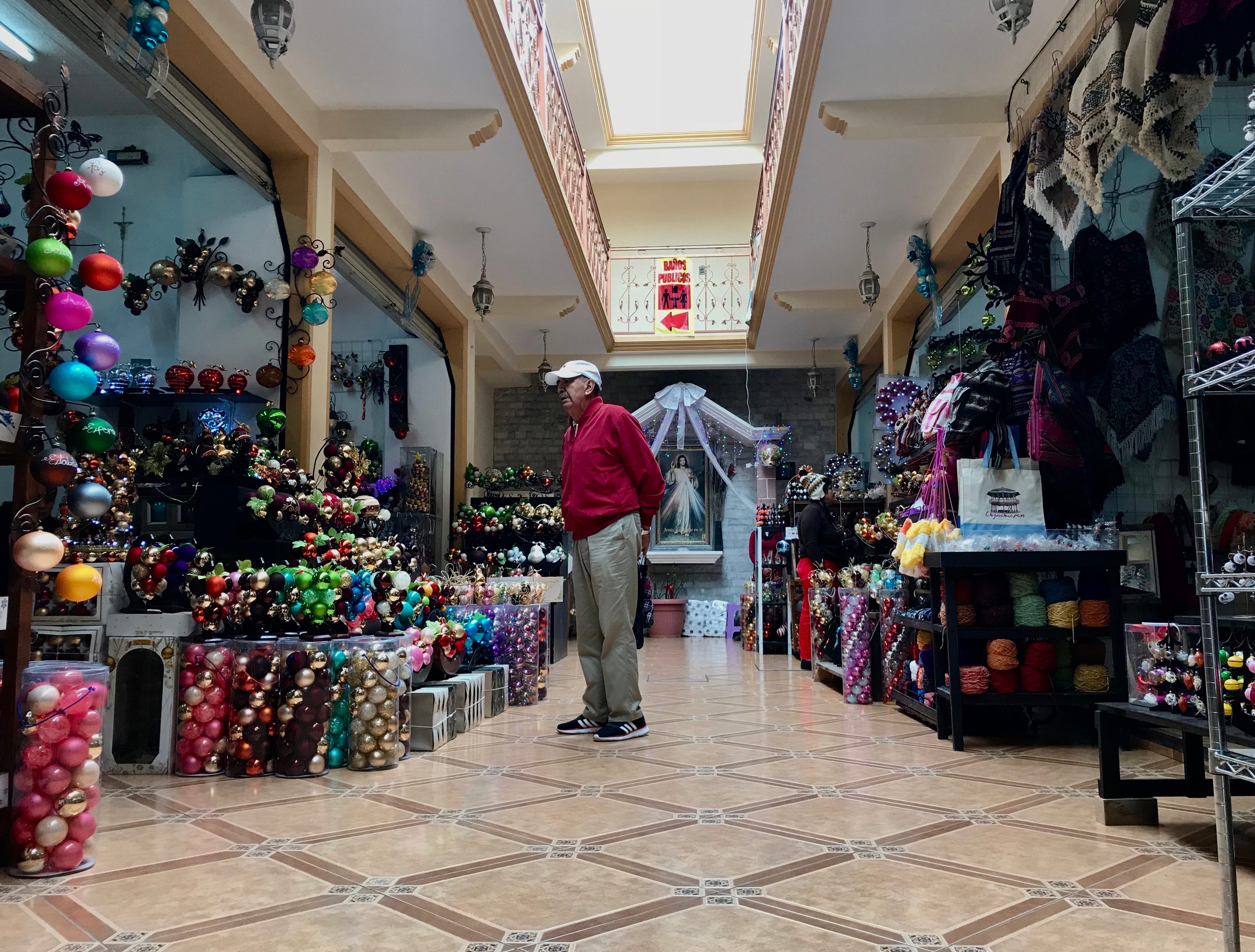 "Every business has their own workshop," Fernando Muñoz says in Spanish, as he pulls into a car-packed driveway on the outskirts of the city. Nearby, cows graze freely in backyards, and hens run through rain puddles in clay-colored roads. "Every single one of us has our own style." He walks past a wall of canaries for sale, pushes aside two big blankets, and the factory of Casa Muñoz appears: a miniature warehouse with hundreds of glass bulbs at different stages of production lying around. There's an AutoCAD machine, too. Muñoz has a storefront downtown, but the factory is all but hidden to the public.
Started by Juan Manuel Muñoz, Fernando's father, in the mid-1990s, Casa Muñoz is a typical representation of the glass factories in Chignahuapan, which generally operate 365 days per year in mostly the same manner. For one, all of the employees are family—Juan's wife Christina Reyes is the production manager and his sister Carmen runs the storefront. "All my sons know how to do this," Juan says in Spanish, as he runs a long glass tube over a blowtorch fixed to a long, assembly-line table.
Above him on a drying table sit chocolate-hued globes drying in a row like lollipops. Others sit in packaging filled with agave leaves. Not all of his products are spherical: Some resting nearby are shaped like bells or mushrooms. "It all depends on the ability and the quality one has to make things by hand," Juan says. "The techniques that one has. The creativity one has. And the difference between other globeadores."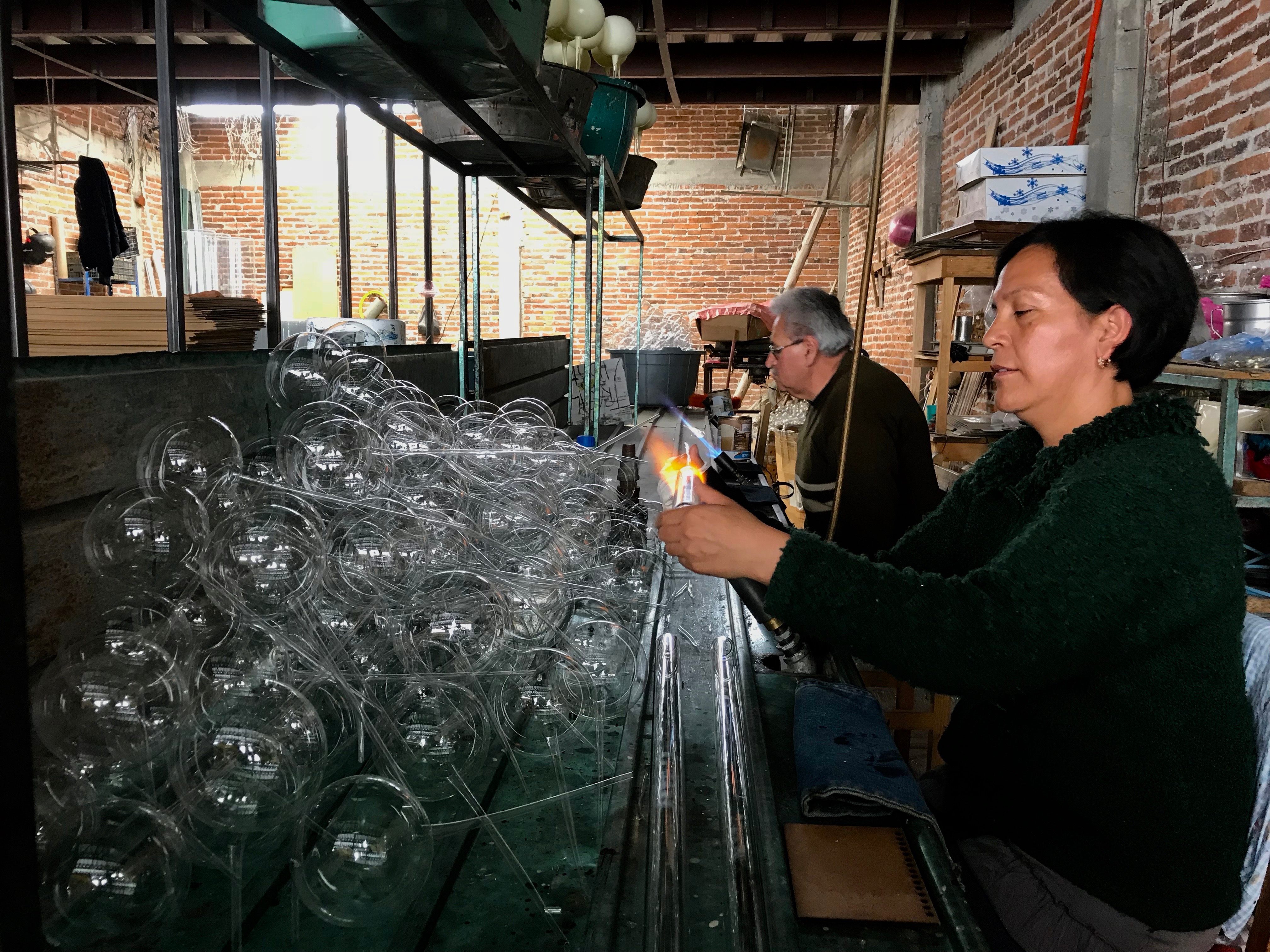 Juan never intended to become a successful globeador, another name for glassblower. He studied heavy machinery in his 20s, and worked as a mechanic for decades until a friend of his instructed him how to blow glass. That friend learned from a man named José Rafael Mendez Muñoz (the men have no relation), who brought the art and profit of glassmaking from the state of Michoacán to Puebla sometime in 1970.
Though Juan says José had others to assist him, José quickly became an emblem in his adopted pueblo through his talleres, or workshops, in the town's zócalo, or square. "He went from not knowing anything," Juan says, "to creating other factories. He learned well, and he taught well." José died in 2017 at the age of 76. (His family declined to be interviewed for this story.)
José's art awoke Chignahuapan's economy. Soon, one out of every five citizens became a soplador de vidrio. The government named the town one of Mexico's "Pueblos Mágicos" in 2012, and a tourist spike followed, along with buyers in bulk. In a region that is one of the most difficult for farmers in all of Mexico, glasswork gave townsfolk an industry with which to support their families.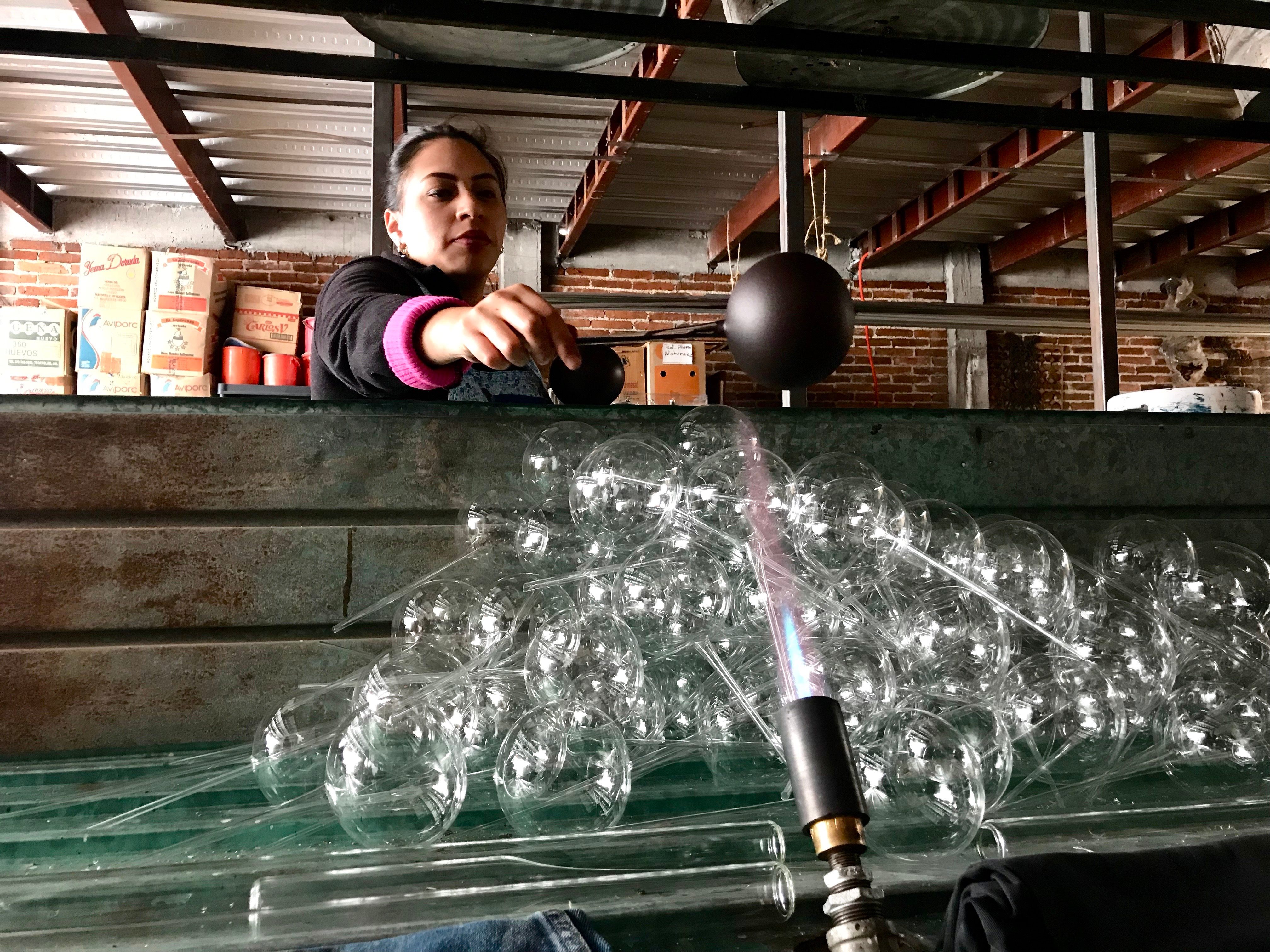 Josefa Reyes has been working for the Muñoz family as a soplador for the past seven years. Her daily quota is 400 bulbs. She makes enough money to send her two boys—both know how to blow glass—to a nearby university. "You need patience," Reyes says in Spanish. "You need to learn how to focus. You need time. You need to practice."
In 2010, Chignahuapan went global. That November, President Felipe Calderón selected a handful of sopladores, including Juan and his wife, to design and create esferas for St. Peter's Basilica in Vatican City. The Muñoz family created several hundred miniature silver orbs for the Christmas tree in the Chapel of Guadalupe. Mario Toso, the secretary of the Pontifical Council for Justice and Peace at the time, was so impressed by the work that he requested esferas for decorating his office in Europe. That season, Reyes recalls, reporters from TV Azteca and Televisa flooded Chignahuapan, seeking out secrets to the artisans' process. She was in awe. "The feeling was just beautiful," she says. "I felt so proud of my pueblo. To think that it all starts right here."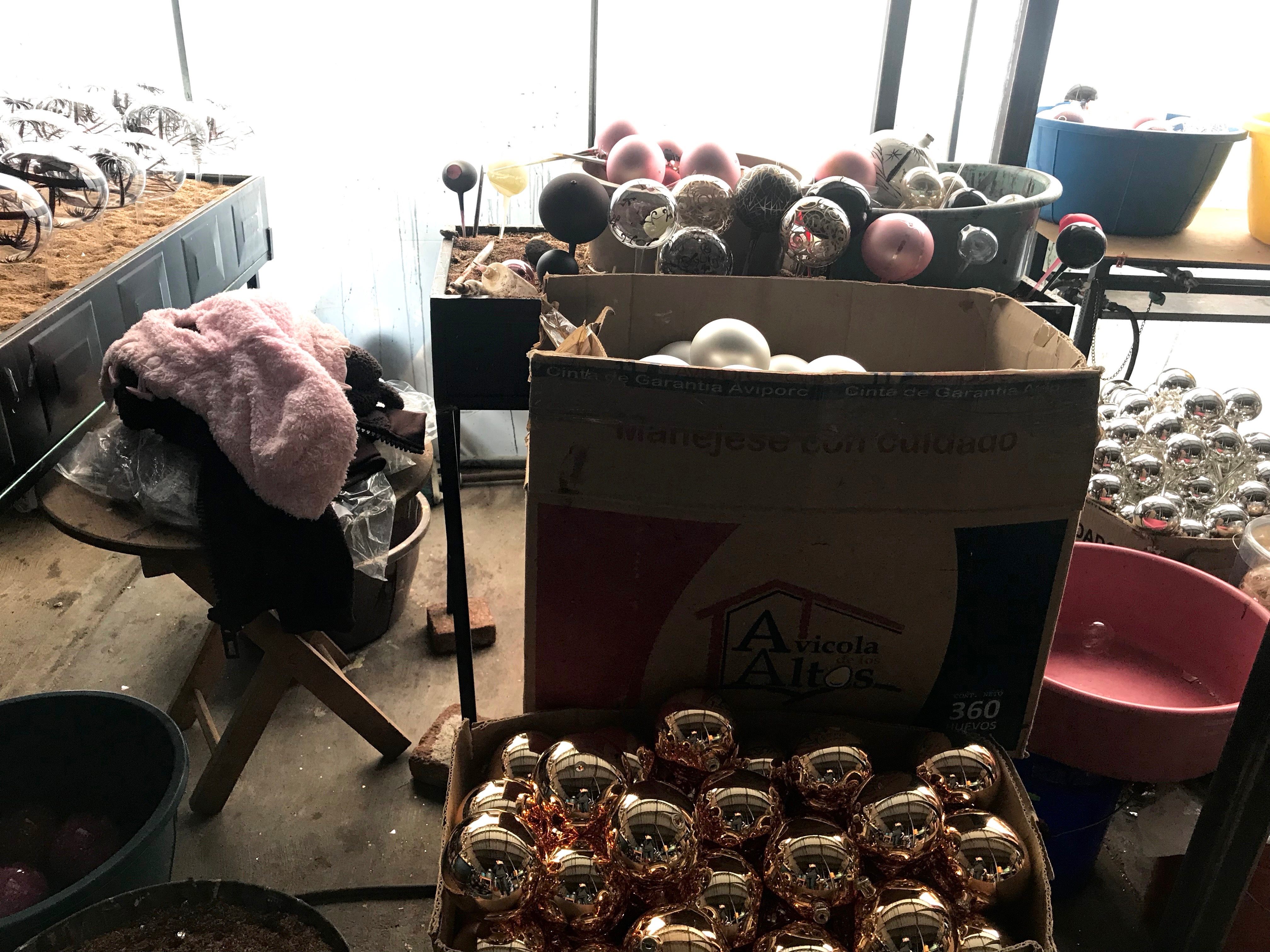 Like many artisanal goods in Puebla, shipping the esferas across continents poses profit risks ("They'll break," Reyes notes). Juan and his family do most of the cross-state deliveries themselves, packing dozens of transparent cylinders full of esferas into his minivan to drive to Mexico City or Toluca. They'll sell their wares for around 100 to 200 pesos—nearly twice as much as the cheap imitations spreading around the country. Juan is unfazed by these inexpensive mimics. "I've been doing this for 25 years now," he says, proudly. He walks over to a drying rack, and picks up a globe bearing the Three Magi, all of which he hand-painted.
"Don't forget," he says, holding one up. "No globe is the same. Every single one of these are different."