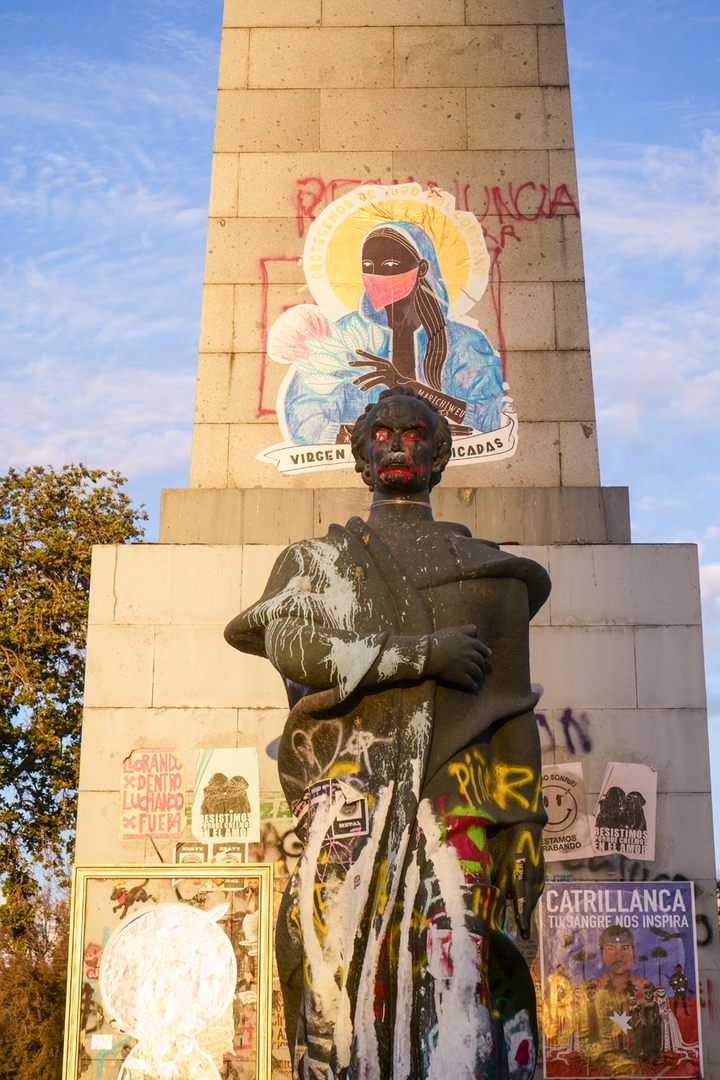 How Chilean Protesters Painted a New Story Atop Old National Monuments
Photographer Camilo Vergara has documented color, graffiti, and anger.
Front and center in a landmark plaza in central Santiago, Chile, stands an equestrian sculpture of General Manuel Jesús Baquedano González, a 19th-century war hero and politician. The plaza, which bears his name (and is also popularly known as Plaza Italia), has often been a site of gathering and protest. During the late 2019 civil protests that rocked the South American country, this symbol of its colonial past—Baquedano led conquests of the indigenous Mapuche people—turned into something else entirely. Protestors unofficially renamed the site Plaza de la Dignidad (Dignity Square), and set about redesigning the dull bronze statue. Color and graffiti were splashed across it—including the word "feminism" spray-painted across the horse's belly. Many other monuments received the same treatment during the civil protests, turning each of these staid, easily overlooked symbols into something between protest, cry of outrage, and crowdsourced public art.
New York–based photographer Camilo Vergara, who documented some of the Chilean monuments defaced during mass protests, saw graffiti expressing a wide range of emotions, from anger at the wealthy, the police, and the treatment of the Mapuche, to support for feminists and vegans. In this way, monuments became public message boards as well, full of proclamations and social demands. "Sculpture and monument have been used as a place of showing the conflict," said Luis Montes Rojas, a professor of the arts at the University of Chile, in an interview with El Pais. In some cases the graffiti is so thick that it almost obliterates the identities of the historic statues, and redefines them as something raw and new.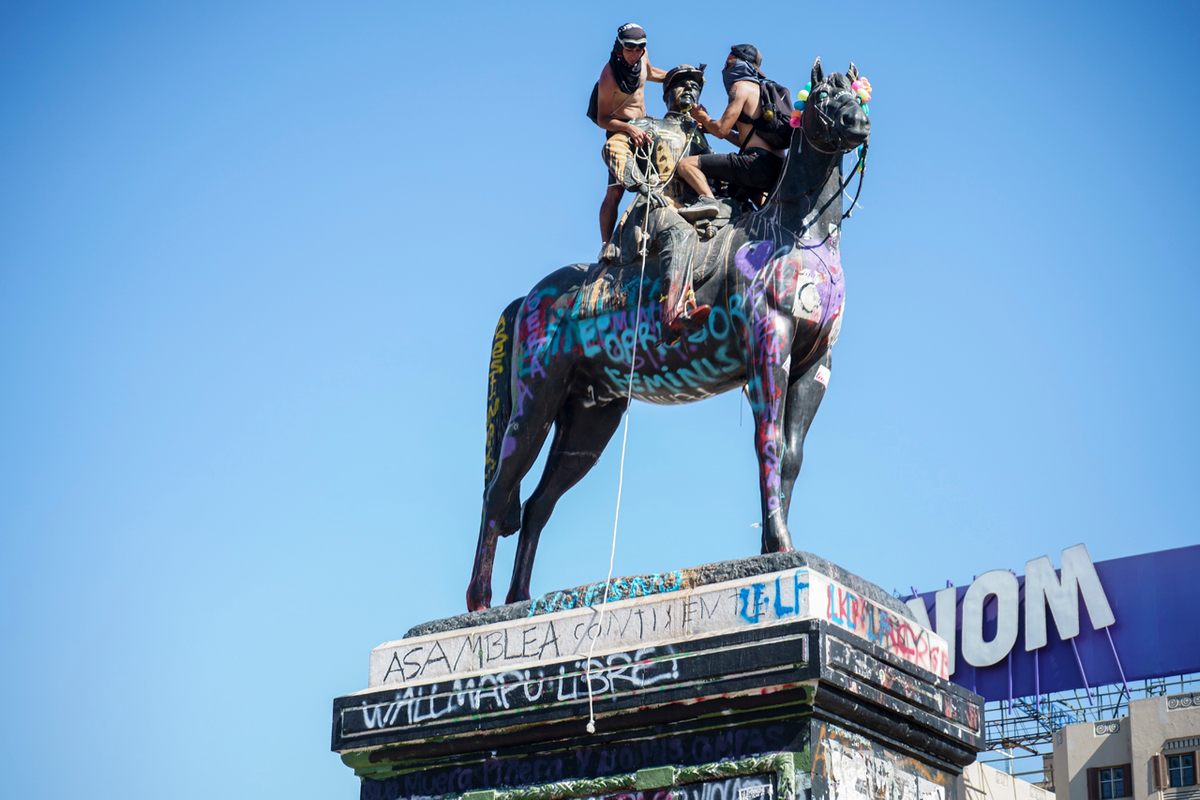 Atlas Obscura spoke with Vergara about what he witnessed in Chile, the importance of eyes, and monuments that were spared by protesters.
How long have you been documenting street art, and what was the first defaced statue you encountered in Chile?
I have been a documentarian of street art in the United States for 50 years. My illustrated essays depict and analyze what people in poor, segregated communities tell us through the words and images they paint on structures. Now I find myself observing and analyzing the eruption of images piling atop one another in the faraway nation of Chile, my birthplace. I arrived in Santiago in December 2019, some two months after the start of mass protests against a whole array of injustices that have rocked the nation's largest cities. People have been shocked by the unexpected burst of anger and violence that has left much of the country bitter and uncertain about its identity and future. My first encounter with vandalized monuments was with the 1949 statue of Presidente José Manuel Balmaceda in Santiago. The massive sculpture, erected to last forever, had its eyes and mouth painted red, and his greek toga had been sprayed with white and yellow paint. Glued to its base and obelisk, the monument had feminist and pro-Mapuche posters.
What did you find the most intriguing about the graffitied statues? The most meaningful?
There is anger and energy and a lot of red paint in the graffiti, which renders these once unseen and reassuring monuments disturbing. The most unsettling and pervasive of all the street images, and the one that I can't get out of my mind, is the image of a bloody eye socket. Its ubiquity is a reminder of the more than 220 demonstrators who lost an eye to rubber bullets shot by the police.
An icon of the southern city of Puerto Montt, a prominent statue entitled Sentados frente al Mar ([Lovers] Sitting Facing the Sea) on Avenida Costanera, symbolizes the current revolt. The eyes of the lovers are painted red and their faces are partially covered with black masks that recall those worn by protestors. Graffiti on the woman's arm reads, "There is no money to buy bread." In addition to bloody eyes, they have wounds from rubber bullets on their bodies. The statue has become a symbol of the revolt of disenfranchised youth, their poverty, their suffering, their love for one another. Robinson Barria, the sculptor, expressed the desire for the statue to remain graffitied.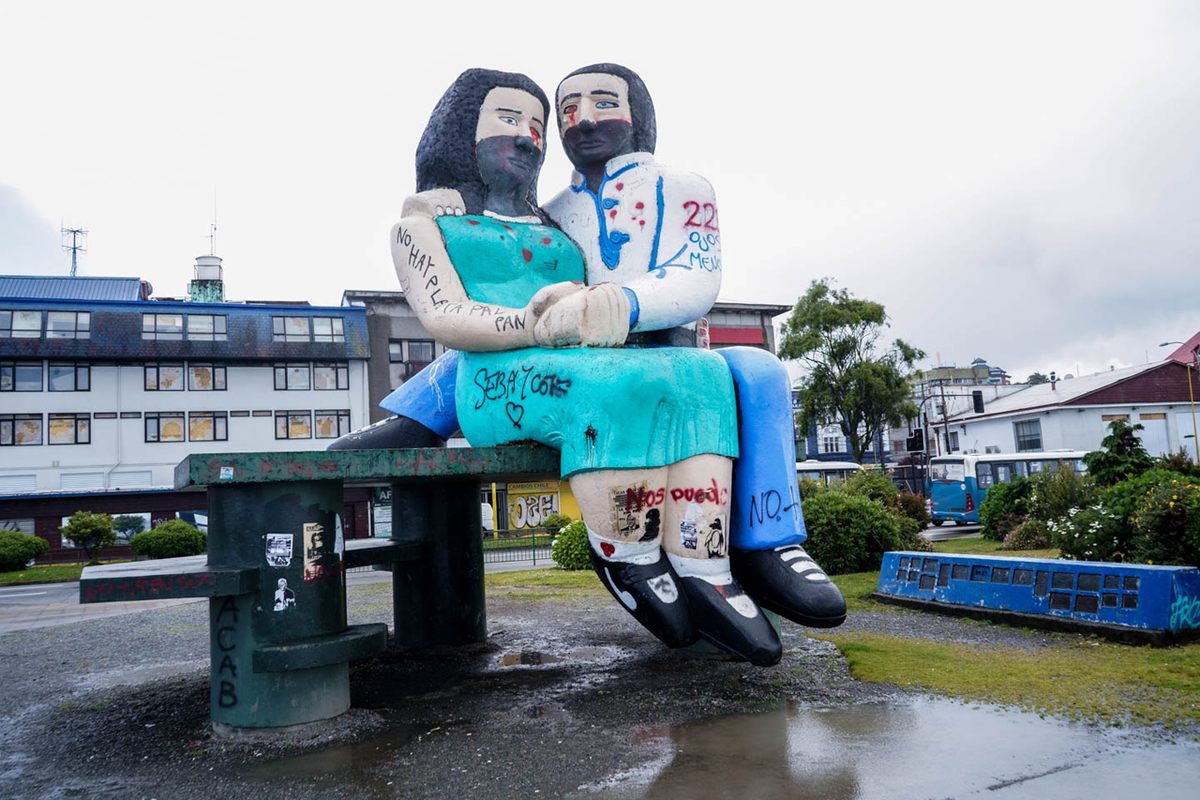 Were certain statues affected more than others?
Few statues and monuments in downtown Santiago and Valparaíso have been spared. Monuments such as the statue in Concepción of Pedro de Valdivia, the first royal governor of Chile, have been toppled and are waiting to be repaired or discarded, while many others have been almost completely graffitied-over after being unchanged for a century or longer. These monuments had become so familiar that people had forgotten who they represented and why they were there.
The protesters are selective, however. Statues honoring a volunteer fireman in Valparaíso and Santiago have been spared. In Valparaíso the 1886 monument to the Heroes de Iquique, "the pride of the republic," "the polar star in our southern seas," permanently guarded by armed marines, has not been touched.
The history of public monuments in Chile dramatically changed in 2019. In the 21st century, statuary has fallen out of fashion. I doubt that the most severely damaged pieces will ever be repaired. In 2020, these monuments in Chile's most-visited places stand as terrifying symbols of fear and uncertainty.