Contemplating the Eclipse With Sun Ra Arkestra
"We're going to bring the sun back."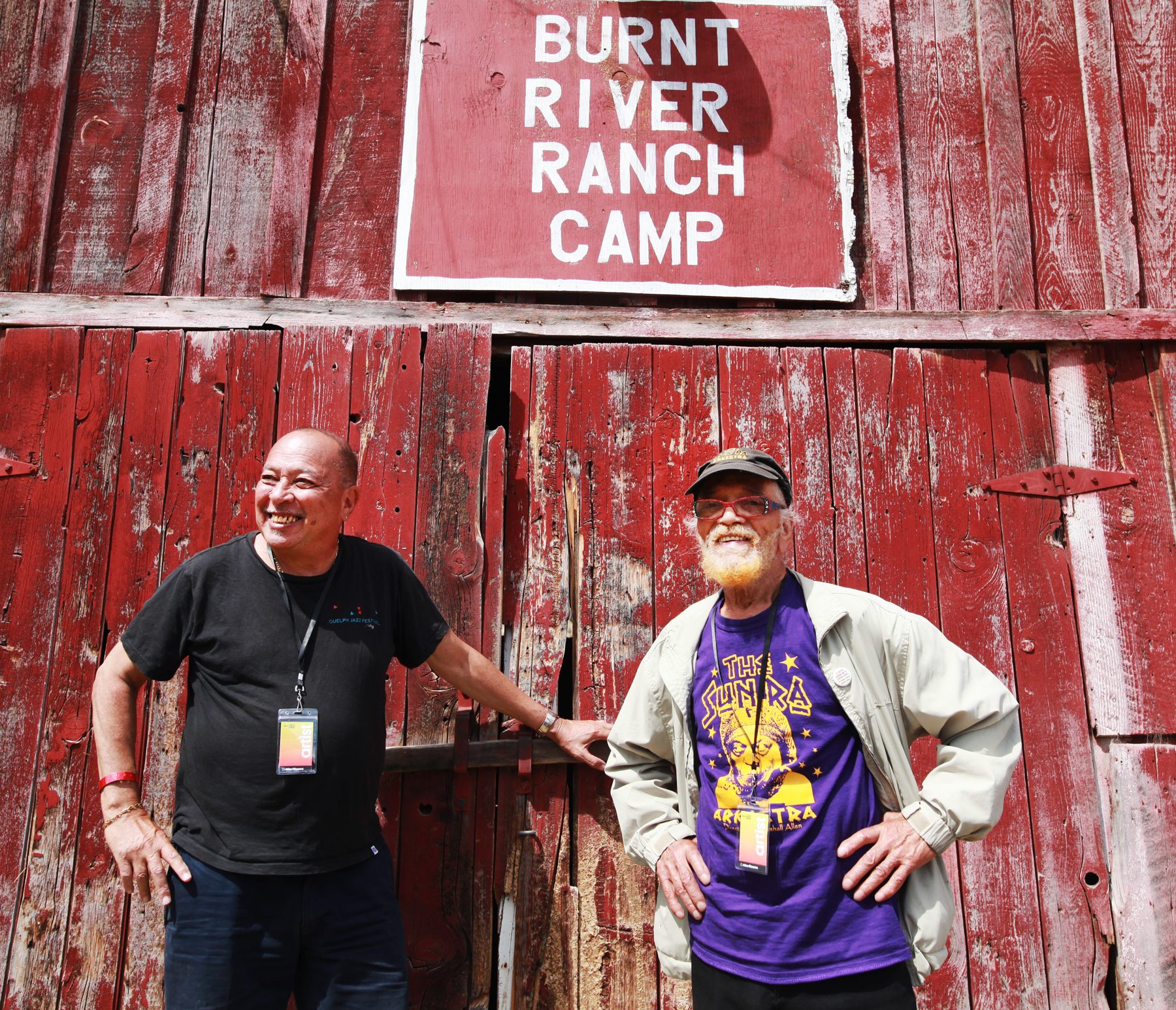 The Sun Ra Arkestra has always had a special connection with the sky. The ensemble's founder, Sun Ra, took part of his name from the Egyptian sun god, and in the 1930s, he experienced a vision of traveling to Saturn. The Afro-futurist band's repertoire includes tunes called "Space Walk," "Take Off," "Space Idol," "We Travel the Spaceways," and "Song of the Sun."
Even after Sun Ra's death, the band has continued on in the same path-breaking tradition. Atlas Obscura caught up with Marshall Allen, who joined in 1958, and Danny Ray Thompson, who joined in 1967, to talk celestial bodies before their headlining performance at this weekend's Total Eclipse festival in Eastern Oregon.
How did you each come to join the Sun Ra Arkestra?
Marshall Allen: There was good variety and sound that drove me to pursue that man and find out if I could get in. I went and met Sun Ra and did a lot of talking about the Bible and ancient Egypt and outer space and going to the moon. I was ready to play, I was only thinking about music. But he was a poet, you know. A lot of talking and explaining. It was something to learn, anyway, so I stuck with it.
Danny Ray Thompson: I met Sun Ra through Marshall… I saw these guys in a corner… there was a different vibe, different from anything I'd ever felt. Marshall was there, and he said, "Come on over," but I was scared. Finally I got up enough nerve, and I put up my hand, and everyone was like, "Hey." It was like, what was I scared of? It was Sun Ra. I met Sun Ra.
I went down to see them play. They started playing at 9 o'clock. I had to leave at 3 o'clock in the morning and they were still playing. I had never seen anything like that. It just blew me away. The next day, I'm knocking on Sun Ra's door. He said, "What do you want?" What'd he tell you, Marshall?
Allen: He said, "What'd you sent that boy over here for?" I said, "I didn't send him over, he followed me over."
Thompson: So that's how I got in the band. I kept going and going, and I eventually got in the band.
What's the relationship between the music you play and the sky, space, and other celestial elements?
Allen: Sun Ra was talking about outer space. Going to the moon. Sputnik, he was talking about going to the moon. All his songs are like that.
Thompson: We're here to bring out the happiness and show the people of this planet that there's something else out there than all the sadness they got out here. Because it's crazy out here now. Sun Ra was writing about this 40, 50 years ago. He was really ahead of his time.
What are some of the stranger places you've played?
Thompson: Cappadocia. We played in an ancient monastery, a 4,000-year-old monastery. We performed in Tuva, Siberia, where at that time, no bands were going. The Republic of Tuva is at the base of Siberia, near Mongolia. They were building a Buddhist temple that the Bolsheviks had blown up, or something.
How did you choose what you're going to play on the eve of the eclipse?
Allen: Through vibrations. It's the way I feel today. I feel what should be played. I hope I do it right, but I hope I do it right. Play music for everyone to get something out of.
We got our standard songs, so you usually play your standards, that people know. In between, you do some creative things.
When you think about the moon passing in front of the sun, what does that make you think of?
Allen: It's like one of his songs—the sky is a sea of darkness when there is no sun.
[Allen singing]
There is a sea of darkness
When there is no sun to light the way.
[Together]
When there is no sun to light the way
There is no day. There is no day.
There is only darkness. Eternal sea of darkness.
Thompson: The creator brought us here. He knew there needed to be somebody to bring the sun back. We're going to bring the sun back.
What do you think Sun Ra would have thought about the eclipse?
Allen: He was always thinking about that.
Thompson: We were just talking about that, I was telling Marshall, what do you think Sun Ra would have thought? He would have said, Let's do it fellows. They got us here to bring the sun back. We don't want the moon just to block it all out. The sun has to come back. This planet has to grow.
Anything else people should know about Sun Ra Arkestra as the eclipse approaches?
Thompson: We bring happiness.
Allen: That's what we do. We try to play what people need, not exactly what people want or like. Things you need to open the doors to other worlds. To enlighten the people that there are other worlds, we know not of, there's something out there.