What Makes Helado Negro's Tinsel Mammals So Mezmerizing
The musician performs with shimmery beings of a species not quite our own.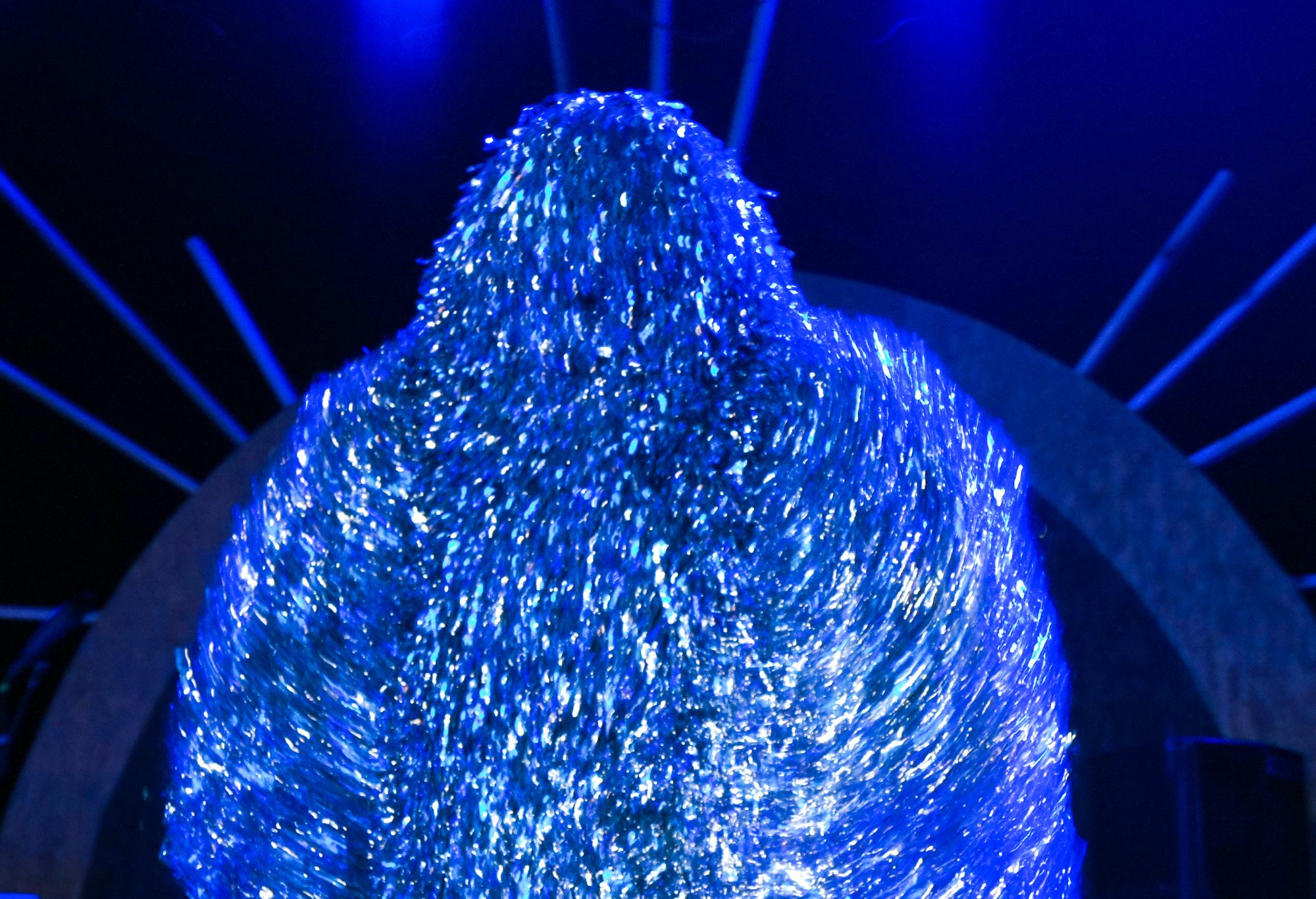 Four years ago, the musician Helado Negro started performing with "beings" that he now refers to as "tinsel mammals." Initially they were a practical creation, meant to make it feel as though stage was being fully occupied by Helado Negro's music, which Pitchfork has described both as "melodic and beautifully produced meditation" and "abstract sound sculptures." These days the mammals are an integral part of his performances—a unique set of back-up dancers, of a species not quite our own.
"I treat them as sacred beings," says Roberto Carlos Lange, the man behind Helado Negro.
When he came out on stage this weekend at Atlas Obscura's Total Eclipse festival, Lange brought with him two of these creatures. They have shaggy heads and arms, and dark, stick-like legs and feet. They are somewhat helpless, and after he guides them to their places, Lange whispers to them. Helado Negro's music can feel quite intimate, and the tinsel mammals come across like manifestations of thoughts taking shape—they are big and neither sharply defined nor formless; they attract your attention, and if it drifts away, they might have slowly shifted into a new shape by the time you look again.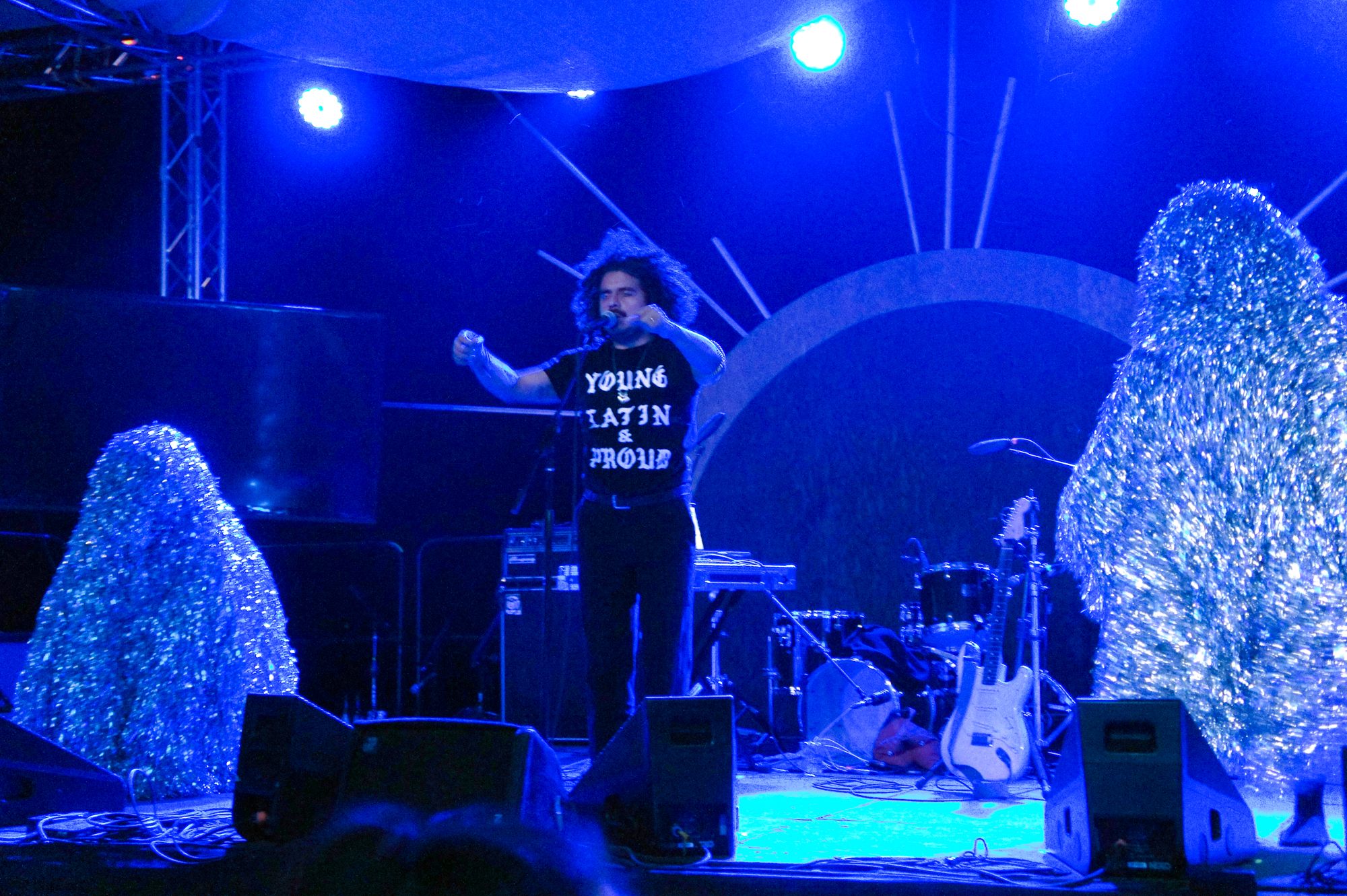 The tinsel mammals are a collaboration between the musician and the visual artist Kristi Sword, who has created eight of the costumes in total. Each one begins with boxes of tinsel, at least $500 worth. Sword deconstructs the original tinsel and reconstructs them onto a poncho. Though there is a person inside the costume, on stage, the tinsel gives the mammals a presence of their own, as their silver fur shimmers and waves.
In the first year of performing with the tinsel mammals, Helado Negro found volunteers to wear the costumes. He had a rough idea of what the mammals should do one stage, and as he toured from city to city, he would find people via Facebook, Twitter, Instagram, email, text messages, however he could, who were willing to "wear these crazy-ass costumes, on stage." Sword would perform inside them, too. For more than 80 shows, the tinsel mammals were portrayed by people who were excited to get inside the costumes. "It became really powerful for people," says Lange. "A lot of people want to perform but they don't want people to see them. It was exciting because of the anonymity."
In 2015, Helado Negro had a commission from the PAMM Museum in Miami that allowed Lange and Sword to develop the mammals further. Professional dancers began occupying the costumes and using their experience with movement to develop a choreography and visual vocabulary. It was the curator of that show, Emily Mello, who first wrote that the costumes were "mammalian tinsel beings."
"I remember thinking, 'That's so cool, they are like mammals, because they have people in them, but they're not supposed to symbolize or represent humans,'" says Lange.
Being inside the costumes can feel claustrophobic, says Sword; from inside, you can't see. But Lange and Sword have found that people have meditative, even cathartic experiences when wearing them. "They're sweating, it's hypnotic," says Lange. "They feel like, this is crazy, I've needed this in my life."
Like all beings, the tinsel mammals have evolved. The first one was held together with hot glue. Now, they're more efficiently crafted. When the first batch started wearing out, they tried to mend them. But eventually the costumes started to fall apart for good. "We made new ones, but he still has the old ones," Kristi says. Lange and Sword have been talking about the possibility of a residency where they could work together to explore other ideas and futures for the mammals. The next generation of mammals may evolve again, with the shimmery tinsel changing from silver to a many-colored coat.