The Easy, Edible Art of Lunar New Year Dumplings
Celebrate family and good fortune with these simple goldfish.
Come January and February each year, much of China's population gears up for the world's most massive coordinated migration. The Lunar New Year is traditionally spent with family, which means that millions of people across the country pack their bags and head home, a process known in Mandarin as tuányuán (团圆), or "reunion."
Growing up in a Chinese family, I was no stranger to this tradition. Though our Lunar New Year celebrations were relatively tame by Chinese standards, the 2-hour drive from our home in suburban New York to my grandparents' apartment in Manhattan's Chinatown was not without its rewards. As soon as we walked through the door, our palates were tantalized by crispy roast duck, ginger-and-scallion-laced carp, and towering tangles of noodles, each dish carefully selected for its auspicious meaning.
But even faced with our pick of luxurious mains, the highlight for us young ones was dessert. Among the many choices, perhaps the simplest and easiest to love are tāngyuán (汤圆), or literally, "soup balls": tiny rice dumplings with chewy, mochi-like wrappers and sweet fillings, served in a fragrant syrup. They may appear humble compared to the other items gracing the Lunar New Year table, but the fact that tāngyuán sounds like tuányuán ("reunion") was enough to earn the little dumplings a spot in the feast. (We Chinese love wordplay!)
Tangyuan are a classic Chinese dessert with an ancient origin. Their history can be traced back some 1,000 years to the Song dynasty, and they're often served at holidays, especially the winter solstice and the final day of the Lunar New Year festivities. But as smooth white balls suspended in hot, sweet soup, they're as minimalist as it gets.
Recently, though, tangyuan have taken on a new look as canvases for edible art. Their simple dough of glutinous rice flour and water lends itself well to shaping, molding, and dyeing, spurring a growing trend of tangyuan art. Bright colors, elaborate shapes, and creative fillings (think pumpkin, chocolate, or even mashed potato) are just the start; on social media, you can see tangyuan shaped like flowers, fruits, and a wide variety of adorably chubby creatures.
Of these, among the most eye-catching are goldfish tangyuan. This particular variety doubles down on the wordplay: jīnyú (金鱼), the Chinese term for goldfish, is a homonym for "gold and jade," which represents good fortune and wealth to come in the New Year. In the below recipe, I've omitted the filling in lieu of a sweet, ginger-infused soup. If the words "Play-Doh" invoke pleasant nostalgia, you may enjoy the process of making these lucky fish. When rolled, shaped, and pinched just right, they make for a treat that's almost too cute to eat.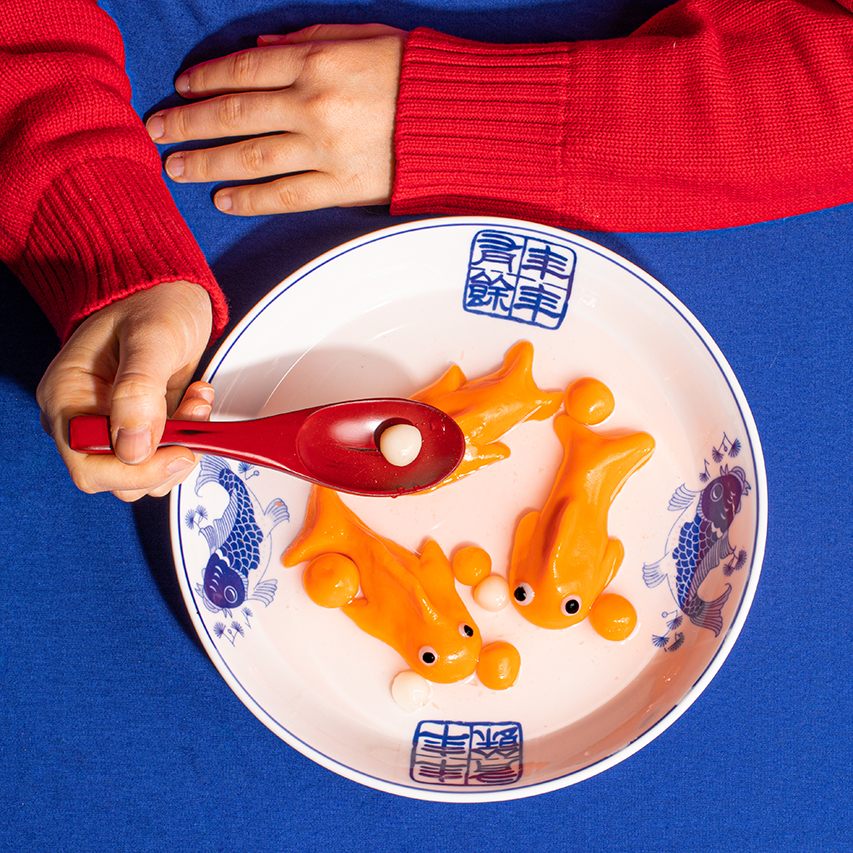 Goldfish Tangyuan Dumplings
Yield: 6-8 dumplings
Dumplings
1 cup glutinous rice flour
1/4 - 1/2 cup lukewarm water (the amount will vary, depending on your brand of flour)
Orange food coloring
Black food coloring
NOTE: If you prefer natural coloring, carrot juice and squid ink can be substituted for the food coloring. For the orange dough, substitute the water with the carrot juice. For the black dough, use a few drops of squid ink in place of the food coloring.
Soup
1/3 cup rock sugar or granulated sugar
One 2-inch piece ginger, sliced and smashed
Small handful dried longan, red dates, and/or pandan leaves (optional)
Mint leaves (optional)
Instructions
1. Make the dough In a large bowl, add the glutinous rice flour and 1/4 cup lukewarm water. Knead with your hands until a smooth, pliable ball forms, gradually adding more water as needed. If the dough cracks, add more water. If it's too sticky, add more flour. It's often said that proper tangyuan dough should have a texture similar to that of an earlobe.
2. Dye the dough Pinch off two thumb-sized portions of the dough, for the eyes. Set one portion aside to use for the whites. Add 1 drop of black food coloring to the other portion and knead to combine. Add 2 to 3 drops of orange food coloring to the remainder of the dough and knead until the dough is your desired shade.
3. Prepare dough balls Divide the orange dough into golf-ball sized pieces, then roll each between your palms into a slightly elongated oval shape. Place each one on a plate and cover with a wet kitchen towel to prevent the dough from drying out. If cracks form, dip your fingers in water and gently brush the skin of the dumpling to smooth them.
4. Shape the goldfish Start with one orange oval. Use your thumb and index finger to pinch one end into fins, forming a tail. Pinch off two tiny bubbles of white dough, then flatten each into a disc. Carefully press the white disks onto the front of the head, followed by two tiny dots of black dough, to form eyes. Then, repeat with the rest of the ovals. When each fish is complete, place it back under the kitchen towel to keep it moist.
5. Cook the dumplings Fill a medium-sized saucepan to the halfway point with water. Add the sugar, ginger, and any of the optional add-ins to flavor the soup, then bring to a boil. Using a spider or slotted spoon, gently lower the dumplings into the pot. Lower the heat and simmer for 3 to 5 minutes, until the goldfish float to the surface. Scoop the dumplings and soup into a bowl. Garnish with mint leaves if desired, and serve piping hot.
Gastro Obscura covers the world's most wondrous food and drink.
Sign up for our email, delivered twice a week.