The Abstract Beauty of One of the World's Harshest Climates
The desert, as you've never seen it before.
Humans are not built to withstand extreme heat: sunburn, heatstroke, dehydration. All indications are that heatwaves, of the kind that recently grounded flights in Arizona, damaged fisheries off Tasmania, and resulted in the highest temperature ever recorded, in Iran, are going to become more intense and frequent. Even deserts, already among the hottest and most inhospitable places on the planet, will feel the impact. The remorselessness of deserts seems somehow more symbolic and urgent today than ever before.
In these regions—some of the most sparsely populated in the world—it's essential to be prepared. Otherwise, says photographer Luca Tombolini, "you just aren't in the condition to photograph because you're probably thinking about how to save yourself." Tombolini photographs deserts with an eye for "plays of symmetries and purity." His large format images show pastel-hued dunes that form sweeping, abstract shapes, and endless horizons under bleached blue skies.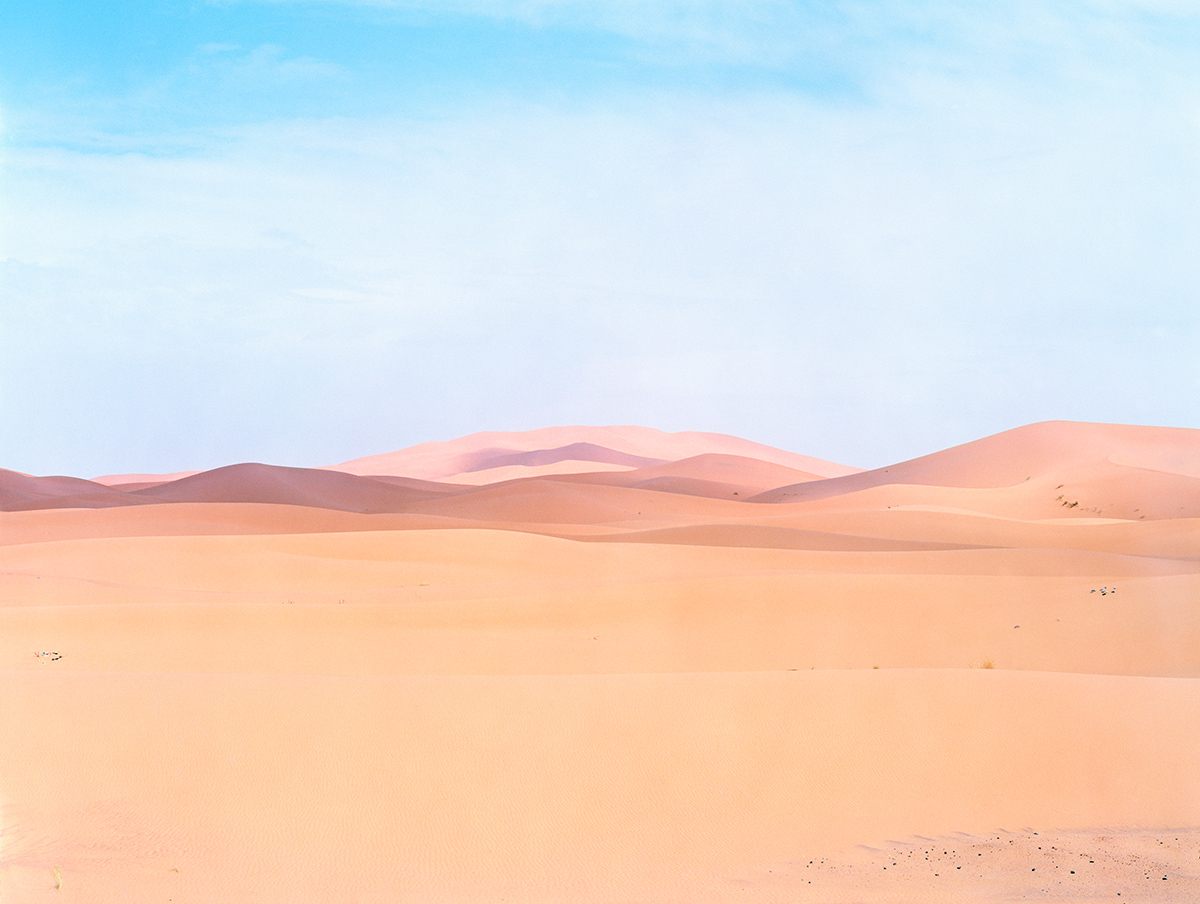 When he shoots deserts—which he does primarily in the Moroccan Sahara and Canary Islands—Tombolini explores in a 4x4 and either sets up camp or stays in the nearest village. "GPS is a huge help as once night comes in, the place changes radically and directions that seemed easy during the day are very tricky to find at night," he says. There's also an inevitable unpredictability to deserts. "Sandstorms are a great experience, which puts you back very quickly to your realistic role on Earth: Land and sky merge, it's like standing in the middle of a blank, noisy canvas."
Given the pace of climate change, it is uncertain how much longer will humans be even able to visit such extreme landscapes. "Climate change is the outcome of this new relationship we established with nature," says Tombolini. "It's a gamble we are in the making without even knowing who we are playing against."
Atlas Obscura has a selection of Tombolini's abstract desertscapes.