Puerto Rico's Parrot Population Is Slowly Recovering
Although the wild birds seem reluctant to breed, dozens of fledglings have successfully hatched in captivity.
Six months after Hurricanes Irma and Maria hit Puerto Rico, the archipelago's communities are still working hard to heal themselves. Students are helping to field-test drinking water. In areas that remain without electricity, people are agitating for its return, and sharing what power they do have.
Meanwhile, in aviaries tucked into the island's forests, the iguacas are also doing their part: They're laying eggs.
At about 2 weeks, each baby #iguaca is fitted with an aluminum leg band with a unique ID number. These numbers allow us to identify each bird in the population and keep track of them in all our future records. Here's a quick clip of the staff attaching a leg band today. pic.twitter.com/ZhfUWMJrE8

— Tanya Martínez (@iguacachick) April 9, 2018
Puerto Rico is the only home in the world for the iguaca, a green parrot with a raucous call, blue-tipped wings, and a distinctive red spot above its beak. As we reported in November, Irma and Maria were devastating to the parrots. A large flock that had lived in El Yunque National Forest vanished completely. Another, at Rio Abajo, largely survived, but researchers worried that the environmental devastation would affect the parrots' ability and desire to mate.
Meanwhile, three government-run aviaries—where scientists raise birds in captivity before releasing them into the island's forests—lost power, as well as cages, incubators, artificial nests, and other vital equipment. One facility, at Maricao State Forest, was so badly damaged that researchers there decided to move all of their birds. Researchers at the other two sites worked day and night to rebuild the necessary infrastructure in time for the breeding season, which began back in February.
Another Monday, another nest check! We're up to 22 #iguaca nestlings in Rio Abajo's captive breeding facility. Check out our lint covered gum balls.... I mean… adorable baby parrots. pic.twitter.com/1Znauyw0wh

— Tanya Martínez (@iguacachick) April 9, 2018
Now that the spring has come, the scientists are able to make some assessments about how well things went. The good news? The captive population is doing well. According to Twitter posts by the researcher Tanya Martinez, birds at both remaining aviaries successfully laid eggs, and the first nestlings began emerging a few weeks ago. As of this week, the Rio Abajo aviary is up to 22 baby birds, which, according to Martinez, look like "lint-covered gum balls."
Out in the wild, the news is a bit more mixed. Martinez writes that the wild parrots of Rio Abajo haven't started breeding yet, and are now over a month behind schedule. (At press time, nest checks were still in progress—if the researchers find any eggs, we will update the article.) A wild flock in Utuado lost 46 parrots, reducing their numbers from 150 to 104. And the missing parrots of El Yunque never returned: "Only 3 of the 56 native specimens survived, according to officials," the Village Voice reported last month.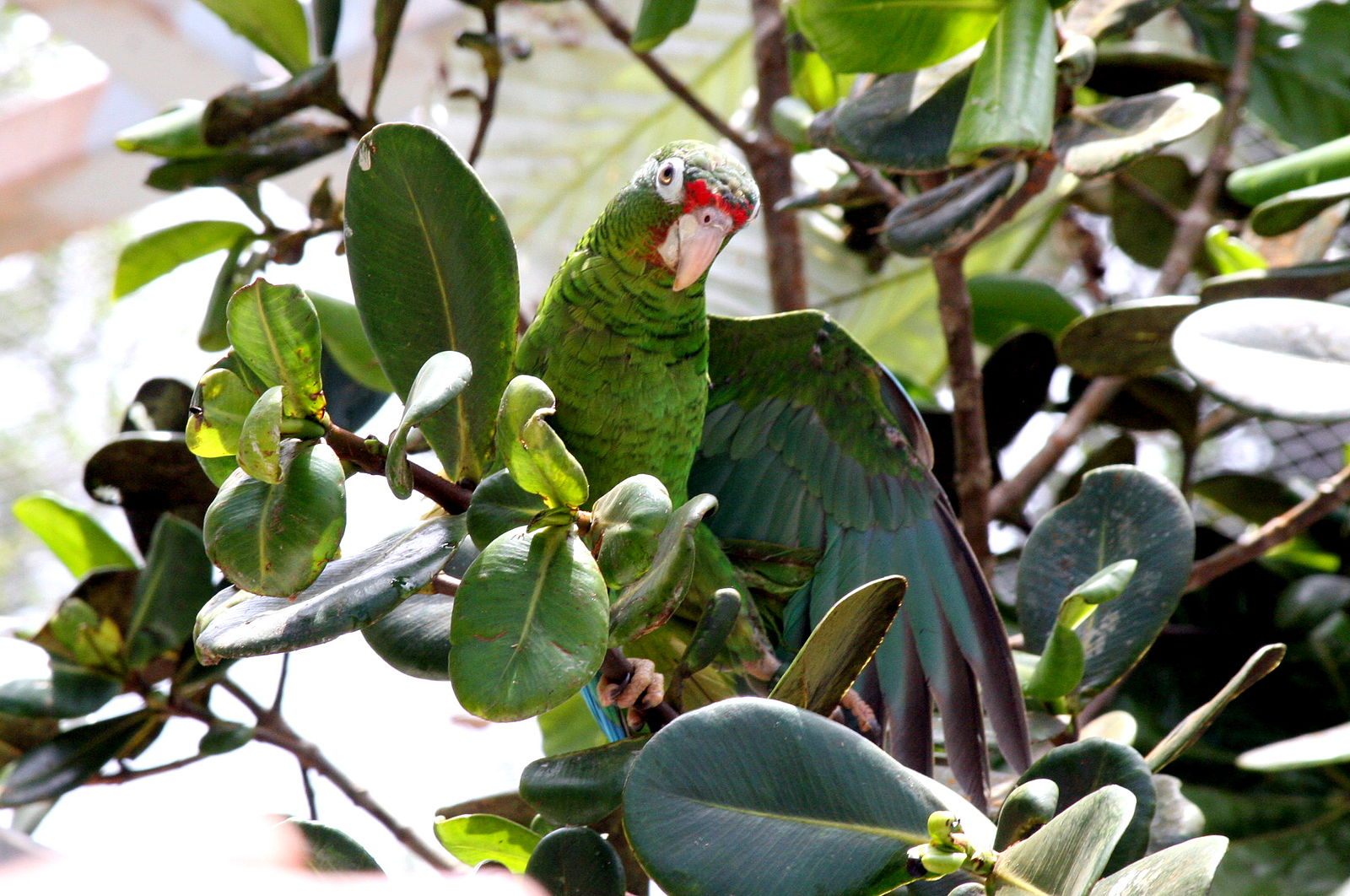 With so much uncertainty outside the aviaries, the researchers have temporarily halted the release program: "We have to see how the forest behaves, how the vegetation recovers, and how much food is available," USFWS biologist Jafet Vélez explained to the Voice.
But within the aviaries, at least, things are hopeful. At this point, some of the oldest fledglings have been out of their shells for over two weeks, and have been fitted with silvery leg bands for tracking. Someday, when it's safe, they'll be released into the nearby forest—a changed place, but the only one they will have ever known.