Every Year, Dresden Kickstarts the Christmas Season With a Four-Ton Cake
Sixty-three bakeries pitched in to build a mega-stollen.
It's a windy winter morning in Dresden, and snowy-white wisps blow onto the crowd gathered in front of the city's Kulturpalast concert hall. But it's not snowing. Powdered sugar from the 8,700-pound cake sitting upon a garland-lined, horse-drawn wagon is dusting the crowd. This is Stollenfest, a supersized celebration of Dresden's signature holiday treat, Christstollen.
Rich, buttery, and studded with rum-soaked raisins and candied citrus peel, the city's version of stollen holds such a hallowed position in Dresden that thousands of fans flock to the city to watch a parade in its honor, held this year on December 7.
"The giant stollen is the beginning of Christmastime for Dresden," says Marcel Hennig, a third-generation master baker who helped make the large cake this year. "It's a must-do for Dresden bakers." Proudly clad in white chef's jackets and blue-and-gold scarves, almost every baker in the city marches behind the giant stollen as it winds through the Old Town. Following the wave of white and blue is a long procession of marching bands, costumed residents, and an annually appointed ambassador known as the stollenmädchen ("stollen maiden").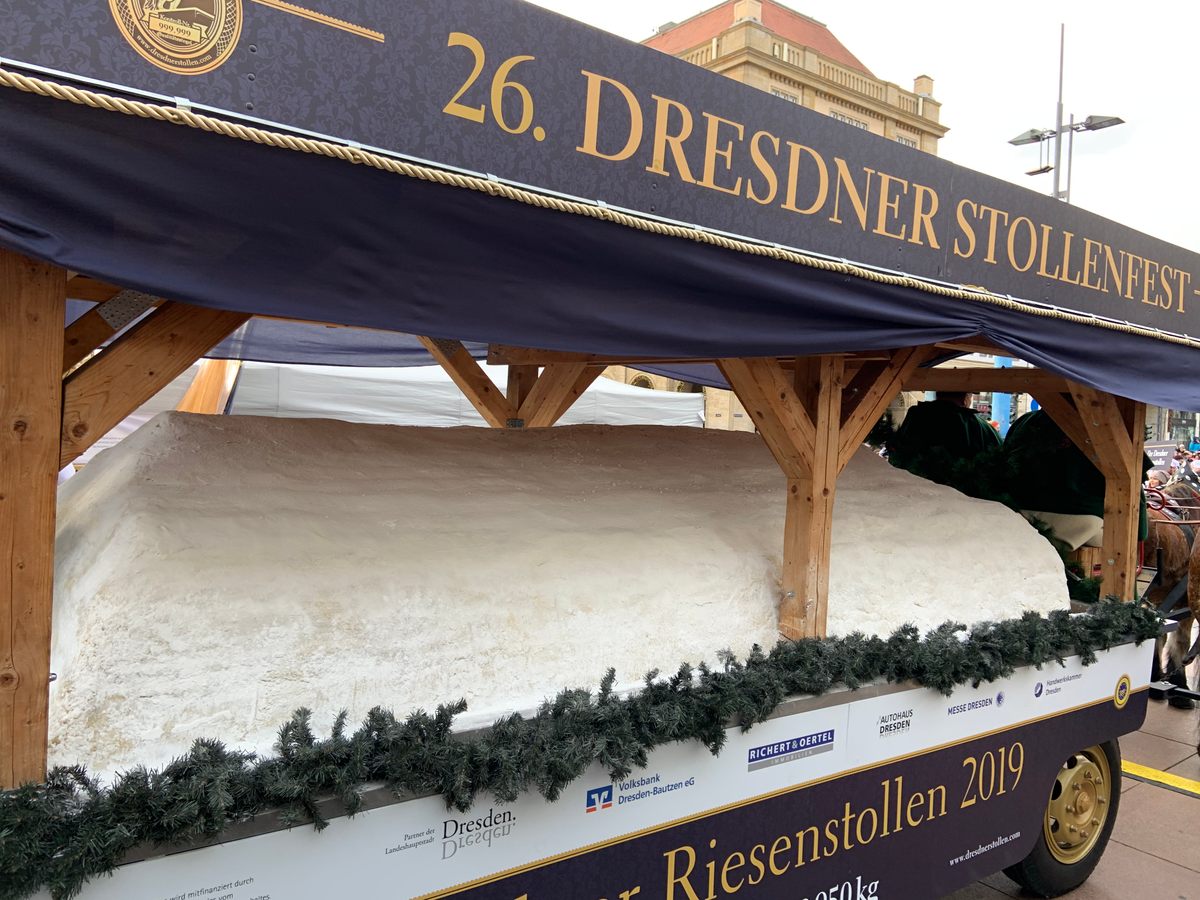 But it's not all empty fanfare. The parade tells the history of the city's prized Christstollen. One man, for example, marches in a long red cloak, with a cross dangling from his neck and two Swiss guards trailing behind. He represents Pope Innocent VIII, and he clutches a scroll symbolizing Die Butterbrief, a missive that helped set stollen on a course to deliciousness.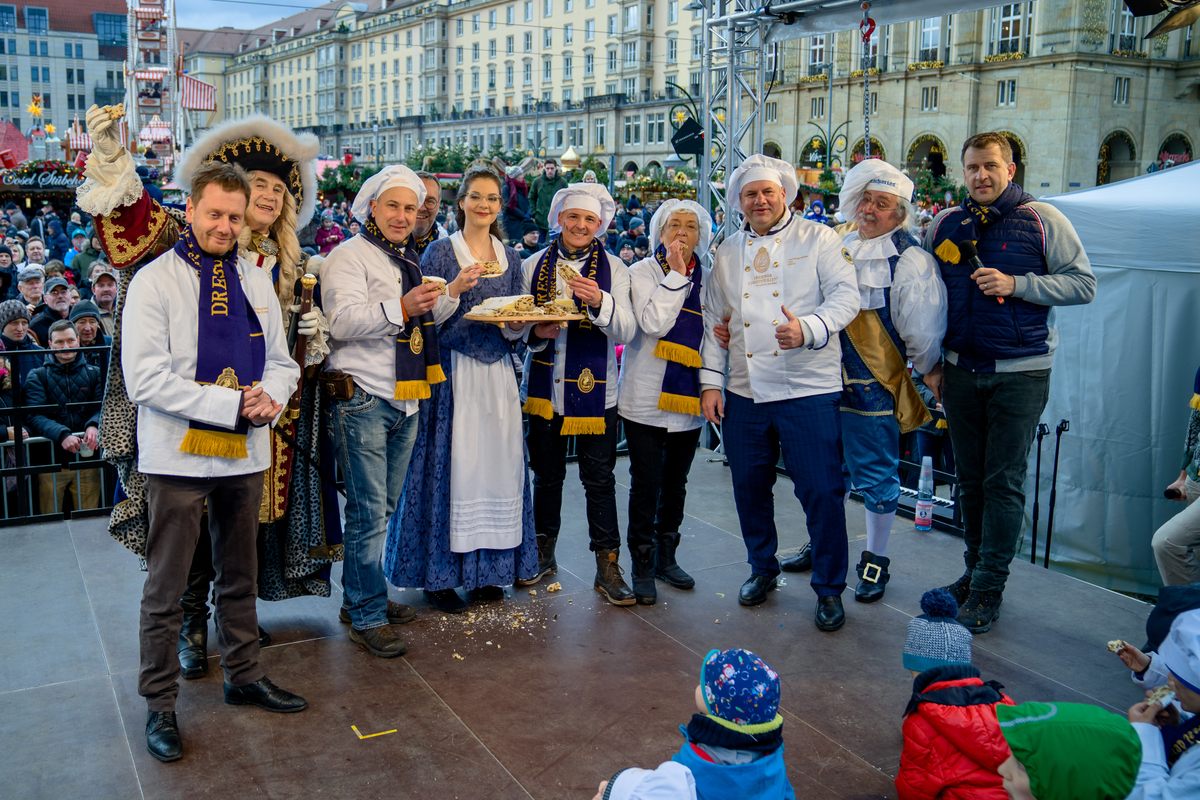 Christstollen's medieval predecessor was just a bare-bones brick of flour, yeast, and water that Catholics used to refuel during Advent fasts. When Saxony nobles decided that their holiday carb-loading needed some richness, they appealed to the pope to overturn the Church's ban on butter and milk during fasting periods. In 1491, they got their wish: With his Butterbrief, the pope permitted dairy, forever changing how bakers made stollen.
Over the years, the cake picked up additional flavorful ingredients and evolved into the Christstollen that Dresden celebrates today. While its original upgrade was the result of rule-breaking, modern Christstollen must follow a rigid set of requirements set by the local Stollen Association, enforced by randomized testing at bakeries. The basic recipe is inviolable, but there is some leeway for individual bakers to add optional spices, such as cinnamon and mace.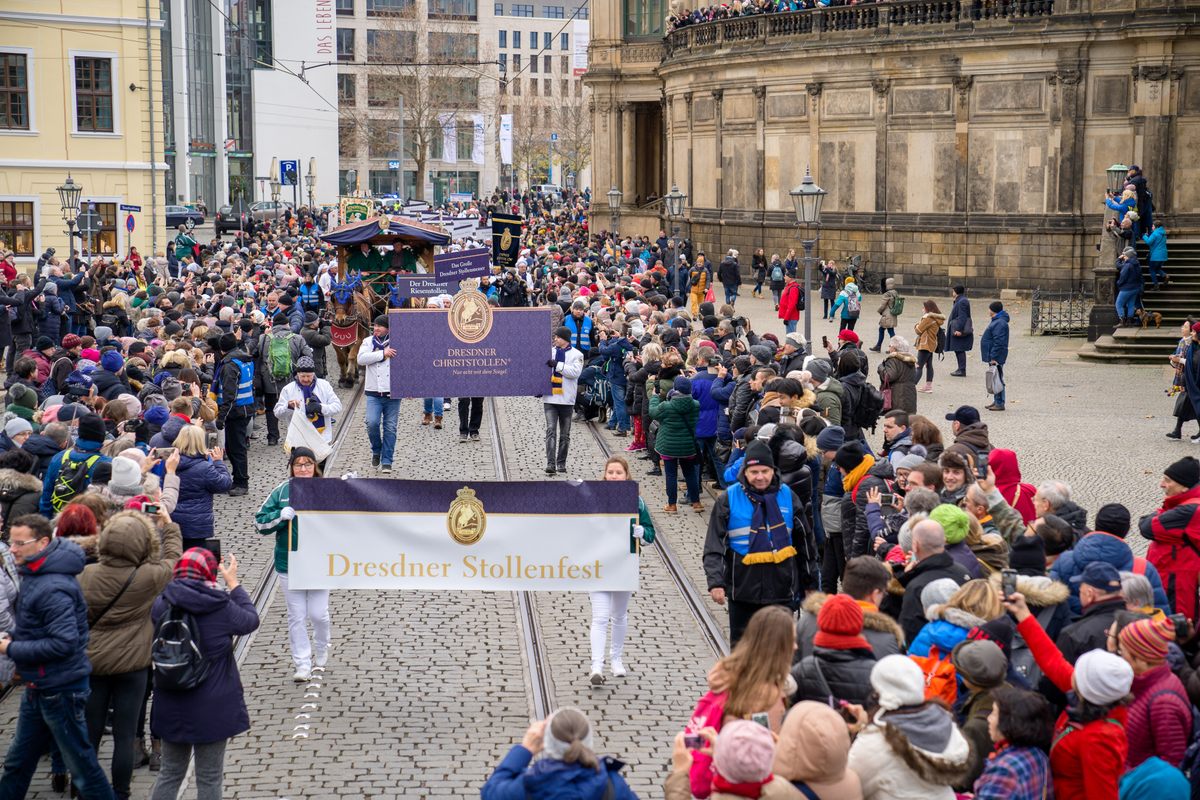 When a bakery passes muster, it can adorn its Christstollen packaging with the association's official golden seal, featuring a man atop a rearing steed. That man is Augustus II, elector of Saxony from 1694 until his death in 1733. At Stollenfest, he's portrayed by an actor draped in a blue velvet cape and crowned with a tricorn hat. A fan of life's finer things, Augustus was responsible for much of Dresden's current baroque architecture (albeit in a restored form, as World War II bombings destroyed most of the city center) and treasure collections such as the Green Vault.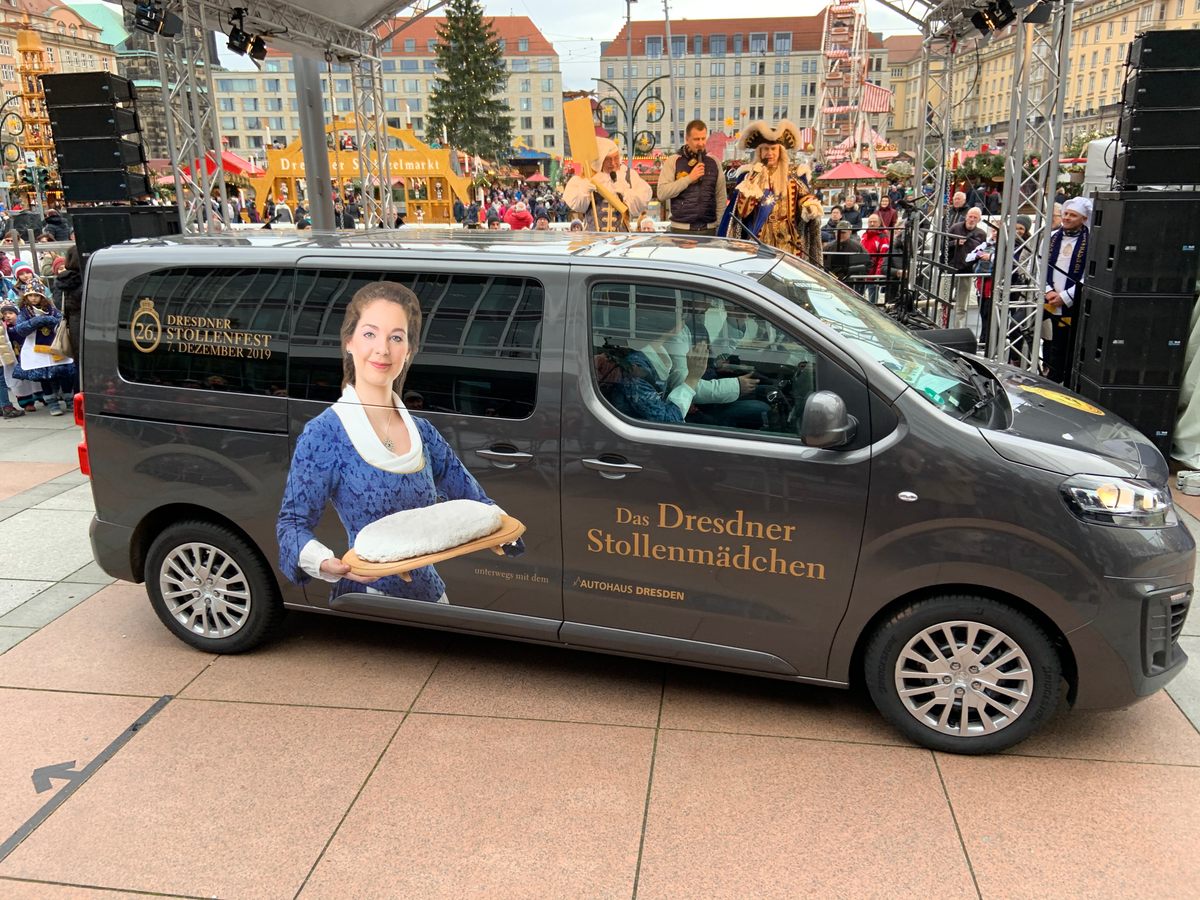 The ruler applied these lavish tastes to the table, as well. In 1730, he ordered a nearly two-ton stollen for a banquet. Part of a festival meant to showcase his military's strength, the large loaf required a team of 100 bakers and the construction of a special oven. On a copper plate etching commemorating the original event, eight horses pull a wagon containing the giant pastry.
While the bakers succeeded in producing an impressively large cake in 1730, it was far from perfect. "They tried to make it in one big oven, but that didn't work," Hennig says. "It was burned on the outside and the dough inside was uncooked." When Dresden's bakers recreated Augustus's cake caravan at the first Stollenfest in 1994, they dodged this dilemma by making separate sheets of stollen at their own bakeries, then assembling them into one large mound.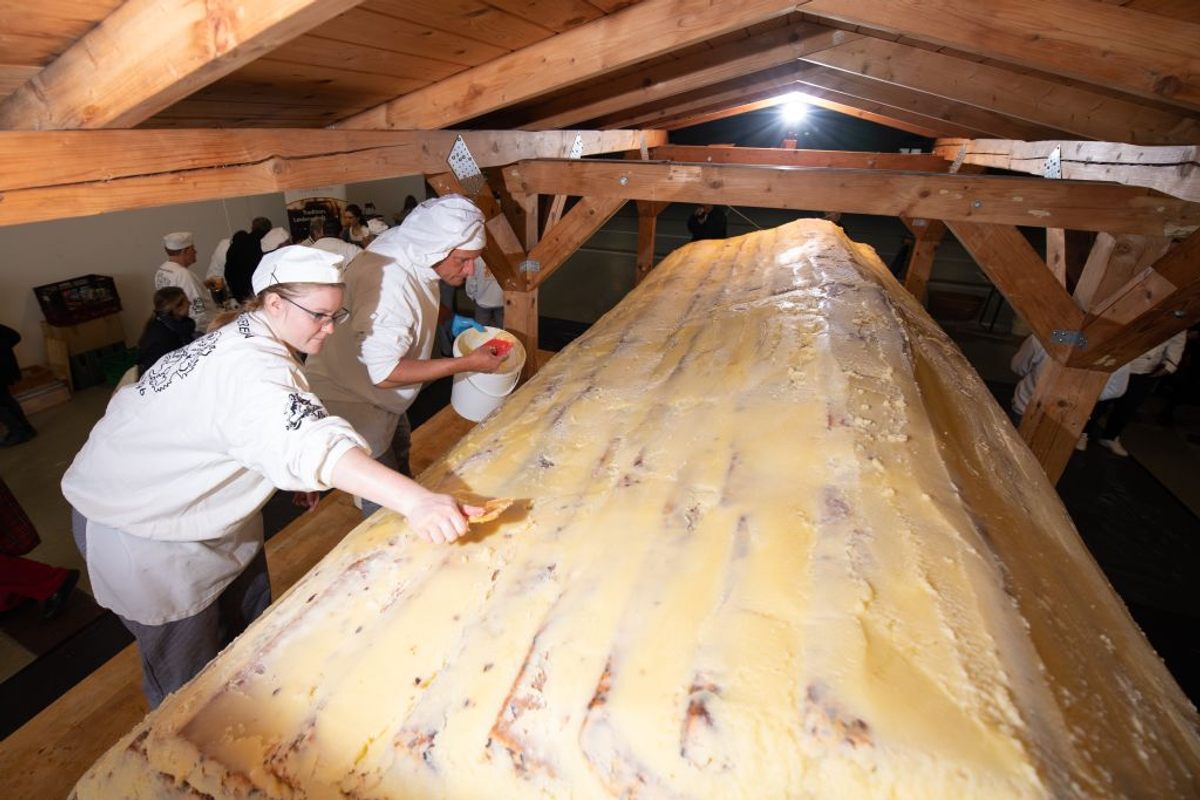 A week before this year's festival, Hennig worked on the team that stacked 450 sheets of cake sourced from 63 bakeries onto the wagon, glueing them together with sugar and butter. With the cake assembled, they carved its top into a curve to mimic the shape of a normal-sized stollen, then coated everything in powdered sugar.
The only appropriate way to cut a cake so gargantuan is with an equally large knife. Five feet long and 26 pounds, the Dresden Stollen Knife is a surprisingly elegant slab of cutlery based on the one used at Augustus's original 1730 banquet. (In the copper etching depicting the first giant stollen, it appears on a banner held aloft by an angel.) More for show than anything else, the knife is used only for the ceremonial first cut. This year, the honor goes to Hella Helbig, who recently retired from teaching baking at a local vocational school.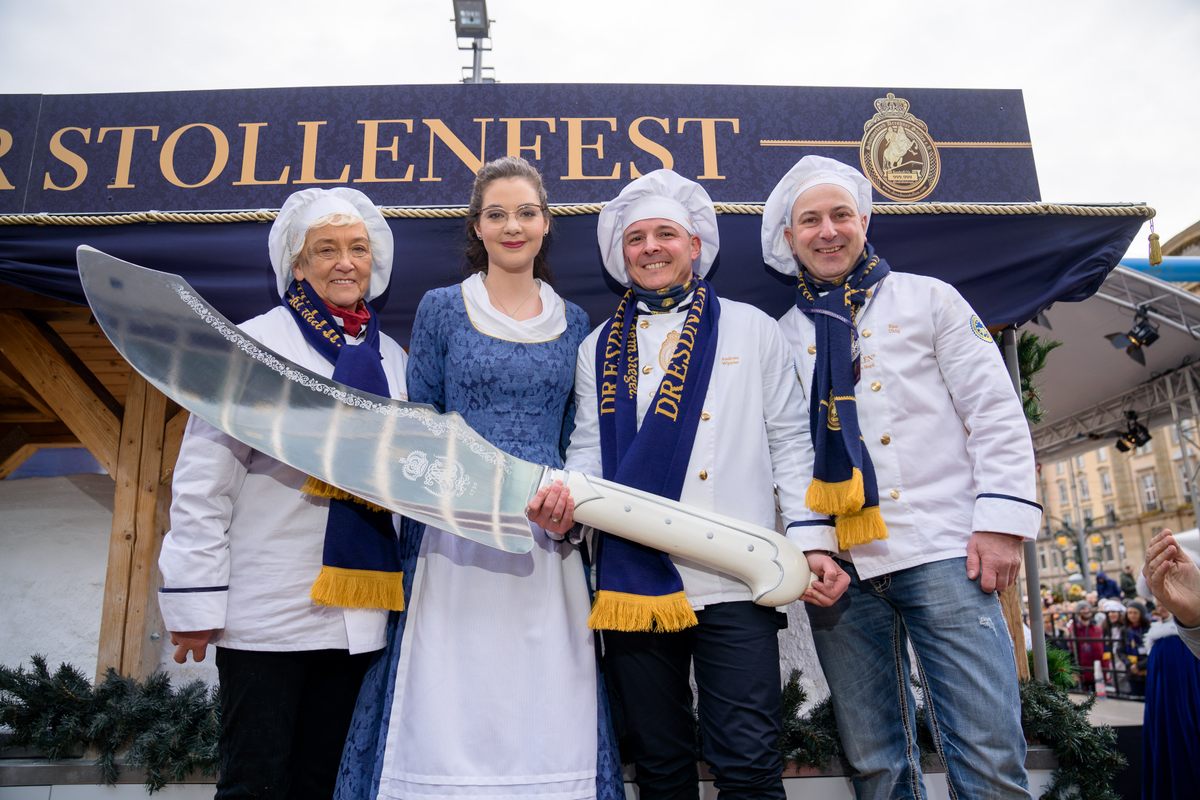 As the final act of Stollenfest, Helbig climbs a platform that's been placed beside the cake wagon. It takes a few slow saws before she's able to cut a slice. After the first piece is shared among a small group, a crew of bakers descends on the wagon to cut the rest of the cake into half-pound chunks (this time, with normal-sized knives). These are sold to the crowd for six euros each, with some of the proceeds going to a local hospice.
Many festival attendees don't wait to take their piece home, wandering into the adjacent Christmas market with powdered sugar around their mouths. Though it was baked days before the procession, the cake is still soft, with a buttery density that's offset by the sweet raisins and sour, aromatic citrus.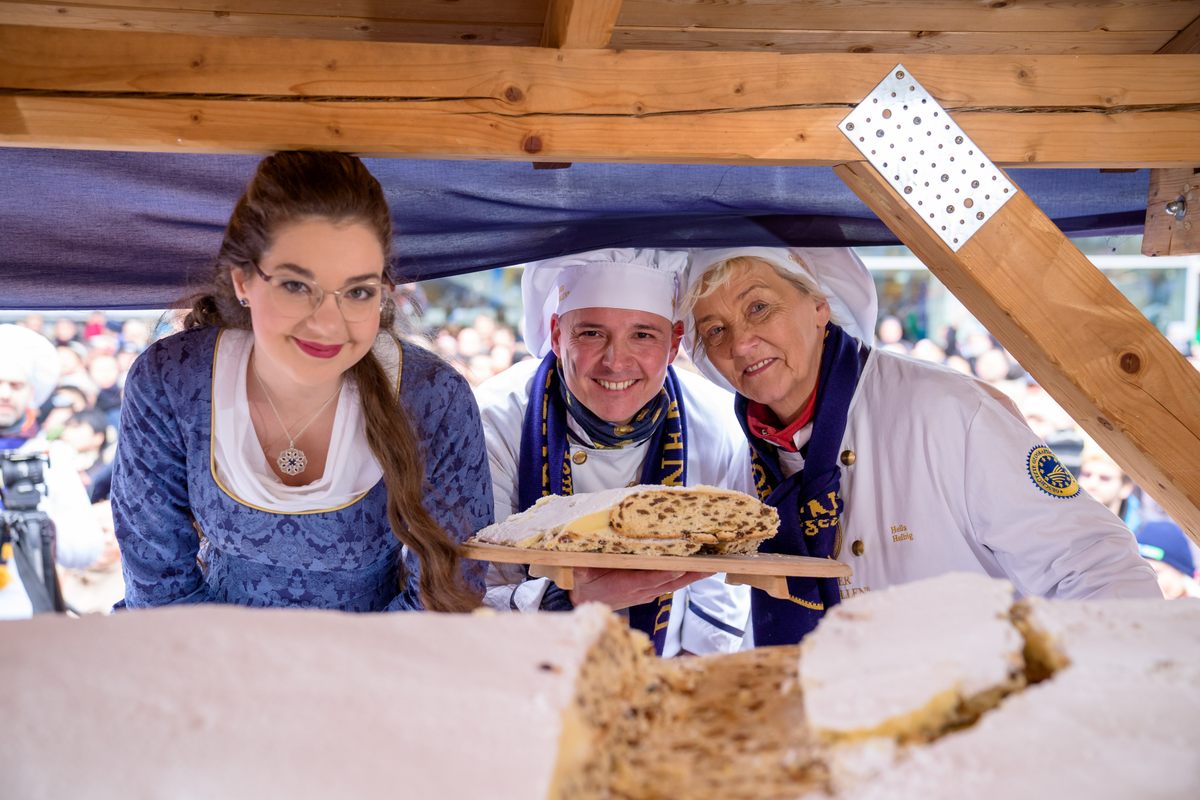 To Veronika Weber, a 23-year-old pastry-making apprentice and this year's Stollen Maiden, sharing the giant cake is the most important part of her duties as the face of this Dresden specialty. "For me, I always bring some kind of stollen to my home, to my parents," she says. "Now I can bring stollen to more people, and I can bring my kind of Christmas to more people."
You can join the conversation about this and other stories in the Atlas Obscura Community Forums.
Gastro Obscura covers the world's most wondrous food and drink.
Sign up for our email, delivered twice a week.