The Egyptian Egg Ovens Considered More Wondrous Than the Pyramids
A hatching system devised 2,000 years ago is still in use in rural Egypt.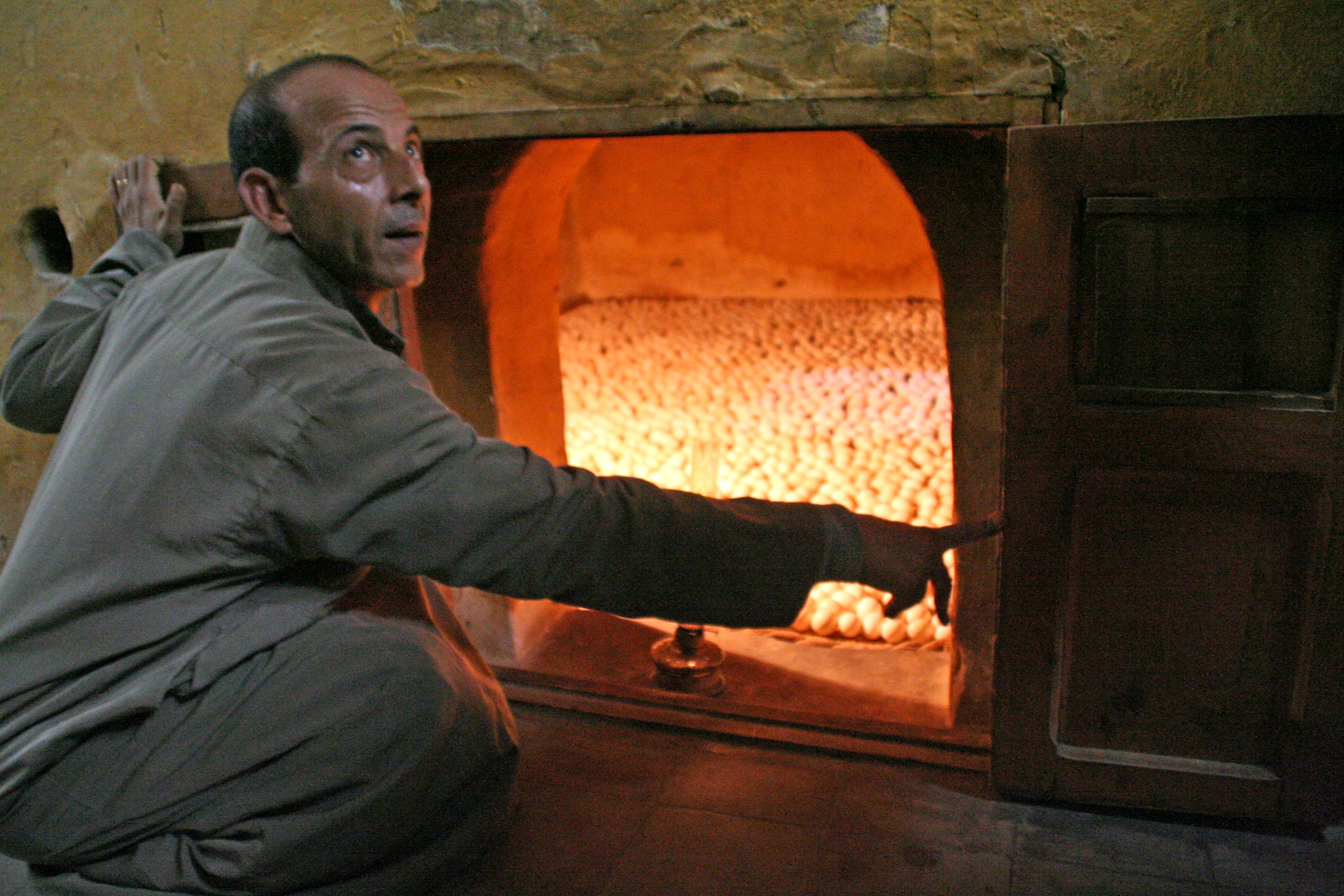 Many aspects of Egyptian culture impressed the ancient Greeks, including their mathematics, papyrus-making, art, and egg-hatching. Aristotle was the first to mention that last innovation, writing that in Egypt, eggs "are hatched spontaneously in the ground, by being buried in dung heaps." But 200 years later, the historian Diodorus Siculus cast Egyptian egg-hatching as wondrous. In his forty-book-long historical compendium Library of History, he wrote:
The most astonishing fact is that, by reason of their unusual application to such matters, the men [in Egypt] who have charge of poultry and geese, in addition to producing them in the natural way known to all mankind, raise them by their own hands, by virtue of a skill peculiar to them, in numbers beyond telling.
Aristotle and Diodorus were referring to Egyptian egg incubators, an ingenious system of mud ovens designed to replicate the conditions under a broody hen. With lots of heat, moisture, and periodical egg-turning, an egg oven could hatch as many as 4,500 fertilized eggs in two to three weeks, a volume that impressed foreigners for centuries. Western travelers mentioned the wondrous structures constantly in their writings about Egypt. In 1750, French entomologist René Antoine Ferchault de Réaumur visited an egg incubator and declared that "Egypt ought to be prouder of them than her pyramids."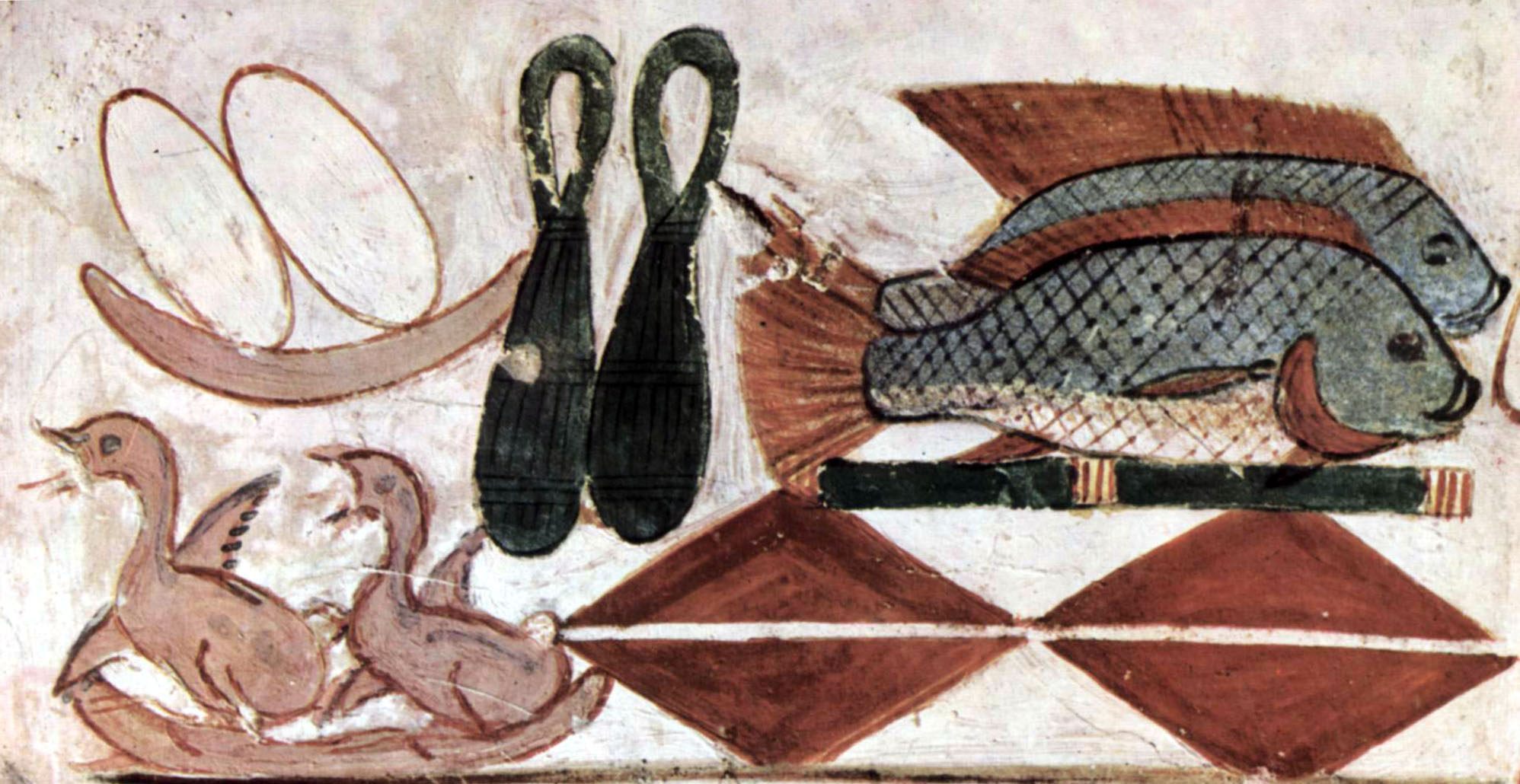 Egg incubators were quite a late invention, considering Egypt's long history. According to Salima Ikram, a professor of Egyptology at the American University in Cairo, chickens were not a native bird of the Nile valley. They probably came from Asia—where they were domesticated from wild fowls 10,000 years ago—through Mesopotamia, or perhaps via trade ships that sailed to East Africa. It was only during the Ptolemaic dynasty, which lasted from 323 to 30 B.C., that chicken became a staple feature of Egyptian diets, says Ikram. In order to have a regular supply of chicken meat, Egyptians developed the first egg incubators.
From the outside, many incubators looked like smaller, more rounded versions of the pyramids. They sat upon rectangular brick foundations, and had conic-shaped chimneys with a circular opening at the top. That thousands of eggs could be hatched in a single oven was an impressive feat, considering that a broody hen can only hatch up to 15 eggs at a time. Incubator hatching also meant that hens could spend more time laying eggs.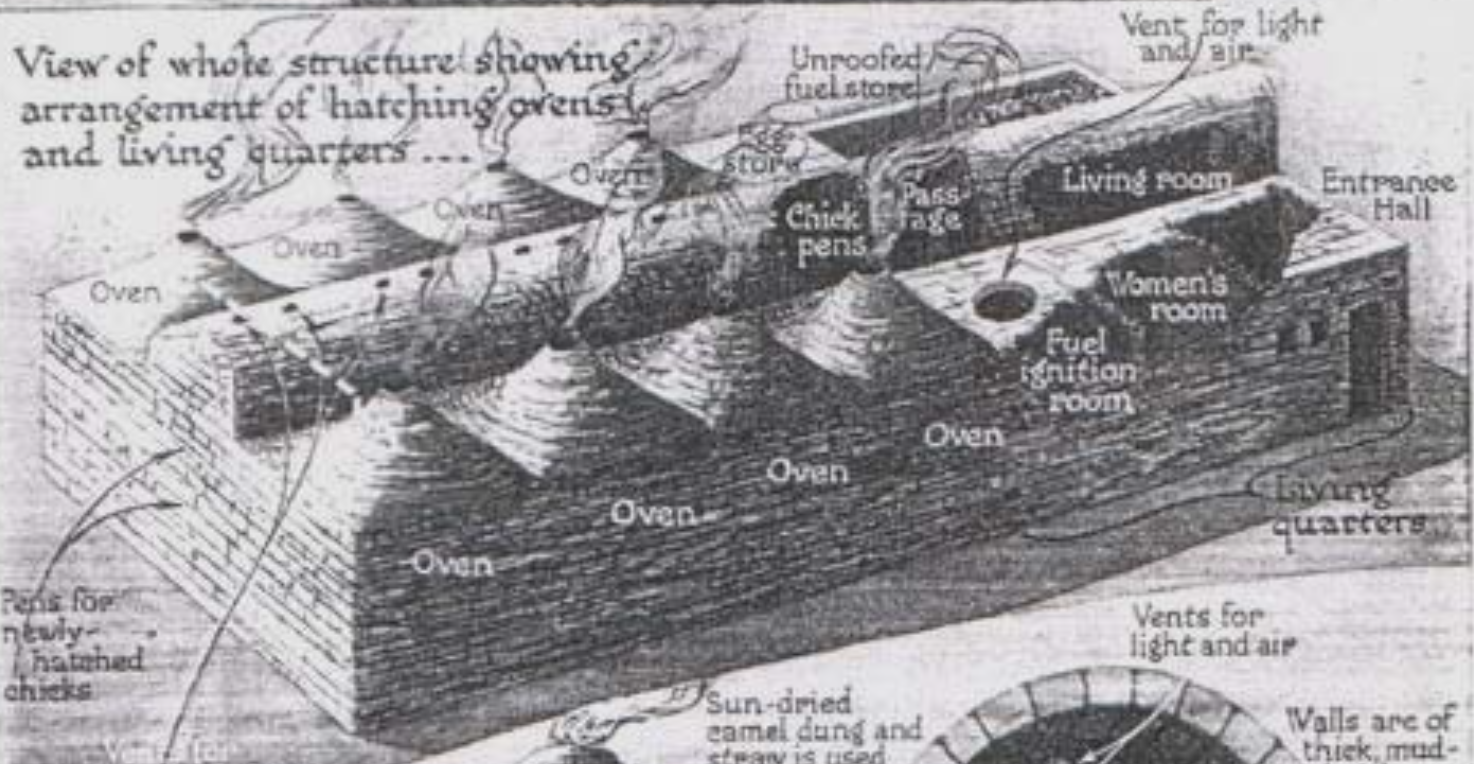 Exactly how workers operated the ovens is much less clear. According to some scholars, Egyptians were very secretive with egg ovens. Travelers may have relied more on their imagination than factual observation when explaining their workings. The Irish friar Simon Fitzsimons framed the ovens as supernatural. Fitzsimons visited Egypt as part of an epic pilgrimage that took him from Ireland to the Holy Land in the early 14th century. This is how he described the wondrous egg ovens:
"Also in Cairo, outside the Gate and almost immediately to the right … there is a long narrow house in which chickens are generated by fire from hen eggs, without cocks and hens, and in such numbers that they cannot be numbered."
By failing to mention that eggs were fertilized by roosters, Fitzsimons led readers to imagine that chickens could be "generated by fire." Descriptions of "furnaces" that would "produce" chicks were later included in one of the most popular travelogues of the Middle Ages, The Travels of Sir John Mandeville, further adding to their mythical allure. As noted by Cynthia Resor, a professor of social studies education at Eastern Kentucky University who has studied accounts on Egyptian egg ovens, Western authors projected their own worldviews to make sense of the incubators. "A medieval friar in the Middle Ages was looking for miracles, and he found one," she says.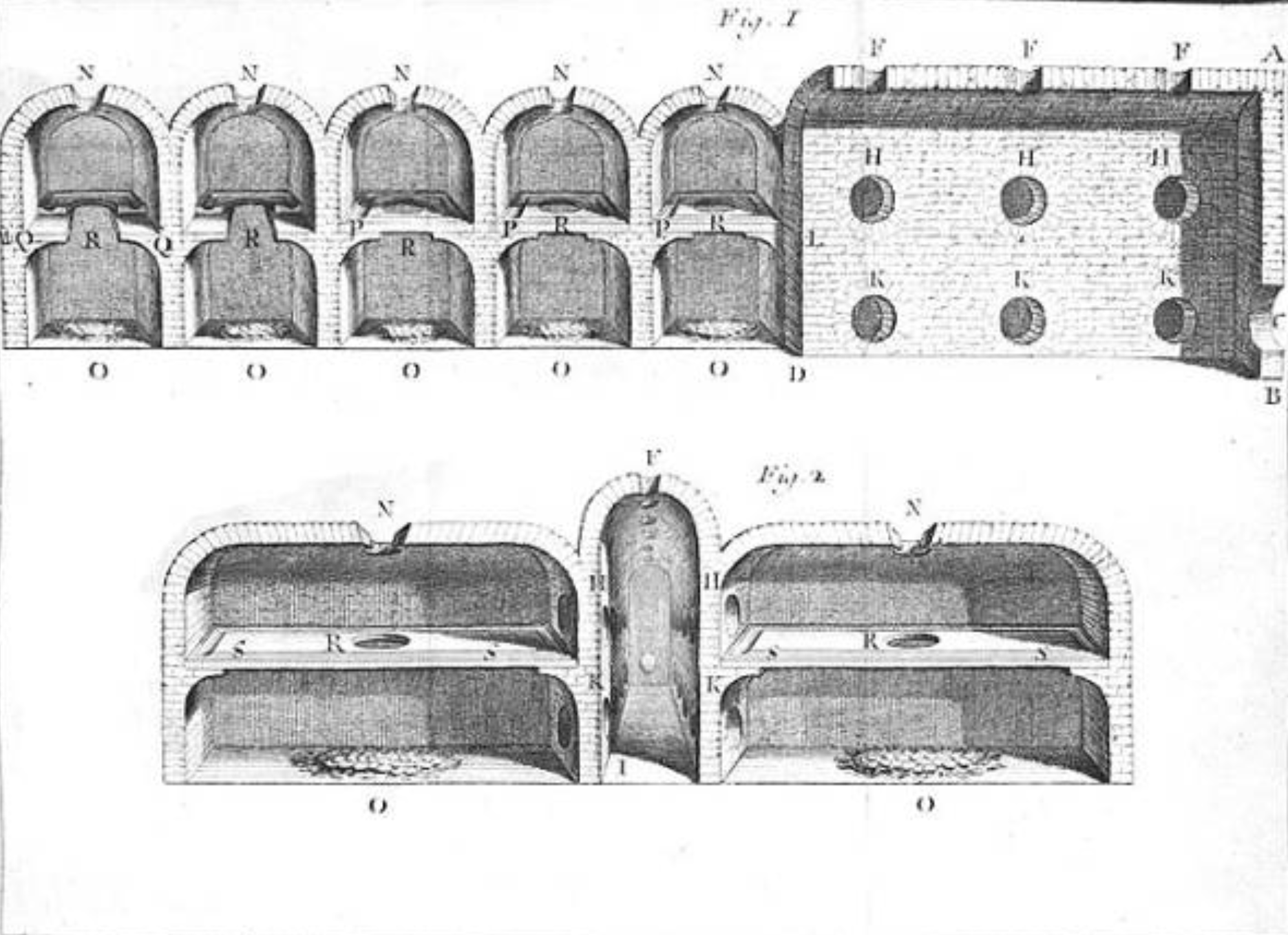 It wasn't until the Enlightenment that Europeans produced the first reliable description of Egyptian egg ovens. In 1750, Réaumur traveled to Egypt and was allowed inside the "mythical" ovens. He wrote a detailed description of what he saw. According to Réaumur, the ovens were structured in two symmetrical wings separated by a central corridor. Each wing contained up to five sets of two-tiered chambers. Fertilized eggs were placed in the lower tier, and kept warm with heat from a smoldering fire in the upper tier. Aristotle wrote that the eggs hatched after being buried in dung. In fact, dung was indeed key in the hatching process, but it wasn't used the way the Greek philosopher thought. In the semi-arid Nile valley, manure was easier to source than wood, so sun-dried dung was burned as fuel to keep eggs warm.
A few rooms were used as accommodation for hatchery workers. Their main job was to monitor the fire and to turn eggs regularly—a crucial aspect of hatching. According to Phillip J. Clauer, an assistant teaching professor of animal science at Pennsylvania State University, egg-turning prevents embryo membrane from getting attached to the shell, which can lead to chicks hatching with deformities.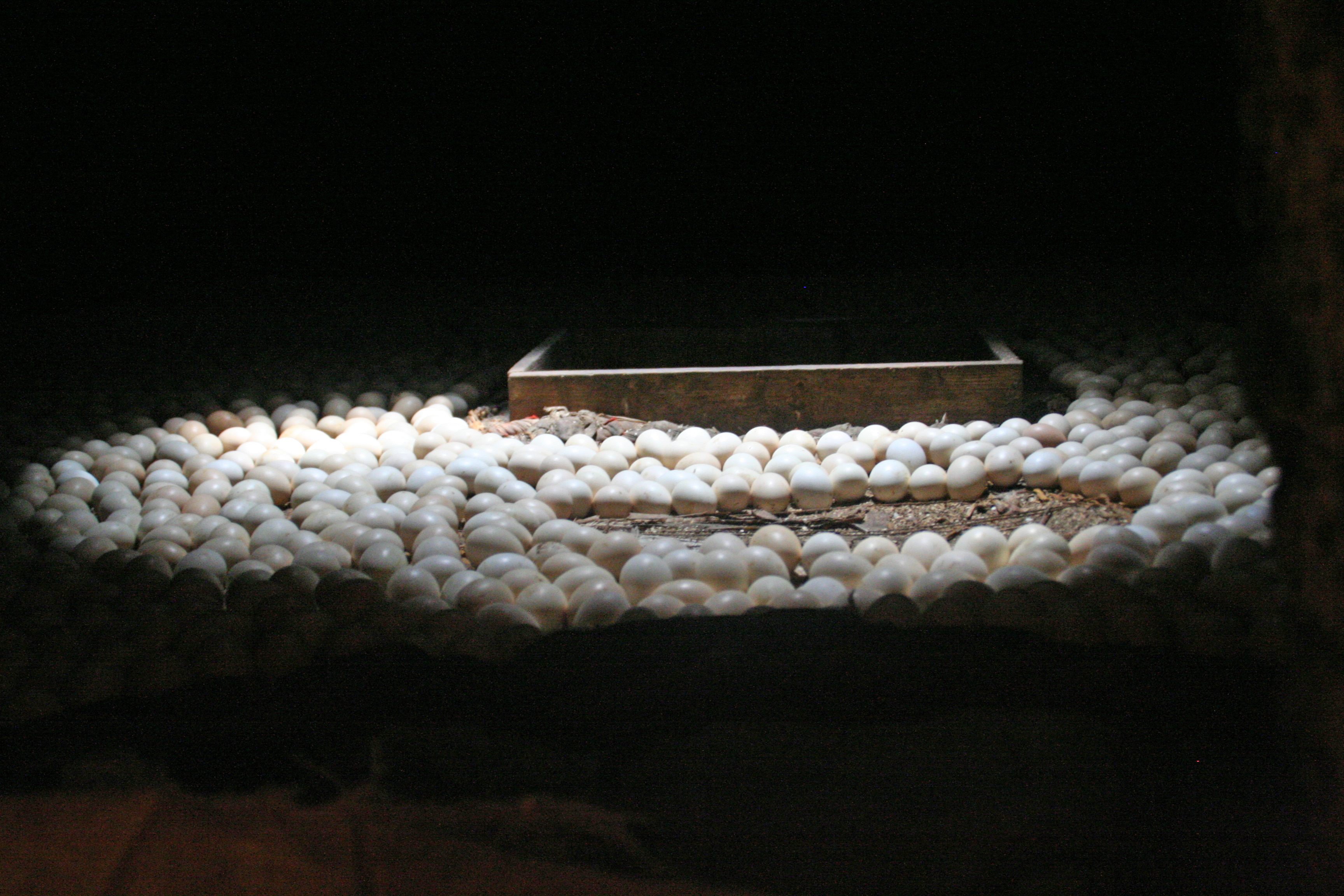 Knowing when to stop brooding is also key. In the final days of egg incubation, chicken embryos develop enough internal heat to hatch. Too much external heat can cause an early birth. Hens can figure this out instinctively by feeling the temperature of their eggs with their bodies. So did Egyptian egg hatchers. Réaumur described how workers would carefully hold an egg between their fingers and gently press it on their eyelids—one of the most sensitive parts of the human body.
By mimicking the behavior of a broody hen, Egyptians could hatch eggs year-round. In contrast, European farmers could only hatch chicks in the spring and summer, as most hens could not warm eggs successfully during cooler months. Réaumur tried to replicate the ingenious Egyptian method back home in France. But due to the colder European climate, egg ovens required much stronger heat and more fuel to effectively hatch eggs. The scientist failed to find a cost-effective solution. After his death, other scientists took on the challenge. But it was not until 1897 that Canadian farmer Lyman Byce came up with the coal lamp incubator, using an electric regulator to keep temperature constant. Byce's invention was soon widely commercialized and eventually turned the city of Petaluma, California, into the "chicken capital of the world."
With the invention of the electric incubator, fascination with Egyptian egg ovens faded further. Most contemporary poultry experts believed that the ovens were long gone. But in 2006, a team of experts from the Food and Agriculture Organization (FAO) found that Egyptian egg ovens are still hatching chicks today. Workers follow the same methods developed 2,000 years ago. "We were mapping rural farms to check for avian flu risks," says Olaf Thieme, a livestock expert who co-led the FAO survey. "We found that locals in three governorates still use the ancient system."
As detailed in their FAO survey report, contemporary egg ovens look a lot like their predecessors. They still have main wings that are separated by a corridor. Each wing has the same two-tiered system described by Réaumur. Despite the availability of thermometers, workers still rest eggs against their eyelids to check egg temperature. The main difference is that petrol lamps have replaced animal dung as a source of heat. But despite that change, "that the ovens still existed and at such a big scale was a big surprise for me," Thieme says.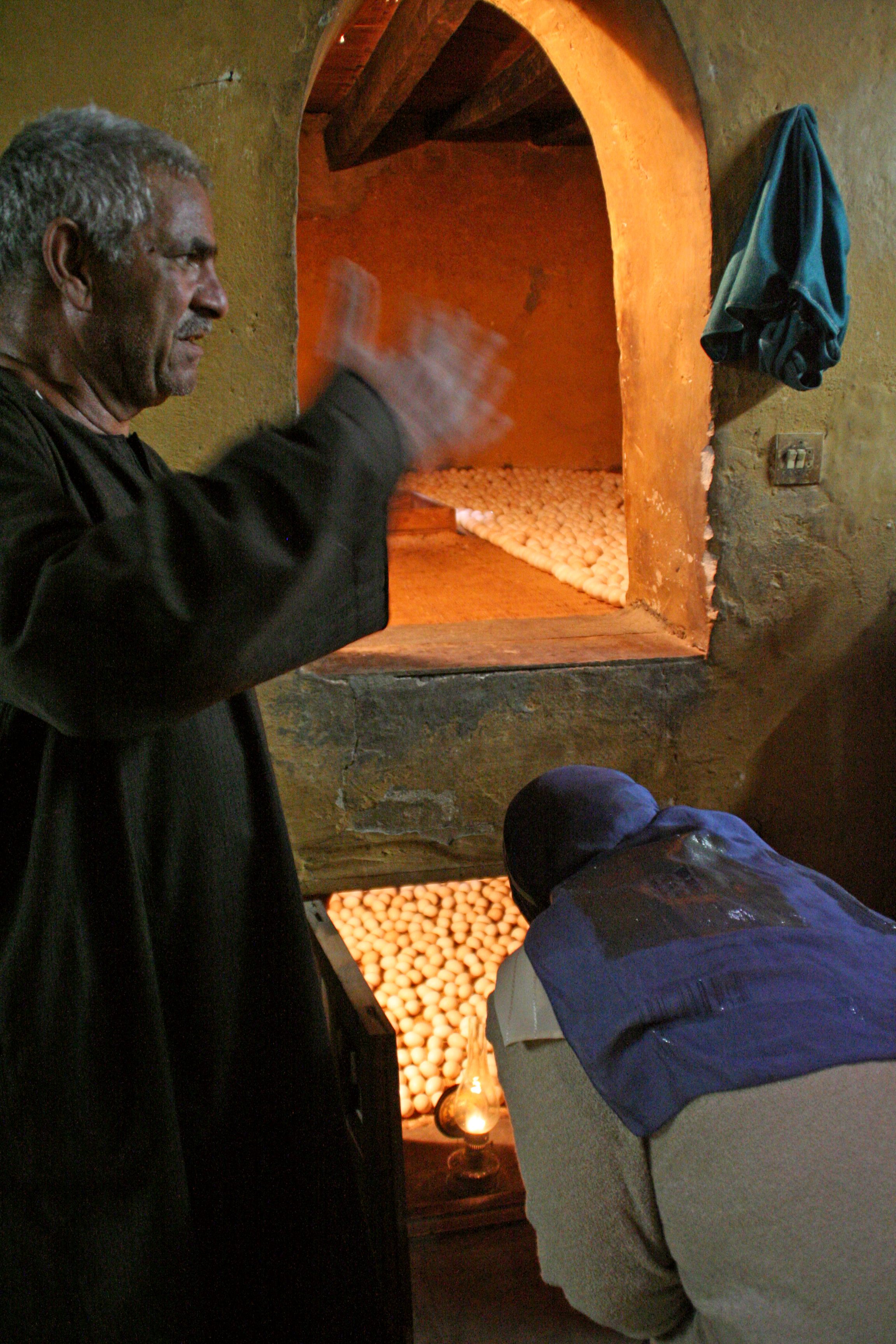 In his 1750 account, Réaumur specified that hatchery workers mostly came from the town of Brene, on the Nile delta. That's exactly where FAO documented the highest concentration of traditional egg ovens, although it is now called Berma. Indeed, the Arabic word for hatchery workers, bermawy, means "man from Berma village." The FAO experts concluded that "the system was basically passed on from one generation to the next without formal training," Thieme says. That means that oral knowledge of egg incubation survived 2,000 years of linguistic evolution, from ancient Egyptian to Coptic, and finally Arabic.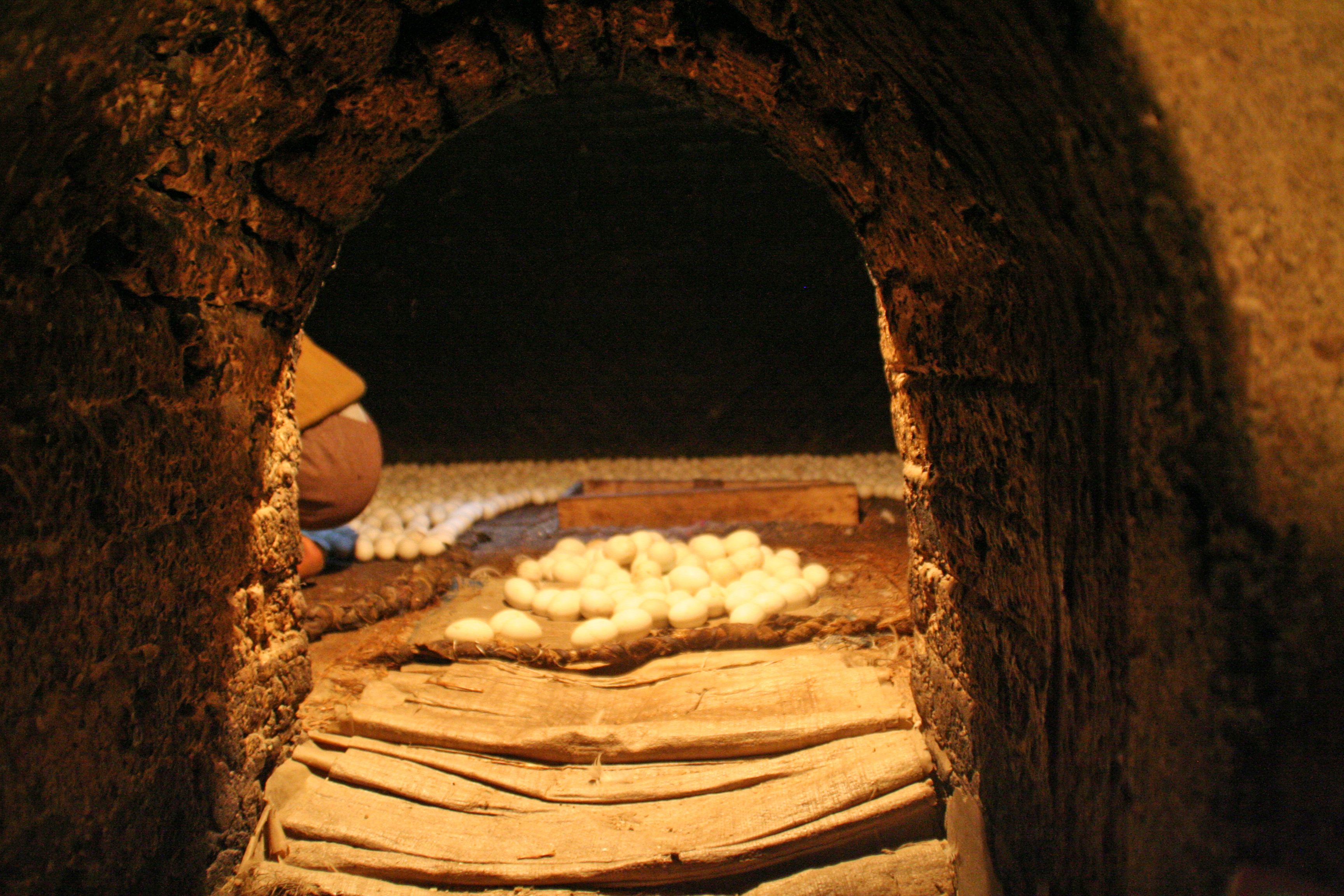 According to Ali Abdelhakim, who co-authored the FAO report and now serves as the Chairman of the General Organization for Veterinary Services in Egypt, an estimated 200 ovens are still managed according to ancient technique. But most hatchery workers are gradually shifting to more contemporary methods. Many have already incorporated modern features like metal trolleys, automatic egg turning, and thermostats. As demand for poultry keeps rising, this trend is likely to continue. But as Clauer points out, even the most advanced incubator still runs on the same ingenious principle first devised 2,000 years ago: replicating the ministrations of a broody hen. Maybe Réaumur was right. That might be even cooler than the pyramids.
Gastro Obscura covers the world's most wondrous food and drink.
Sign up for our email, delivered twice a week.