The Private Magic of Treehouses
Readers share what makes their favorite treetop hideaways so special.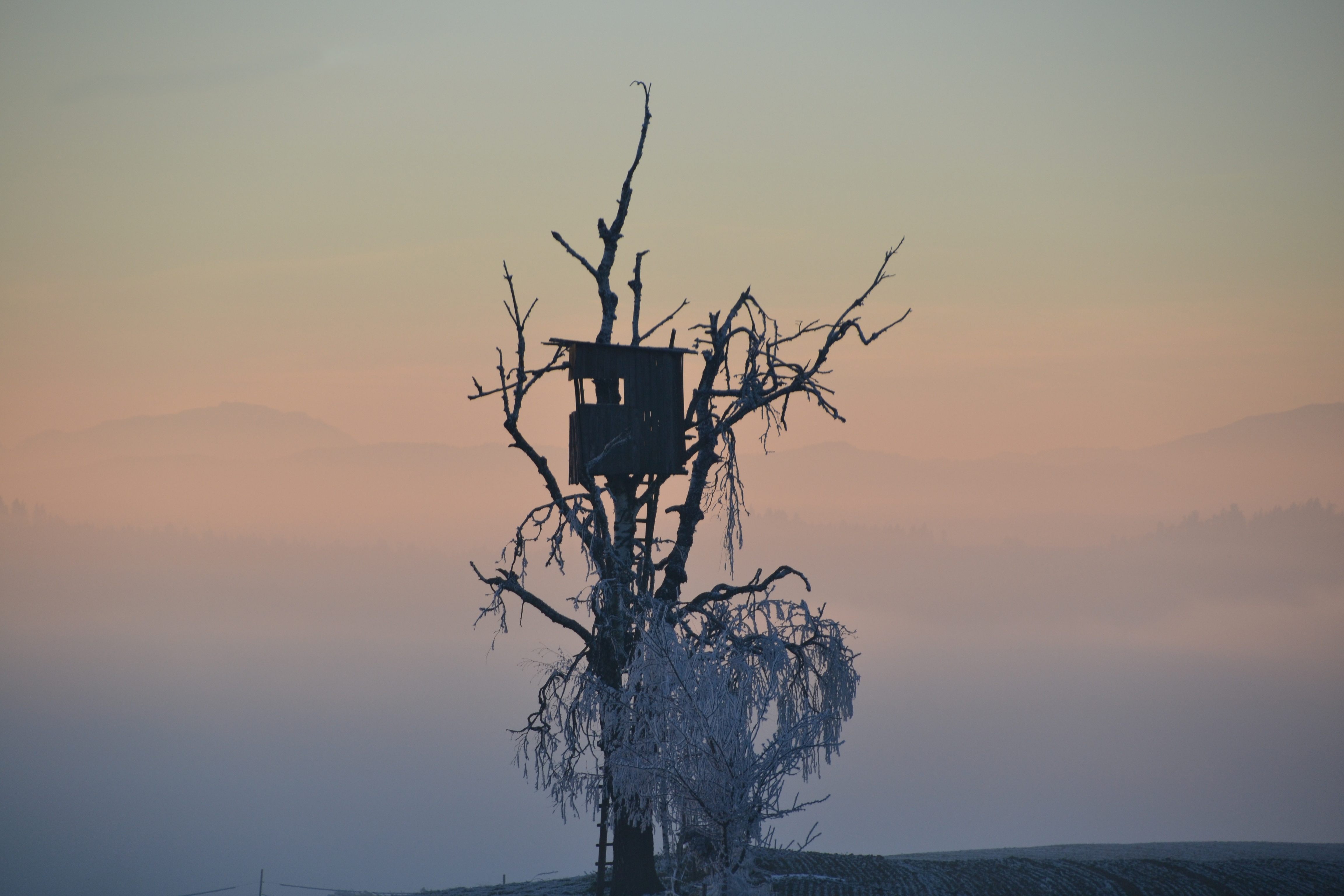 Last month, we asked Atlas Obscura readers to tell us about their favorite treehouses. Why treehouses? Because we love almost everything about them—the childlike sense of wonder they inspire, the quirks and secret cubbyholes that make each one unique. Also, we're nosy. Treehouses are often hidden in backyards, stubbornly refusing to reveal themselves to passersby. We want to see them!
The submissions we received revealed magical tree-based structures of all sorts, from an elevated fort inspired by young love to a hanging shelter that required more than a little engineering know-how. Overall, you also told us how your favorite treehouses are all the more impressive for the memories they represent.
Below you'll find a selection of some of our favorite submissions. Every treehouse has the potential to make the world a little more wondrous—with any luck, one of these stories will inspire you to look up at the leaves and dream.
---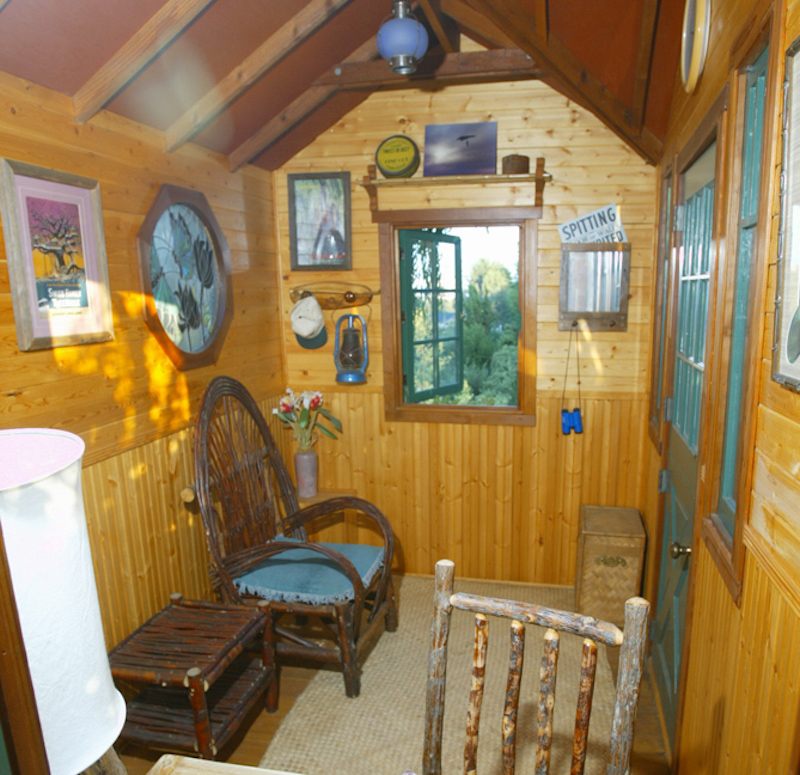 An Inspired Getaway
Pasadena, California
"Built it myself after seeing an article in Smithsonian Magazine. Solar power run lights, radio, and TV." — Mike Caveney, Pasadena, California
---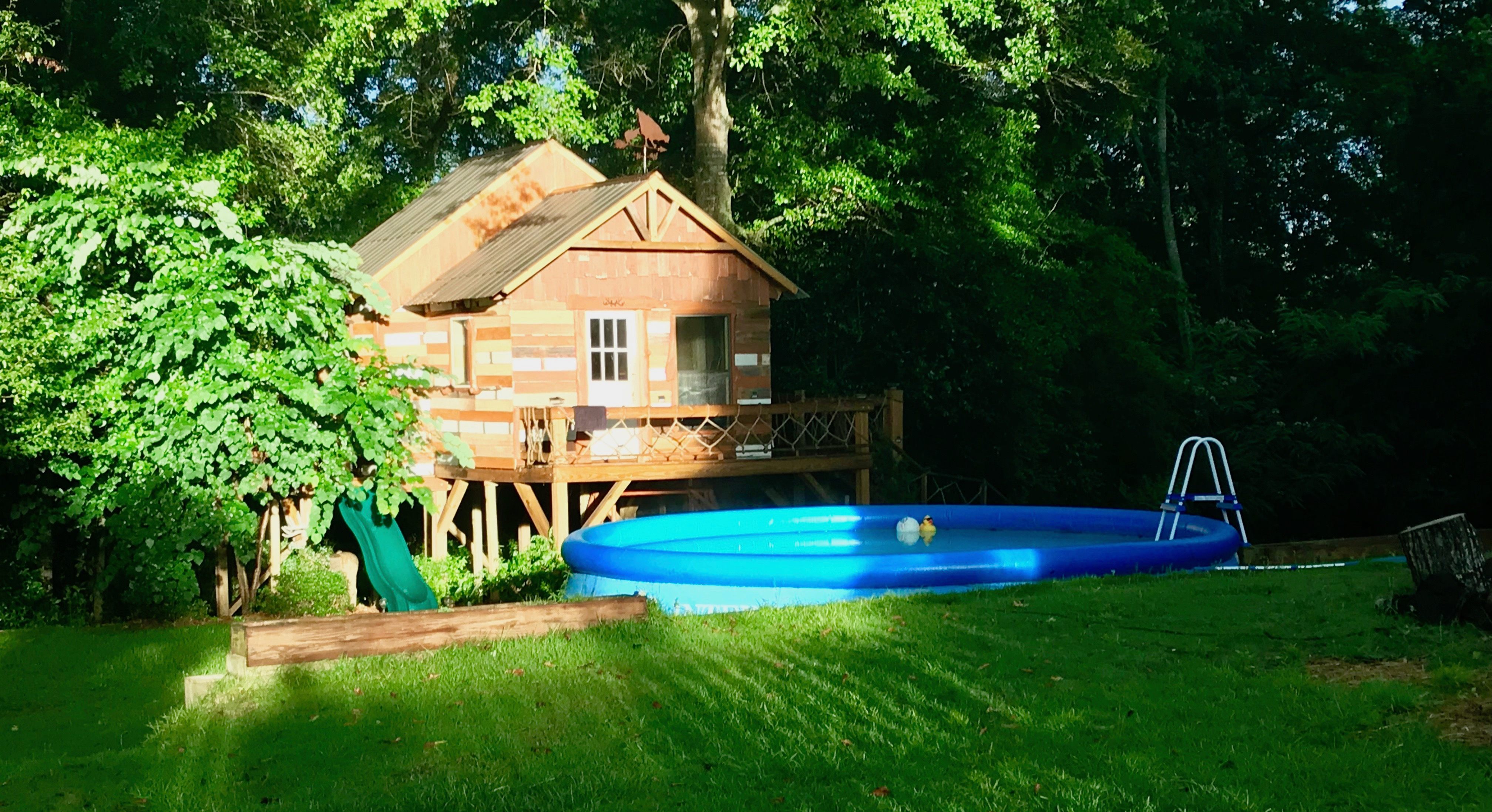 Building Memories
Lanett, Alabama
"During my doctoral program, my boys dreamed it up while watching Treehouse Masters. 'We could do that!' So I let them design it. It took two years of weekends, several friends, and family, but we finally completed it in April. We reclaimed as much wood as possible. The siding is from an old fence at my in-laws'. It's magical at night with all the lights on. But my most favorite part is that I built it with my boys. A forever memory." — Michael Plank, Lanett, Alabama
---
Hanging Hideaway
Central Oregon
"My brother and I built it over the summer of 2002 in a trio of Ponderosa pines on my off-grid property in Oregon. All hand tools, no electricity, or even a cordless drill. It's about 25-feet up, suspended with cables so it sways with the trees in the wind. We built the floor platform on the ground, then hoisted it up into place using a large pulley and my pickup truck. We then added the walls and roof up there, swinging around in rock climbing harnesses and pulling materials up with the pulley. Only way up is to climb a tree and hoist yourself up through a trapdoor in the porch floor. I sleep on the porch up there whenever I can make it out to my property. Because the trees grow at different rates, we need to re-level it every few years using turnbuckles in the suspension cables." — Kevin Tracy, Michigan
---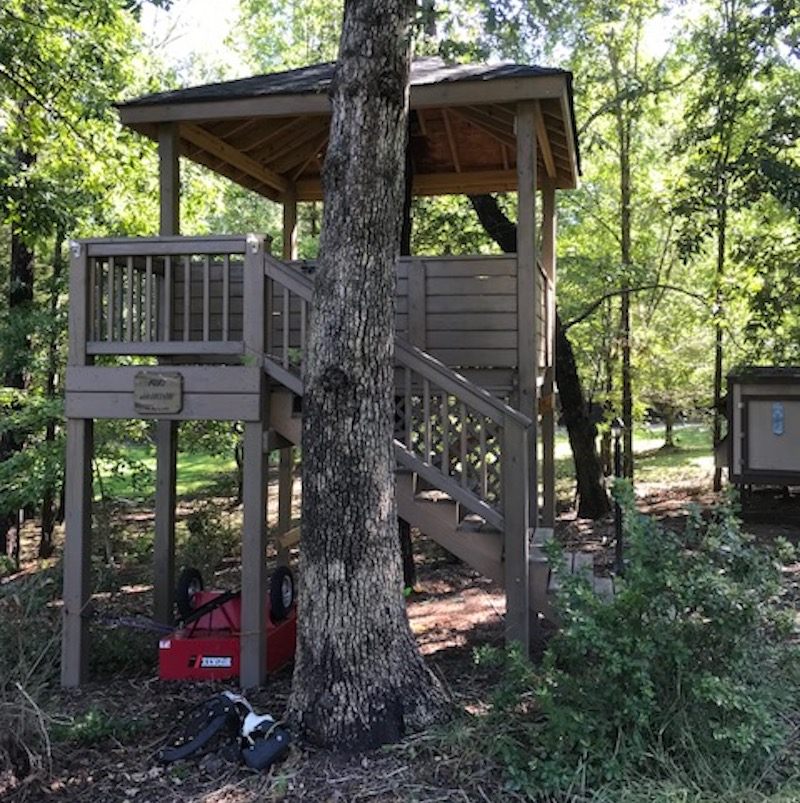 Grandson's House
Chapin, South Carolina
"It was our present to our two-year-old grandson who just turned five. We wanted to construct something he could grow up with and enjoy into adulthood. It is also big enough to put lawn chairs for the adults to sit back and enjoy. It overlooks the chicken coops on one side, our garden on the other, and the biggest view is downhill to the lake. My husband has used it to watch deer at dawn. It's constructed around a hickory tree and under the canopy of other hickories, pines, and even one dogwood, and has a coach lap outside the stairs. We built it with stairs and a landing, dedicated it to our grandson, naming it Fort Jackson. The goal is to install a drop down ladder to the underneath of it when he is 7 years old. It's equally a deer stand and an adult watering hole." — C. Hope Clark, Chapin, South Carolina
---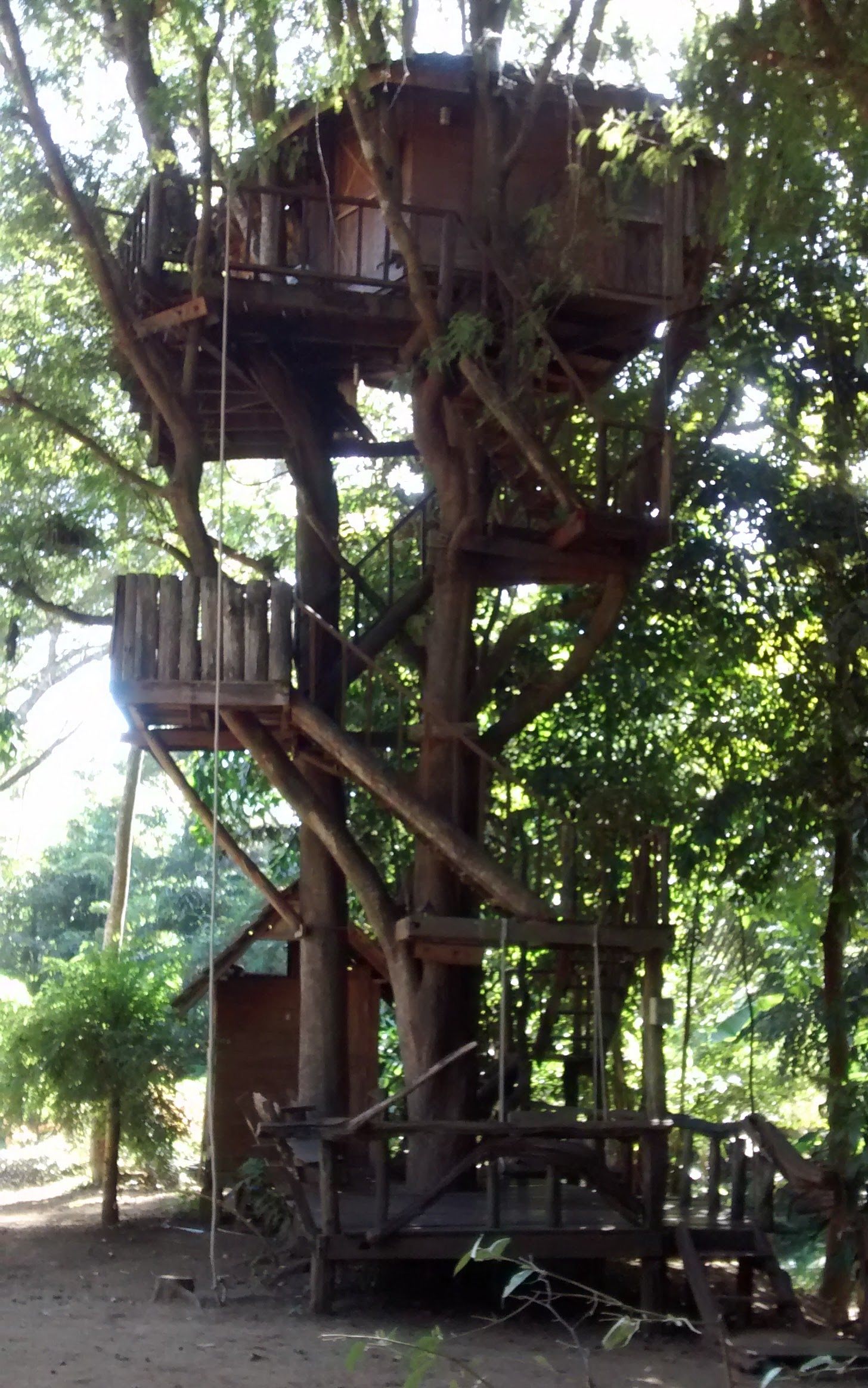 A Stranger's Passion
Thailand
"I was told that the gentleman who designs, builds, and owns these treetop escapes had a career as a professional in the city. When that job came to an end, he became, for whatever reason, a chicken farmer. Apparently, he was also a dreamer and he began building treehouses that he imagined as being in the trees of his rural farm, located in the forest outside of Chiang Rai, Thailand. Each treehouse is unique and each is rented as a bed and breakfast unit. Lying safe and cozy in a leafy bower listening to the song of tropical birds and the gentle gurgle of the stream below… magic." — Deb Kreutz, California
---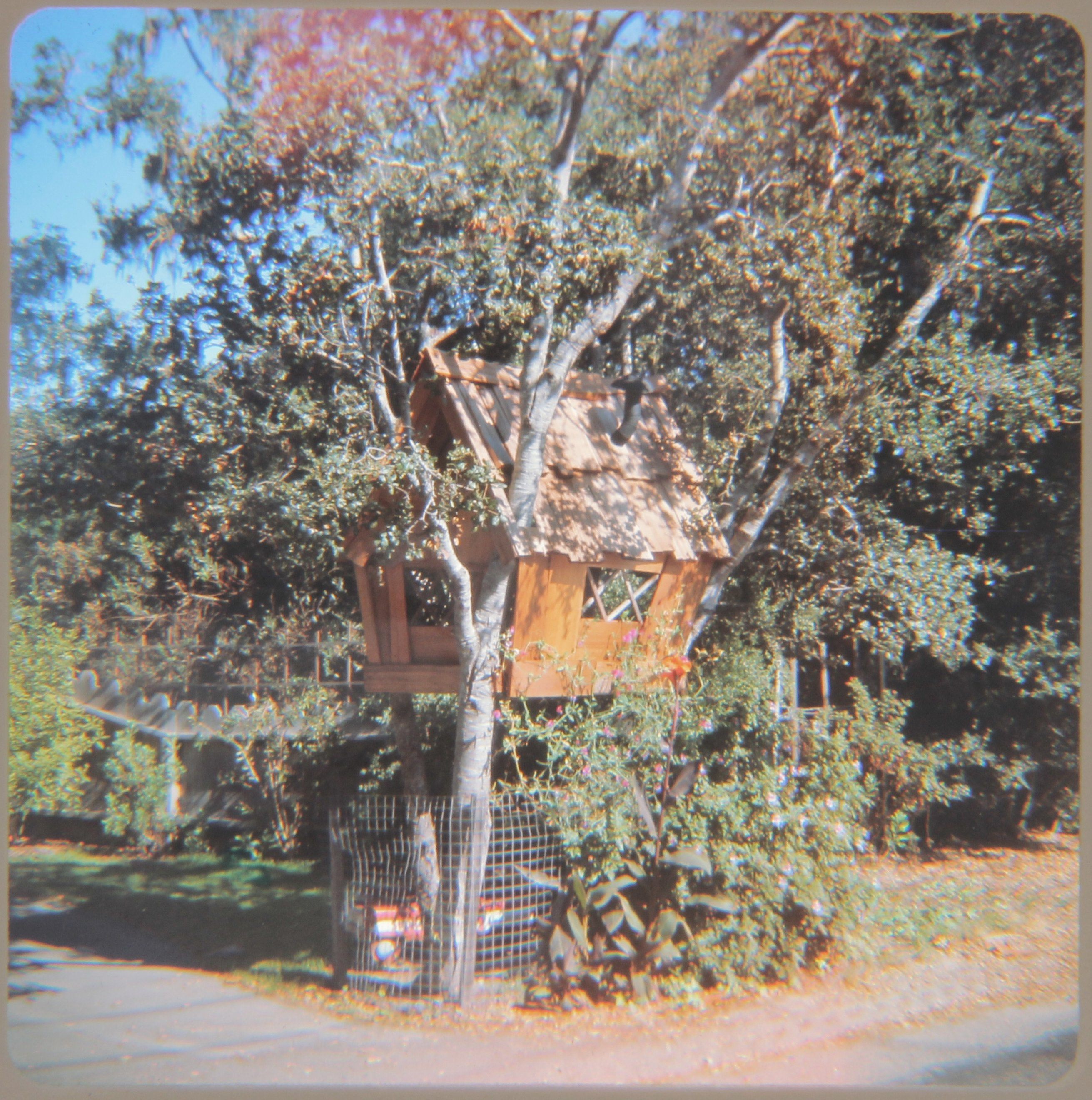 Child-Size and Carpenter-Built
Pacific Grove, California
"My father was a professional carpenter and he constructed the treehouse in a group of four oak trees which grew closely together in our front yard. He built a sturdy wooden platform about five feet above ground level. Then constructed the walls and roof of the treehouse out of cedar roof shakes which had been left over from the construction of our 'real' house. My mother was very creative and she served as art director for the creation of the treehouse, suggesting features such as the diamond-pane windows and the crooked stovepipe on the roof. One Christmas she made a pair of elves out of styrofoam, coat hanger wire, and oilcloth. She positioned the elves on the roof with a string of lights in their hands as if they were decorating the treehouse. The treehouse was small but cozy and a great place to spend an afternoon reading or just dreaming away the time. Not many treehouses look like a fairytale cottage with a crooked stovepipe on the roof. It was built in the mid-1960s and dismantled in 1972 when we moved away." — Martin Schmidt, Carmel, California
---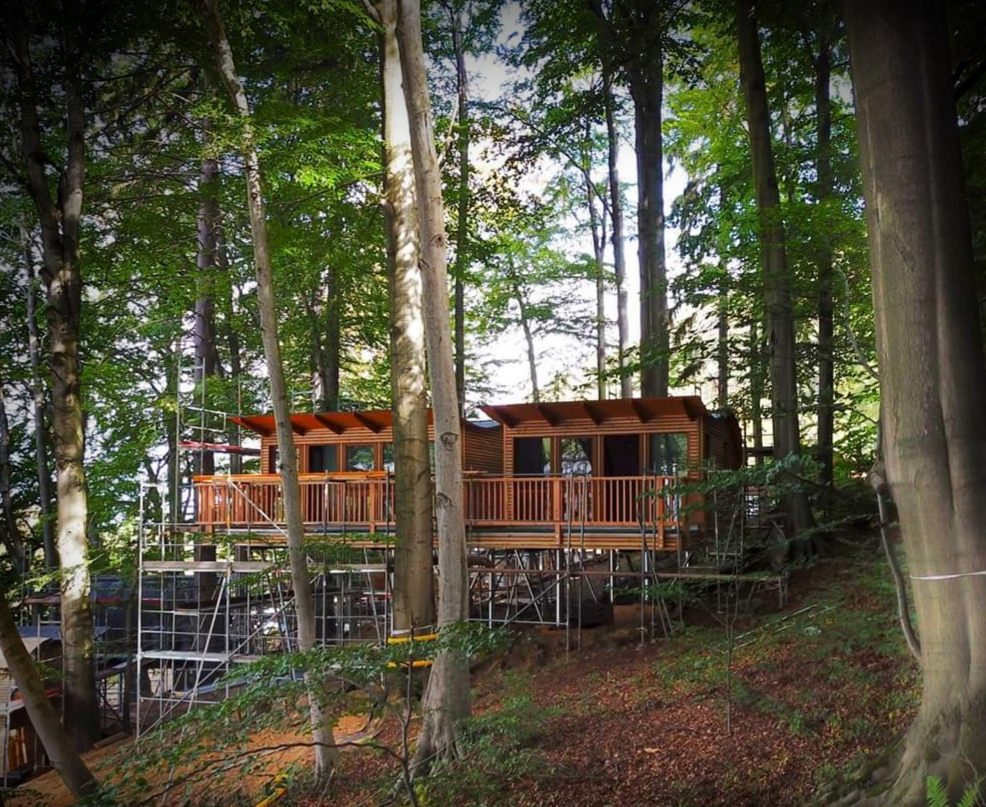 Arboreal Architecture
Bad Harzburg, Germany
"Architectural design turned reality through treehouse hotel project, organized by the land owner and developer. The roof is curved." — Sonja Peshkoff, Hamburg, Germany
---
Honeymoon Cottage
Julian, California
"It was created as a 'honeymoon cottage' by the owners when they married. At night, coyotes would climb the spiral staircase to the tin roof and dance around, with their nails clicking on the tin. It had a tiny galley kitchen and a wood-burning stove. 'Something' would chew on the house at night and I would throw shoes in the direction of the chewing." — Monica Rix Paxson, Cuernavaca, Mexico
---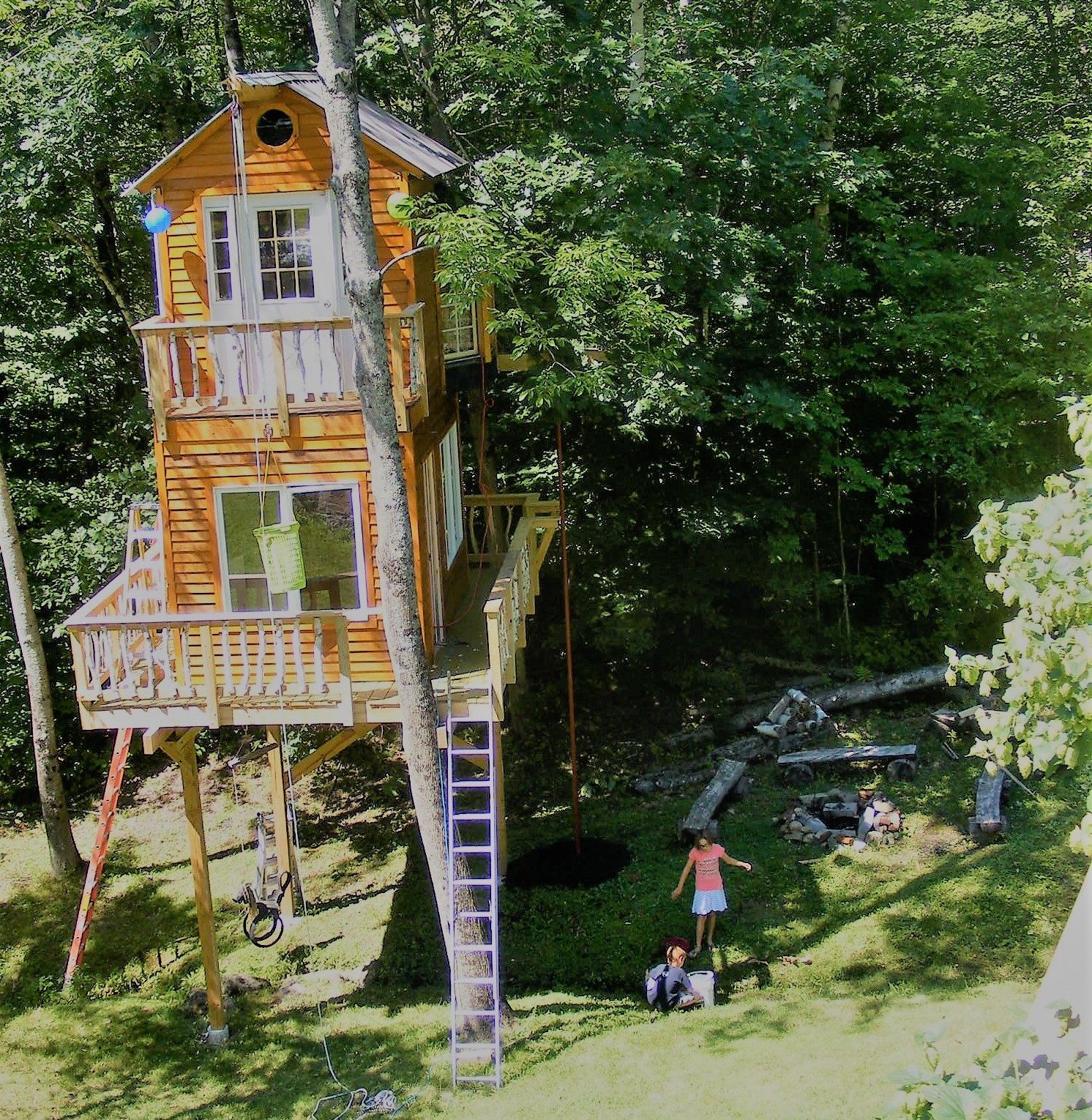 A Dream Come True
Vermont
"My husband, Shane Clifford, designed and built it. He is a teacher, and woodworking is one of his hobbies. He dreamed of a treehouse like this when he was a kid, and wanted to build it for our own three kids. It took two summers to build and required some technical maneuvering with ropes and harnesses. Eventually he'd like to add a spiral staircase winding up the tree to the opening in the railing. I'd like to add a twisty tunnel slide someday! It sleeps six people and each bed has a special animal name and painting adorning it: Heron's Hideaway (folds down out of the wall from a chalkboard station), Rabbit's Rest, Coyote's Cot, Fox's Featherbed, Bear's Bungalow, and The Crow's Nest (tucked up in the peak of the roof)." — Emma Clifford Sharon, Vermont
If you have an amazing treehouse of your own, head over to our community forums and tell us about it!