The Food Stylist Who Creates Hollywood's Unreal Dishes and Drinks
Hearts made out of brioche and braised human legs are on the menu.
Once, for a job, Janice Poon had to consider how she would go about cooking a human leg. Poon is the food stylist you call when you need fantastical food on film, for scenes ranging from gory to gourmet. Though, sometimes, it's both simultaneously. In one episode of the television series Hannibal, Dr. Hannibal Lecter, fiction's most epicurean cannibal, methodically slices a victim's leg with a bandsaw to the soaring tunes of Beethoven's Ninth, dusts it with flour, and braises it in white wine, with nary a speck of blood or gristle staining his immaculate kitchen or turquoise button-up.
The scene, which used a human leg Poon fashioned out of veal for a dish of osso buco, straddled the line between gruesome and toothsome in a way that has become her calling card. But Poon's road to the world of macabre on-screen food has been a long and winding one.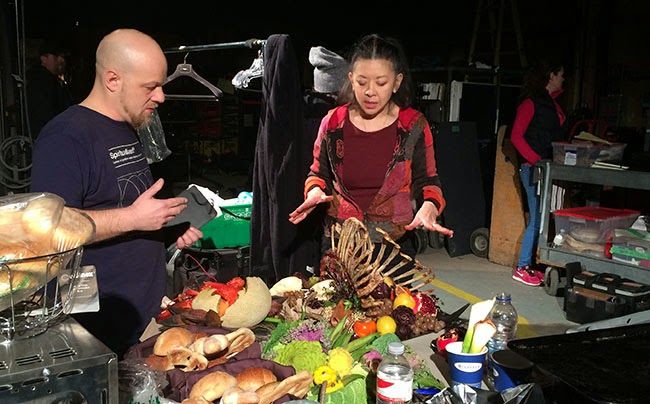 Poon grew up in Stettler, a small Canadian town, where her family ran several restaurants as the only Chinese family in the area. Though she has many fond memories of sharing food with her family and having the restaurant staff prepare dishes such as fried shrimp with pineapple bits for her, a career in food was the last thing on her mind while growing up. Instead, she received a fine arts degree and became director of an advertising agency. Yet one day, during a photoshoot with a major food brand, she watched a food stylist meticulously insert thin skewers into a handful of picture-perfect french fries to keep them standing up straight. "That's a job for me," she recalls thinking. "Duplicity, artistry, perfect!"
Poon has a deep appreciation for the way food can be layered with meaning that forces viewers to look twice. Her father left China at age 13, arriving in Canada in the 1920s. A restaurateur, he sometimes conjured up dishes for his family that evoked a home country he barely knew. "He used food to build some sort of magical China in his head, that was held together by the thinnest shards of memory," Poon says, describing one dish he made that involved skinning a pickerel, mincing its flesh with water chestnuts, chives, and mushrooms, stuffing it back into the skin, steaming it atop lettuce, and garnishing it with maraschino cherries for a Canadian twist. "He'd serve it to us with all these stories about the old country, and that filled me with a childhood awe of what you could really do with food."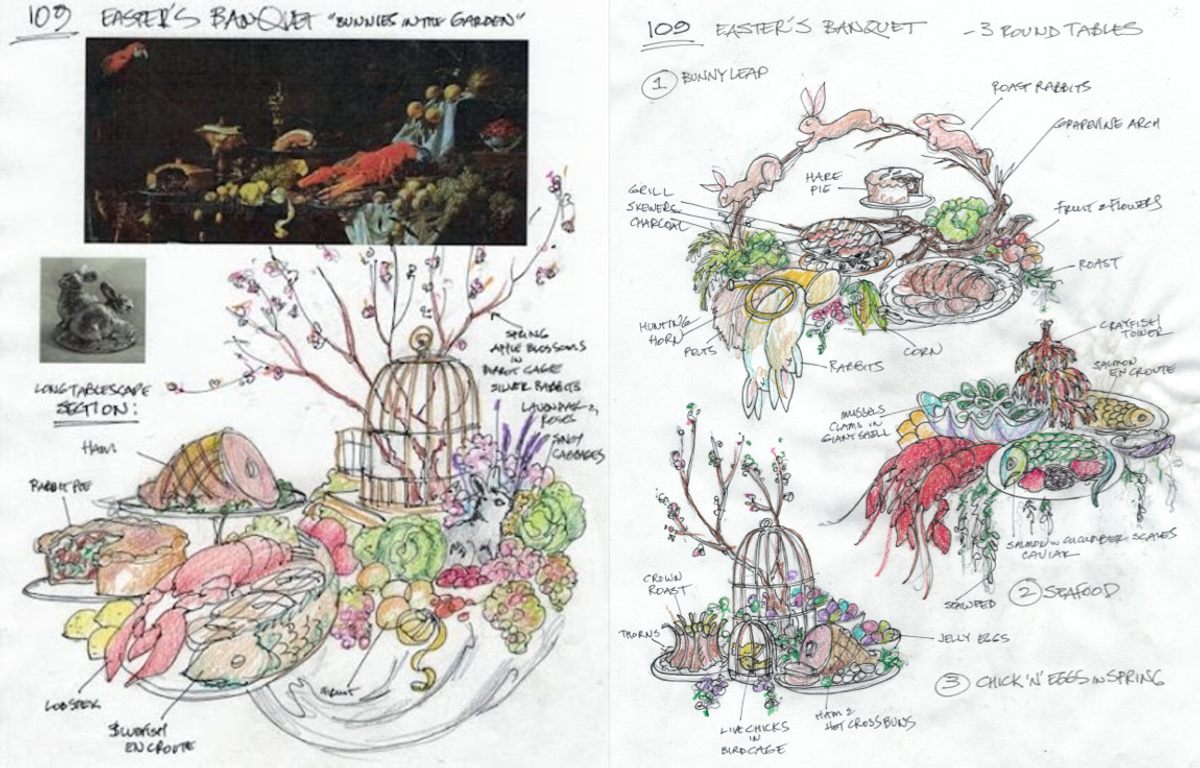 Though all her siblings ended up working in food, Poon preferred bouncing from project to project, building on what she called "iterations" of herself. She went from advertising to working as an illustrator and even opening a quilt shop in Toronto. She continued to skirt the edges of the food world while sharpening her design skills, building tablescapes and floral arrangements for a friend's catering business. A chance meeting with a Saudi Arabian princess in her quilt shop turned her into a couturier, sketching up wedding dresses for royalty. "Sketching really opened doors for me," she notes, letting her quickly put down her grandiose food visions on paper. Such designs would later allow directors and film crews to grasp her outrageous ideas.
Poon's first chance at creating culinary art on film was as the food stylist for A Nero Wolfe Mystery, an early 2000s television series on the adventures of an eccentric detective and gourmand. For a dinner scene taking place after the characters had just returned from fishing, Poon found herself styling a plate of duck breast and garnishes to resemble a fisherman and his boat. Food styling, to her, had become more than just arranging food to blend into the background of a scene. "I don't want someone looking at my work and saying, 'There's no story here,'" she says.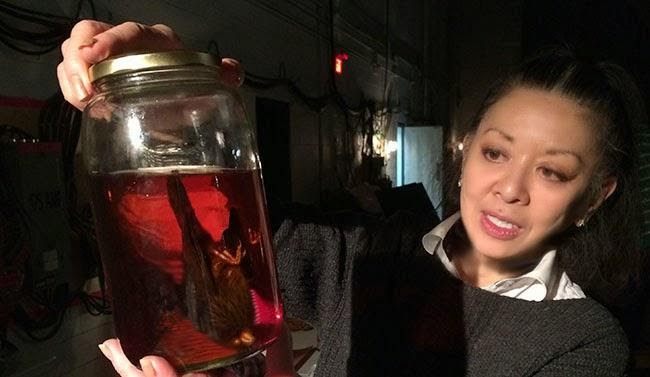 After a long intermission working as a sculptor and creating giant food replicas for restaurants, Poon would finally arrive on the set of Hannibal a full 10 years after her first ventures into food styling. Though she would go on to style food for the TV shows American Gods and The Handmaid's Tale as well as the film The Shape of Water, she considers her work for Hannibal special, due to director Bryan Fuller's openness to letting her take the entire team along on her creative journeys. While planning what her human leg osso buco would look like, she placed a veal shank into her socks and shoes and shot off a quick photo to the film crew, along with the words "Yes or No?" It was work that required several leaps of the imagination. "Since it's a leg, it'll probably be tough, and needs to be slow cooked," she remembers thinking. "I'd approach it quite logically and first think about the types of dishes the leg can be."
Funnily enough, Poon isn't a horror fan herself, admitting that she scares easily. But when it comes to her more gruesome creations, she's fascinated by "the deception part of it," she explains. For a moment, she can make a viewer truly believe that a character on screen is biting into a raw human heart, even if said heart is simply artfully-decorated brioche.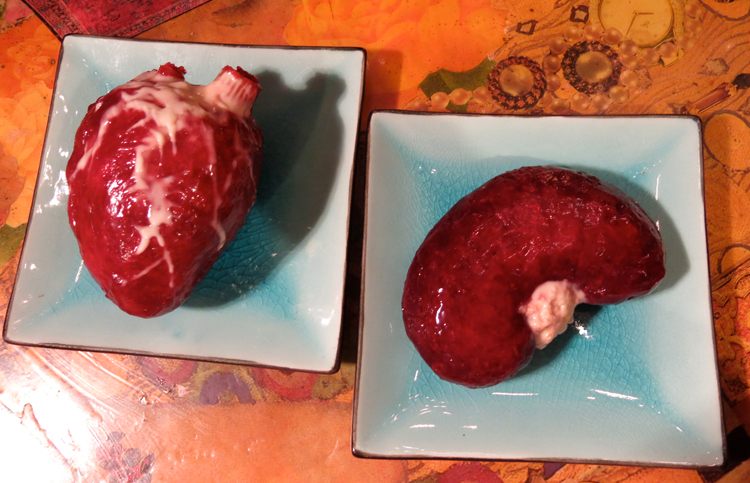 Recently, Poon has dreamed up alien repasts for Star Trek: Discovery and futuristic fare for Apple's upcoming sci-fi TV series Foundation. However, COVID-19 has severely impacted the media industry, with many movies and TV programs put on hold or otherwise affected. Poon's phone is still ringing, but the reality of filming has changed. Film crews of up to 200 have slimmed down to a few dozen people on set.
For upcoming projects, Poon will likely have to ship her ingredients to sets and have others faithfully assemble her work. But she's not too bothered by the restrictions placed on the otherwise close-quarters art form of filmmaking. "I suppose, like with all art," she notes, "things are done when they're done."
Gastro Obscura covers the world's most wondrous food and drink.
Sign up for our email, delivered twice a week.