For Sale: 19 Frank Lloyd Wright Houses, Including His Last
If you're over six feet tall, you may need to duck to enter.
This month, two very different American homes are up for sale. One, in Phoenix, is a curvy, sand-colored behemoth that seems to ripple out of the Arizona mountains. The other, in Manchester, New Hampshire, appears to be built mostly out of concrete bricks. The first is stunning; the second, well, an acquired taste. Both houses, however, bear the distinction of being designed by the legendary architect Frank Lloyd Wright.
Though his name is now associated with sprawling masterpieces such as the iconic Fallingwater or the Ennis House, a Mayan-revival abode that's seen many a film shoot, Frank Lloyd Wright designed many smaller, less famous houses in a range of styles. Approximately 380 Wright buildings remain standing today, most of which are still used as private residences, according to John Waters, the preservation programs manager at the Frank Lloyd Wright Building Conservancy. "You can look at his work and see a massive house in Los Angeles, a small house in Oak Park, and medium-sized houses dotted around the country," Waters says. But while his styles varied, Wright's goal was always a "thoughtful, intentional design," he says.
To his credit, Frank Lloyd Wright always had a flair for his personal brand. When the would-be architect turned 18, he swapped out his given middle name "Lincoln" for "Lloyd," giving his name a catchy three-meter beat, writes Thomas de Monchaux in the fall 2017 issue of the Frank Lloyd Wright Quarterly. Wright sometimes endowed homes with poetic names such as Hollyhock and Wingspread, betraying the usual convention of naming homes after clients. And he branded many of his buildings, which he considered "opuses," with a small red square that bore his initials, de Monchaux writes.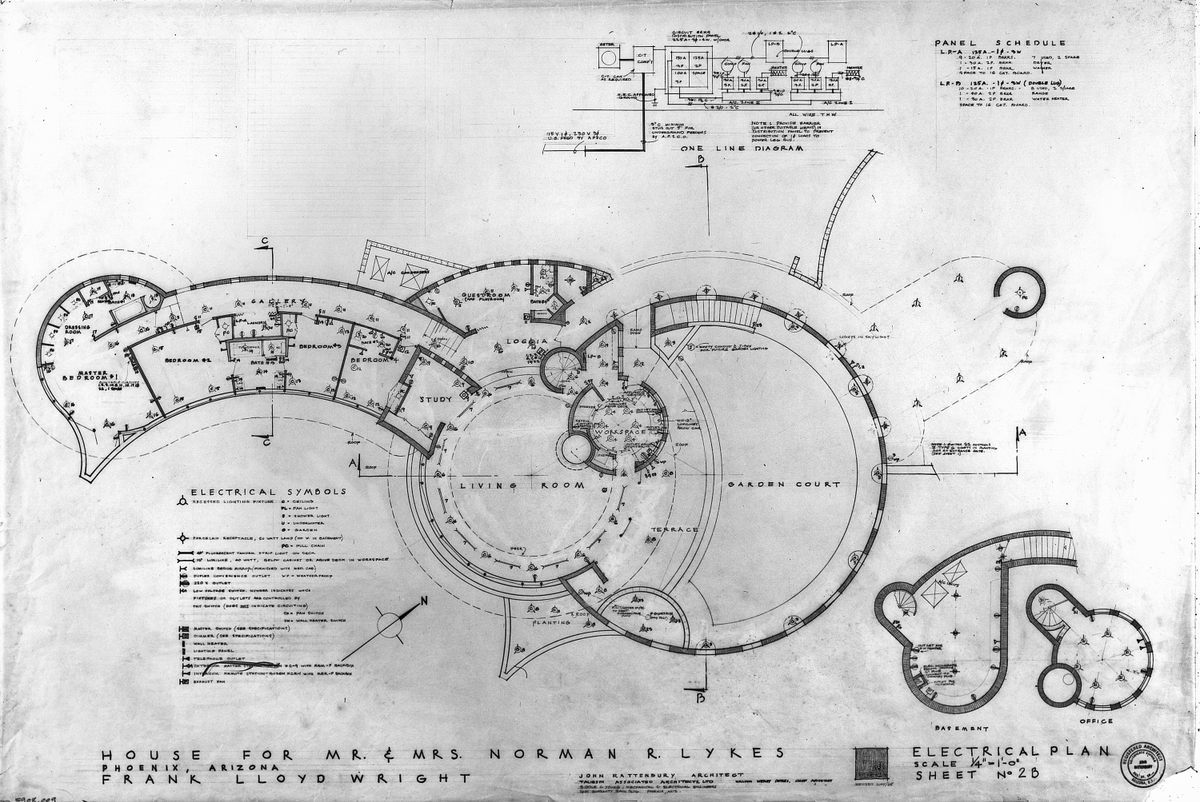 Two Frank Lloyd Wright houses for sale simultaneously might seem like a big deal—an unusual glut in the market for buildings that are the brainchild of America's most famous architect. But at the moment of writing, there are actually 19 Frank Lloyd Wright homes for sale, according to a list assembled by Frank Lloyd Wright Building Conservancy. "At any one time, we have between 15 and 20 listings," Waters says. By that estimate, you can expect around five or six percent of Wright houses to be on the market.
The house in Phoenix, also known as the Lykes House, seems to be the more beautiful of the two recent listings. Built in 1967, it is said to be the last home Wright designed before his death, and its floorplan consists of concentric circles that seem only natural in the surrounding mountains, where it overlooks the Phoenix Mountains Preserve. It's the kind of house that lives up to Wright's reputation for both muted grandeur and harmony with the surrounding landscape.
Unlike certain other distinguished Wright homes, Lykes has never had a leaky roof. Wright famously responded to complaints of leaking roofs and skylights by telling the disgruntled party to simply move their desk, chair, or whatever was getting wet; in 2001, Fallingwater nearly fell into the water. "His greatest weakness is a monstrous ego: though he talks of democracy, he has the manners and beliefs of a Renascence prince: at heart he is a despot," Wright's former friend, the historian Lewis Mumford, once wrote in a letter to the poet John Gould Fletcher. Mumford also noted that Wright, who was five foot seven, deliberately designed short doorways so anyone over six feet tall would bump their heads.
Wright's house in Manchester may seem less architecturally impressive, but its sale is slightly more newsworthy. Known as the Kalil House, the building is one of only seven examples of the Usonian Automatic style, Wright's later-in-life attempt at crafting an economical home in the wake of the Great Depression. Wright devised a concrete masonry system that relied on cheap concrete blocks around one foot wide and two feet long, which, in theory, prospective owners could order to assemble houses themselves. In practice, however, building the structures was more difficult than expected. "It was meant to be a relatively inexpensive house, making fine architecture within the reach of the middle class," Waters says.
The Kalil House listing marks the first time a Wright-designed Usonian Automatic house has ever been listed on the market. It was built in 1955 for Toufic and Mildred Kalil, who lived just down the street from Isadore and Lucille Zimmerman. The Zimmermans had just commissioned a classic Usonian house from Wright, and the Kalils wanted one of their own, Waters says. The Zimmerman House is now the only Wright building in New England that's open for public tours.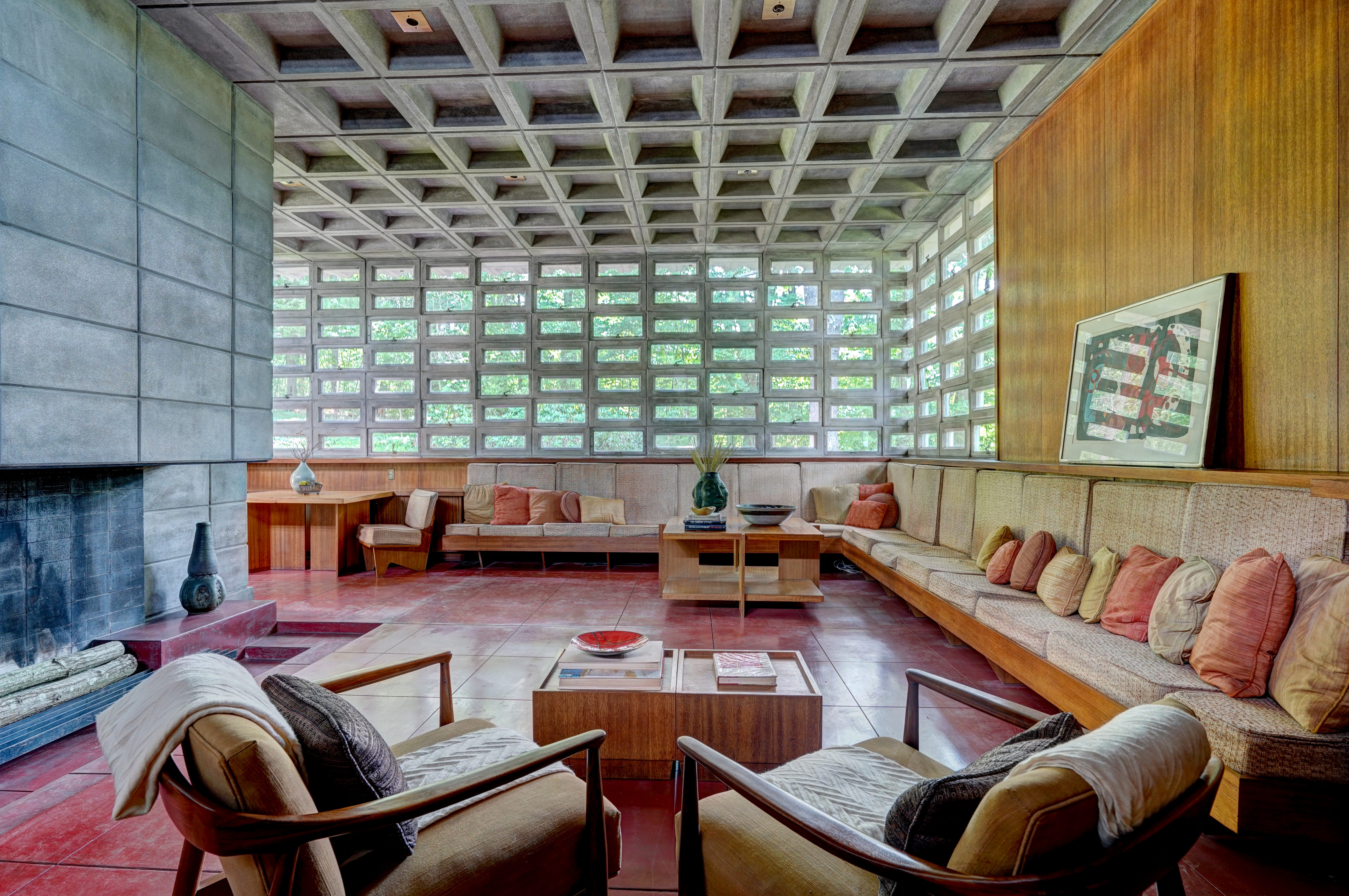 Though many of Wright's homes are listed for sale at any given time, it may seem surprising that some linger on the market for several years. In 2017, The New York Times reported on the knotty process of selling a Frank Lloyd Wright home, which can be due to anything from a remote location to their inherently unique design. But, Waters says, "that's true of all houses that are unique, and not necessarily what the market thinks it's looking for at this moment."
If you're looking for something unique and astonishing, the Lykes House recently dropped in price by nearly a quarter-million dollars, from $2,985,000 to $2,650,000. If, on the other hand, you're looking for something uniquely crafted from concrete legos, the Kalil house is listed for a more modest $850,000. Either way, if you're over six feet tall, be prepared to duck.