For Two Weeks, The Beaches Of South Jersey Looked Tropical
It was all thanks to a giant phytoplankton bloom.
So who's noticed the tropically-turquoise waters off of South Jersey over the last 10 days? Quite unusual, right? pic.twitter.com/gi92oNj1Bj

— Dan Skeldon (@ACPressSkeldon) July 12, 2016

Joe Bongiovanni, beach safety director for New Jersey's Asbury Park, is used to surveying dark, murky waves for swimmers in trouble. These past few weeks, his view has been a little different. "It looks tropical. It really looks tropical," Bongiovanni told NJ.com. "It's been looking that way for most of the summer."
Since July Fourth weekend, the water around South Jersey has been "crystal clear and tropically tinted… much different than the grayish color swimmers know," the Press of Atlantic City reported last week. Locals and tourists alike have flocked to the shore to snorkel, scuba dive, and go on dolphin cruises.
Aerial photo of Brigantine's crystal clear water .... pic.twitter.com/QircgxgxDU

— Brigantine Beach NJ (@BrigChamber) July 14, 2016
The color is caused by phytoplankton—microscopic plants that thrive in cold temperatures, and show up annually around this time. These critters, combined with a dry summer that has kept nearby rivers from piping in mud, have left the Jersey Shore green and sparkling.
This particular bloom was large enough to be visible from space: photos from NASA's Earth Observatory show Atlantic City surrounded by a soothing turquoise blob.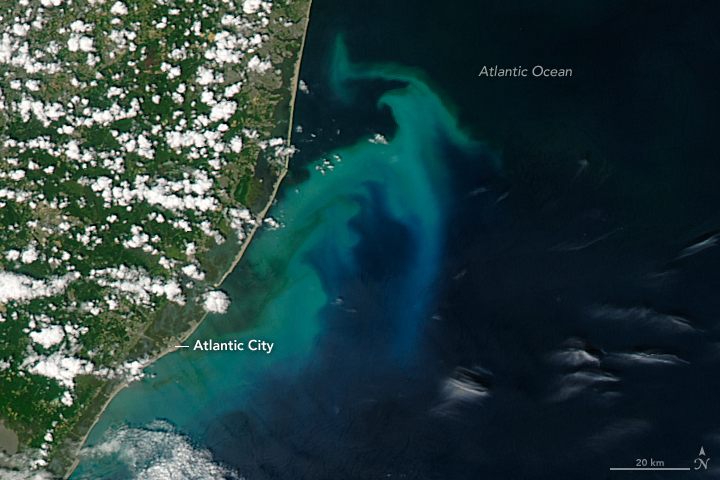 The phytoplankton bloom turning South Jersey tropical. (Photo: NASA Earth Observatory/Public Domain)
Over the past few days, as the ocean warms and the plankton disperse, the fun has started ending. "Area beach patrols and boaters have reported the ocean has returned to its more traditional blue," the Press of Atlantic City wrote this morning. Even the best dye jobs eventually fade.
Every day, we track down a fleeting wonder—something amazing that's only happening right now. Have a tip for us? Tell us about it! Send your temporary miracles to cara@atlasobscura.com.