Found: Love Letters a WWII Soldier Wrote to His Boyfriend
Homosexuality was illegal at the time.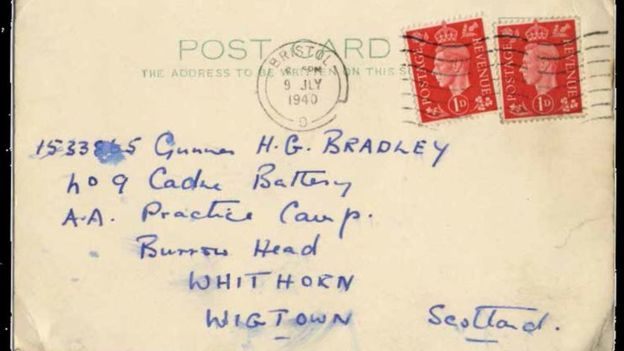 "My darling boy," Gordon would begin his letters. "My own darling boy."
He and Gilbert had met on a houseboat in 1938. The war had started the next year. Gilbert had not wanted to go; he had tried to fake epilepsy to get out of it. But he was conscripted and became Gunner H.G. Bradley.
Gordon wrote him often. Usually he would sign his letters "G," and when Mark Hignett of the Oswestry Town Museum first acquired three of their letters, he assumed it was a correspondence between a man and a woman. Only after he began collecting more did he realized that "G" was Gordon and that he had discovered something much rarer, a series of love letters between two men, written at a time when homosexuality was still criminalized in Britain.
Letters like these are rare because so many of them were destroyed, and, as the BBC reports, Gordon did ask his boyfriend to destroy these, too. "Do one thing for me in deadly seriousness," he wrote. "I want all my letters destroyed. Please darling do this for me. Til then and forever I worship you."
But Gilbert kept the letters. After he died in 2008, they were collected by a cleaning company and sold to dealer of military mail, as the BBC reports. Hignett eventually spent more than $1,200 tracking down 300 of the two men's letters on eBay. He plans to write a book detailing the whole love story.