118 Years Later, Japan's Earliest Sound Recordings Still Resonate
Sessions in a Tokyo hotel room with a sound engineering pioneer captured a nation in transition.
It is February 28, 1903, and 12 musicians from the Imperial Household Orchestra are seated in front of a gramophone horn in a Tokyo hotel room. American recording engineer Fred Gaisberg carefully lowers the needle onto a spinning blank disc and the session begins. The fragile melody of a bamboo flute breaks the silence, followed by the slow beat of the conductor's drum. As the song unfolds, Gaisberg's chikuonki, or "sound storing machine," records the ceremonial sound of gagaku. The oldest continuously performed orchestral music in the world, gagaku had been the reserve of Japan's imperial court for over a thousand years. This recital is the first ever to be committed to disc. "Weird and fascinating indeed," Gaisberg noted in his diary later that day.
When sound artist, musician, and producer Robert Millis discovered this recording on a 7-inch shellac disc in a Seattle thrift shop a few years ago, he was enchanted by what he found: an enduring example of what had been, for most of history, ephemera. "Until that point, the human voice had just disappeared, and all of a sudden we could record it," he says. A hundred years later, here was a grainy snapshot of a country on the cusp of modernization, a glimpse of the past captured with a machine from the future. "These recordings are a tangible way to listen to history," Millis adds.
The record industry was still very much in its infancy when Gaisberg sailed into Yokohama Bay in the first week of 1903. Just 15 years had passed since inventor Emil Berliner had patented the gramophone to play the flat discs that would replace Thomas Edison's wax cylinders. Controlled by a handful of companies, "the agenda of the recording industry [at that time] was to sell the gramophones," says Millis. Having established nascent markets in Europe and the United States, they now rushed to do so further afield.
The journey which took Gaisberg to Tokyo began on a fine September morning in 1902, at Tilbury Docks at the mouth of the River Thames. Employed by The Gramophone Company in London, Gaisberg was sent off with several trunks of equipment and 600 blank wax discs, bound first for Calcutta, before continuing on to Tokyo, Shanghai, Hong Kong, Singapore, Bangkok, and Yangon. "As we steamed down the channel into the unknown I felt like Marco Polo starting out on his journeys," he later wrote in his book, The Music Goes Round.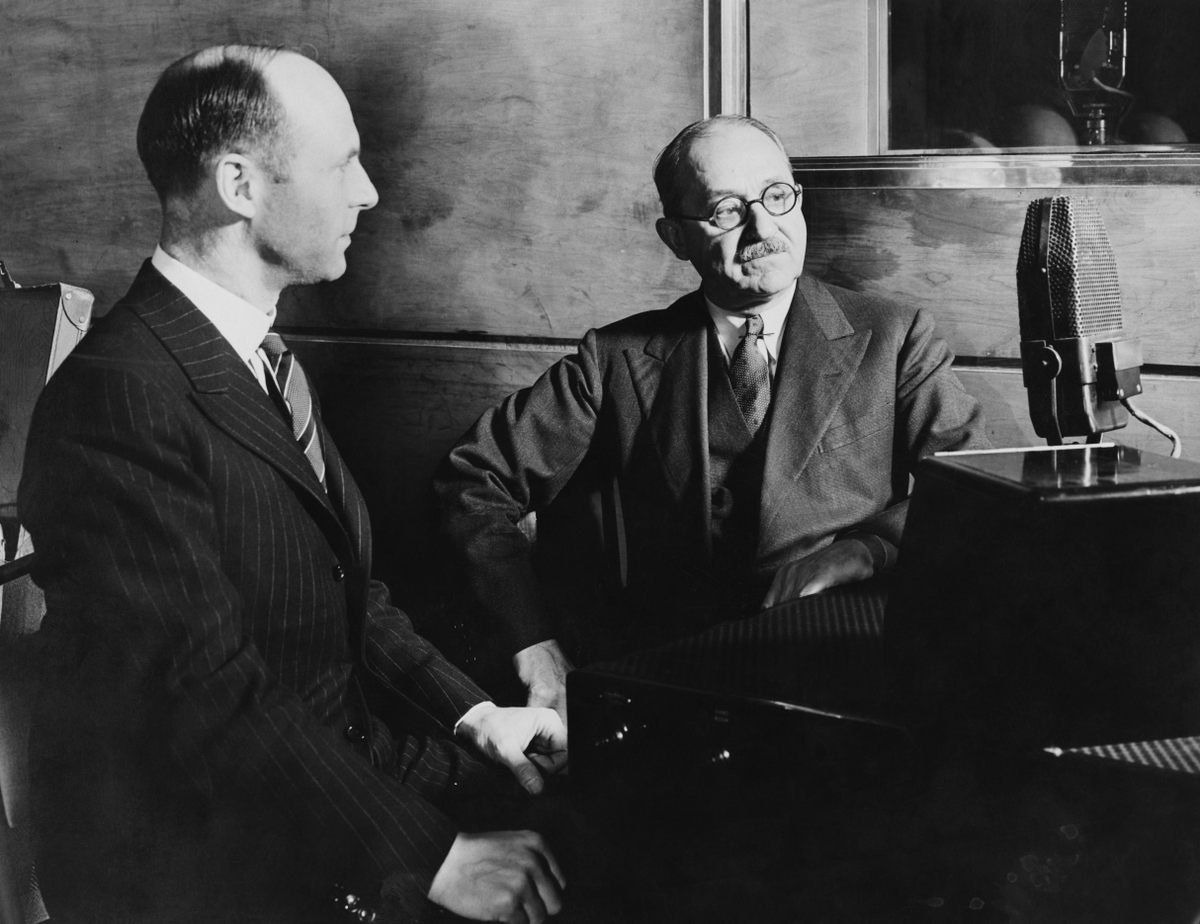 Although not yet 30 years old when he sailed to Asia, Gaisberg already had a reputation as a pioneer in commercial sound recording. Experienced in taking equipment on the road, he had captured arias in Italy and operettas in Russia, making a number of important recordings that would help popularize the medium in Europe. Wherever he went, he operated with calm efficiency, and enlisted the help of local guides whose on-the-ground savvy and connections supplemented his technical knowledge.
In Tokyo, this job fell to Australian expat Henry "Kairakutei" Black, Japan's first foreign rakugoka, or public storyteller. Together, he and Gaisberg spent two weeks visiting theaters and teahouses, holding auditions. The styles they subsequently recorded in the makeshift hotel studio included rare folk songs performed by itinerant, often blind musicians, traditional sankyoku chamber ensembles, and gagaku. In just one month, Gaisberg produced 275 titles to be pressed in Hannover, Germany, and sold back to a Japanese audience.
For Tokyo-based music researcher and record collector Masato Mori, the prolific nature of Gaisberg's work was not his primary legacy. Instead, "the obvious influence of Gaisberg's arrival in Japan was the quality of the artists who recorded," says Mori via email.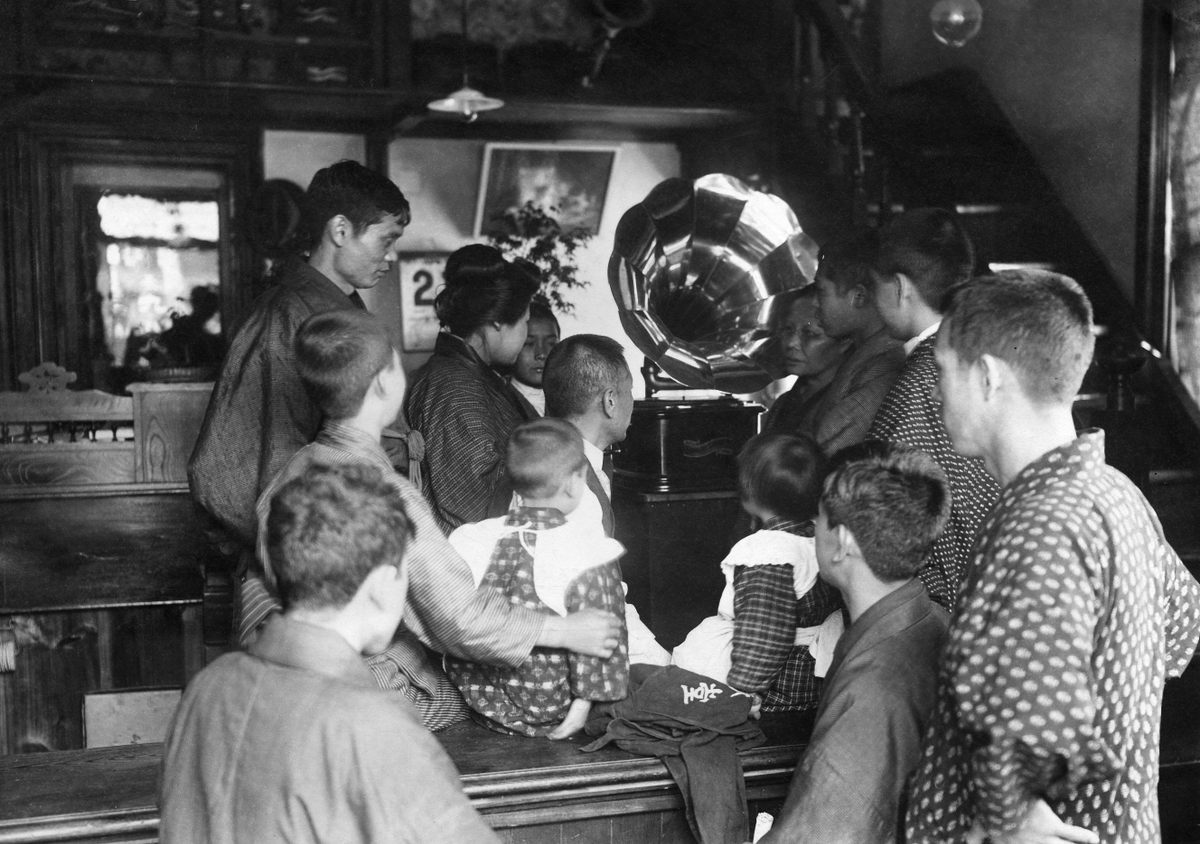 Recording the best musicians was not only a matter of pride for Gaisberg, but also one of great importance for the industry as a whole. At the turn of the century, gramophone technology was still overcoming its reputation as something of a novelty. As such, the main selling point was the fame of the artist, rather than the clarity of their performance's reproduction.
The opportunity to hear a master rakugoka, or the ceremonial music of the imperial court, from the comfort of your own home proved to be an exciting proposition for many in Japan. "Even though they were expensive, the records of the top artists were welcomed," Mori says. For those unable to afford their own gramophone, recitals were held in parks and public spaces.
"What was important for the Japanese at that time was that the voices and performances of the masters of the era were preserved," adds Mori. For a country modernizing and militarizing as fast as Japan, the gramophone was both a symbol of progress and a way to retain its age-old traditions. "After Gaisberg, recording business trips came to Japan from Germany and France as well," Mori says. A homegrown industry also developed quickly: By 1908, Japan had its first record pressing plant and by 1910, its own major recording company, Nipponophone.
While Millis describes Gaisberg's enterprise as primarily a "colonialist endeavour whose end was to get money out of the country," the impact of the early Western commercial expeditions also left a complex and contested legacy within Japan. In 1933, writer Jun'ichiro Tanizaki reflected on the influence of foreign technological innovation in his book, In Praise of Shadows: "Japanese music is above all a music of reticence, of atmosphere. When recorded, or amplified by a loudspeaker, the greater part of its charm is lost."
Tanizaki advocated for a greater appreciation of the essence of Japan's aesthetic tradition, which he felt was too subtle and ineffable to be adequately reproduced by a piece of unrefined Western technology. "Had we invented the phonograph," Tanizaki mused, "how much more faithfully would they reproduce the special character of our voices and our music."
However, as new generations of musicians rediscover the country's traditional art forms, another unintended legacy of these early recordings has emerged.
"Records of past masters are still used as a reference for the practice of performing arts," says Mori. Although not originally made with posterity in mind, the "recording [of] lost folk songs has resulted in leaving [behind] a lot of valuable, historical, folkloric material."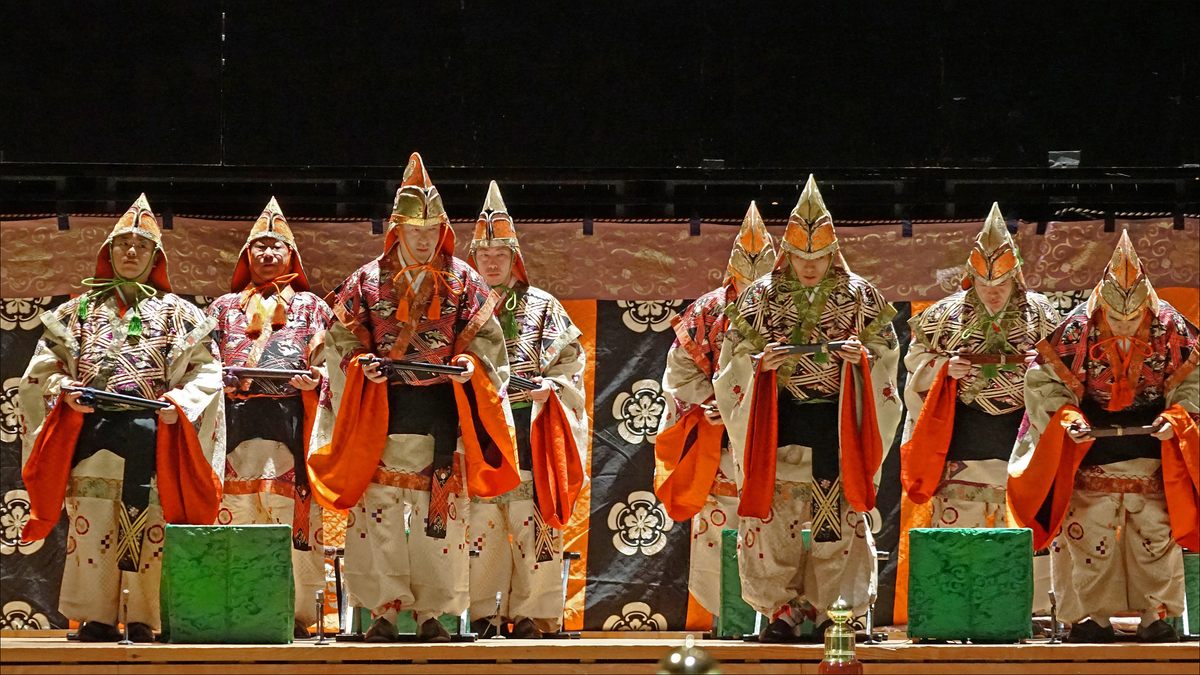 A selection of these songs, curated by Millis, has been reissued on Sublime Frequencies' compilation Sound Storing Machine: The First 78rpm Records from Japan, 1903-1912. Among them is the gagaku of the Imperial Household Orchestra, recorded by Gaisberg on that day in late February 1903.
It is the imperfection of the medium that gives Millis the feeling of traveling back in time: Shrouded in surface noise, each song emerges from the static like a whisper from the past. To listen to these recordings, he says, is to "uncover layers of history, like archaeology."