Celebrating Ghana's Amazing Handpainted Barbershop Signs
These vibrant artworks advertised the freshest styles and sleekest cuts.
Next to the Suame police station in Kumasi, Ghana, just near the roundabout, is Kwame Akoto's art shop. It's hard to miss. The storefront is decorated with French, American, and Ghanaian flags, and near the entrance there's a picture of the American actor, Gordon Scott, best known for his role as Tarzan in the 1950s and 1960s. Inside you'll find abstract art that explores dichotomies within Christianity like heaven and hell, God and Satan, life and death. Akoto's shop goes by the name "Almighty God Art Works," and his religious devotion is clearly expressed on the canvases. But if you look closely, you'll also find hand-painted signs of people rocking fresh fades and tight cornrows.
Walk into a hair salon or a barbershop in Kumasi or Accra, Ghana, and you'll see photo posters plastered on the walls showing women or men modeling different hairstyles. From cornrows, to micro braids, to fades, these posters present customers ready for a shape-up with a variety of options to select from. But before the advent of digital printers, these signs looked a little different.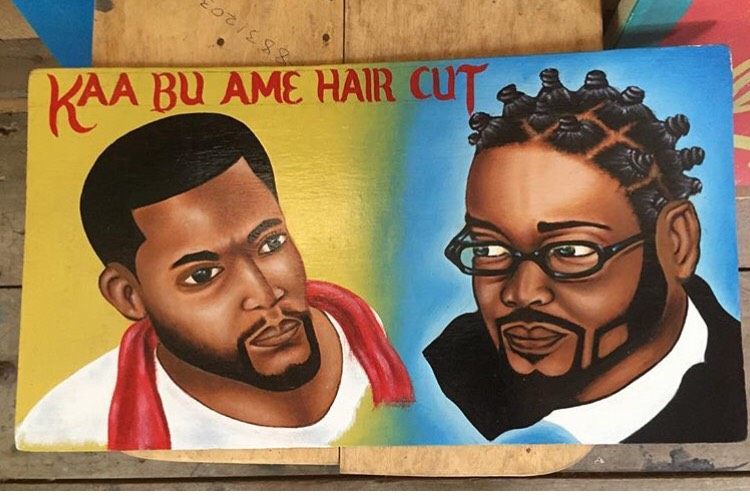 From the 1930s to the late 1990s, self-taught artists painted hairstyles on wooden boards with acrylics, and it only took them a day or two. While some signs were mere 2-D portrayals, others contained rich brushwork in every follicle, to the point where the quarter head shots looked quite realistic. But unless you visit a tourist shop to find old ones lying around, it's harder to find these signs and find out about the people who made them.
In Ghana, and West Africa more generally, the head and hair are canvases for expressing ideas about wealth, power, intelligence, status, and style. For example, starting in the 1600s, Akan queen mothers "shaved the hair around their nape and forehead to distinguish their regal stature," write Philip M. Peek and Kwesi Yankah in their book African Folklore: An Encyclopedia.
Over the centuries, the symbolism of West African hair has evolved. With the "pan-African movement, prior and leading up to independence, you really begin to see the global emphasis on black pride, black fashion, black identity, and that hair could contribute to that identity," says Dr. Christine Kreamer, Deputy Director and Chief Curator of the Smithsonian National Museum of African Art. In the book Crowing Achievement Kreamer's co-author Mary Jo Arnoldi writes that contemporary hairstyles "are created as social commentary, others celebrate topical events, others are inspired by popular music and other forms of media."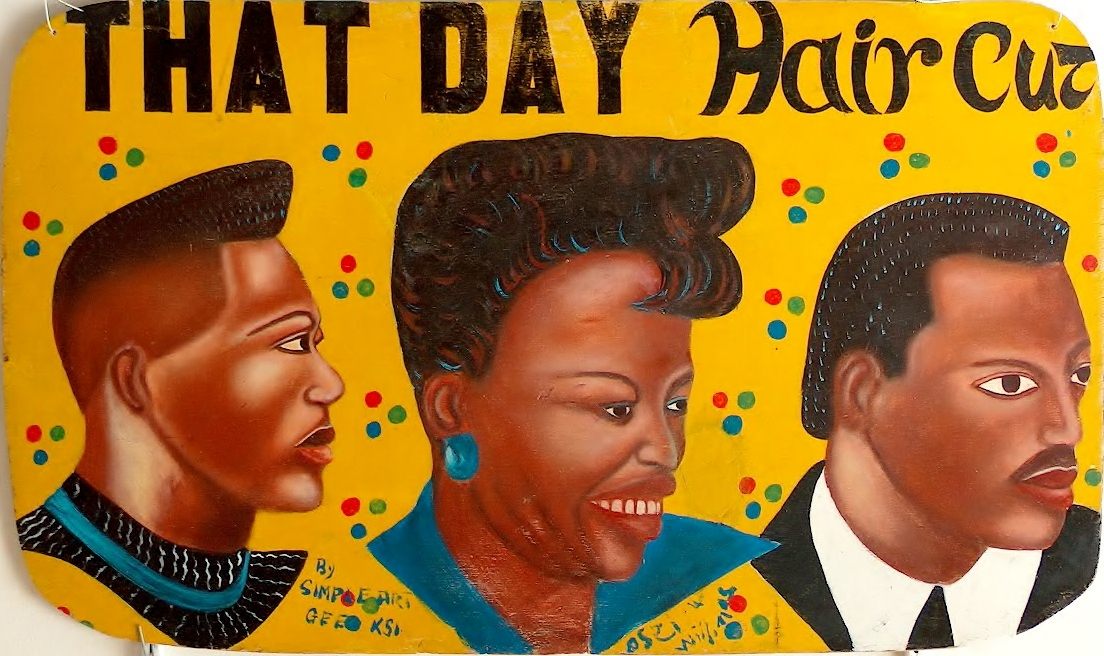 As the notion of hair, and what it means, started to transform, so did the signage. Sign designs were influenced, adds Ashesi University Professor Joseph Oduro-Frimpong, from the Diaspora, African-Americans, and cultures outside Ghana. The afro was one of the popular hairstyles during the 1970s, and many customers wanted this look. To accommodate client demand, shop owners consulted with artists to paint signs that could both appeal to customers and demonstrate the owner's ability to create the perfect fro.
Styles such as the high-top fade and box braids, rocked by African and African-American musicians and actors, emerged as defining looks in the 1980s. Painters began illustrating men and women sporting the same styles as '80s celebrities.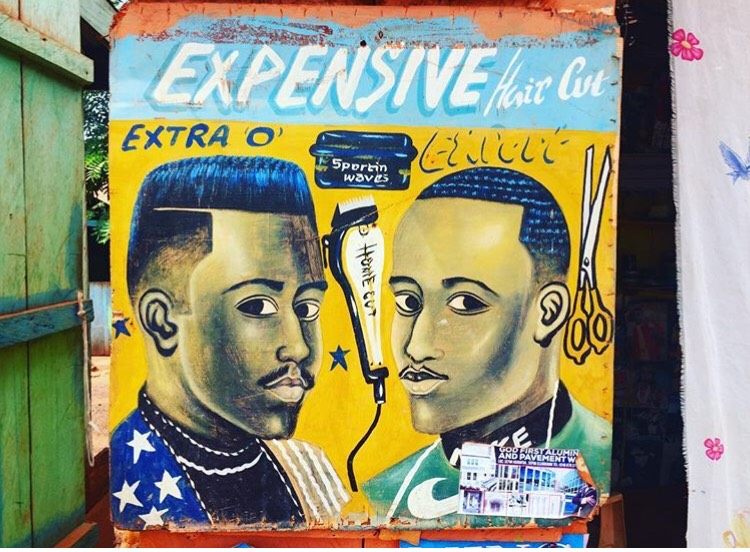 This evolving imagery "relates to how Ghanaians are in touch with the political and global trends," Oduro-Frimpong continues, "from the '80s, [signs] dealt with political leaders from the U.S. and from other countries. You have celebrities on display and you also have hip-hop icons that feature prominently." Throughout the '90s, barbershop signs with such titles as "Champion U.S.A. Hair Cut" featured celebrities like Will Smith, Tupac, or Ludacris with an American flag painted as a backdrop. In some cases, artists also made commentary about their environments.
Sometimes they drew cartoon figures to illustrate their thoughts on marriage, faith, and capitalism. On one barbershop sign from Aflao, Ghana, there's a cartoon depiction of a man inserting a needle into a woman's rear. The man's dialogue balloon states, "you this woman you get AIDS so I help you." Kreamer says this is a direct reference to the HIV/AIDS epidemic in West Africa and the phenomenon of misinformed doctors spreading it by reusing needles.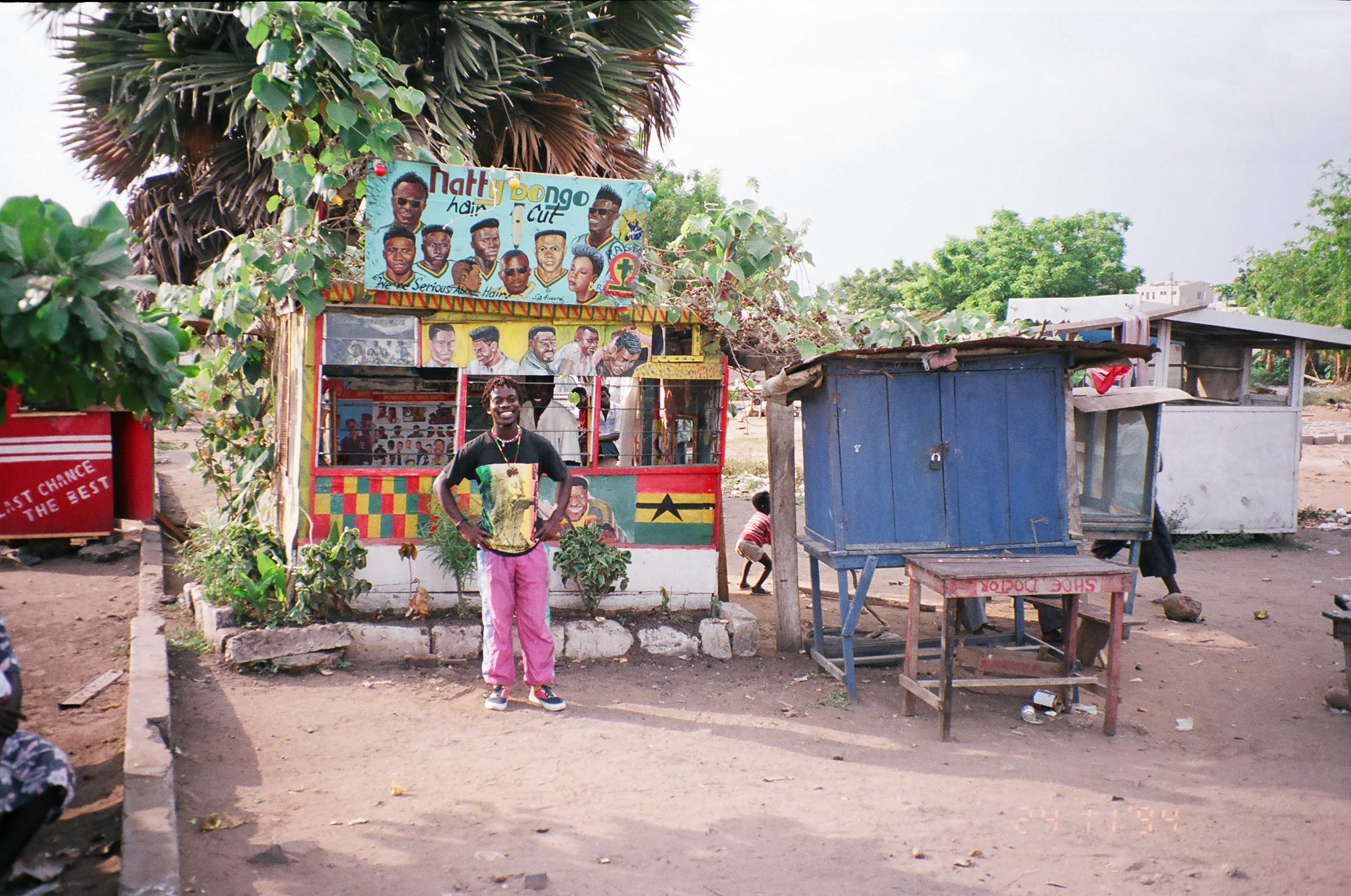 Starting in the 1970s, Americans and Europeans traveling through Ghana started to notice the skill and aesthetic appeal of barbershop signs. Collectors like David Spetka, Esger Duintjer, and Ernie Wolfe bought old signs for as low as $2 to $5 from shops that no longer wanted them. These collectors then sold them to buyers in Western art markets for anywhere from $50 to $150. It was quite the markup, but the signs didn't fetch much compared to Ghana's distinctively ostentatious hand-drawn movie posters, which could garner over $2,000.
Regardless of the number value, barbershop signs from Ghanaian painters, like the movie posters, left a lasting legacy in the art world. Though you won't find the signs in barbershops any more, works from artists like Akoto and Daniel Anum (Jasper Painter) live on in private collections or institutions like the Fowler Museum of Cultural History in Los Angeles. To the painters, these signs were just part of a day's work, but now thousands of miles away, their artistic value is far from ordinary.