This Goat Video Is Good
When a goat takes on a glass door, we all win.
Maybe this goat is a teenager, and is just going through some stuff. Maybe its vandalism—shattering a glass door before absolutely booking it away from the scene of the crime—is an omen of a deeply criminal future, in which simple vandalism gives way to more complex antisocial behavior, in which, next time, the door shattering will be only the beginning of a Rube Goldberg-esque sequence that ends with the paper towels missing, the printer smashed on the floor, and the chairs piled up in the center of the room. Maybe this goat is a starving artist. Maybe it thought it was locked in a battle with another goat. Maybe it thought it was locked in a battle with glass. Maybe it just didn't know. Have a look for yourself:
This took place in Louisville, Colorado, on Sunday, at a polyurethane manufacturer's office. Greg Cappaert, spokesman for the company, told The Daily Camera that when the shattered glass was discovered on Monday morning, they suspected a robbery, until they reviewed security footage.
Cappaert has his own theory about what the goat was up to. "For like 20 minutes he sat and banged on the front door," he said. "He must have seen his reflection in the door and thought it was another goat. He was trying to beat up the whole building."
Okay, maybe, if you choose to believe that this particular goat is not the smartest in its herd. But then again, look at how expertly it avoids the falling glass.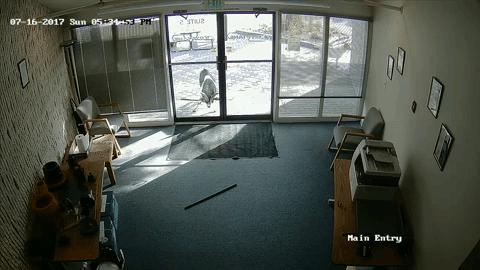 That's the work of a goat that's either very lucky or very good.