Found: An 80-Year-Old Wedding Cake With a Tragic Past
Frances Nishimura preserved this sweet keepsake for generations.
When Frances Nishimura died in 2019 at the age of 102, she left behind a mystery that might never be solved. On a warm spring day in May 2021, Elaine Nishimura was clearing out the last of her mother's belongings from storage in her Portland home when she found an unassuming handmade box she had never seen before.
"I opened this box and about fell over, because I couldn't believe what I was seeing," remembers Nishimura. What she found inside was a cake, and not just any cake. It was the top tier of the cake from her parents' wedding, from the summer of 1943.
"The cake was in surprisingly good shape as far as the frosting goes," Nishimura says. "I don't know what's underneath. But I was just amazed. And I was so sorry I couldn't ask my mother questions about this."
That the cake survived so long is made even more remarkable by the circumstances surrounding its origins. Nishimura's parents, Frances (née Itabashi) and Shizuo Nishimura were married in Tule Lake, a Japanese American WWII concentration camp in Northern California.
The cake had not only endured the heat of that first summer, but also a move by train to another camp—Granada—in Southern Colorado, the birth of their first child there, a post-war move to Ontario, Oregon, the birth of three more children, the moon landing, the death of their youngest son in 1976, the births of two grandchildren, the advent of the Internet, the death of Shizuo in 2000, 9/11, the births of two great-grandchildren, 20 presidential elections, and the onset of a global pandemic. All without refrigeration, and seemingly unbeknownst to anyone but Frances.
Saving the top tier of a wedding cake, whether as a keepsake or even for the couple to eat it on their first anniversary, is an age-old custom. But it was not a common practice for Japanese Americans incarcerated during World War II, especially given the extremely limited options for storing and transporting perishable goods. Sadly, Nishimura can no longer ask her mother how she managed to keep the cake in such pristine condition for so long, nor why she went to such extraordinary lengths to preserve it.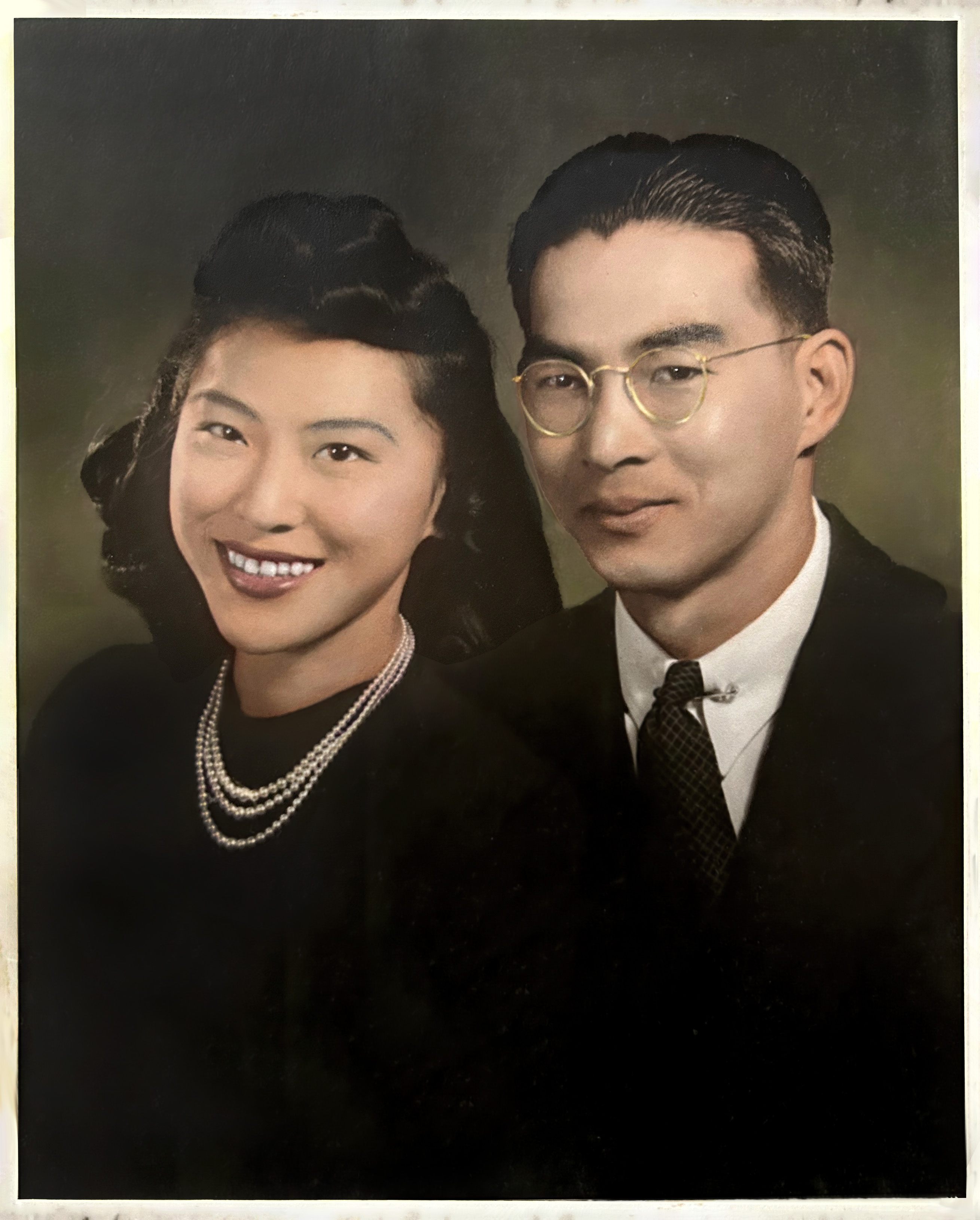 Frances and Shizuo had fallen in love in Auburn, a small town south of Seattle, before the war. They were still early in their courtship when on February 19, 1942, President Roosevelt signed an executive order that, together with other extreme measures, placed more than 125,000 American citizens and resident immigrants in concentration camps situated in desolate parts of the country.
In the face of this gross injustice, love flourished. The 2,120 marriages recorded in the ten War Relocation Authority camps were a reflection of that, but many of these unions were born out of necessity too.
"So many Nisei [second generation Japanese Americans] got married or met their significant other in camp … the whole process forced [together] people that might not otherwise have met," says Brian Niiya, content director for Densho and the editor of the Encyclopedia of Japanese American History. "But it also forced decisions to be made quicker than they would have otherwise been."
A marriage certificate allowed many couples to stay together during the initial forced removal, and in their post-camp resettlement. Nishimura's parents married when they did, in the summer of 1943, because they were about to be uprooted once again. That year, the WRA had hatched an ill-advised plan to distinguish "loyal" Japanese Americans from the "disloyal" by way of a deeply flawed questionnaire.
Tule Lake was reclassified as a segregation center for those who had been unjustly labeled disloyal. Frances and Shizuo, whose questionnaire responses designated them as loyal in the eyes of the state, would need to be relocated to another camp. Getting married was the only way to guarantee they could stay together—and they weren't alone in rushing this major life decision. Nearly a quarter of the marriages that took place in the ten WRA camps happened at Tule Lake.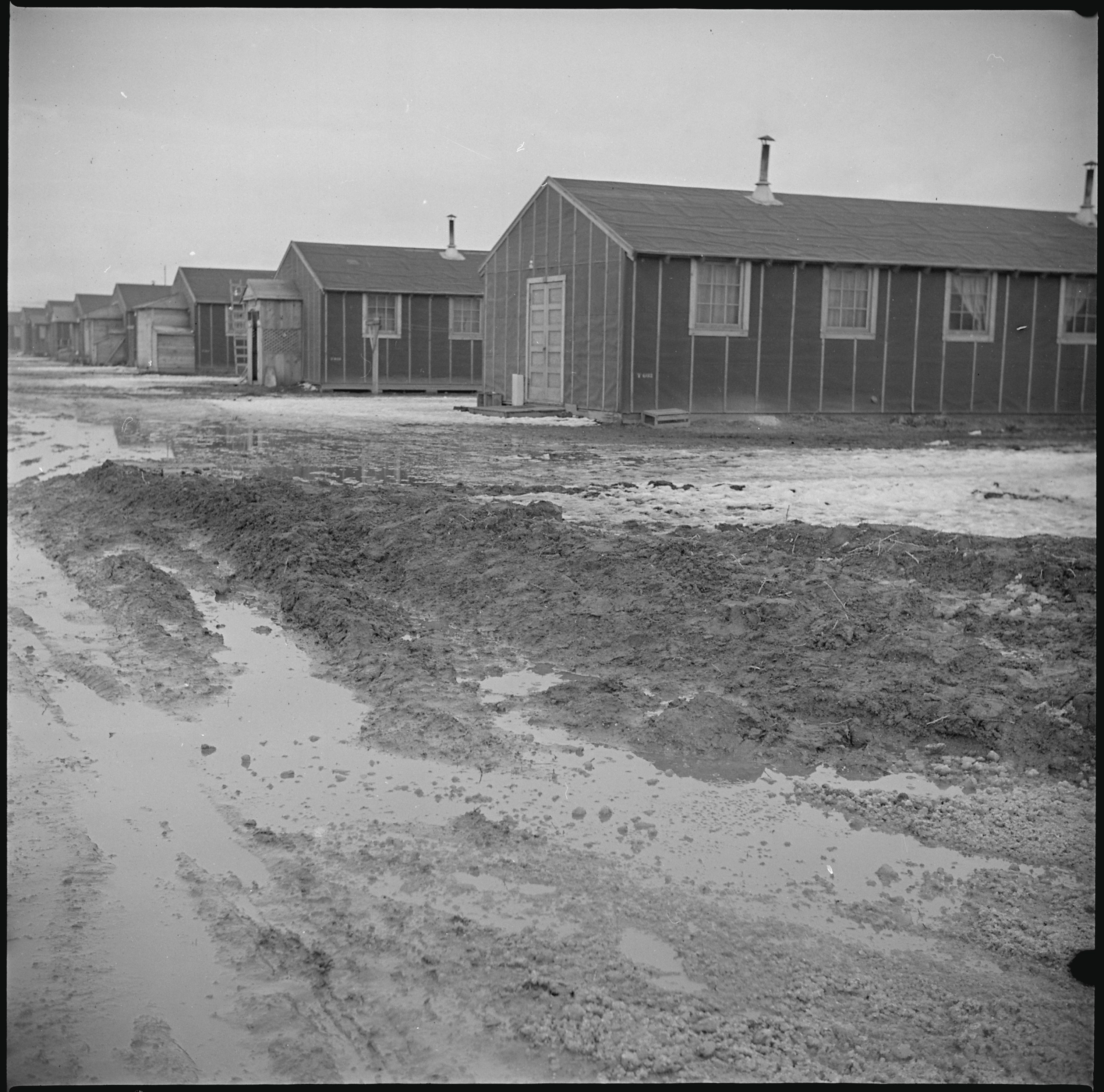 What little Nishimura does know about her parents' wedding is that it was a modest affair held inside a barrack on June 19, 1943. Their "honeymoon" was a drive around the camp in a car lent to them by a friend in the motor pool. The cake had likely been baked in a mess hall kitchen by a fellow incarceree, and Nishimura guesses that her mother, who was always good with crafts, made the bride-and-groom cake topper herself.
Other camp weddings were more lavish, such as the one documented in detail by researcher Charles Kikuchi at Gila River in November 1942. With 240 guests and at an estimated cost of more than $800, the wedding embraced both Western customs and traditional Japanese culture, which American-born Kikuchi did not appreciate:
"One old man sang a Japanese song and it sounded like he had a sore throat when he began to howl. Another lady sang and plucked away on her Japanese instrument. It is a horrible thing for a new couple to have to hear such things on their wedding night," Kikuchi wrote before going on to lament the absence of sake.
Some of the camps took deliberate measures to encourage marriage. Poston, one of the Arizona camps that had been strong-armed onto the lands of sovereign Indigenous nations, went so far as to establish a Matrimonial Service Bureau. Members of the Bureau served as matchmakers, as go-betweens for would-be lovers, and even offered aid "to parents who request to stop their children's love affairs."
The Arizona camps also rewarded newlyweds with a few nights' stay in a Honeymoon Cottage, offering them respite from overcrowded family barracks. But that rare gift of privacy was not always guaranteed.
Ena Okonogi Sakamoto was a teenager at the time of her incarceration at Poston. She was housed in a barrack adjacent to the Honeymoon Cottage, and became very popular on nights when friends could listen in on her amorous neighbors."Whenever anyone got married, you should see the visitors I had…'You want to play bridge tonight?'" she recalled during a 1980 oral history interview conducted by Helen Hasegawa.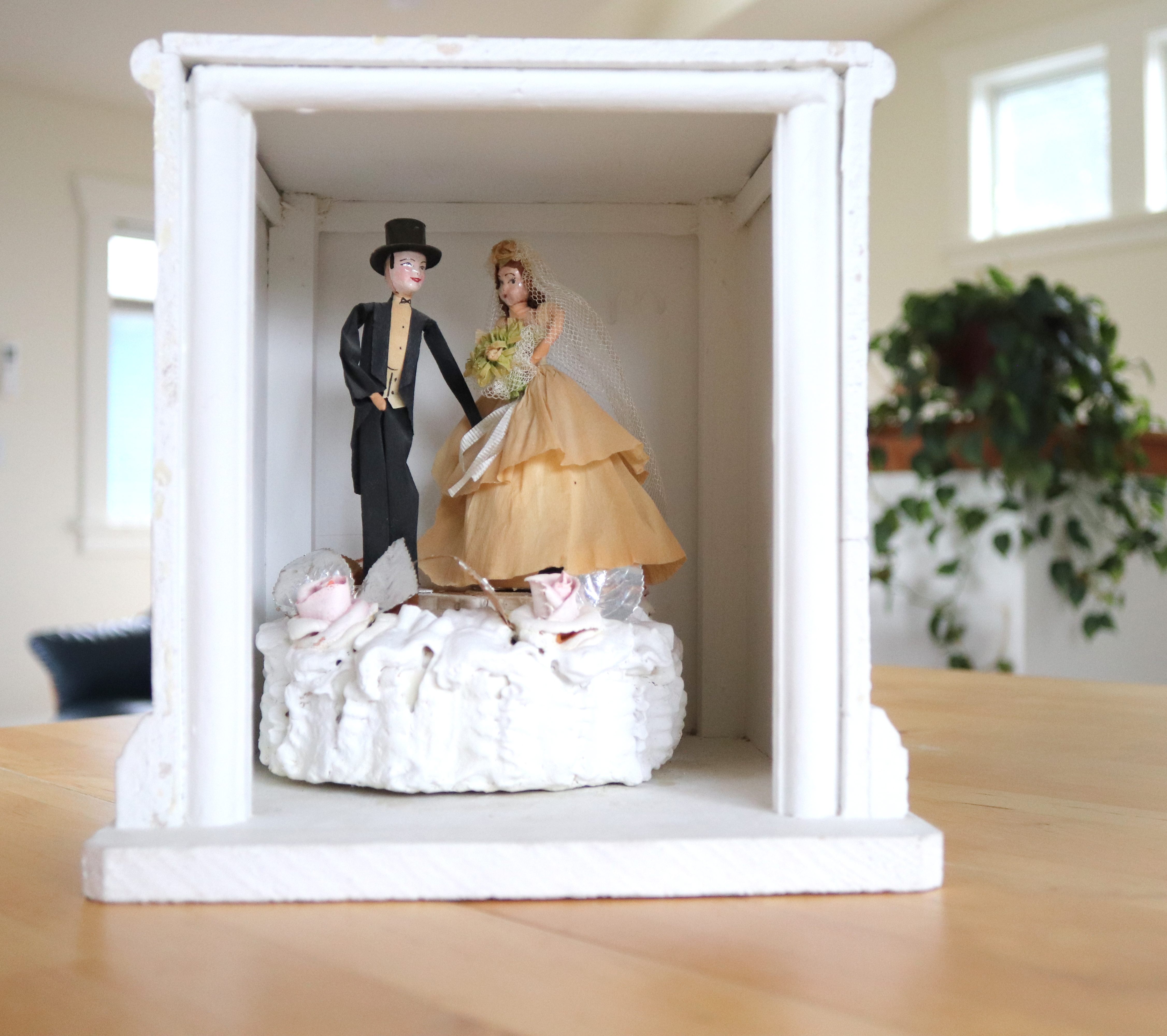 But romance was only a small part of life in the camps. Family separation, incalculable economic loss, depression, suicide, worker exploitation, lost opportunity, and profound sorrow loomed large in the Japanese American wartime experience. The Nishimura cake is a symbol of how Japanese Americans found joy in the face of catastrophe—and how their incarceration still reverberates today.
Nishimura is now confronted with the question of what to do with the cake. She would like to donate it to a museum, but it would have to be one equipped to handle any microscopic pests that might be stowed away inside. Until she finds a permanent home for it, she's keeping the cake exactly where she found it. "I put it back in the box because I didn't want anything to happen to it," she says. "It's survived all this time so it's probably safe to stay there."
And while we will probably never know exactly why her mother kept that cake for so long, perhaps we can guess at the impulse: when you lose that much, why not keep anything you can?
Gastro Obscura covers the world's most wondrous food and drink.
Sign up for our email, delivered twice a week.