North Korea's 'Hotel of Doom' Just Opened (a Little)
Some ground-level walls came down, and there's a sign.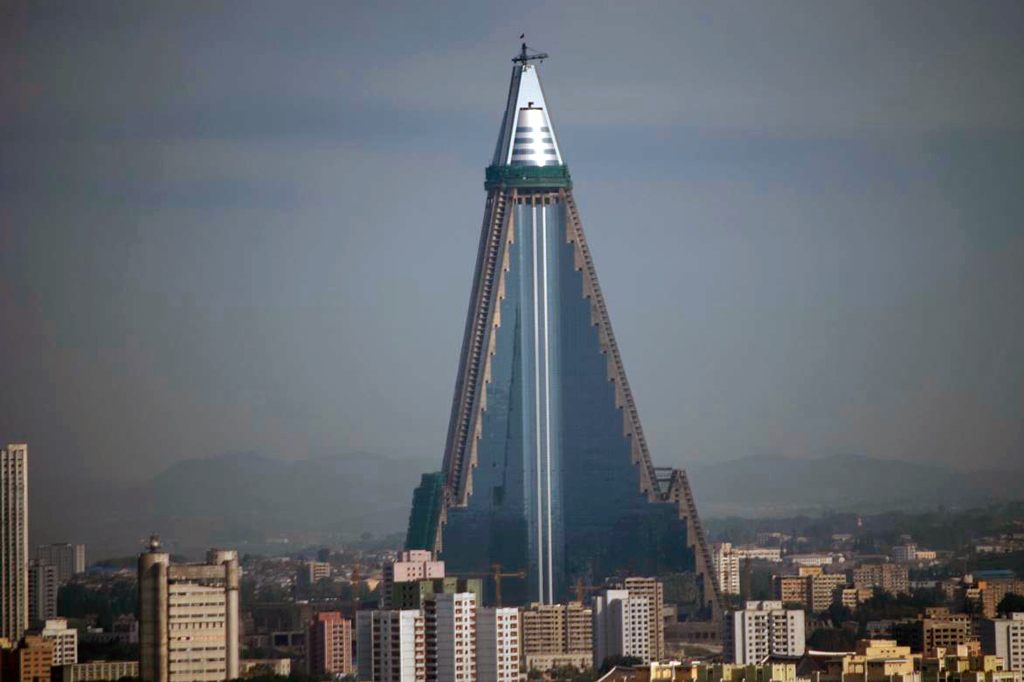 The 1,082-foot-tall Ryugyong Hotel, perhaps better known as the "Hotel of Doom", is the largest unoccupied building in the world, rising 105 stories above Pyongyang, North Korea. Construction on the pyramidal building began in 1987, was halted in 1992, resumed in 2008, and was halted again in 2013—leaving, at the end, nearly four million empty square feet of space, and a sulking, embarrassing colossus looming over the capital.
On the ground level, walls to keep people from entering the construction site have long stood, but last week those walls came down, just in time for the July 27 anniversary of the armistice that ended the Korean War. What was behind them? Two new walkways leading to the building and a sign that read "Rocket Power Nation," an apparent reference to recent missile tests, according to the Associated Press.
The building itself remains empty and, as the Associated Press noted, the latest unveiling is probably less about getting the building operating as intended than it is about finally using some of the space it occupies. The building "is believed to be far from complete inside and possibly even structurally unsound," said the report.
From the outside, however, it's still an impressive sight. It's thought that the building was first intended to best the 741-foot-tall Swissôtel The Stamford in Singapore, which was, in 1986, one of the most ambitious projects ever completed by a South Korean company. That hotel, designed by I.M. Pei, has 1,261 rooms and 16 restaurants and bars. Rooms start at around $200 a night.