The Spirit That Crosses the Equator Twice Before It Hits Your Glass
Bottles of Linie Aquavit have made a winding sea journey for centuries.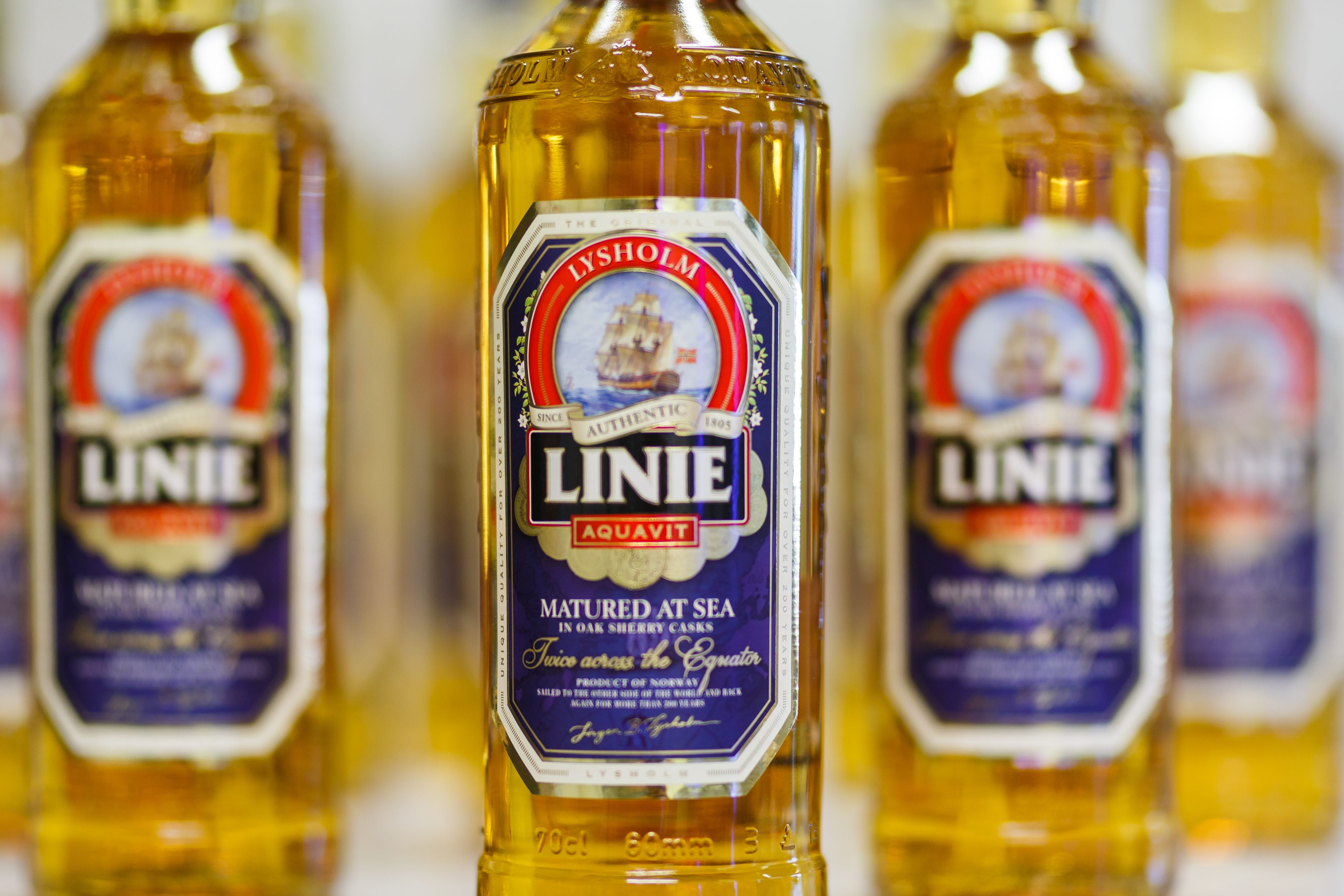 When pouring Linie Aquavit into cocktails at The NoMad Bar in New York City, bar manager Nathan O'Neill often regales customers with a unique yarn: about the journey that the spirit has traveled to reach their glass. The Norwegian spirit, which emits hints of caraway and star anise, isn't simply shipped directly from a manufacturing facility. Before it's even bottled, every single drop goes on a lengthy sea voyage that involves crossing the equator twice. It's also what gives the spirit its name: The word "linie" refers to "line," or equator.
"It was discovered by chance," says Romain Jourdan, category product manager of international premium spirits for Arcus Norway, the company that produces Linie Aquavit. In the early 1800s, the vessel owned by the successful local shipowner, Catharina Lysholm, set sail for present-day Indonesia with aquavit and other goods onboard. There, the Lysholm family hoped to find a new market for their wares. But people weren't interested in purchasing the aquavit that had come aboard the Trondhiems Prøve.
So the ship, still full of aquavit, sailed back to Norway. During the two-year journey, the beverage matured further onboard and cultivated its distinct flavor, which intermingles with a combination of secret spices and herbs. Upon its arrival again in Scandinavia, aquavit was a hit. The drink became so beloved that distillers continued sending it out to sea each time.
Early on, people used aquavit for medicinal purposes. In Norway, it became a comforting drink on frigid winter mornings before working outdoors—partially because it didn't freeze solid. Now, aquavit is the country's national drink. It's usually imbibed neat, often in between bites of traditional Norwegian foods such as smoked, cured, and salted meats, as well as fermented, pickled, and dried wares. People often drink it as a digestif, too, to help settle the heaviness of fatty and salty dishes.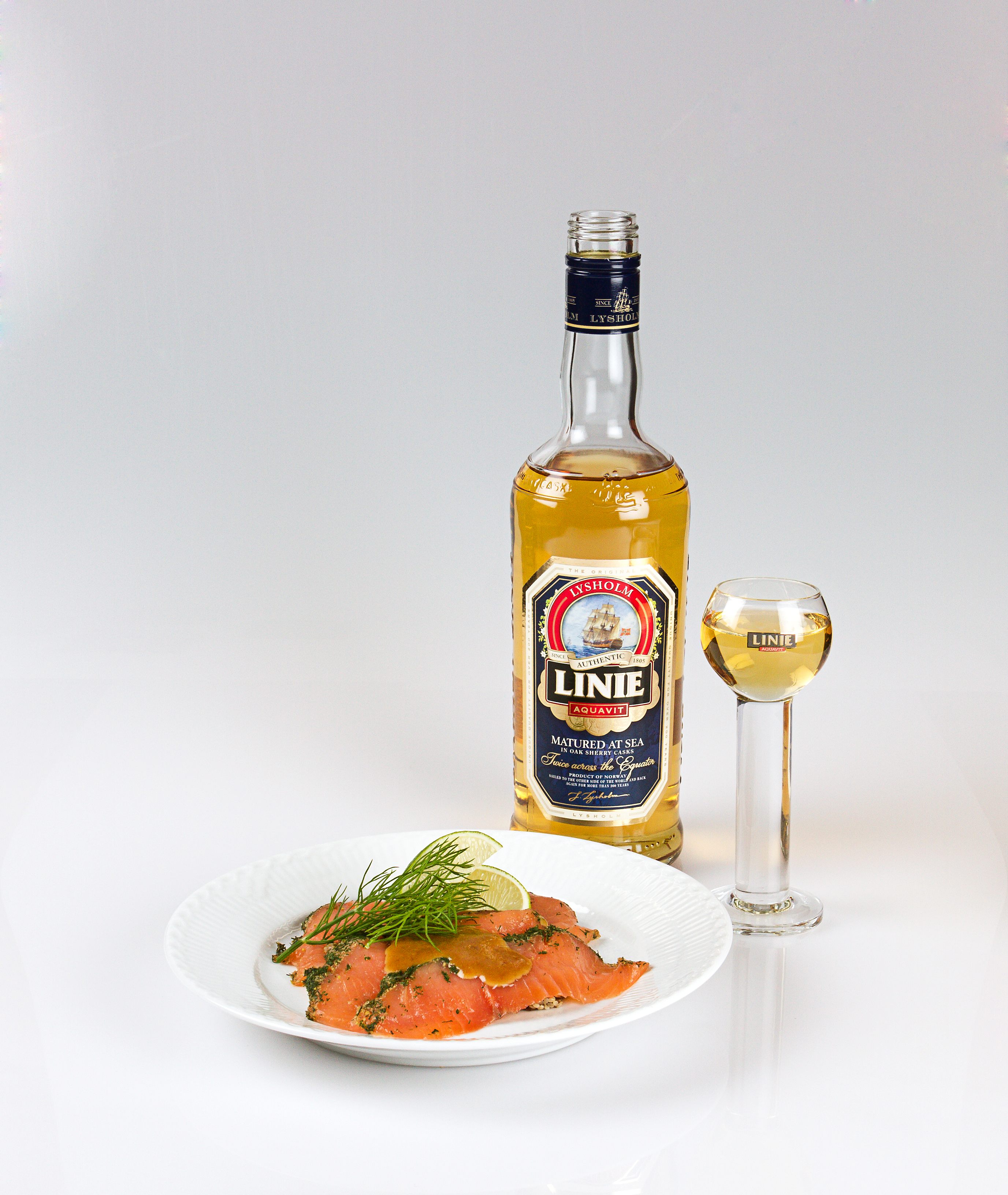 These days, the spirit no longer travels to Indonesia and back, but it does stop at ports on several continents along the way. This is key to making it taste the way it does: The rolling waves, in addition to changing temperatures and humidity levels, help to perfect the aquavit, according to Jourdan. The rocking motions also helps accelerate the spirit's maturation and pull out the aromas from the casks, not unlike the way a tea bag might do so in warm water. "The movement of aquavit in the barrels extracts more of the sherry cask from the barrels," he says. "Also, there is a kind of magic happening with temperatures from cold weather in Norway to warm weather in Ecuador, and back to cold weather in Norway."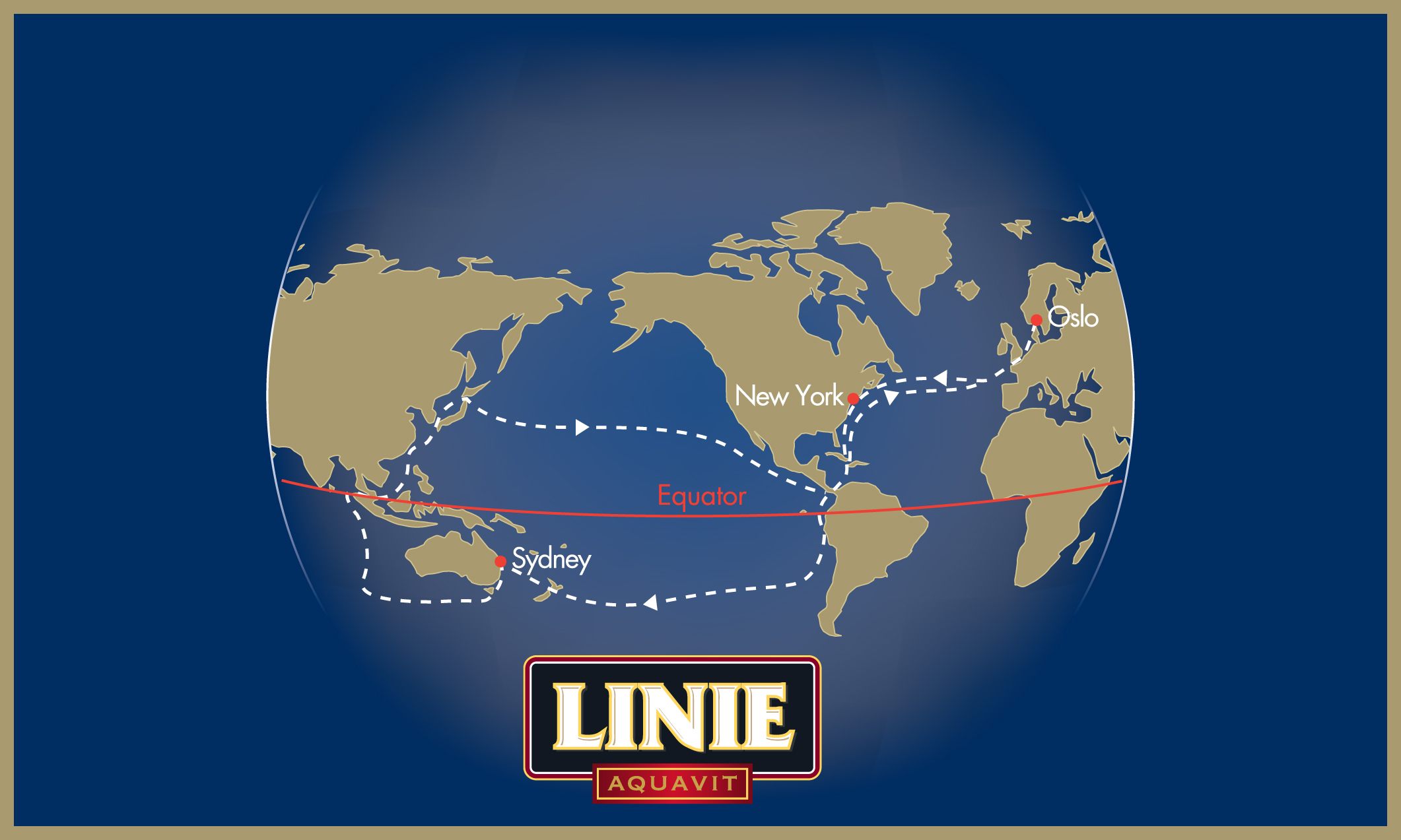 Thanks to the careful labels on each of the bottles, we can track the journey of a single bottle of Linie Aquavit from the beginning—in this case, the bottle that O'Neill cracked open at his bar this spring. Long before the bottle goes to sea, it all begins with distilling the spirit from potatoes—which must be Norwegian spuds, according to law (by contrast, Danish and Swedish varieties are often made from grains). In June 2015, the ensuing liquid was then poured into sherry casks. These casks, previously used to make Oloroso sherry, help transform the clear spirit into a gold-hued liquid. From there, the aquavit traveled to the company's facility in Hagan, a stone's throw from Oslo's city center, where it matured for a year. Then, the time came to set sail.
This particular bottle made its way around the world from mid-July 2016 to mid-November 2016. That first July day, the bottle boarded a Wilhelmsen cargo ship in Oslo, Norway. Typically, these ships stop in over two dozen different ports, from Savannah, Georgia, to Shanghai, China, and places such as Panama, Australia, and Singapore, among many others, on their excursion. The bottle is shipped as deck cargo, due in part to potential fire danger. There, it also receives the greatest amount of exposure from the sea's swaying and rolling waves.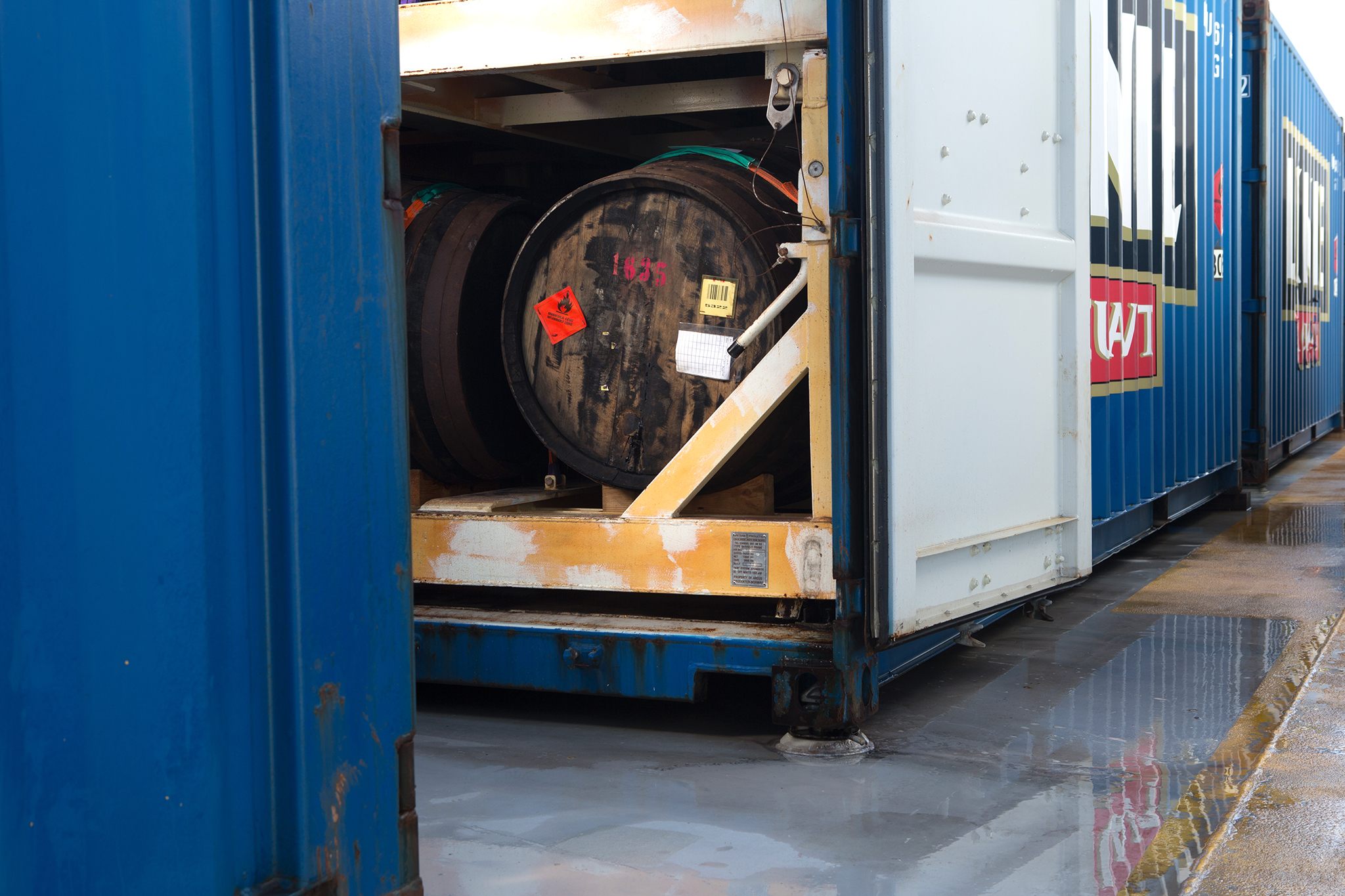 The aquavit doesn't travel alone: It's a small part of a much larger cargo load, and is in the company of cars and other items that need to cross seas. Jourdan estimates that out of a 1,000-container ship, maybe 20 or so containers contain bottles of Linie Aquavit. But since it just needs to return to its final destination in Norway, the aquavit simply goes along for the ride as the other cargo is picked up and dropped off at ports along the way.
The ship with The NoMad Bar's aquavit first went around Europe, stopping in Germany, Belgium, and the United Kingdom. It then zipped across the Atlantic, bound for Baltimore and Savannah, on the eastern coast of the United States, before sailing down to Panama. From there, it set off for New Zealand, and made various stops in Australia before heading north to Singapore. The ship made its way through Shanghai, China, Korea, and Japan. Next, it crossed back over to the United States, hitting several western coast destinations including Tacoma, Washington, and Long Beach, California. It went on to Mexico, Panama, back around to the east coast of the United States. Almost four months to the day it left Norway, and after crossing the equator twice, the ship returned home.
From there, distillers blended, filtered, and finally bottled this particular one on January 31, 2017. It made its way through a distributor and ultimately to O'Neill's bar, where he recounted the tale of the spirit's creation while pouring it in cocktails for customers. He says that aquavit pairs especially well with low alcohol by volume selections, such as vermouths, aromatized wines, and sherries. "If it is something higher in proof, the pairings that work include whiskey, and cognac, which pair well due to the notes coming from aging the spirits in barrels," he adds.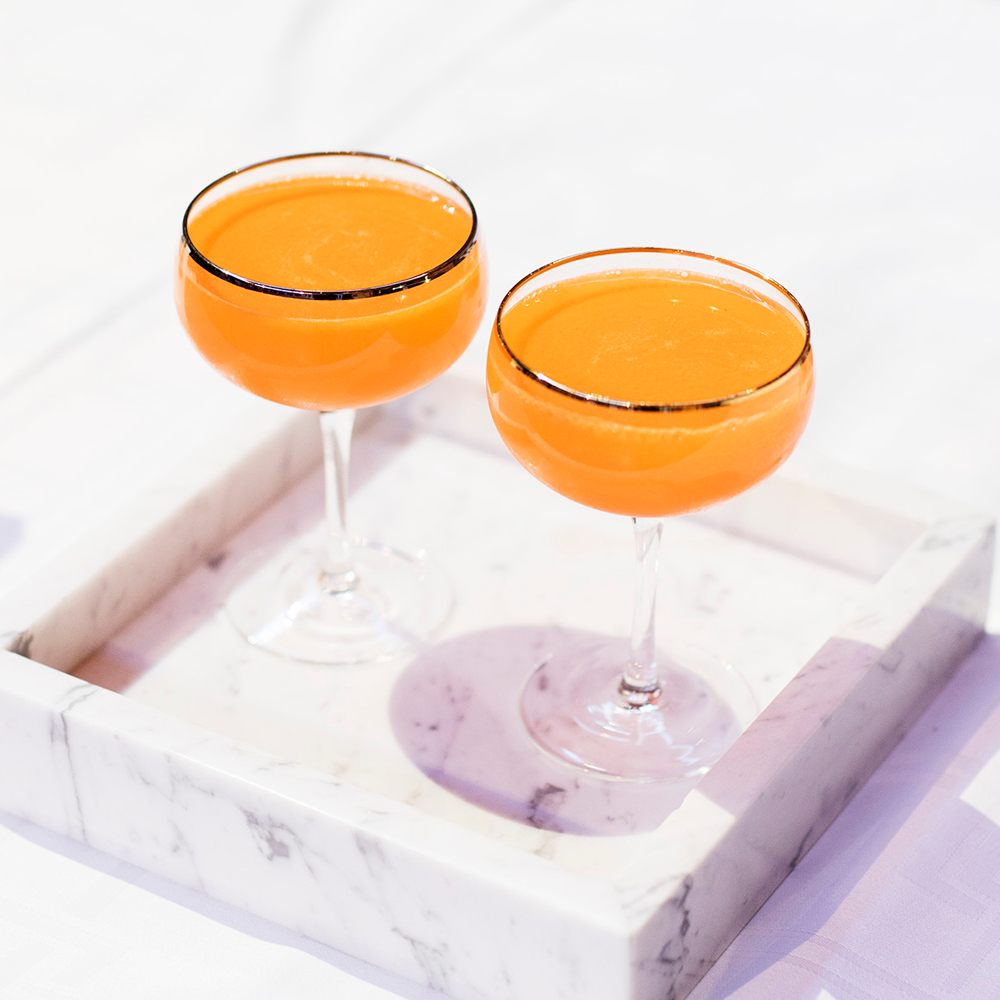 The dry spirit has seen a growing popularity outside of Scandinavia in recent years, thanks in part to mixology trends and a boom in domestic distillers. As NPR notes, the number of American aquavit distilleries shot up from fewer than 10, in 2012, to over 50 iterations in 2017 (to date, no other aquavit bottles appear to take long sea journeys). While it's tough to definitively say if the months-long sojourn or the varying sea temperatures do indeed create such drastic variations in Linie's taste, it's an exciting tale nonetheless. "More guests are starting to realize what aquavit is, and the background story of traveling the world on a ship," O'Neill says. While Linie Aquavit's production methods may seem unconventional, it's part of what makes this seafaring spirit special, and also gives its fans a taste of adventure.
Gastro Obscura covers the world's most wondrous food and drink.
Sign up for our email, delivered twice a week.