How to Shop for the Revolutionary War
A cottage industry of craftspeople is dedicated to making accurate reproductions of objects used in 18th-century life.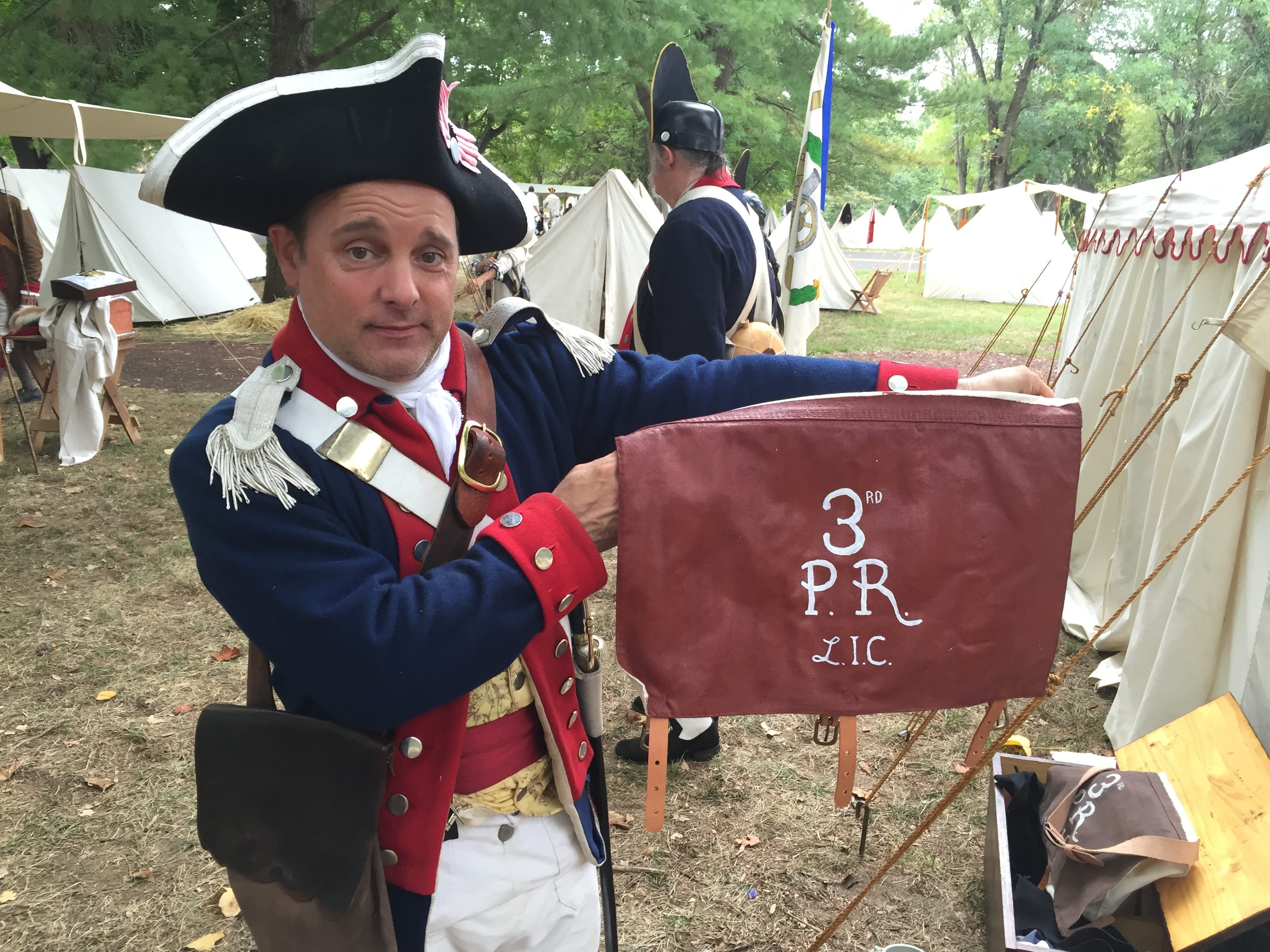 David Hospador, Captain of the 3rd PA Light Infantry Company, showing off a haversack. (Photo: Sarah Laskow)
The Battle of Harlem Heights was scheduled to begin around 2 p.m., and before it started, Rob Morris, commander of the 84th Regiment of Foot, needed to order a new coat. The one he was wearing, bright red, worn and dirty at the edges, had been purchased in 1995, and everything about it was wrong—the color, the buttons, the epaulettes, the trimming.
He didn't need to go far from where the fighting forces were camped in neat lines of white canvas tents, at Monmouth Battlefield State Park in New Jersey. Just outside the camp, there was a cluster of larger tents, where the sutlers had set up their shops. At the Royal Blue Traders tent, Ian Graves had spread out bolts of fabric, rolls of ribbons and rows of bonnets. Tall and gangly, he took Morris' measurements, and they discussed how Graves would source the regimental lace which would adorn the front of Morris' new waistcoat.
From afar, British redcoats might look the same, but each regiment's uniforms are distinct, with strips of lace in special patterns and colors or buttons arranged in particular designs. Once, these details might have been overlooked. Morris' late commander was more concerned with getting people out in the field than in the exacting uniformity of their jackets, he says.
But while the public at large might think re-enactments are just about playing war, within "the hobby," as it's called, there has been a heightened interest in pursuing greater authenticity in the clothing they wear and the objects they carry.
"Part of the joy of doing the hobby wasn't just going into the field and pulling the trigger. That's a brief thrill," says Roy Najecki, who's been involved in re-enactments since his twenties and sells period fabric and reproductions. "Part of the joy became about really replicating these items accurately. The more you got to the original item, the greater satisfaction you got out of doing the hobby in general."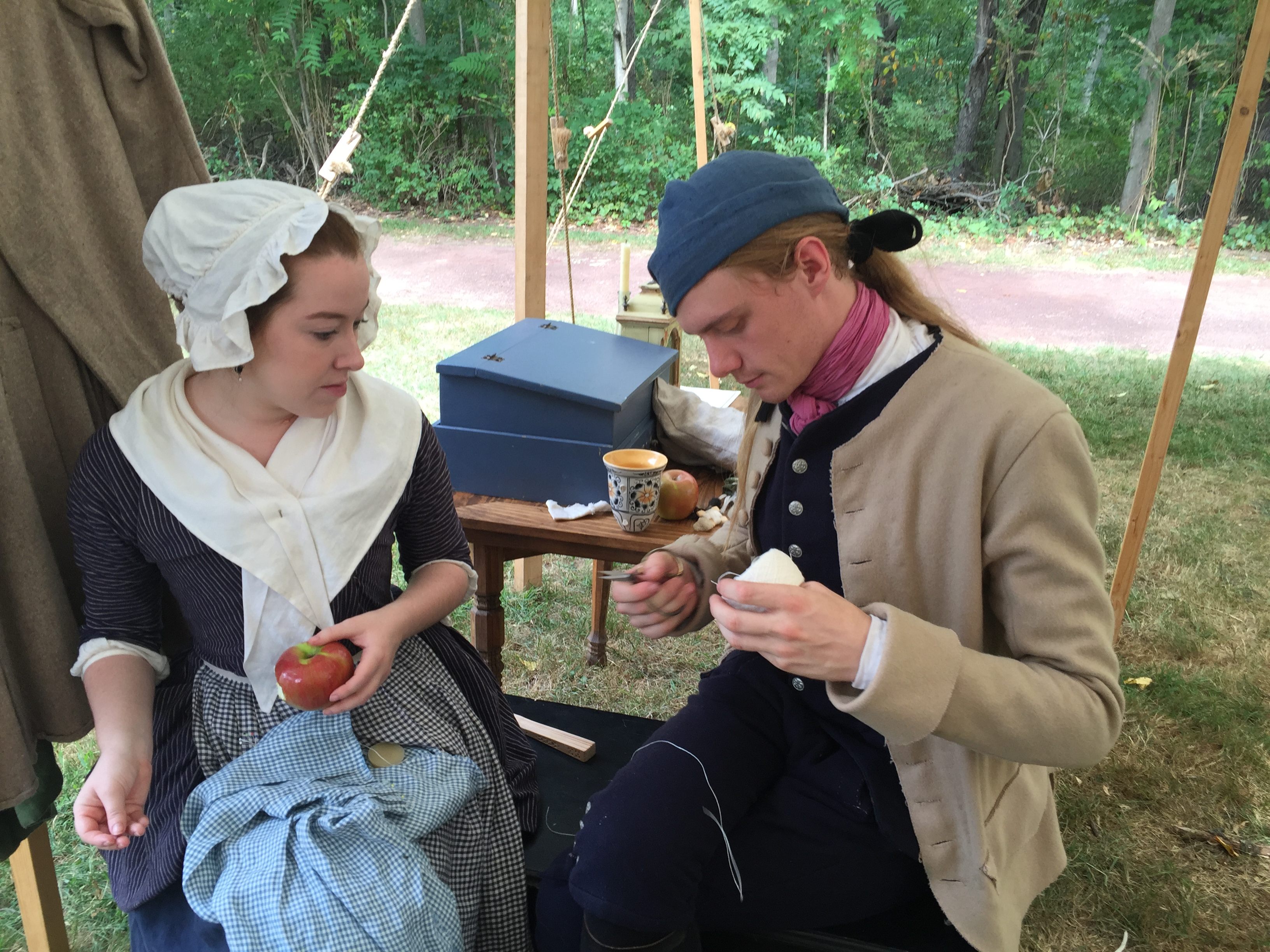 Ian Graves at work. (Photo: Sarah Laskow)
Once, Revolutionary War re-enactors might have altered modern canvas painter's pants into a simulacrum of 18th-century trousers and served spaghetti and meatballs at their camps. Today, more re-enactors than ever put a premium on having pants hand-made from material with a historically accurate thread-count and cooking food that soldiers would have actually eaten, sometimes even made from the recipes they would have used.
The demand for meticulously recreated objects is high enough that there is a small group of people, like Graves, who make their living by recreating the material culture of the past as accurately as possible. They are tailors, leather-workers, and coppersmiths, who hand-make waistcoats, harnesses, and chocolate pots. There is even a one-stop shop for everything an 18th-century historical re-enactor might need.
---
The firm of Jas. Townsend and Son, Inc. was born in 1973, after Jon Townsend's father, James, became interested in muzzle-loaded guns. He first starting selling gear—candles, lanterns, and so forth—to people yearning to experience a more primitive, historic style of camping during re-enactment events; the business grew from there, and today offers hundreds of items, from stays and garters to flint pouches, tankards, washtubs, wooden whisks and sieves.
The store, based in Pierceton, Indiana, is like a Walmart for 18th- and 19th-century items. But these aren't mass-manufactured items: the shirts and dresses are made to order by on-call seamstresses, and many of its products requires hours upon hours of historical research as they're developed.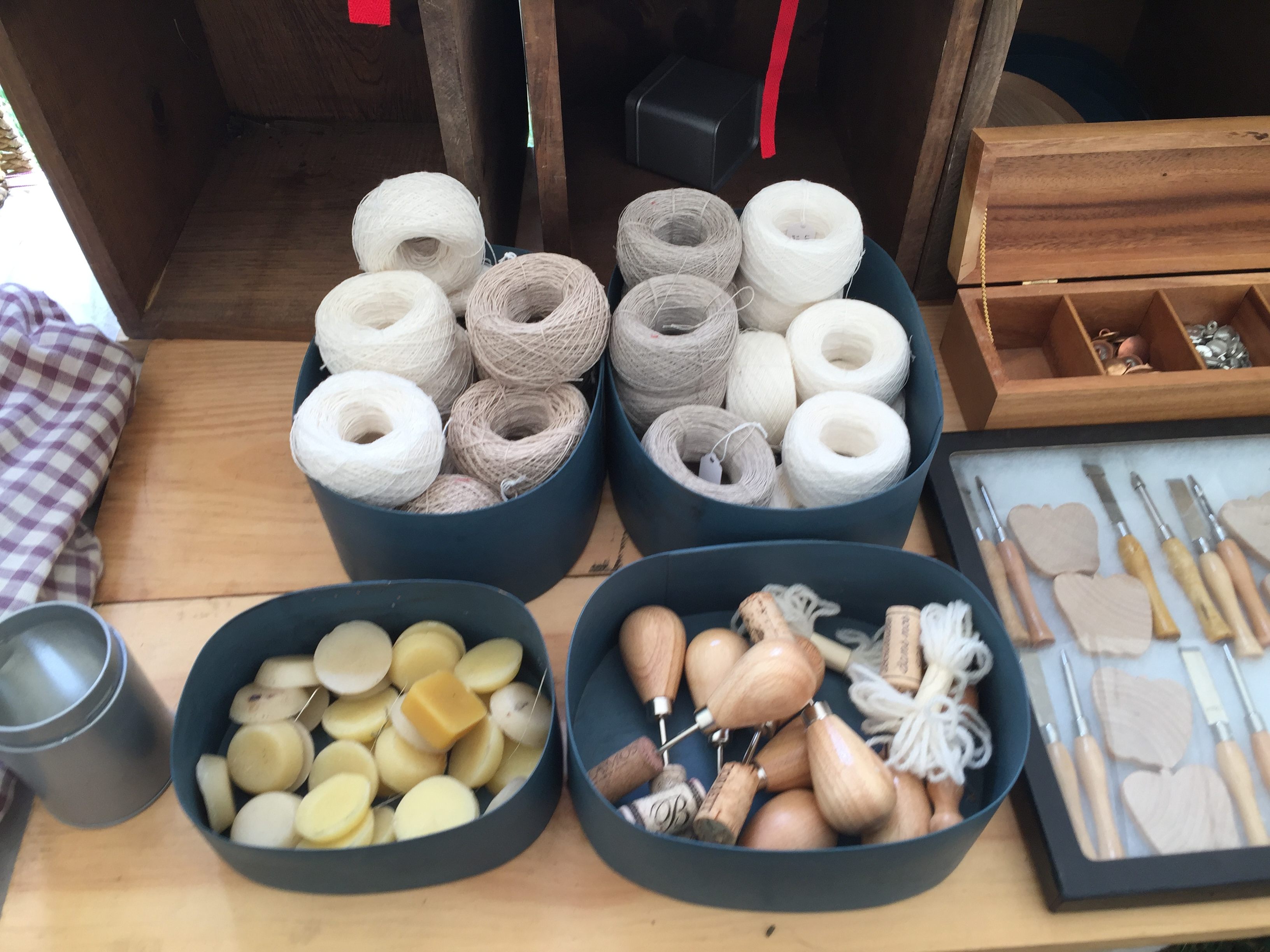 Graves also sells thread, wax, awls, and other tools of tailoring. (Photo: Sarah Laskow)
When Jon Townsend was developing a wooden whisk, for instance, he found the birch twigs he needed in Michigan, where the right kind of birch trees grow. For an 18th-century sieve, he needed to find a source for horsehair and for green ash wood. These sieves aren't the metal bowls used today, but wooden frames with a screen on the bottom.
When developing the prototype, Townsend went out and cut down a green ash tree he happened to have on his property. Creating the screen for the sieve was more difficult. Eventually, he found screens woven out of horsehair in a part of northern China where the horse culture is still strong enough that such a product can be made.
"Sometimes you have to go a long way to get what you're looking for," he says.
The skills to make some of these objects can be incredibly specialized, too: Townsend estimates the store works with 50 companies, both large and small.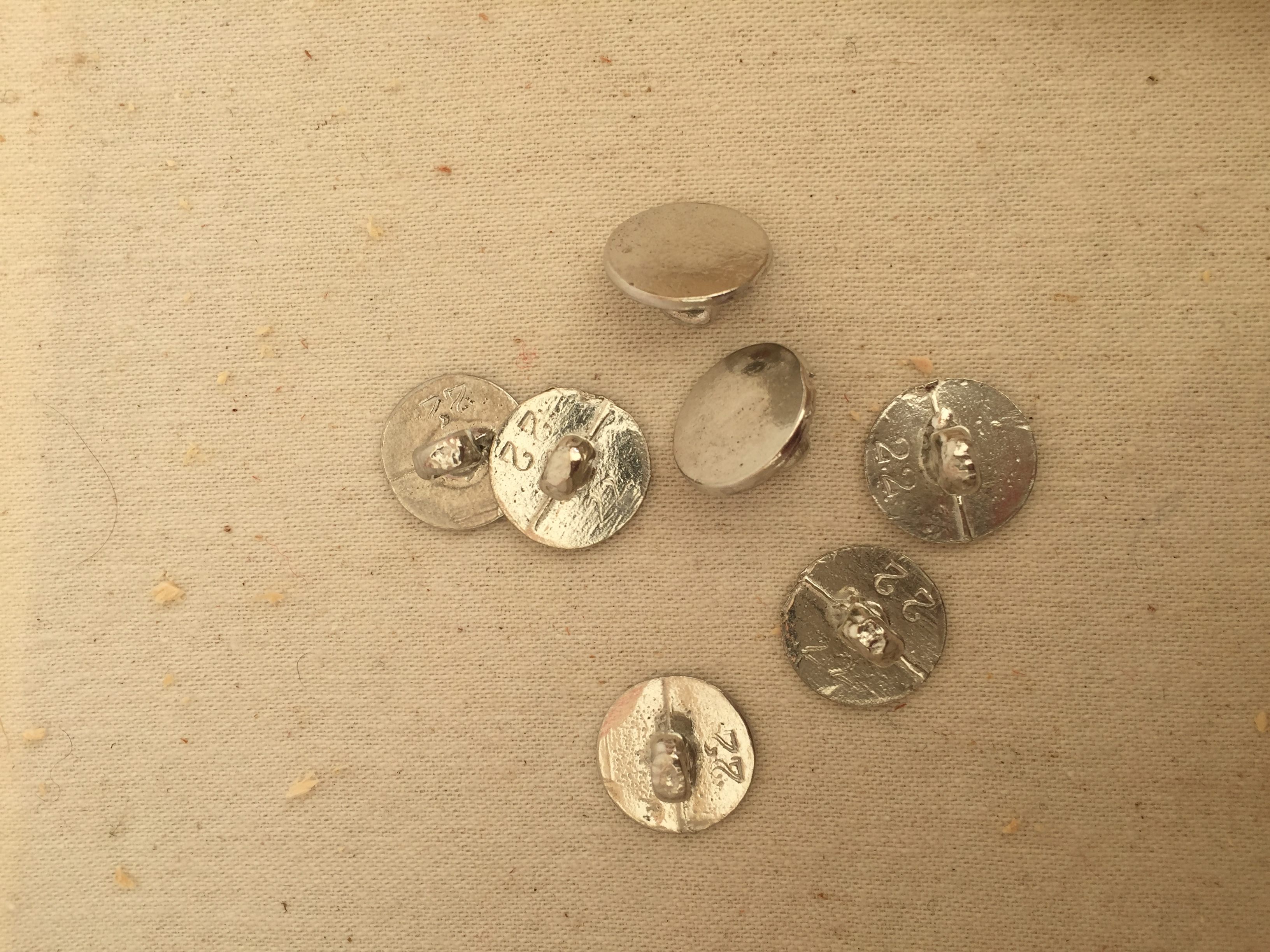 Najecki casts pewter buttons in his basement. (Photo: Sarah Laskow)
Peter Goebel, for instance, is a coppersmith who has been filling orders from Jas. Townsend & Sons for years. One of his first accounts was making canteens for the company. Goebel started out making lanterns and sconces but soon expanded to cookware, and, when an injury ended his career in construction, turned to hammering copper full time. He spends his days making cups, canteens, flagons, pots and kettles—one of the most satisfying items he's made was a chocolate pot.
A historic site had sent him pictures of the original, to make a copy. "It took me almost a year and half to make the tools to make the pot," he says. "You have to study, study, and study the pictures to figure out how each piece was made, and which piece came first. It's a horrible pot to make. It's very simple, deceptively simple looking. It's a taper with the big end down and small end up, with a waist, and it's all hand-hammered."
But making a new item is more exciting that making multiples of the same item. "You can only hammer so many hours a day before you climb the wall," he says. He's more interested in making items that no one has manufactured in a couple hundred years, like cups that take even more work to build than the chocolate pot, or the little boxes where gentlemen kept sweetmeats, mints, salt, and snuff.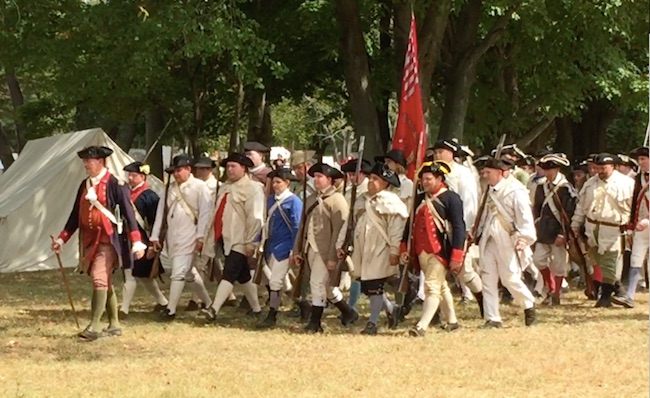 American militia heading to battle. (Photo: Sarah Laskow)
Exacting craftspeople like Graves and Goebel rely on pieces from history that have survived until now to hone the accuracy of their work. "It's guesswork, but very, very educated guesswork," says Graves, who has a collection of original material that he's found at estate sales.
But sometimes the details of the craft have been lost. Once-common items were recycled—Paul Revere bought up copperware to recast into sheets of copper used in naval vessels—and as these trades became less relevant, the knowledge of how they worked disappeared.
"Coppersmiths had hundreds of years of tradition behind them, and no one put it in writing," says Goebel. "We're trying to reinvent the wheel by looking at original pieces and measuring and talking with museums," calling them dozens of times to ask more questions about details and dimensions.
Not everyone, even in the hobby, cares about that level of accuracy. It's possible to go to a historical re-enactment event and spend hundreds of dollars on gear that's made from more modern materials and machine sewn—products that look good from 20 feet away but not two feet away.
Part of the appeal of wearing 18th-century clothes and using 18th-century objects is feeling connected to people who lived 200 years ago. It's another way into this world for outsiders who might not be so interested in the "lining up and shooting blanks at each other" part of battle reenactments.
Townsend discovered this potential new audience after he starting making cooking videos on the store's YouTube channel. Originally, the company started the channel for re-enactors, to demonstrate how they might use the items the company was selling. Some were tongue-in-cheek and a little goofy. But the first time they posted a cooking episode, it was immediately one of the most popular videos they'd ever created. Today, the store's most viewed video is a demonstration of making 18th-century fried chicken.
This recipe, it happens, requires a bit of whisking, and for anyone who wants an authentic 18th-century experience, Jas. Townsend & Son has birch whisks available for sale. They're reusable, and, at $21 apiece, comparable in price to the modern equivalent.
Gastro Obscura covers the world's most wondrous food and drink.
Sign up for our email, delivered twice a week.