If You Want to Live in a Copenhagen Commune, Get Ready for Red Tape
It's surprisingly tricky to nab a spot in the world's largest autonomous commune, Freetown Christiania.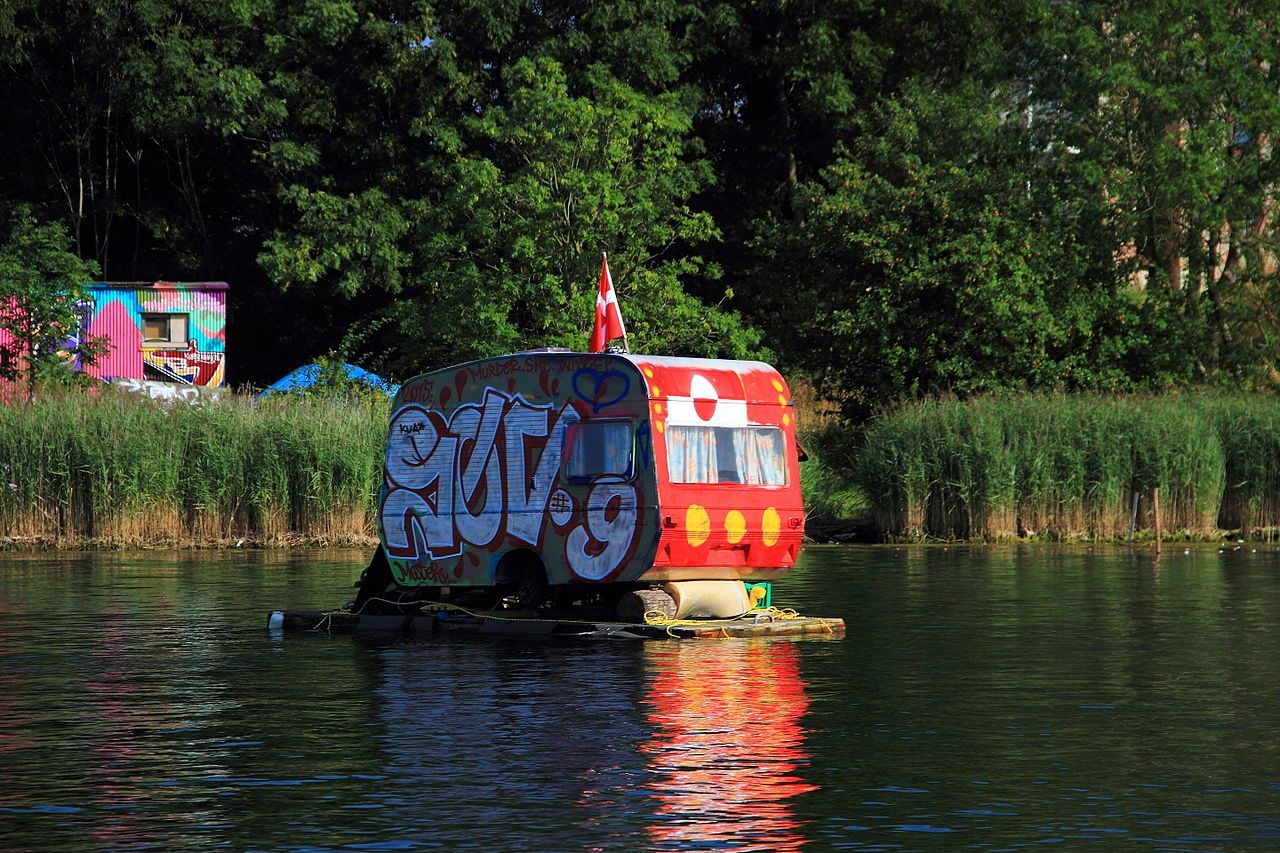 A houseboat in Christiania, Copenhagen. (Photo: Schorle/CC BY-SA 4.0)

Vibrant murals, lush greenery, and whimsical eco-buildings line the narrow streets of Christiania, Copenhagen's infamous squatted freetown. It's often billed as the world's largest and most long-lived autonomous commune, and perhaps it is: governments elsewhere surely wouldn't have tolerated a non-rent-paying, openly-cannabis-trafficking, freewheeling community establishing itself in the heart of their nation's capital.
It's mind-boggling to imagine such an iconoclastic paradise—home to roughly 900 residents—functioning within one of Europe's most modern and upscale cities. Scenic waterways flank both sides of the 84-acre strip of land (read: prime real estate) that the community occupies, and an idyllic lake cuts through the center. Just blocks away is Noma, the famed two-Michelin-star restaurant that draws affluent gastronomes from all over the world.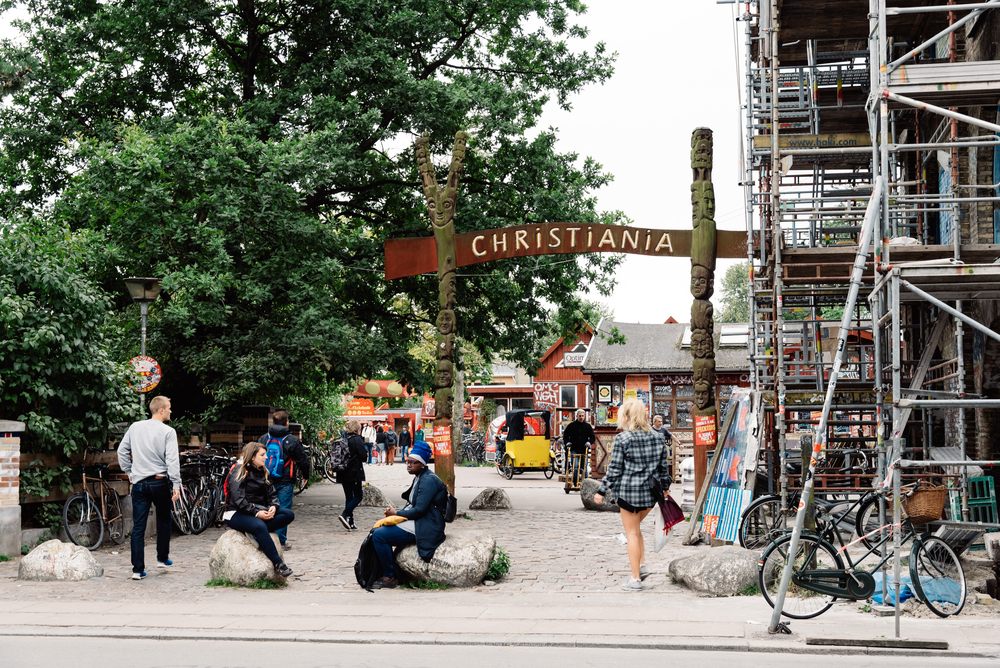 The entrance to Christiania. (Photo: JJFarq/shutterstock.com)
The juxtaposition sometimes seems too jarring and bizarre to be real. In 2010, I experienced my own reality-check moment in Christiania, rollicking the night away at a rare performance by 1970s British anarcho-punk legend Steve Ignorant at the commune's live music club, Loppen. Upon exiting the freetown's premises, I was abruptly returned to my normal life as an exchange student by a sign that read, "You are now entering the EU."
How does such a place work? Who earns the privilege to live there, and how do they maintain one of the foremost utopian communities in the world? The nitty-gritty, as it tends to be, is more complicated.
Before the commune was established, the area had served as a military zone with a defense history dating back to the 1600s. It was abandoned and fenced off in 1971. In September of that same year, would-be squatters tore down the fences, occupied the vacant barracks, and declared the area a freetown.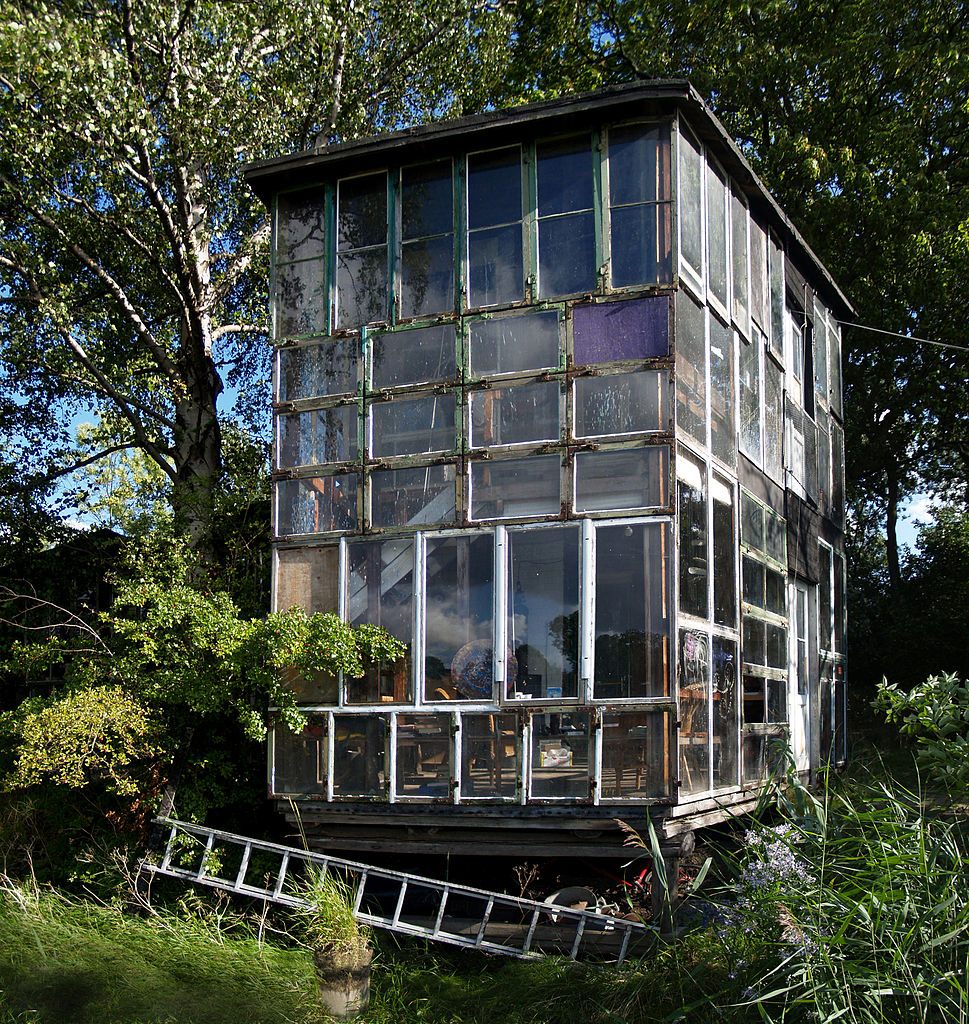 A glass house in Christiania. (Photo: seier+seier/CC BY 2.0)
The spirit of global counter-culturalism was high, and the city's lack of affordable housing had made young Danes restless. The squatters formulated a vision for an outsider utopia: they would go on to develop their own rules (consensus democracy being a key tenet), introduce their own currency, and fly their own flag.
In the beginning, the government allowed the commune to exist without interference as a "social experiment." Residents planted gardens, constructed DIY living spaces, and developed Christiania's "Common Law," which outlines prohibited items such as weapons and hard drugs.
The bohemian sanctuary grew into a tourist hotspot, frequented by foreigners and Danes alike. Pusher Street, where cannabis was openly sold  — and photography strictly prohibited — was particularly alluring to young travelers and exchange students.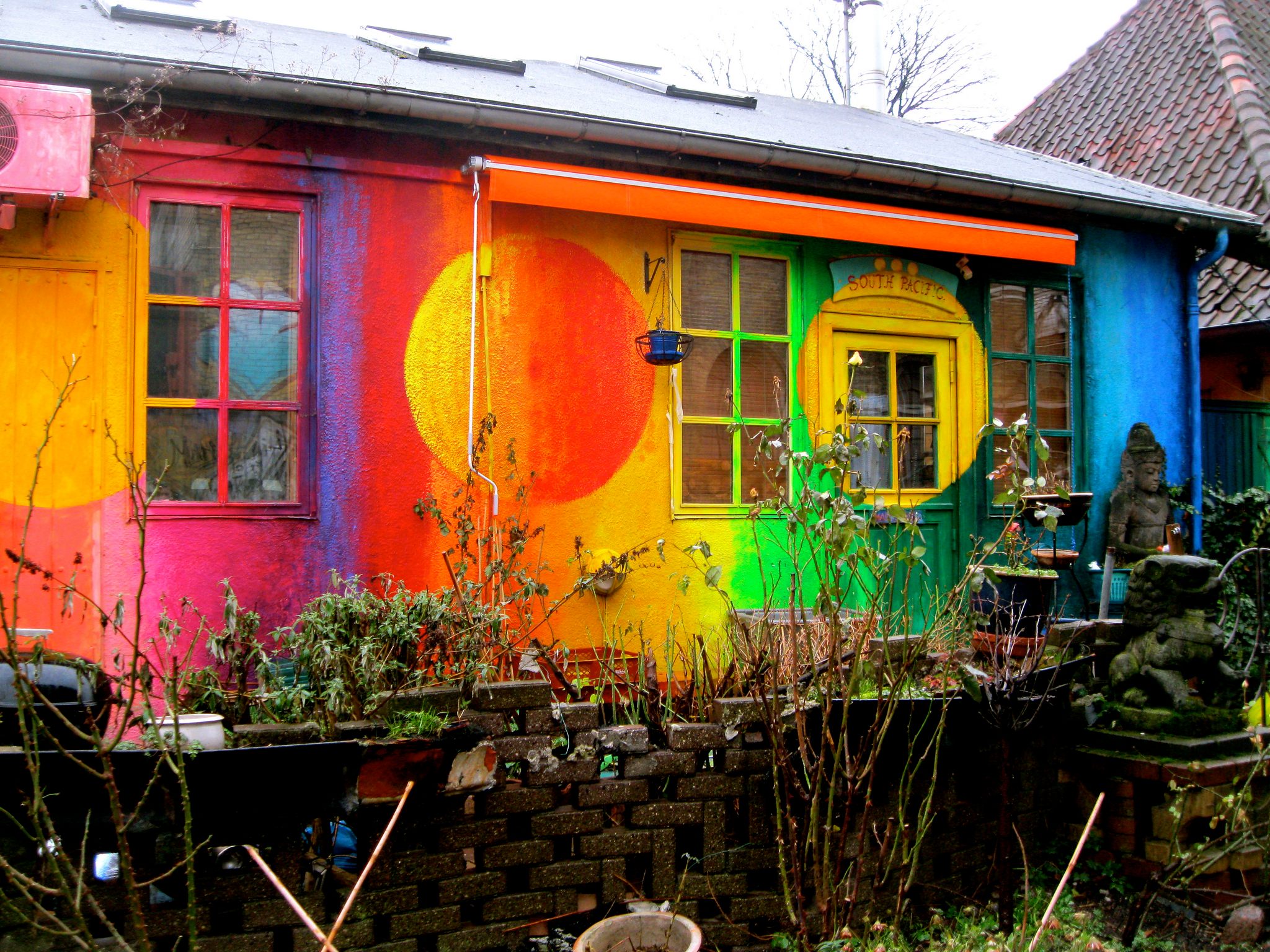 The brightly-colored exterior of a house in Christiania. (Photo: Athena Lao/CC BY 2.0)
But behind its tourist appeal and eccentric charm, Christiania is fundamentally still a home for a sizable population that must work to sustain the community.
According to Christiania spokesperson and lifelong resident Tanja Fox, inhabitants span all age groups, including families with children. They hail from virtually every corner of the world, though the majority are Danish or Scandinavian. The Danish paper Politiken reported that a significant portion of the residents are aging — an assertion that Fox confirms. Invoking typical Danish black humor, she adds, "And you know what happens to elderly men? They die."
And so, younger people are moving into the commune. When a room opens up in Christiania, it is advertised in Ugespejlet, the commune's newspaper. In spite of more residences becoming available, demand is high; often, dozens of people will apply for a single room. Some wait years for a space.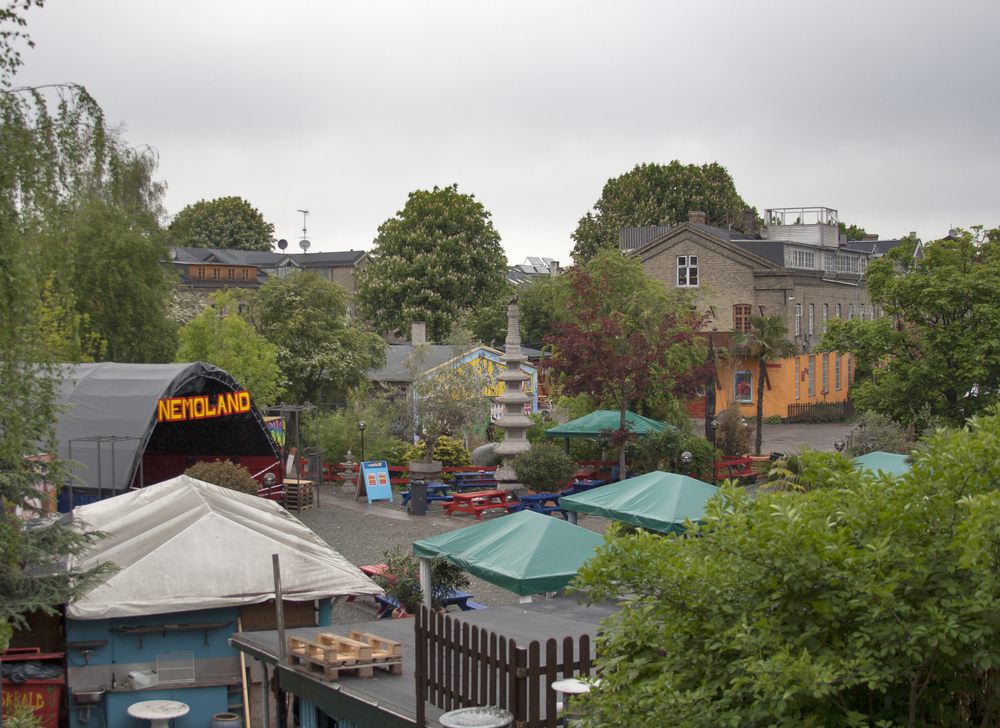 Looking across Christiania. (Photo: Sergiy Palamarchuk/shutterstock.com)
Christiania itself is divided into 14 neighborhoods, and each neighborhood is responsible for vetting its residents. Like Christiania as a whole, the housing process is governed by a consensus democracy. Neighborhood meetings are held to determine who the room or home is given to, and a unanimous decision must be reached.
"It's a very serious business," Fox says, noting that meetings can take up "more than 300 or 400 man hours" to approve a single resident. Part of the weight of the decision can be attributed to the lack of rent: residents are liable for monthly membership dues and utilities but otherwise live in their homes for free.
When asked what qualities an ideal candidate possesses, Fox notes that she prefers individuals who are eager to be part of a community, who think "we" instead of "I," and who pursue creative endeavors.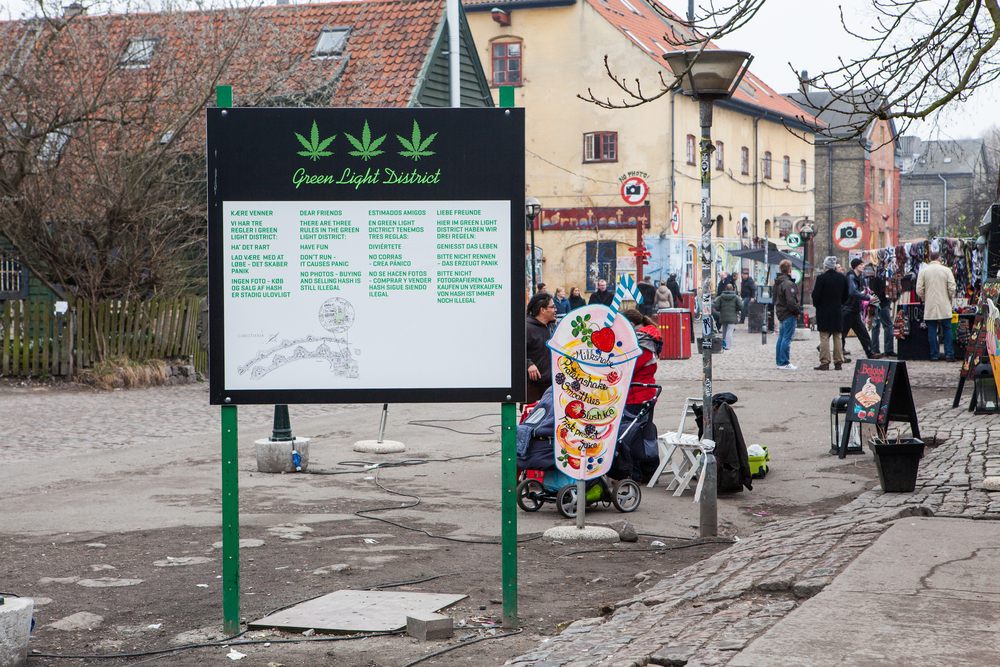 Christiania's "Green Light District". (Photo: Oscity/shutterstock.com)
In addition to housing administration, neighborhoods within Christiania make their own decisions in terms of upkeep, conflict resolution, and general maintenance. Five childcare centers are operated in Christiania's neighborhoods, along with cafes, shops, galleries, and other small, collectively-run businesses. Only larger issues, such as the annual budget and serious disputes, are taken to the Common Meeting, Christiania's highest forum, in which all residents participate.
Earlier this month, an emergency convening of the Common Meeting was called to address the future of Pusher Street. Two police officers had been shot on the community's grounds while attempting to arrest a drug dealer. (Both officers survived, and the suspect was not a resident of Christiania.) Residents voiced their concerns of organized crime infiltrating the community, and in the end, voted to remove the long-standing cannabis booths on Pusher Street.
In an assertion of autonomy amid what could have been interpreted as a concession to the state, residents asked Danish police to stay away: they would do the dismantling themselves.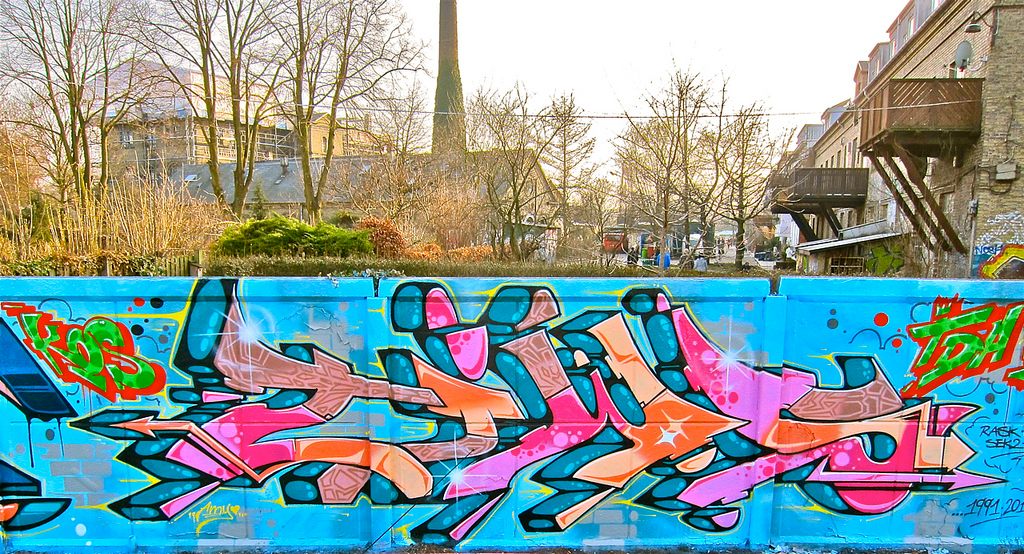 Graffiti on a wall in Christiania. (Photo: Tiws/CC BY 2.0)
Besides the drug trade, the most serious issue facing the Common Meeting in recent history has been government pressure to "normalize" the community. While the state has mostly tolerated Christiania's existence for decades, occasional scuffles have been a near-constant part of the commune's 45-year-long history, whether in the form of police raids on Pusher Street, selective bulldozing, or new laws and normalization plans.
In 2011, Christiania briefly closed its doors to the public in order for its residents to discuss ongoing negotiations with the government. The Danish government had offered Christiania residents the opportunity to buy areas of land and legally obtain ownership of their buildings at a significantly below-market rate. Ultimately, Christiania agreed to buy the property for 76 million kroner (nearly $13 million), and took out loans to make a substantial down payment.
Private ownership is at odds with Christiania's core ethos of shared property, and many still view the opportunity as the government's way of forcing Christiania into the system. Barny Holmberg, a resident of Christiania since its inception in 1971, cites the gentrification of the surrounding neighborhood as a root cause for government action, explaining, "In '71, Christiania was far away from the city. Now it's very close. It's different. We are surrounded by very, very expensive housing."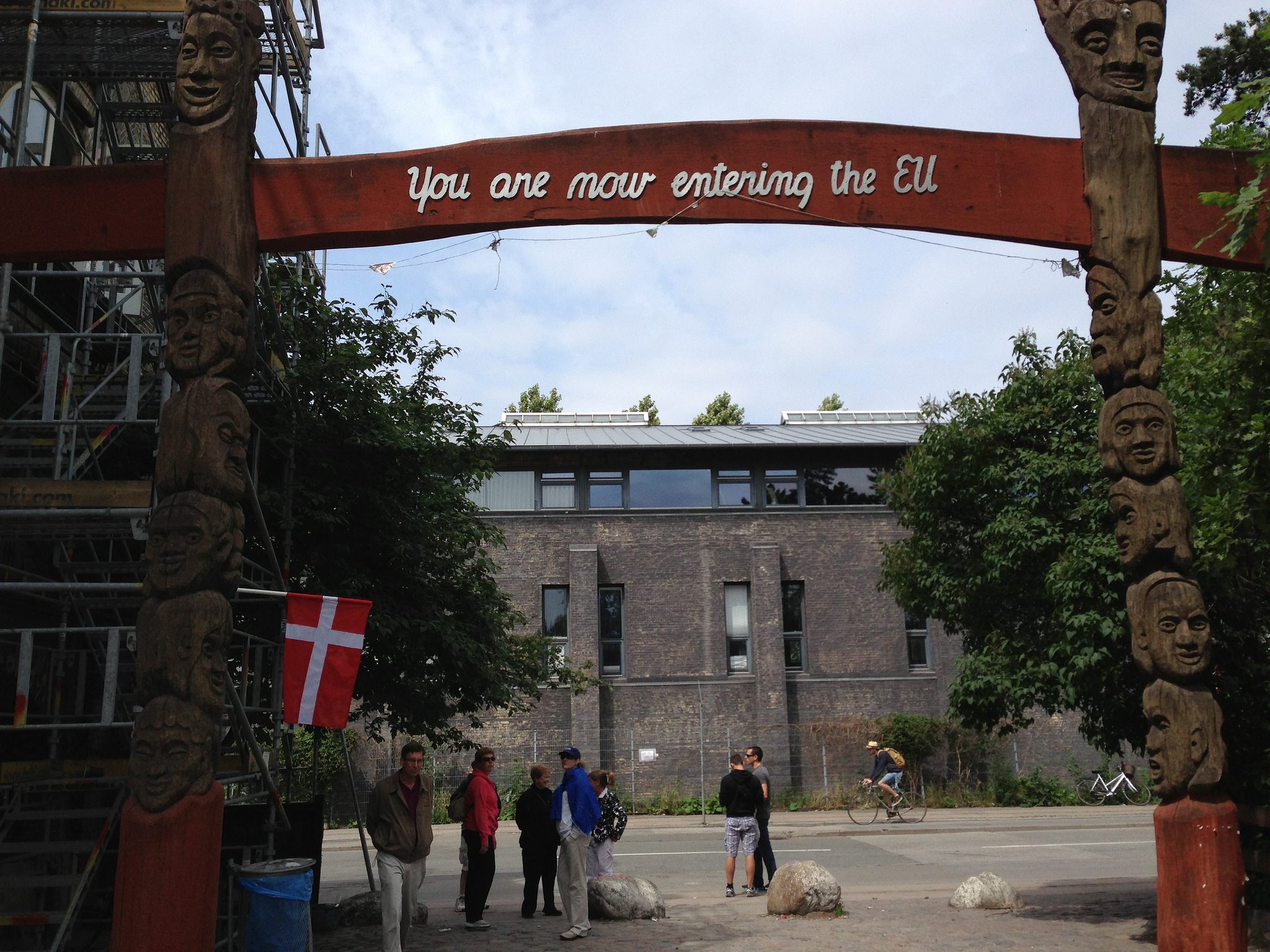 Leaving Christiania:"You are now entering the EU". (Photo: Justin Hall/CC BY 2.0)
To preserve a sense of collective autonomy in the purchase of their property, Fox and several other residents began a crowdfund called Folkeaktie, or Christiania Share. The fund offers symbolic "shares" of Christiania to anyone, for as little as 100 kroner (about $15). As of this writing, the fund has raised 12.6 million kroner. 
As for the future of Christiania, Holmberg tells me that he hopes new residents will carry on the spirit of spontaneity and sovereignty that the community engendered at its outset. "I hope people will worry less," he says.
"If we had followed the rules, we would never have been here."