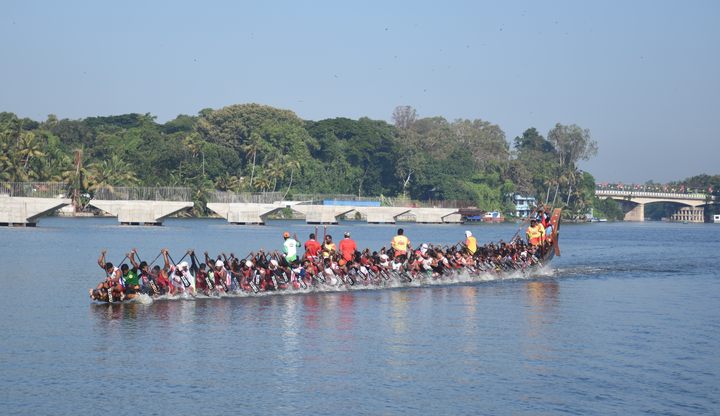 The Resurgence of Indian Snake Boats in an Age of Rising Seas
Storms, floods, and COVID-19 could threaten one of Kerala's iconic sports.
The racing snake boats of Kerala, India, are nearly half a football field long. Their polished wooden bows rest barely above the water, while their sterns rise up from the surface like the flared head of a cobra. On a broiling Saturday in November 2019, Jiffy Felix stands on the back of his team's boat, captaining around a hundred oarsmen in the club's emerald-and-white uniform. Both his hands grip a thick oar that is easily taller than his roughly six-foot frame. From his perch on the stern, his gaze passes over the bow and rests on the finish line, about one kilometer away.
Felix, 42, has spent much of the past three days fretting about prize money. His team—the Mighty Oars, also known as Nediyamukal Cultural Development Centre Boat Club, from the village of Kumarakom in southern Kerala—has taken on considerable debt to get this far. The Mighty Oars are one of nine clubs participating in the first-ever Champions Boat League, a 12-race series that has professionalized snake boat racing through uniforms, logos, standings, and cash prizes. The Mighty Oars need to beat the Coast Dominators to close the season in third place, giving them the cash to pay off some of what they owe.
Almost every year since 1952, the southwest Indian state of Kerala has hosted the Nehru Trophy Boat Race, christened when India's first prime minister, Jawaharlal Nehru, watched an impromptu contest and had a silver trophy made for the winner. Nehru's race has traditionally been held in the middle of August, and the Champions Boat League was set to use it as the league's first competition—until the rains began.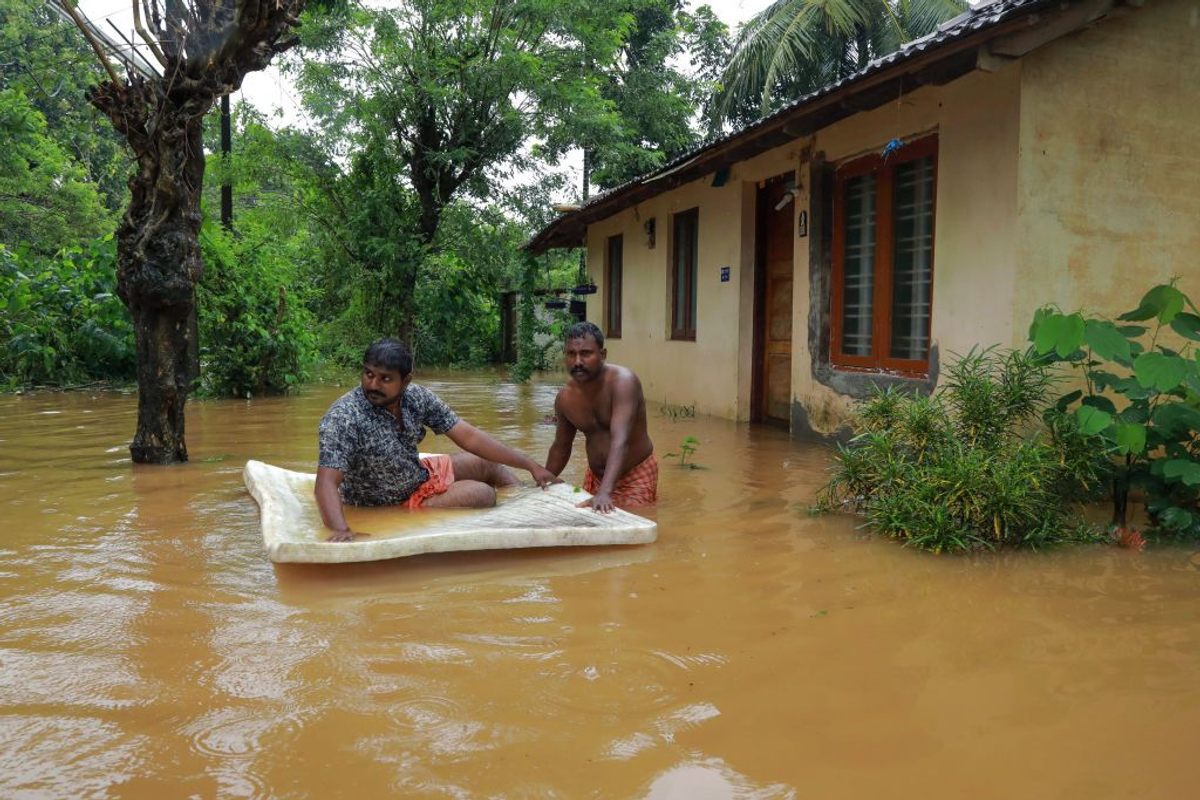 For days, curtains of water hissed through trees, slapped streets, and rattled rooftops. Small boats replaced cars on the flooded roads. The airport in Kochi, one of Kerala's biggest cities, closed for more than two days. People fled their drowned houses for relief camps. The floods came only a year after the worst flooding in nearly a century, which killed around 400 people and displaced more than a million.
The delay meant that Felix, and a few others who could afford it, had to personally pay for the team's weeks of food and hotels, not to mention flights home and back again for out-of-state rowers. The league had tried to auction snake boat clubs to wealthy owners before the season, hoping for a long-term investment in the sport and the region—but despite a TV deal broadcasting races online and across the country, few were interested. Felix took out a loan.
The government of Kerala created the series largely to attract more tourists to the unique "backwater" coast, even though catastrophic floods are likely to strike on an almost annual basis, according to climate scientists. This, coupled with sea level rise, threatens not just the league, but also the singular landscape from which snake boats were born.
---
In 1999, when Unni Karthikeyan was 17, he crowded around a radio with his dad, sister, and cousin, waiting for All India Radio to announce the winner of the Nehru Trophy. The race had been impossibly close. He was rooting for the Kumarakom Town Boat Club, a team he had watched at its first-even practice, in 1998. Back then, people figured they were too new to win.
Then came the announcement: KTBC had won the Nehru Trophy. "It was like a miracle," says Karthikeyan, who later served as secretary of the club. "I cannot express." He burst from his house and dashed to the canal where he expected the team to soon drift past. There he waited, ecstatic amid a crowd of supporters, everyone lighting candles to guide their rowers from the lake into the inky channel on their way home.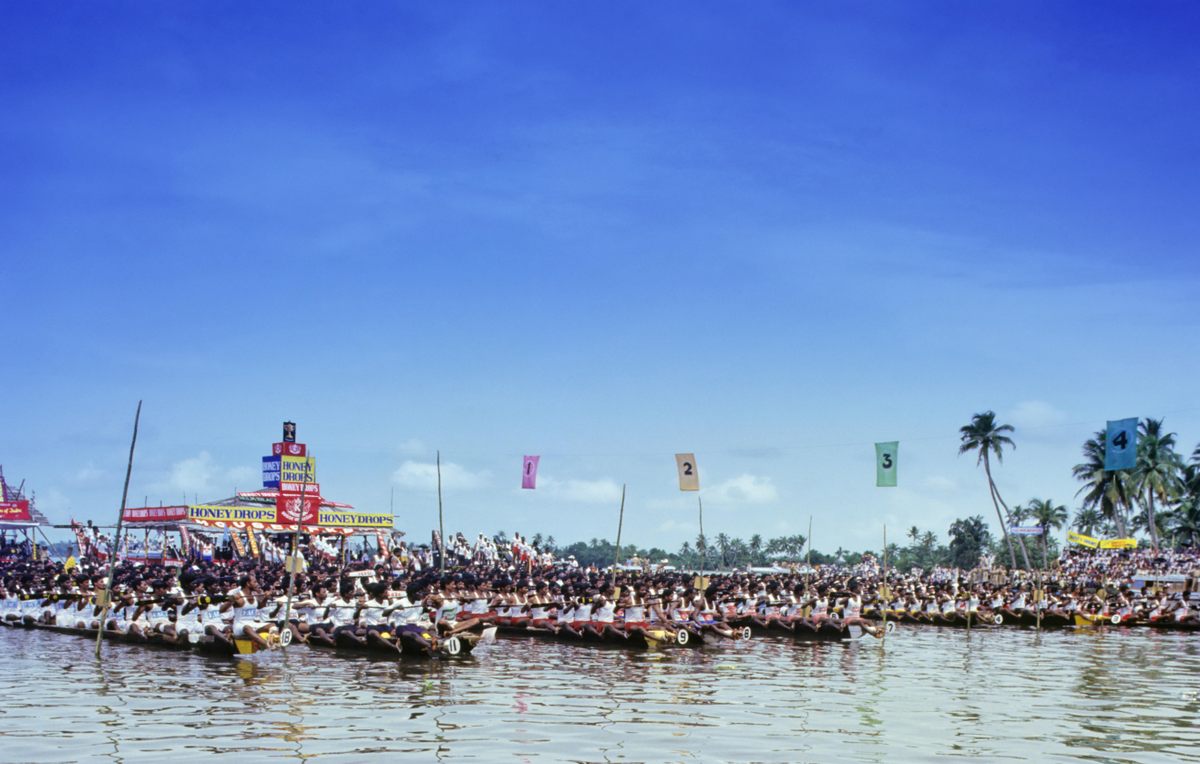 It's impossible to separate Kerala's snake boat races from the waterways that thread through its coast. Around two million years ago, according to John Paul, a retired marine geologist who studied the evolution of Kerala's coastal plains before he passed away earlier this year, tectonic plates underneath the subcontinent began to rock up and down, changing the flow of rivers and tipping tendrils of the Arabian Sea into land that came to be known as the "backwaters." Today they form a web of channels unlike anything else in the country.
Several centuries ago, two kingdoms rose along these channels, Purakkad and Kayamkulam. According to naval historians A.P. Greeshmalatha and Victor Rajamanickam, the chief of Purakkad wanted to dominate by controlling the water, so he demanded a vessel that would serve his purpose. What he got was a boat long enough to carry a troupe of soldiers, low enough to slip unseen along the shore, fast enough to startle his enemies, and lithe enough to slither through the water's serpentine swirls.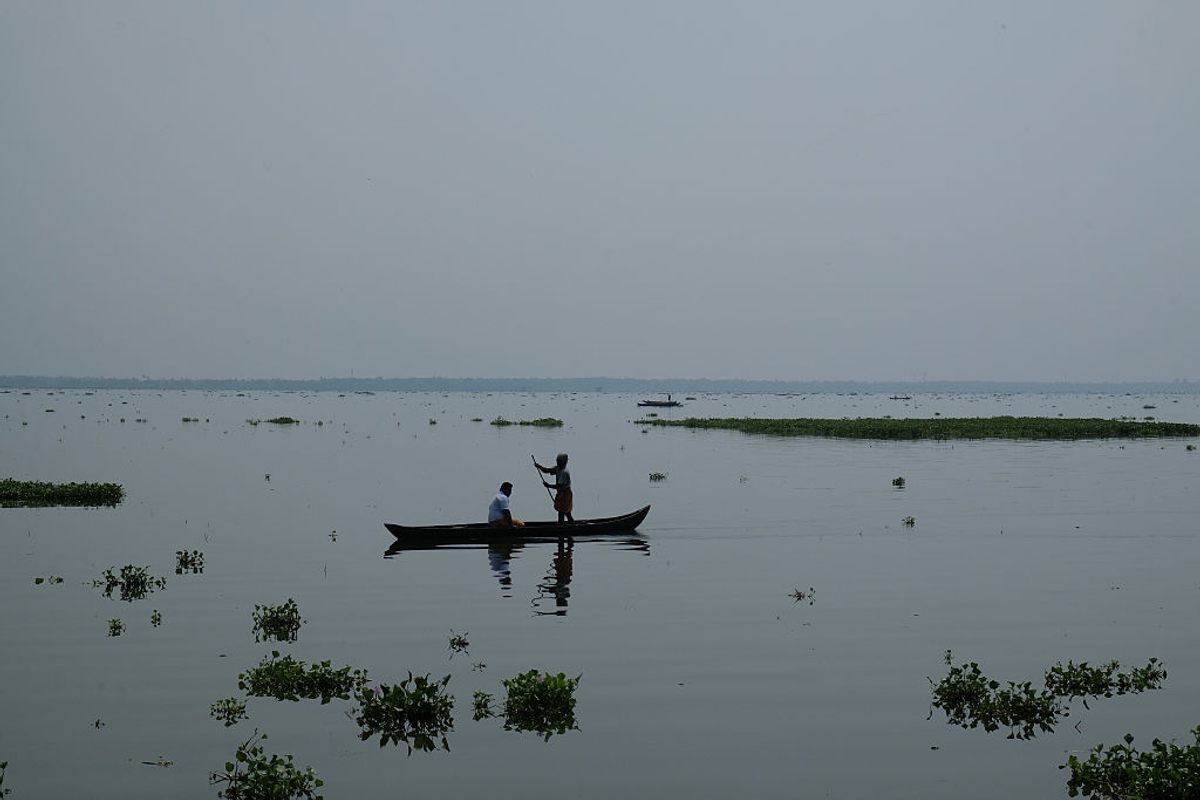 Initially, the back of these boats was thought to resemble a bird's beak, not a cobra's hood. In Kerala's native language, Malayalam, the boats are called Chundan vallam, which can be translated as "beak boat," according to Malavika Binny, a history professor at SRM University in Andhra Pradesh. She says the "beak" morphed into a snake only after a Dutchman saw the vessels and thought they looked like cobras poised to strike.
Though beak boats were undoubtedly vessels of war, Binny says there are references to boat races—vallam kali—that date back to the 15th century. Rather than slaughter each other into extinction, small fiefdoms raced to settle disputes. Their descendants are coastal villages that collectively own racing vessels, which hang upturned and tarp-protected for nine months of the year, until late summer.
---
When the Champions Boat League race begins, the Mighty Oars lurch forward and speed toward the finish line, their oars flinging so much of Ashtamudi Lake into the air that rowers seem caught between horizontal rainstorms. Water soaks their hair, washes over their eyes, and dribbles into their mouths.
At the middle of the boat, on a platform, coaches stand like conductors, chanting rhythmically and then blowing the same rhythm into plastic yellow horns. The rowers raise their arms in a muscular, circular motion, fists and oars rising toward the sun in unison and then plunging back toward the frothing lake. By the time they cross the finishing posts, so much water has flooded the boat that little waves lap at their ankles, and silver fish dart between their feet.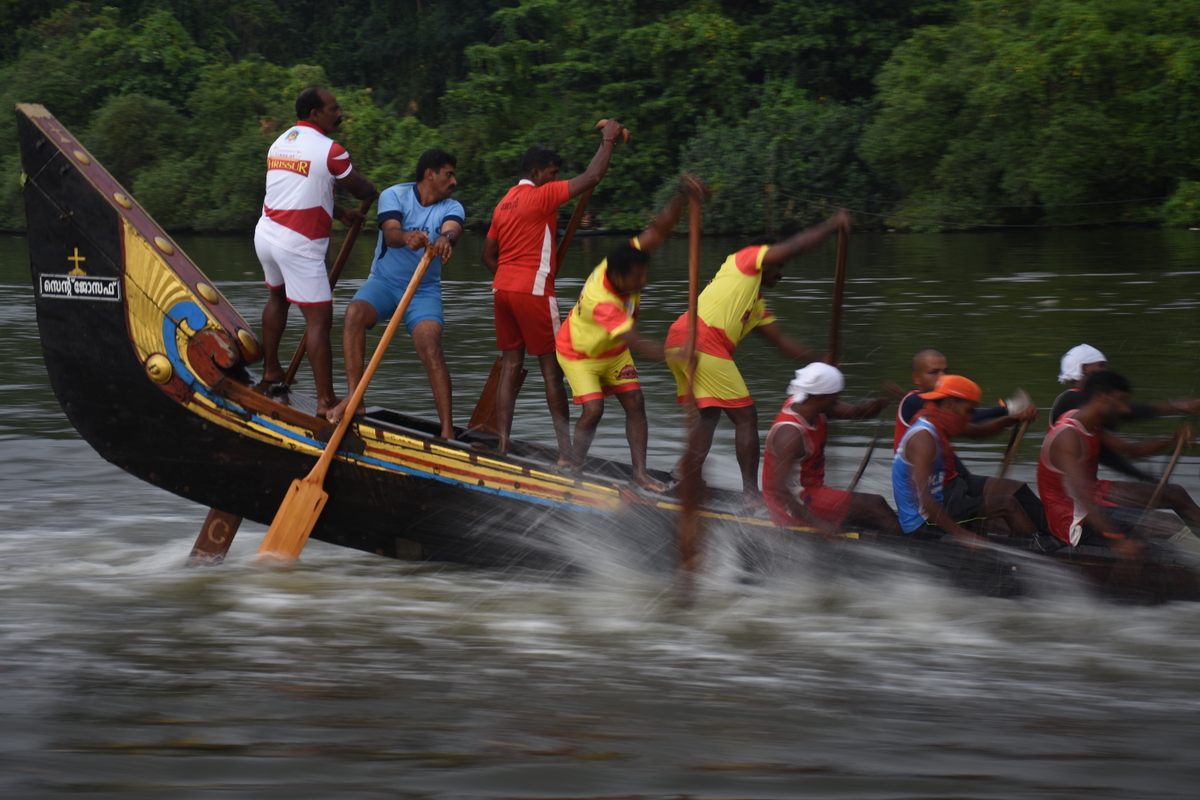 The Mighty Oars paddle fast enough in Saturday's preliminary race to make the three-team final, slipping in ahead of the Coast Dominators and assuring them a third-place finish for the year. Yet there isn't much time to be happy. People have buses and planes to catch, and in two days Felix will be off to Abu Dhabi, where he works every other month on an oil rig. He earns enough there to support his family and pay for a chunk of the team's expenses.
As a boy, Felix and his friends used to skip school in search of a stretch of water for their boat. When his parents found out he wasn't studying, Felix's uncle dragged him to work on a Mumbai oil rig where he was the general manager. "He wanted to change my life," Felix said. "The boat race, that is no life."
But the snake boat race never left Felix, and he now spends his days on both sides of the Arabian Sea, the body of water that will define the lives of everyone in coastal Kerala over the next century. Climate change has warmed the Arabian Sea and inflated clouds over the backwaters, and they now suck up enough moisture to dump months' worth of monsoon showers in days, according to Venu Nair, a meteorologist at the Centre for Earth Research and Environment Management. The sea is also predicted to rise several feet by century's end, erasing chunks of Alappuzha, a tourist and snake boat hotspot that already floods during high tide, home to about 200,000 people. Around half of Kochi, the state's commercial capital, is built on reclaimed land and "will be gone by the end of the century" if water keeps rising, said Shadananan Nair, a water resources expert who works with Nair.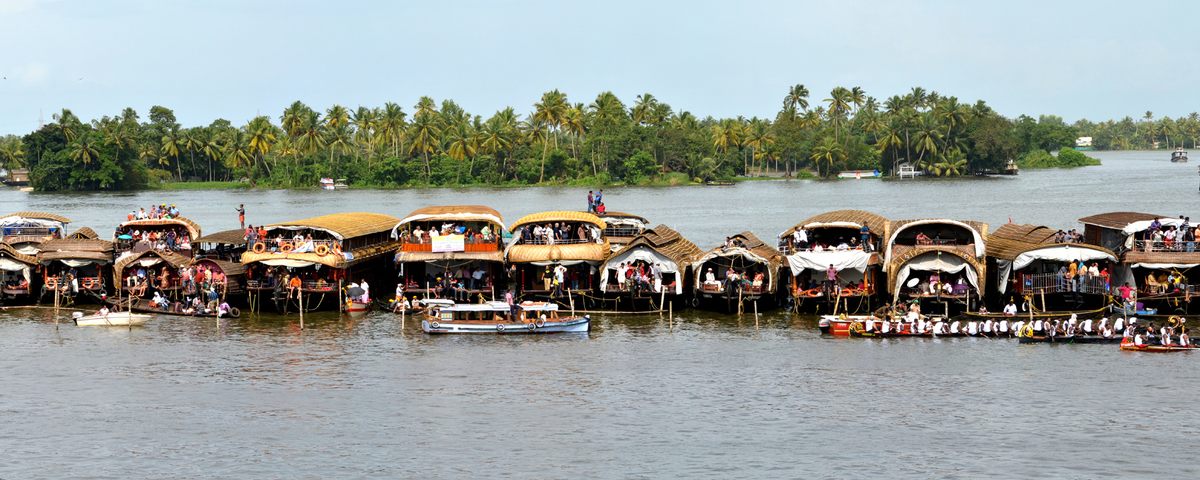 The spread of COVID-19 has shown another way that the sport can be precarious: Rowers, team managers, and their families have come to rely on the tourism and investment that snake boats bring to Kerala. Though the virus hasn't yet altered the league's plans for its second season, India is currently under lockdown, and sporting events from the U.S. basketball season to the 2020 Olympics have been postponed. This could be the snake boat league's second major disruption in as many years, which may discourage outside buyers from funding racing clubs in the future.
Meanwhile, Felix's son and daughter may grow up with a much different relationship to the backwaters, defined not so much by calm inlets where children learn to swim, but by an intimate understanding of water's upending power, and perhaps by a need to move inland. Felix sounds determined to be the last of his family to race. It's caused too much money trouble, too many family arguments. "I don't want our kids also to go this way," he says. "We have already decided."