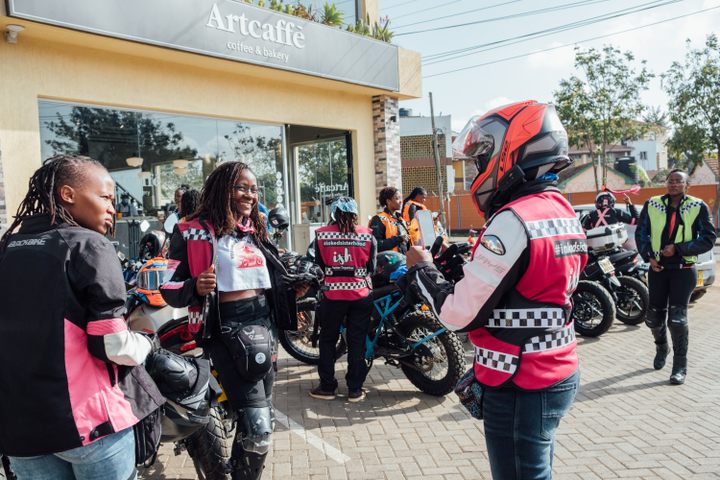 Meet Kenya's Sisterhood of Badass Bikers
The women-only motorcycle club offers skills learning, solidarity, and support that echoes pre-colonial networks.
On a hot February afternoon, 30 or so teenage girls sit quietly in a small classroom. For a brief time, they're shielded from the bustle of Kibera, a sprawling neighborhood in Kenya's capital of Nairobi. At the back of the crowded room, a young girl holds a toddler, her gaze flicking between the child and a row of bright red and black helmets lined up on an old table at the front like Roman galea. Beside the table stand members of the Inked Sisterhood. One wears a shirt that declares, in fanciful cursive, "You can't scare me, I'm a biker."
The women of the Inked Sisterhood—a local group of female motorcycle riders—are the featured speakers for today's presentation at the KAG Kibera community center, one in a regular series of classes and talks for girls in the neighborhood. Decked out in neon pink reflector jackets embossed with the group's name in bold black and white, the tattooed women also sport intricately styled dreadlocks, hardshell body armor, and heavy riding boots. Their look pushes back against conservative Kenyan society—and so does their passion for riding motorcycles. Despite the modern edge to the group, the Inked Sisterhood follows a long tradition of African women creating community among themselves to lift each other up.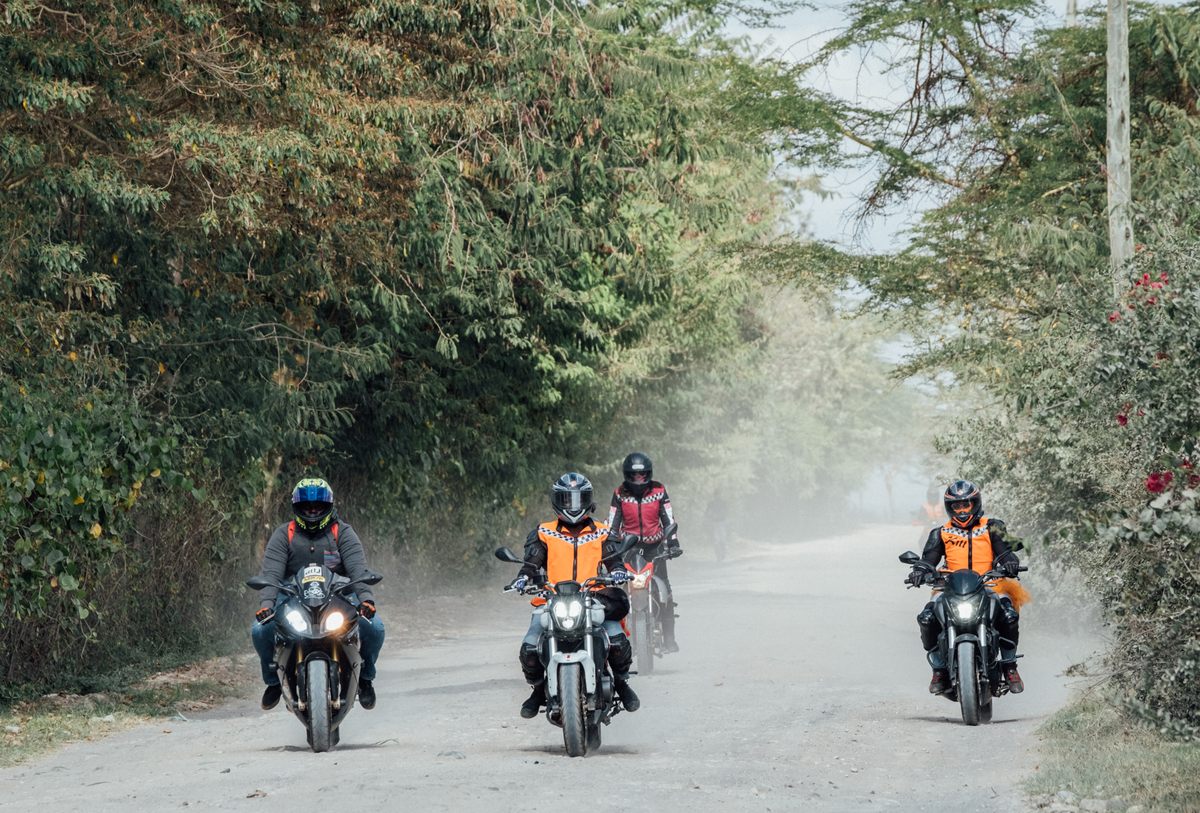 Formed in 2017, the sisterhood is a space for women to learn from and support each other. Members receive training on bike maintenance, first aid, and how to handle both race courses and offroading. Beverlyn Omwenga, nicknamed Pilipili Ndogo (Small Pepper), tells the girls, "There are communities where women aren't allowed to ride. But remember, you can do whatever you put your mind to."
Omwenga's fascination with motorcycles started at a young age. As a girl, she dreamed of one day riding a motorcycle of her own—an interest her mother was firmly against. It would be years later, after moving from her small hometown to Nairobi, that Omwenga would learn to ride a motorcycle and join the Inked Sisterhood. Omwenga found a sense of belonging and support, including sisters literally lending a hand, she says, "when it comes to lifting your bike when it decides to nap."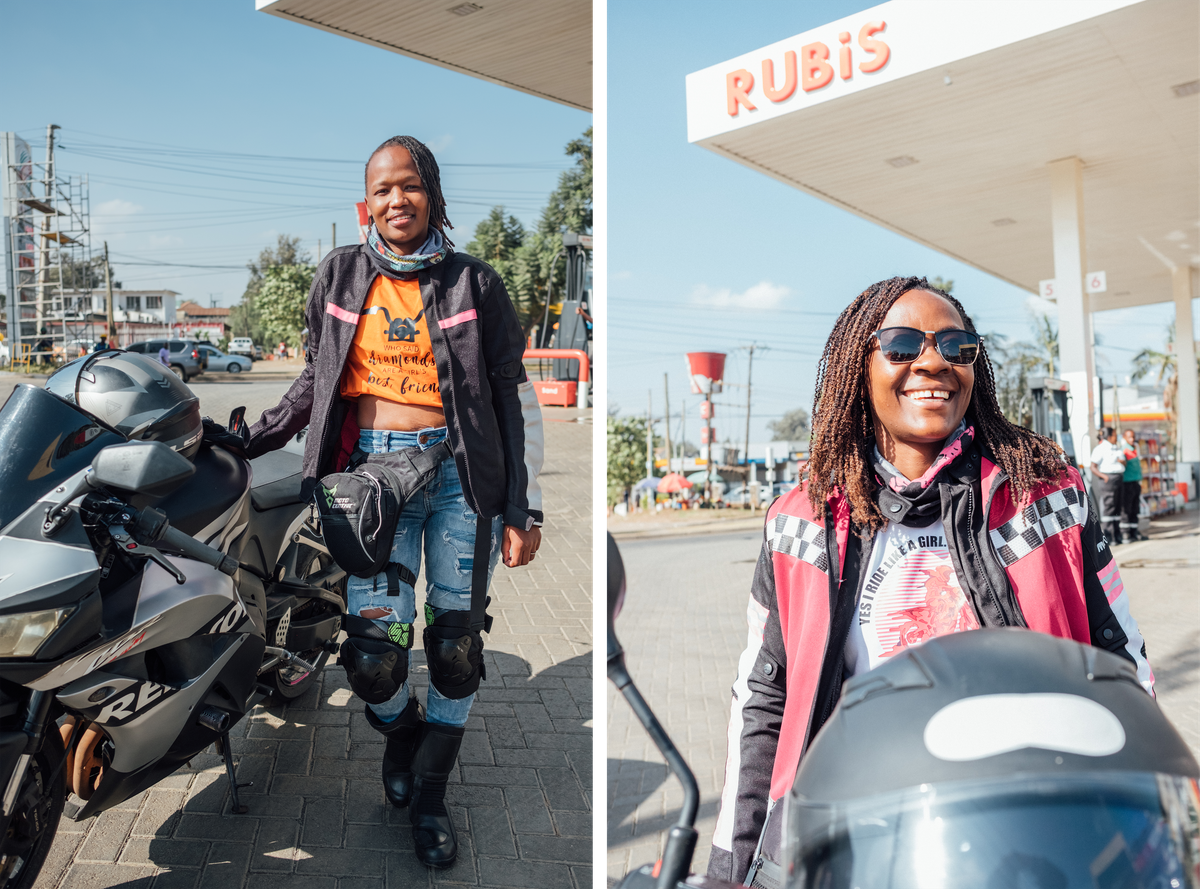 Long before there were motorcycles, women in Kenya were creating sisterhoods. During the precolonial period, women organized support groups to provide mutual assistance along tribal lines: The Kikuyu women created Ngwatio, Kisii women Amasaga, and Luo women Saga. In a 2016 paper on the history of such groups, Isaboke Nyataya notes that they eventually evolved, during the British colonial era, into national organizations such as Maendeleo ya Wanawake, which was formed in 1952. Many successors to the earlier groups have been instrumental in effecting social change, from grassroots women's organizations that came together to preserve Nairobi's green spaces to urban women whose 2014 protests ultimately led to the criminalization of assaults, including public stripping by a mob, of women deemed to be provocatively dressed.
While the Inked Sisterhood advocates for causes such as safer roads and less prejudice, each member has a personal reason for taking up motorcycle riding. For some, the sheer joy of riding has grown into a commercial interest.
"Life starts at 40!" declares Joan Wamuyu, Mama Nduthi (Motorcycle Mama), with a laugh. She started riding at 41 in 2015, "So I was basically one year old," she says.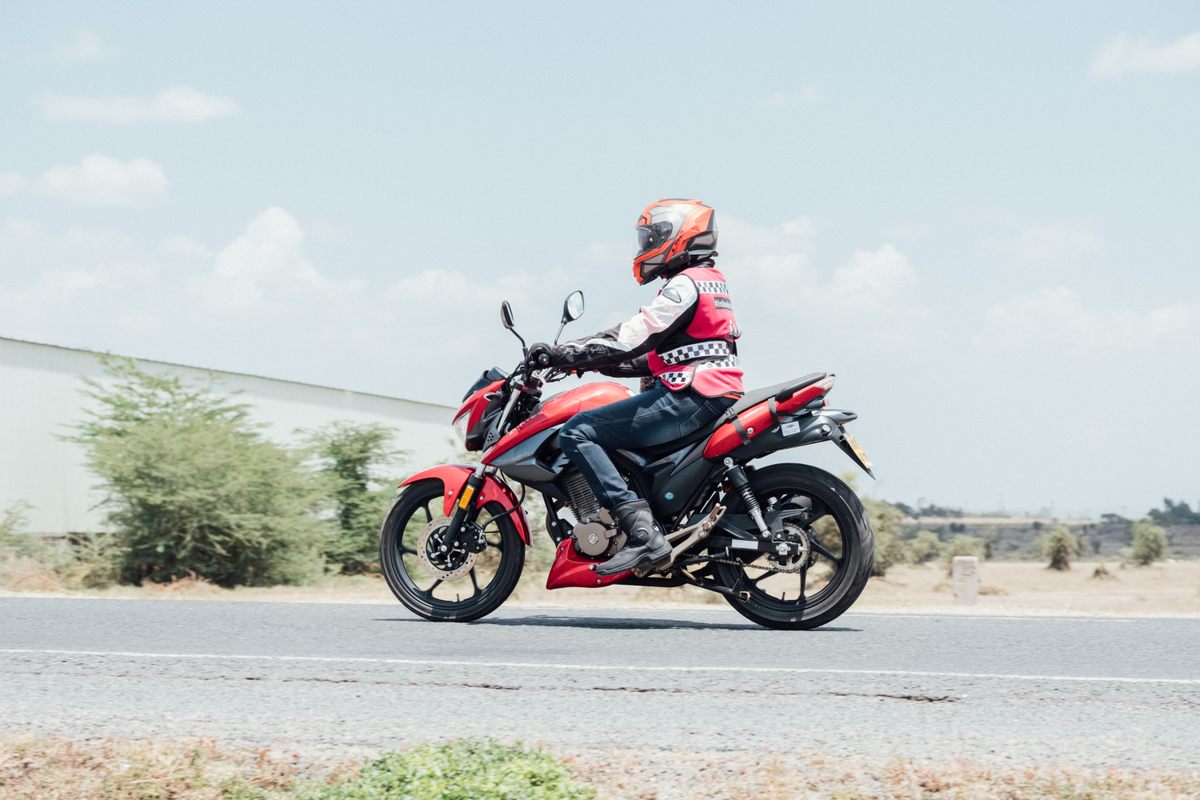 Wamuyu originally trained as a rally driver, but the daunting cost of a vehicle, its upkeep, and race fees made her switch from four wheels to two. Motorcycles keep her love for the road alive. The world traveler returned to her native Kenya in 2020, just in time to be laid off from her job because of the pandemic. Aware that Kenyan bikers largely relied on expensive imported gear, she started the safety gear company Throttle Wear.
Wakesho Shinga was finding her way through grief following a personal tragedy when she took up riding in 2017, after a friend told her that a motorcycle requires "a quiet mind." Today, she says, "I'd like to believe that I've learned a thing or two, made lifelong friends, and most importantly found the peace I was looking for when I set out on this journey."
When Shinga takes her place at the front of the classroom to speak, she tells the girls she's shy by nature. "You probably can't tell though, from just looking at me," she adds, gesturing at her dreadlocks, tattoos, and boots. The girls admit that they'd been influenced by stereotypes of bikers as troublemakers deserving of suspicion. The negative perception of riders in Kenya has even led to motorcycles being barred from certain places.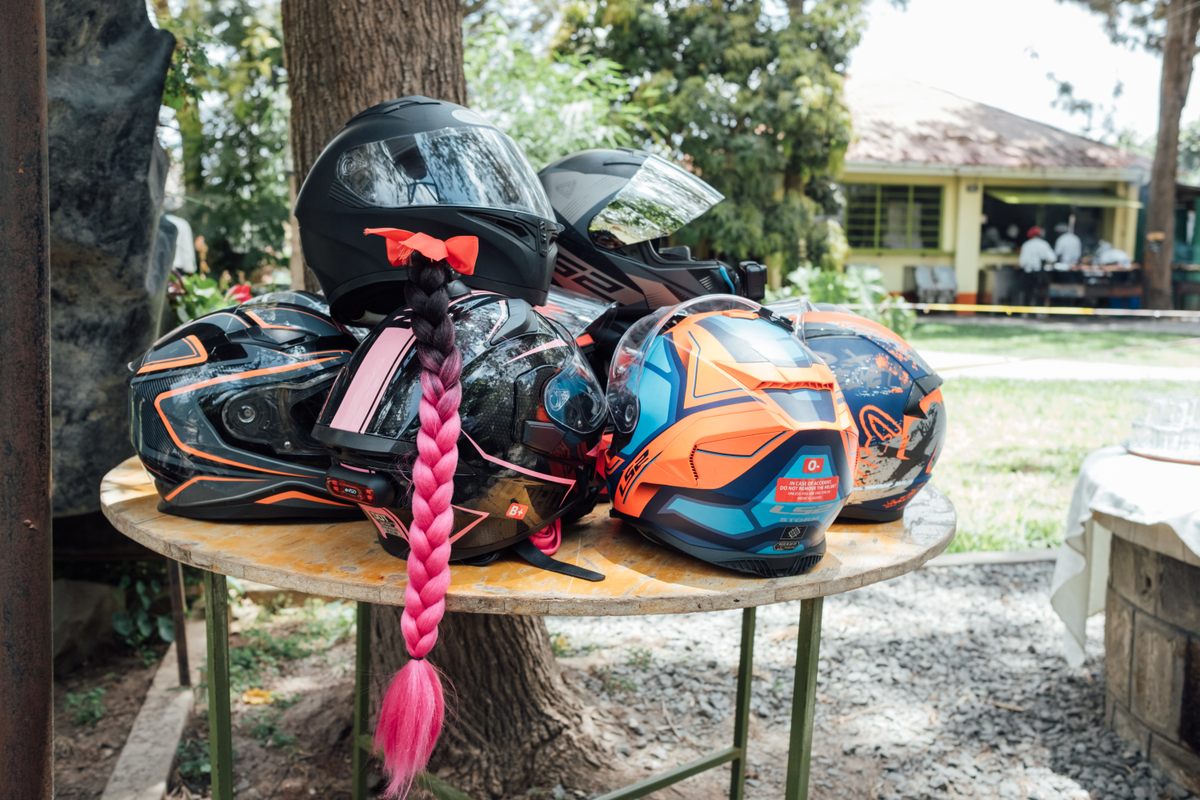 "Many times I have been stopped from accessing buildings, including a mall where I am literally going to spend money!" Lucy Monyenye says. She's been riding since 2016 and has experienced her fair share of discrimination as a biker. "There's an assumption that I am a rebel, before anyone gives me a chance to introduce myself. Having a sisterhood to go back to really helps."
According to Wamuyu, discrimination puts bikers at risk. "Riders are viewed negatively and that's where the danger starts, because people don't pay attention to a rider's safety." she says.
"Drivers will push you off the road," Monyenye adds.
There were 1,421 motorcycle fatalities on Kenyan roads in 2019 alone, and that number has continued to rise. "If we can all just learn to share the road and have mutual respect for all road users then riding wouldn't be perceived as a death trap," Omwenga says.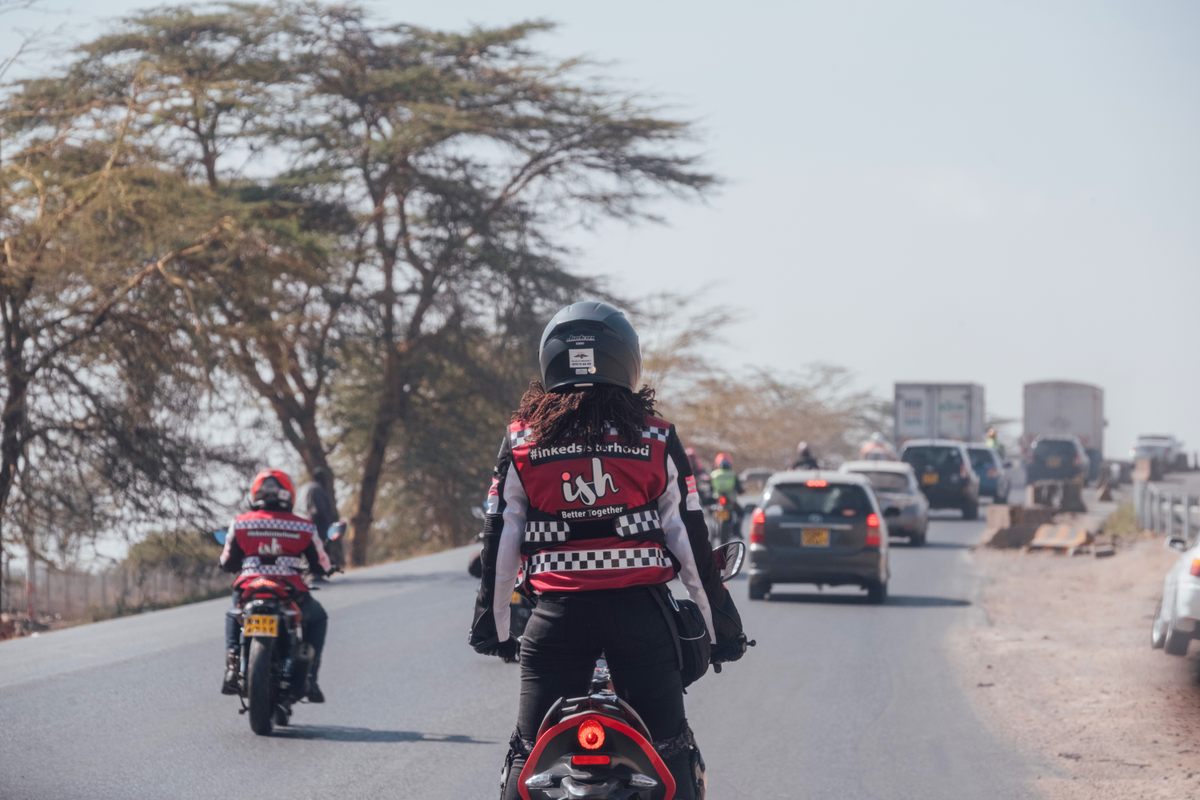 The Inked Sisterhood actively seeks to promote road safety and raise awareness across social media and through outreach campaigns such as "I Ride For Helmets," which advocates for access to safety helmets for commercial riders, who make up the bulk of Kenyan bikers.
After the Saturday presentation, the girls follow the women outside into the blistering afternoon heat. One by one, they hop onto the Sisterhood's pink and purple motorcycles behind seasoned riders for a quick spin around the community center as the other girls cheer them on. The friendship and support the Inked Sisterhood gives members is irreplaceable. But for some members, such as Michelle Maina, who started riding in 2018 as a way of regaining her individuality after having children, the greatest gift is "being seen as a symbol that girls can be strong."