How to Keep a Medieval Ghost Town Ghostly
Step 1: Buy it. Step 2: Maybe a poetry reading?
Nestled on a hill overlooking a dramatic gorge in the Mingardo Valley, 40 miles from Salerno, Italy, the abandoned hamlet of San Severino di Centola looks exactly like a medieval village should look. There is a photogenically crumbled castle, a cathedral, cobblestone streets, and a huddle of roof-less, overgrown houses that look as though they had been sculpted out of the rocky cliff a millennium ago. No one has lived in this village since at least 1974. It is, like scores of villages all over the region and Italy, a ghost town, one haunted less by apparitions than by a changing cultural and social landscape that has left two fates: development or neglect. Either route means oblivion for the town as it exists today, and in the memories of the families who relocated to the bottom of the hill. But here, a group of locals is trying to keep it just like it is.
The origins of San Severino di Centola go back to the 11th century, when the Longobards (or Lombards) built a castle on top of a hill. It was a strategic location, overlooking the valley below. Shaped by the Mingardo River, the eponymous valley is known for its particularly dramatic topography, with a deep part known as "Devil's Gorge." For centuries, it was the only way to access the rugged interiors of Cilento, part of Italy's Campania region that connects Palinuro's coast with the adjacent Policastro Gulf.
Most visitors to this part of Italy hit the seaside towns of Palinuro or Marina di Camerota, known for crystalline waters and sandy beaches. A trip inland, toward Cilento National Park, comes with a radical change of scenery. As early as 1842, British poet and painter Arthur John Strutt praised this lesser known part of Campania for its "sundrenched mountain roads, rugged trails and steep cliffs overlooking the Mediterranean sea."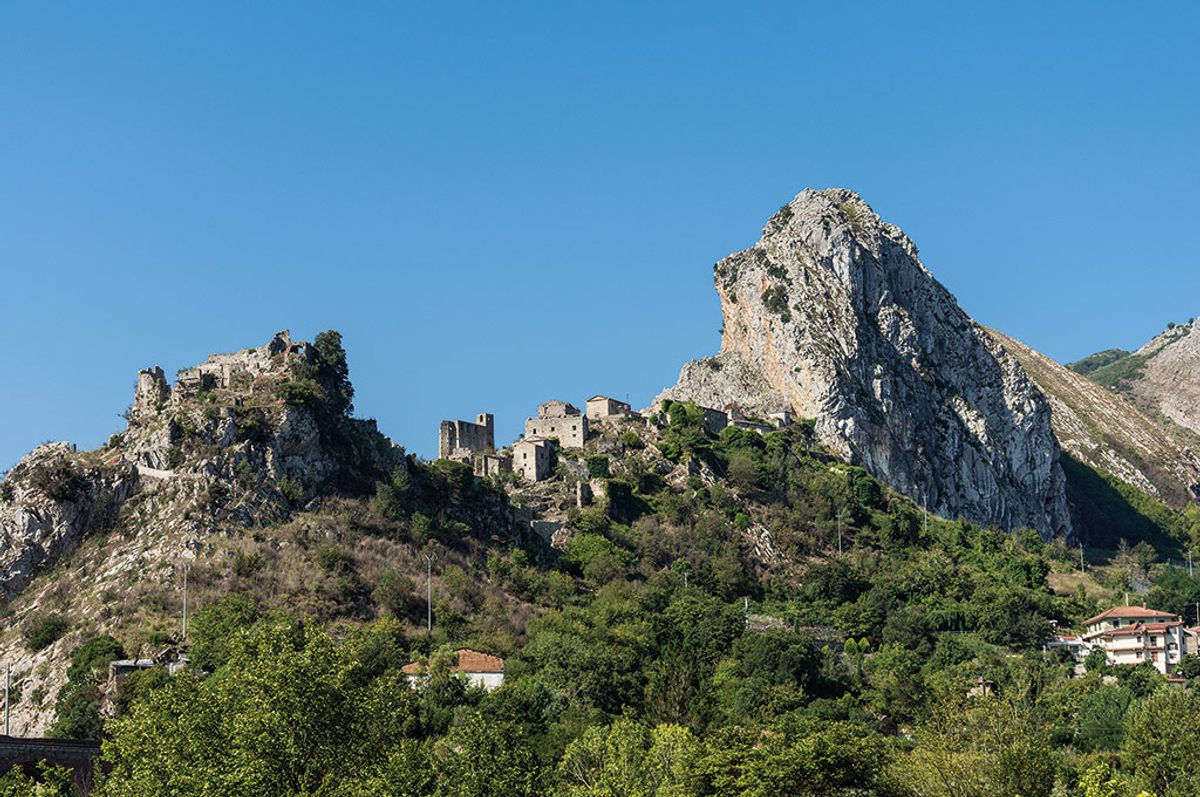 It is a dramatic setting for the abandoned medieval hamlet, which looks almost like it eroded out of the hilltop, like a natural rock formation. "When you look at it from the bottom of the valley it seems like it has been frozen in time," says Giuseppe Ottaiano, an art director who runs an online database of the hidden wonders of Campania. "And if you get up top you can appreciate the way that history and geography shaped the events of this part of the region."
The first humans known to have settled in the valley were Bulgarian mercenaries, who established a military lookout on top of Devil's Gorge in the 7th century. The Longobard castle followed, but being so strategic a site, it was seized by others: the Normans (1077–1189), the Swabians (1189-1266), the Kingdom of Aragon (1444). The hamlet also became an important site for gypsum mining for agriculture and construction.
Life has never been easy for people in this part of Cilento. Farming is difficult and landslides common. As explained in a video by former resident Geppino Amorelli, who left the town in 1962 at the age four, most locals lived off the few crops they could grow on a dry hilltop, such as figs and walnuts.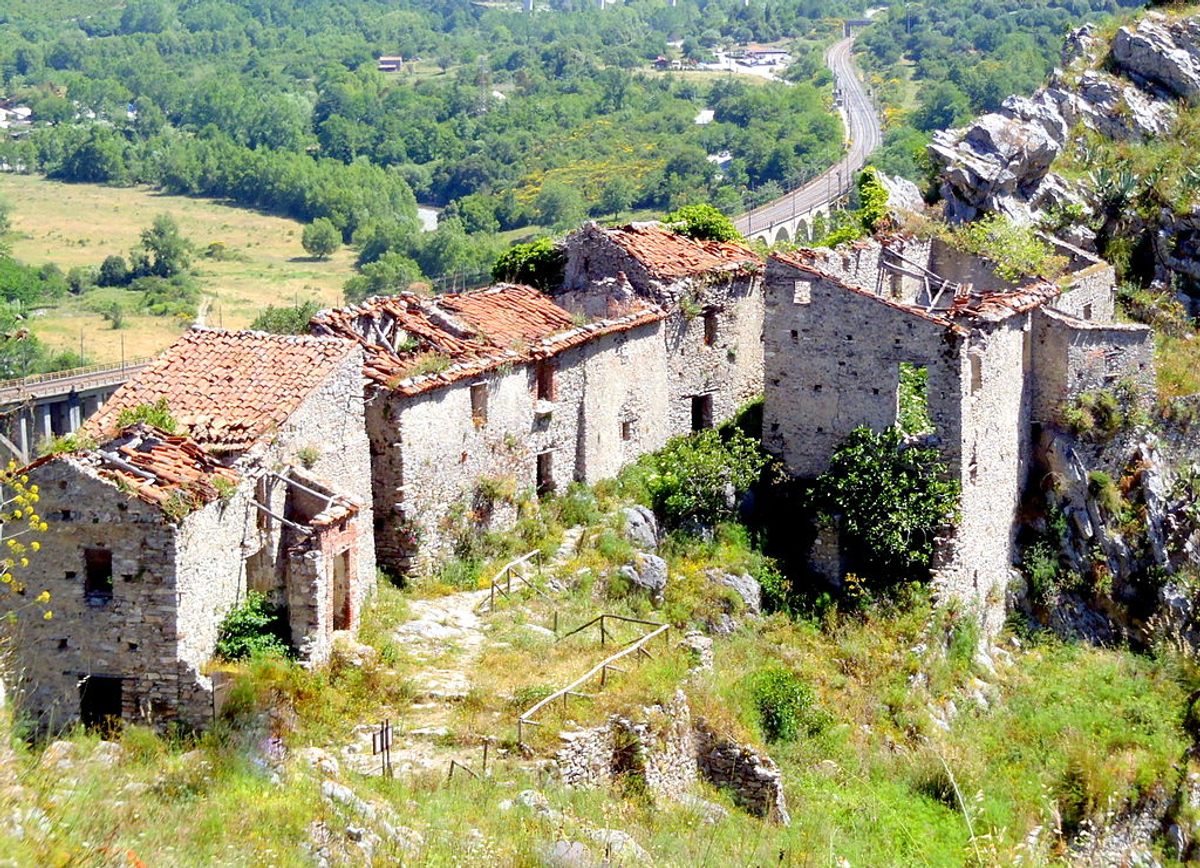 In the mid-1960s, the peak of Italy's postwar industrialization, the national government funded the construction of a mountain tunnel nearby to serve the expanding railway network. Most locals left the hilltop hamlet to work on the tunnel project, and moved to new homes at the bottom of the cliff. Others left for manufacturing jobs in the north. By the mid-1970s, there was no one left.
For years, San Severino di Centola was abandoned. Vegetation slowly took over: small shrubs engulfing walls, while taller plants emerged in courtyards and rooms, and eventually broke through roofs. Parts of the medieval cobbled streets were turned up by gnarly roots. Glassless windows and empty doorways started to look more like picture frames for the dramatic scenery.
San Severino di Centola became a ghost town—in a region that already counts at least 15 other abandoned villages, including the well-known Roscigno Vecchia, known as the "Pompeii of Cilento," as it was abandoned quickly due to an earthquake. Over the decades, vegetation-covered ancient towns have become an iconic part of Campania's hinterland in their own right.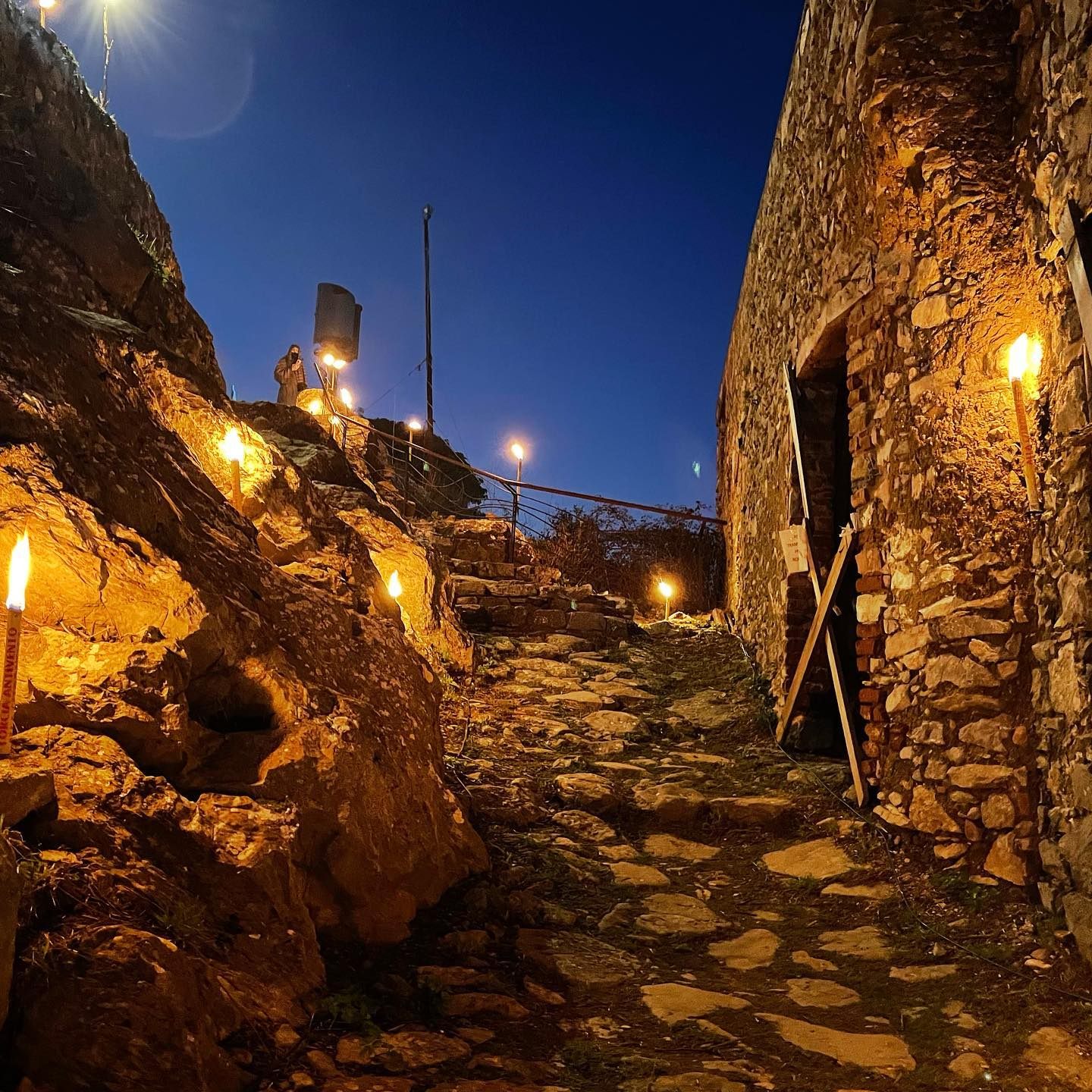 Over the past 50 years, ghost towns such as San Severino di Centola have come to define Campania's rural landscape, as much as the rock formations that dot its rugged valleys. In 2015 the municipal government of Centola, which has jurisdiction over San Severino, led the creation of "Campania's Regional Network of Abandoned Towns" in order to join forces and preserve these unique landscapes. The organization hopes to attract investments and ideas to maintain the unique atmosphere of moss-covered medieval buildings and their natural surroundings.
Rather than trying to repopulate these towns, the challenge is how to keep them as they are: ghostly. In recent years, initiatives such as rural Italian homes on sale for the symbolic price of a single euro have made headlines around the world. These are usually efforts by towns that are on their way to being abandoned, in the hope that they can avoid that fate. For San Severino di Centola and other ghost towns, preservation is more important than survival. "These are areas in which abandoned towns have become an integral part of the scenery," says Ottaiano, who has created walking tours of the area's abandoned castles. "They represent the historical and anthropological identity of our territory."
Then, in the early 1980s, news got around that a real estate company based in Rome had acquired roughly 50 percent of San Severino di Centola. Locals grew worried.
"We did not want someone coming in and destroying medieval houses to maybe build a new hotel," says Silverio D'Angelo, a retired banker and former councilor of the local Centola government. In 2008, D'Angelo and about 10 others joined forces and took over the real estate company that had made the purchase, called SIAC Srl. "We wanted for San Severino to remain in the hands of people who had a tie to the village," he says. Currently the ghost town is owned by SIAC, descendants of former residents, and the municipality of Centola.
D'Angelo and the other owners want to keep San Severino ghostly, aside from minor interventions to make it safely accessible, such as removing weeds and brambles from the large stone steps that lead up to the village.
Ten years ago, D'Angelo and other locals in the newer section of San Severino di Centola—a 15-minute walk downhill from the ghost town—created a nonprofit, Il Borgo (The Hamlet) to organize cultural events in the abandoned town.
Tiziana Coletta, a state architect and author of a dissertation on the management of abandoned villages, explains that the preservation of ghost towns requires a particular balance—maintaining the feel of a place, while arresting the decay that gives it that feel. She calls for a case-by-case approach, but hosting cultural events can contribute to that balance. "Cultural activities can help revive and preserve abandoned towns," she says, though they must be capped, according to the limitations of the centuries-old infrastructure.
"The idea started 10 years ago during a live nativity scene that we hosted in the ghost town," says Angelo Guida, president of Il Borgo. "We realized that organizing cultural events against this dramatic background was something that had a lot of potential." Events run by the organization have ranged from live nativity scenes around Christmas to small concerts, poetry readings, and open-air painting sessions. Members also take on low-cost maintenance activities such as weeding.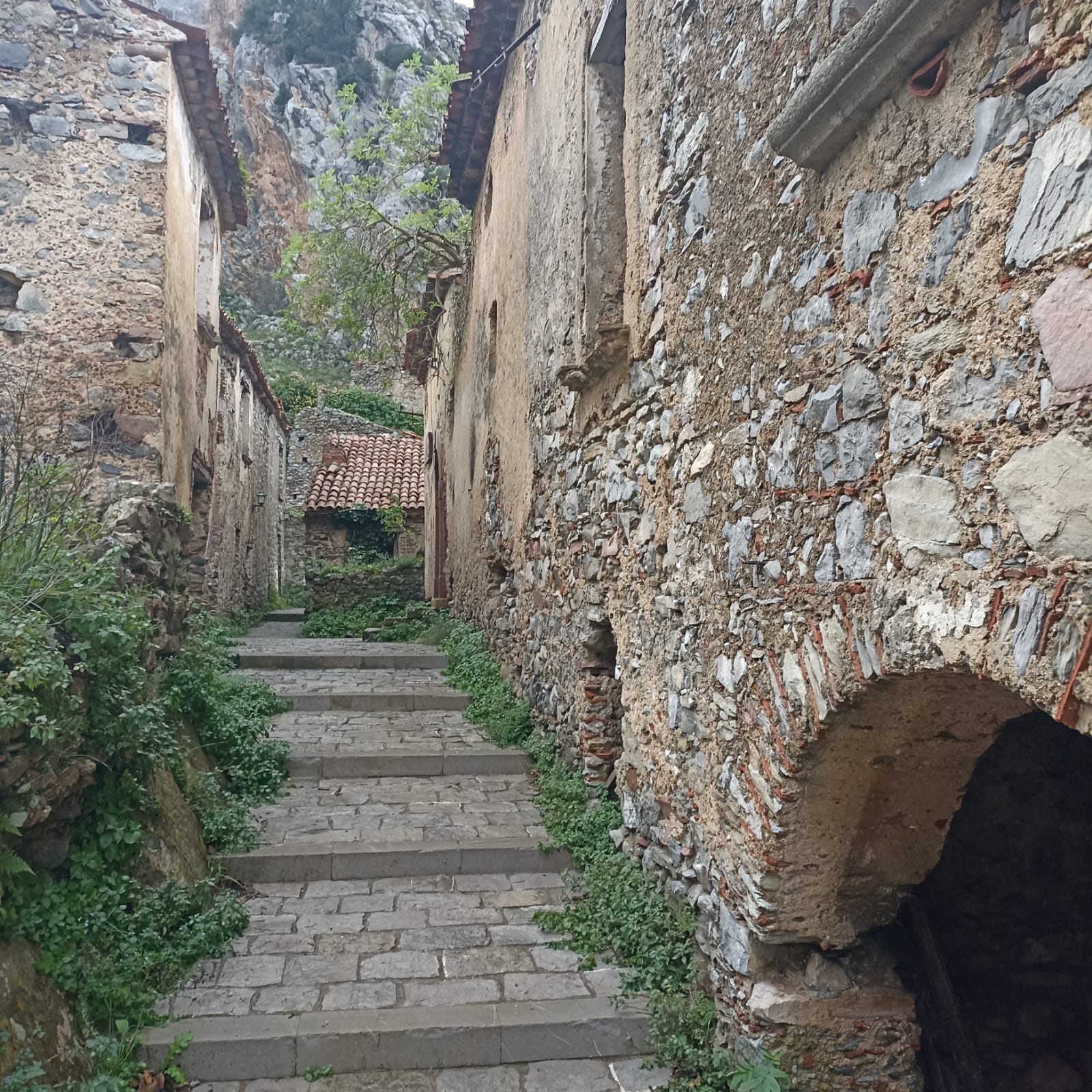 "We act like guardians of this place," D'Angelo says, adding that the experience of a concert or a poetry reading in an abandoned village overlooking a dramatic gorge makes for an unforgettable experience.
Currently Il Borgo operates on a minimal budget, and is mostly sustained by volunteers. During the summer, they runs a small local food market to raise funds for maintenance, though the pandemic put a pause on all activities there. "We hope to host a local market again this summer," Guida says, and in late July 2023, a theater company from Genoa will perform a play on site, written by a local author.
The long-term goal is to transform San Severino into a sort of arts and culture center, perhaps converting some of the abandoned homes into workshops for artists and craftsmen. "We lack the budget to do that right now but that would be our goal," D'Angelo says. "We would love to see artists from around the country coming here to work."
Even if it sees new residents, the idea is to keep San Severino di Centola just as ghostly as it has been for decades, even as it becomes part of local cultural life. "When people talk about preserving a place, it's really about preserving people's ties to that place," Amorelli says. One of his favorite early childhood memories of the town was listening to people playing music in the streets at night. "If that tie is kept alive, so will the identity of the town."