How Brazilian Chefs Are Using the Fruit That Can Turn Anything Blue
From skin to sourdough, jenipapo blue has become a culinary craze.
Lately, dishes in Brazilian restaurants are turning curiously blue. From îles flottantes to tortillas, sourdough bread to quinoa salad, blue has become the trendiest color in the local gastronomy scene. And it's thanks to jenipapo, a grayish, sour native berry.
Jenipapo berries, which can grow anywhere from the size of a kiwi to a melon, are used by Brazilians to make compotes, syrups, and a famous liquor. But it's the unripe and bitter fruit that has piqued the interest of cooks and chefs all around the country. When it's unripe, jenipapo contains high amounts of genipin, a substance which reacts with proteins and amino acids in the presence of oxygen or heat, resulting in an edible blue pigment.
Brazilians have long used jenipapo for various purposes. During the colonization of South America, European conquerors reported curiosity about the use of the fruit's juices as temporary tattoo ink by communities such as the Tupinambás and the Pataxós. "Its most widespread usage was as a dye substance, especially for body painting, to which it has been attributed magical properties in some tribes," wrote researcher Victor Manuel Patiño in the book History and Dispersion of the Native Fruit of the Neotropic. In some tribes, lines and geometric shapes can differentiate clans, families, and even marital status.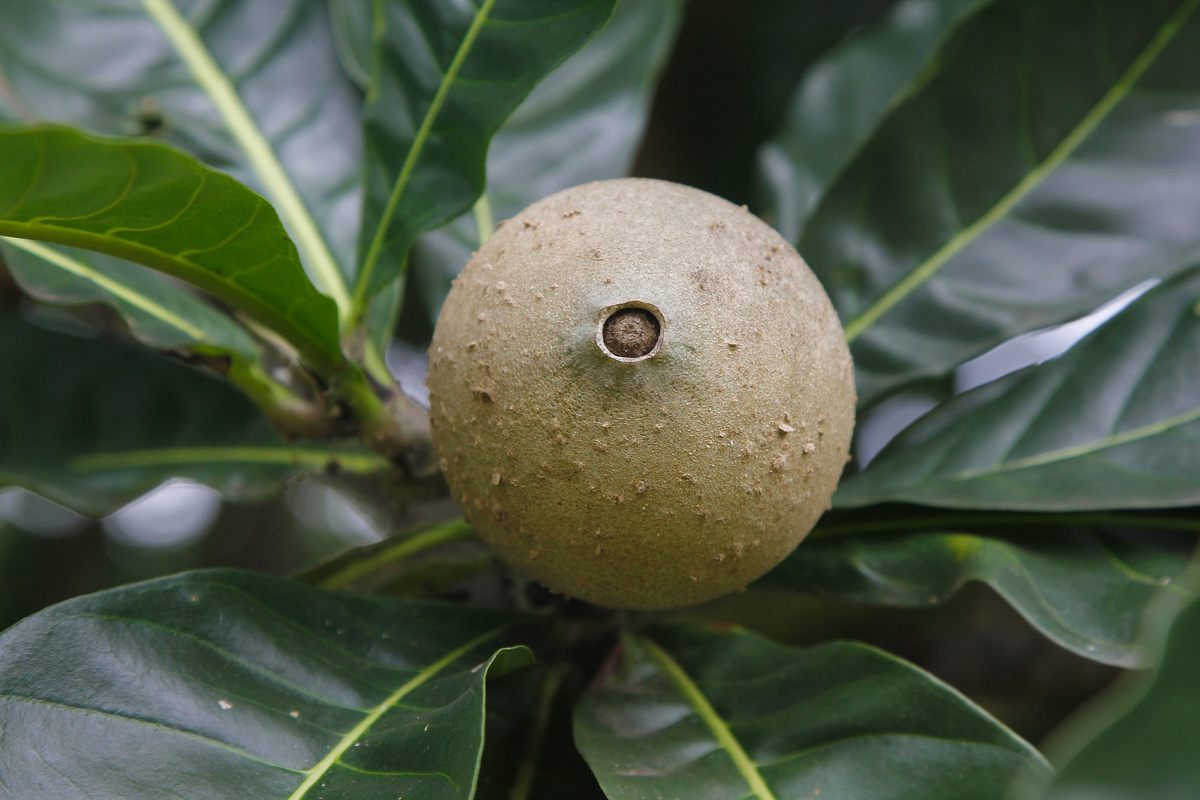 Patiño also described the ancient use of the ripe fruit as a regular food. But it wasn't until the 2014 publication of the book Unconventional Food Plants in Brazil by professor and biologist Valdely Kinupp that chefs began using jenipapo as a vivid food dye.
In his book, Kinupp detailed his process for extracting an edible pigment from jenipapo berries. "The jenipapo gained a fashionable status with the publication of the book," he says. "Before that, hardly anyone talked about the fruit in the dining scene. It has become a trend, with blue bread, blue milk, blue pudding, and a multitude of bluish recipes."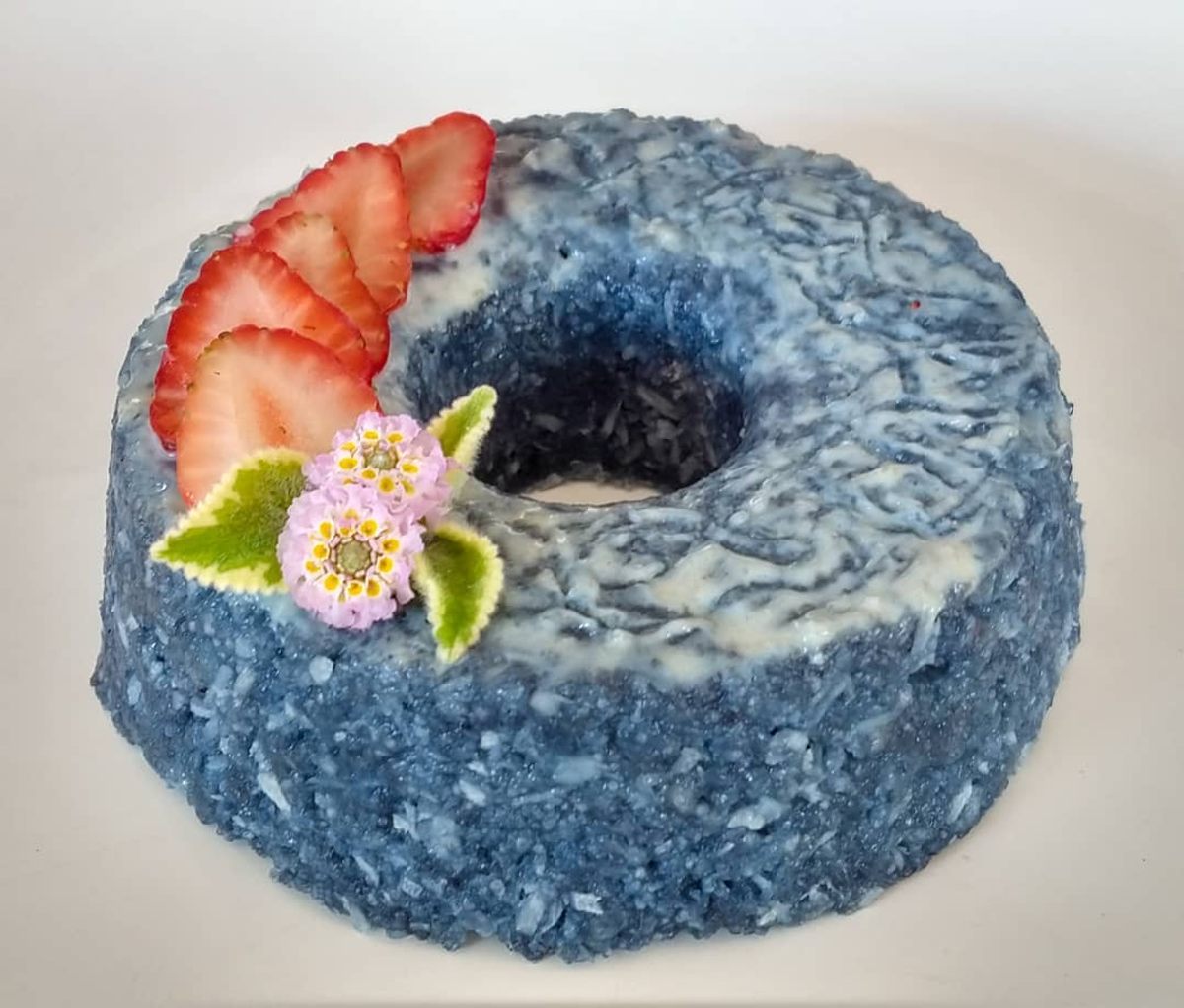 But it was a 2017 article by nutritionist and food writer Neide Rigo that really started the blue wave. A prolific blogger and columnist for O Estado de S. Paulo, one of Brazil's most prominent newspapers, Rigo wrote about how she had used genipin to create bright blue dishes. Using the methods from Kinupp's book turned food a blue so dark it was nearly black, she explains. Finding that genipin was at its most vivid when it reacted to proteins and amino acids, "I wondered what kind of food I could use as a versatile blue base to be added to many recipes," she says.
After several tests, she discovered that the best method was adding jenipapo pulp to milk. "It was from there that many people started using the blue milk as a dye. It has opened a range of possibilities," says Rigo. Since then, she has published recipes for blue tortillas, sauces, porridge, bread, pasta, and cakes.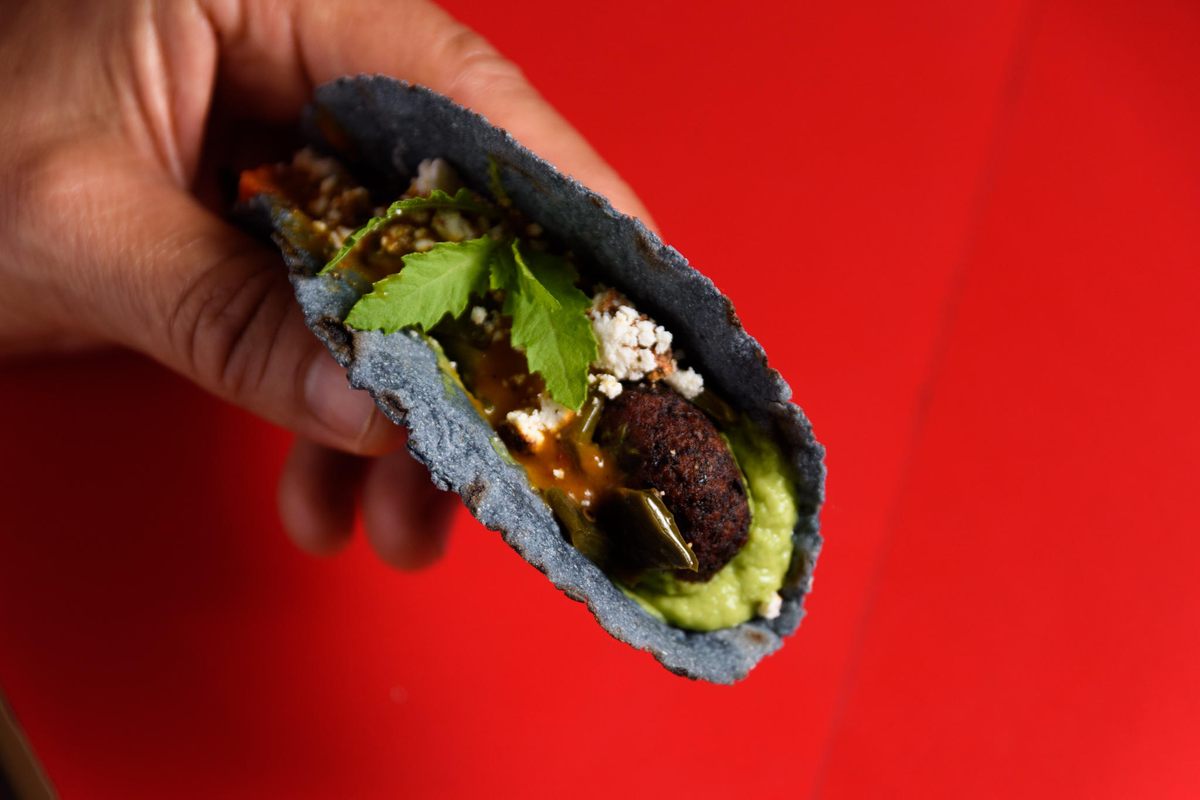 Her recipes have taken the internet, and Instagram, by storm, catching the attention of both chefs and amateur cooks. Just browse for #jenipapo on social media and a multitude of blue food photos will appear, mainly of blue bread, one of the first recipes shared by Rigo. (Jenipapo's hue is also serendipitously similar to the Pantone's 2020 Color of the Year, Classic Blue.)
Reading Rigo's recipes, chef Cesar Costa came up with the idea of ​​creating a jenipapo dessert for his sustainably minded restaurant, Corrutela, in São Paulo. One day, pondering the classic îles flottantes, a traditional French dessert, he thought about having the "islands" (white, light-as-air meringues) float in a velvety blue sea.
Costa ferments jenipapo in brine for a week to extract its bitter flavor. Crushed and dehydrated, the result is a thick powder that Costa can use all year long. (Jenipapo is a seasonal fruit that ripens at different times across South America.) Then, using the powder, he dyes the crème anglaise that's the base for the fluffy meringue clouds.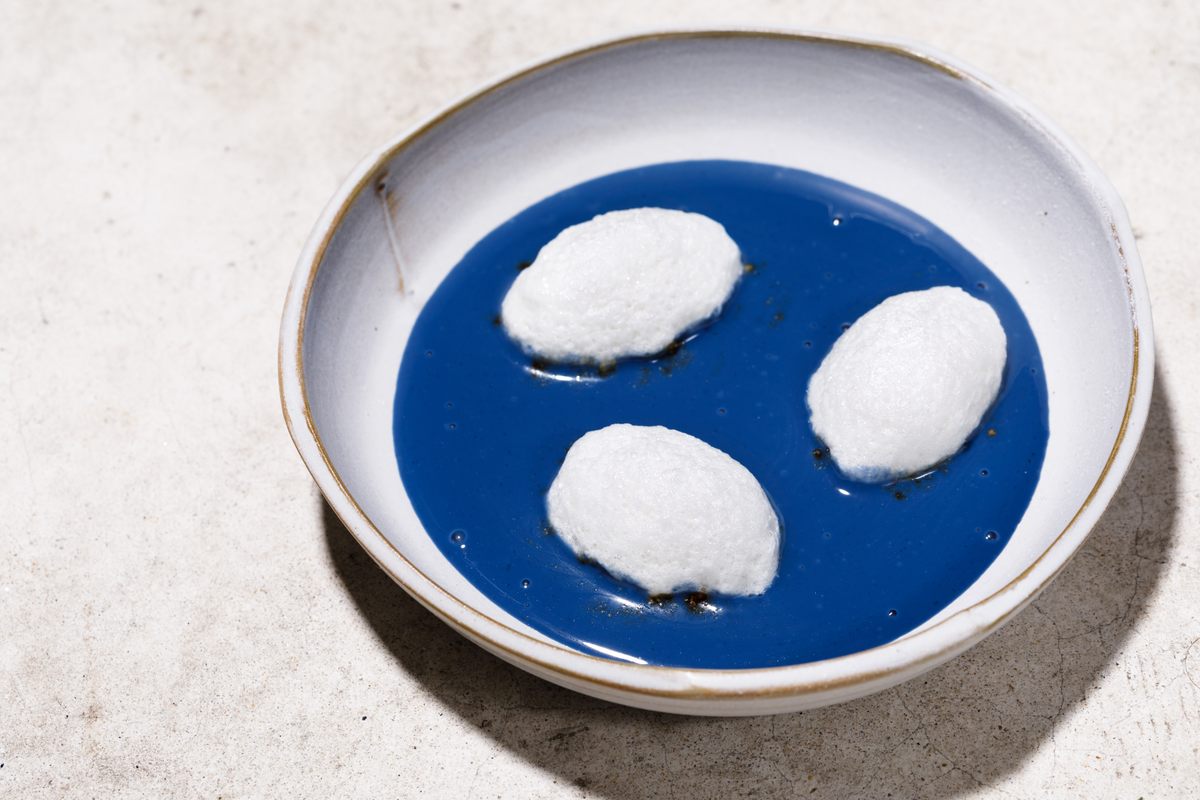 In dishes with lower concentrations of amino acids, such as bread or pasta, jenipapo lends a more grayish-blue hue. But since Costa's crème anglaise has two high-protein ingredients, eggs and milk, there is also a higher concentration of amino acids that bind to the genipin, turning the cream into a deep indigo.
Costa was entranced by the final result. "When I finished the dish, I realized the plating looked more like the sky and its clouds than the sea with a floating island, which made the dish even more beautiful," he says. The silky dessert became an instant hit on his menu. "Guests are petrified when they see the dish," he says. "It's something pretty new for most of them."
The extreme reaction may be because blue is not a common color, even in nature. Aside from blueberries, blue corn, and some blue tubers, few naturally blue foods can be found at a farmer's market or grocery store. The main compound that gives foods a blue color is anthocyanin, which makes grapes and eggplants purple and some berries red.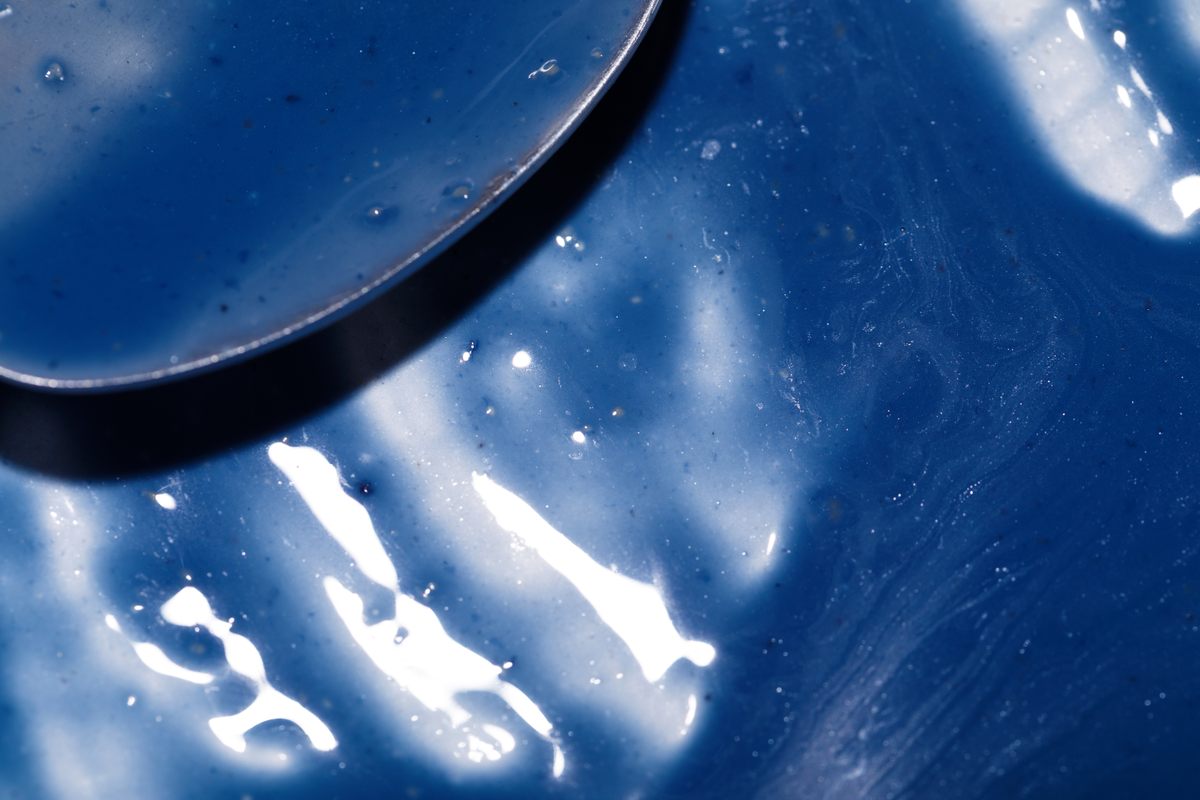 In a broad spectrum of colors, there are few foods that we can consider really blue—usually, the vegetables and fruits rich in anthocyanin tend to be more purple. Genipin is found in fewer plants, all from the Rubiaceae family, such as gardenia fruit and the jenipapo. Plus, as Kinupp, Rigo, and Costa discovered, there's a considerable process to extracting jenipapo's vivid blue.
But the rarity of blue foods means that they always amuse. "I think the blue color has a magical, playful appeal," says Costa. In Portuguese, he points out, blue has an optimistic meaning. "When someone says 'it's all blue,'" he notes, "it means it's all great."
You can join the conversation about this and other stories in the Atlas Obscura Community Forums.
Gastro Obscura covers the world's most wondrous food and drink.
Sign up for our email, delivered twice a week.