Manic Panic Isn't Just a Hair Dye Brand: It Was the First Punk Store in America
Tish and Snooky Bellomo have always been cool.
In 1977, Tish and Snooky Bellomo opened a store at 33 St. Marks Place, in New York's East Village. It was called Manic Panic, and as far as anyone knows, it was the first punk store in America. The Bellomo sisters were singers themselves, but they'd always had enviable style, too. At their tiny store, they sold stilettos, sunglasses, gloves with a bit of glam to them, the vintage clothes that they loved—or tore up until they did, and the product they'd become famous for, hair dye.
Almost 40 years later, to visit Tish and Snooky, you have to head to Long Island City, in Queens, where Manic Panic has been headquartered since 1999, in a warehouse-like building sitting along Newtown Creek. "We've always been underground," says Snooky—a sort of "secret society."
The headquarters still has that vibe: inside the 14,000 square foot space where boxes upon boxes of extra bright and bold hair dye are stacked, there's a tiny, hidden boutique, about the same size as the original store, full of hair dyes, rainbow-colored hair extensions and eyelashes, lipstick in pink, orange, purple, blue, and green, and the rest of their iconic line.
Manic Panic is going through a bit of renaissance right now, as pop stars from Rihanna to Katy Perry decide to dye their hair bright blues, red, pinks, greens, and more. Tish and Snooky talked to Atlas Obscura about the place where the company got its start—the store on St. Marks Place.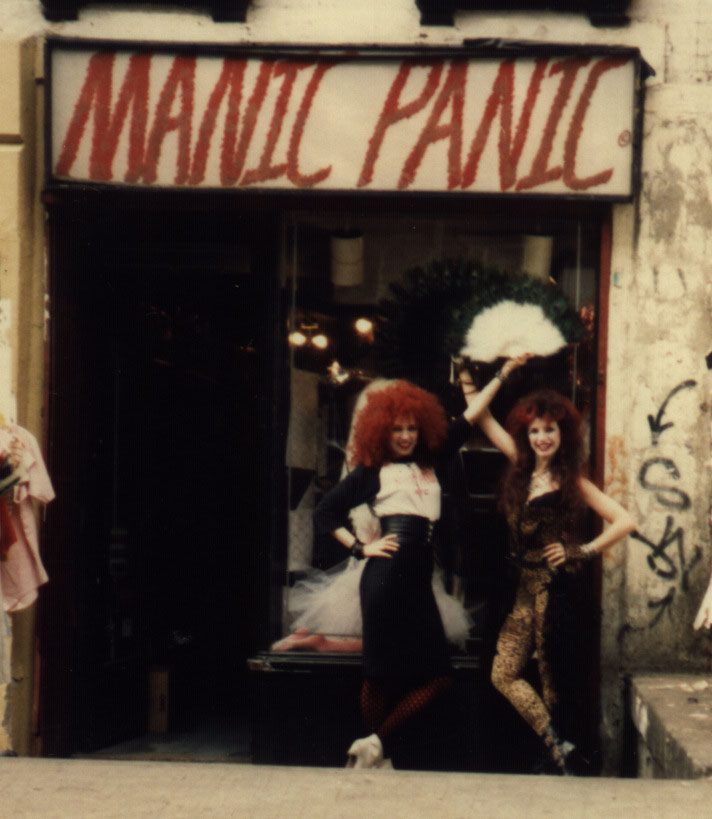 How did you first even get into music and decide you want to be singers?
Tish: That was easy. We just decided it, and we were.
Snooky: Yeah, we were sisters, we would always sing and dance and put on little shows for our mother, make her watch our shows.
Tish: And for the neighbors and stuff.
Snooky: Oh, yeah, we put on puppet shows.
Tish: We did puppet shows, and then during intermission, we would sell Kool-Aid.
Snooky: We made all the money on the concession stand.
Tish: Yeah, the show was free. But the concession was separate. We'd make Kool-Aid, and we'd sell it. We'd make it in all different colors, very similar to Manic Panic colors.
Snooky: And Tish would make the snacks which was…was it rice?
Tish: I would take rice, and it was all in the presentation. All it was, was white rice. I was five or six, so for some reason, my mother would allow me to cook rice. And then I learned this little trick. You could take a glass—I would take a shot glass—and butter it, put the rice in, and dump it upside-down, so you'd have this perfect little shape, this little pyramid-type shape. It would be garnished with jujubes, these multi-colored little candies. So, it would be rice with jujubes. It was all like Manic Panic colors. The Kool-Aid, the jujubes.
Snooky: So we were always singing and dancing…
Tish: And playing with glitter…
Snooky: Putting on shows, playing with glitter, and selling stuff. We're still doing that.
How did you get into more punk music?
Snooky: We were on the scene…
Tish: First hanging out at Max's..
Snooky: Yeah, going to Max's Kansas City [a punk and glam-rock club in New York]…and it was at the tail end of the glitter-glam era. We were just out and about all the time. So we knew all the bands, we'd go to all the shows. Then we got into a show. We heard a friend of ours…a guy who became a friend of ours, this guy Gorilla Rose, we were in the room—I'll never forget, it was the dressing room of Town Hall…
Tish: I thought it was the stairway.
Snooky: I thought it was the dressing room, because the Miami…
Tish: It was their dressing room, but I thought it was outside the dressing room door, a little bit, and we were sitting on the stairs, because we were all smoking.
Snooky: Well, I wasn't. He was talking about this show he was going to be in, the Palm Casino Review, and he was going to play a talking portrait on the wall. He said, I'm going to do this act called Gorilla Rose and the Gutter Rats, and I need two backup singers to be my gutter rats. And Tish tugged on the tails of his clear plastic tuxedo, and said…we're backup singers.
Tish: We're your gutter rats. 
Snooky: So then we were in the show.
Tish: That was '73?…'74? We became involved in this huge production, the Palm Casino Review, with all these drag queens, who taught us so much about make-up. And all these fabulous people, who basically just wanted to be on stage. A lot of them were very talented; a lot of them were not.
Snooky: Everybody loved putting on a show…
Tish: Everybody had great style.
Snooky: …being divas.
Did you live down in the East Village?
Snooky: No, we lived in the Bronx. We would take the train from the last stop in the Bronx, all the way downtown, putting on our make-up the whole way, and by the time we got downtown, which was over an hour ride…
Tish: And it was usually around midnight. We would go out pretty late, come back when it was getting light.
Snooky: But we were obsessed with the downtown scene. We just thought it was so exciting and glamorous, and it was. You'd see David Bowie out at Max's…you know, Lou Reed and all these people…
Tish: Oh, you know, I think one of the things, even before we started hanging out heavily at Max's, didn't we go to England first?
Snooky: I know when we came back from England, we really started going to Max's. Yeah, because we had gone to England, where we went to these fabulous clubs, one of which was Speakeasy, where we saw, all these glam rock icons, just hanging out, all in one night.
Tish: Led Zeppelin…
Snooky: Jethro Tull…
Tish: Yeah…it was amazing.
Snooky: One-stop shopping.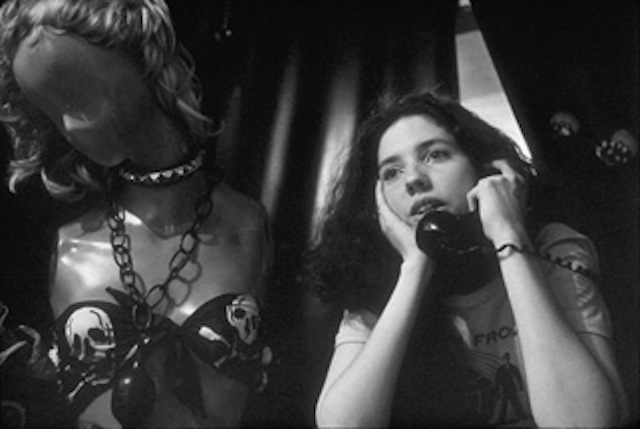 So you were singing mostly, and then you got the idea to start the store.
Tish: We were in the Palm Casino Review, and the guys from Blondie, Debbie and Chris, were friends with Tomato and Gorilla and all our friends in the Palm Casino Review, so they decided we could try out to be back-ups in the Blondie band.
Everybody loved the way we dressed, so after we were out of the band, we decided to open a store with our friend Gina, because rents were so cheap.
How did you dress? What did people like?
Snooky: It was like a…mixture
Tish: It was glammy, punky…glam-punk…I guess.
Snooky: We'd go thrift shopping with Debbie Harry [the lead singer of Blondie], and find stuff from the '50s and '60s, just anything we felt was cool. If it wasn't, we'd trash it up to make it cool.
Tish: I guess it was "glunk," glam into punk.
When did you first realize that you were someone that other people looked at and thought, I like what they're doing, I'm going to copy them—that you had your own style?
Tish: Just throughout life.
Snooky: In high school, we started wearing stars in our hair, and then other people started wearing stars in their hair. We got so mad.
Tish: We'd get so annoyed that people were copying us.
Snooky: People were always asking us where we got our outfits.
Tish: And I went to fashion design school for a short period of time, but it interfered with my nightlife too much, so I gave it up. But I had the desire to design, and I was making stuff for people here and there. I did some work for Dr. John, like rhinestoning and glammy stuff like that.
Snooky: Then we opened the first punk store in America. It was just what we loved. We always sold what we loved, and always did what we loved. So we got so much attention because we were the first punk store in America, we realized we were onto something. It was a good thing.
How did you find the first storefront?
Tish: I think someone told us about it.
Snooky: St. Marks wasn't cool then. It was a wasteland. It was like this battle zone, there were all these empty store fronts. No one was shopping there.
Right, because it was before the '80s art scene in the East Village.
Together: It was '77.
So, post-Beatnik, pre-'80s art scene.
Tish: Yeah, we used to call St. Marks a dead hippie block.
Snooky: It was lots of junkies…
Tish: Homeless people…
Snooky: It was not a pleasant place to be, but it was cheap. It was $250 rent, and between me and Tish and our ex-partner, Gina, we'd come up with the rent.
We made stuff and brought stuff down from our rooms in the Bronx…and we'd go shopping with Debbie Harry at this basement on Reade St. that had all these unused leftover vintage stiletto-heeled shoes from the '50s and '60s. Cleared them out. And we'd find leftover lots of sharkskin suits, and just whatever we found, and we'd invest any money we made back in the business. Little by little, we built it.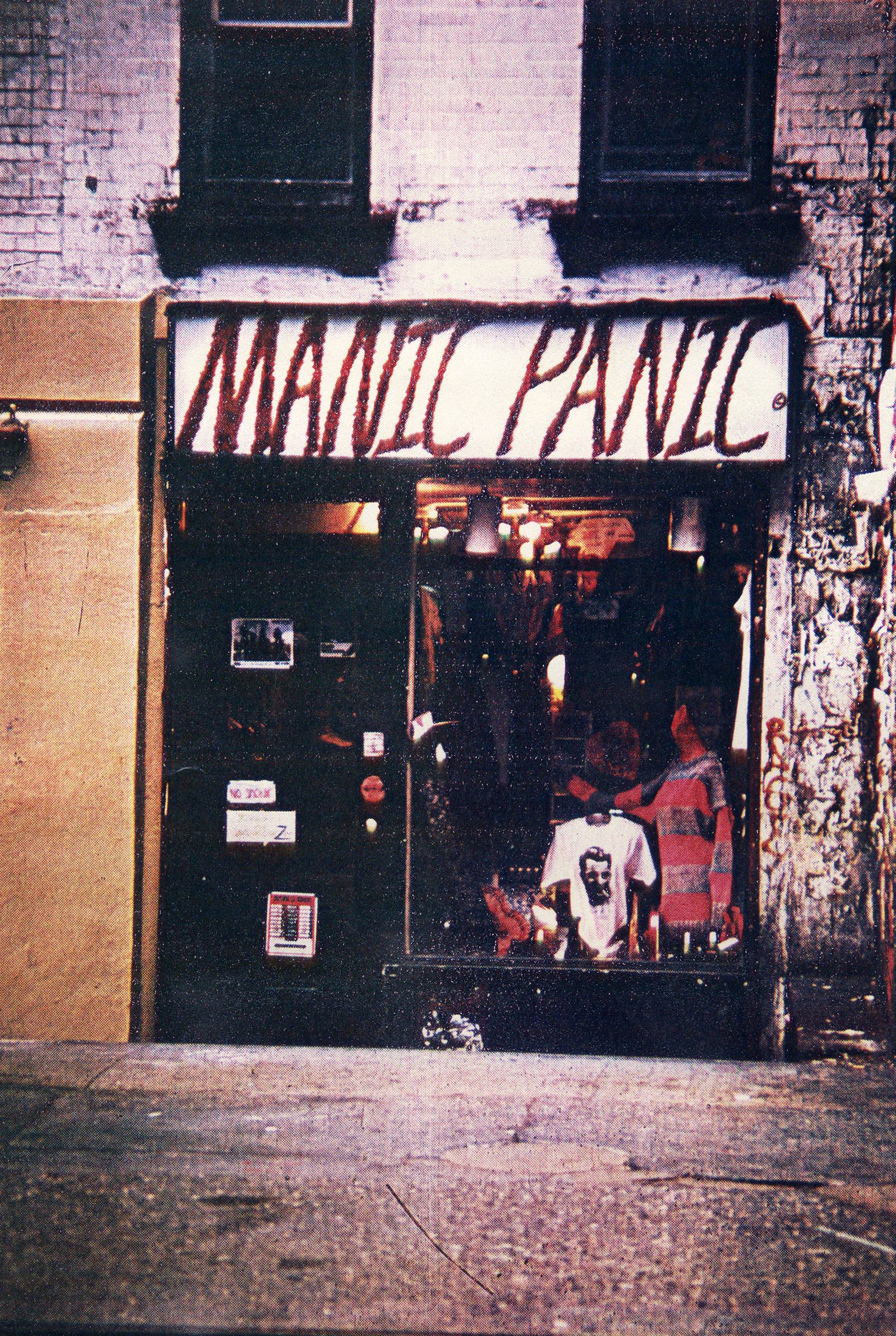 If I had come during the first couple of years, how would the store have been? How had it changed five or seven years in?
Tish: In the very beginning, we hardly had anything to sell.
Snooky: Hardly anyone came in.
Tish: We were just living on this press we kept getting because we were the first punk boutique in America, and people would call us and ask us to mail them things. One of the most impressive products we had was our hair color, which we were bringing in from England. And you know, we'd have vintage sunglasses, and gloves, and all sorts of unused vintage.
We had a cat that used to swat at people.
Snooky: Cranky cat.
Tish: She was a polydactyl, so she had lots of extra toes in the front and the back. And sometimes she'd be sleeping on the boxes behind the clothes racks, and she'd just start batting at people…it would scare people.
Snooky: It was kind of a dump, because it was a couple steps down from street level, and the dirt would always come in. It was really hard to keep clean. In the beginning, it would just be Tish or me or Gina in the store…
Tish: Or Howie Pyro.
Snooky: Our first employee, he was, what, 14 or 15?
Tish: He needed extra credit for school.
Snooky: All we could pay him was $5 a day, but it was more than any of us made. Sometimes not one person would come in all day. Sometimes we'd make 50 cents, but luckily we were living at home with our very patient, understanding mother.
Did you imagine it would grow into a business?
Tish: I think we hoped it would, but we never had any kind of business training, and everything we had to do on such a shoestring budget. We couldn't afford—we had really crappy looking floors, so we just painted it black. I think we did the same thing with the ceiling because it was so ugly. We drilled holes in the wall…
Snooky: We couldn't afford a shoe rack.
Tish: We just drilled holes in the wall. Actually, Snooky's boyfriend drilled holes in the wall. We put the heels in the holes.
When did it first feel like it was starting to work?
Snooky: It wasn't that long… I think it was Christmas or Halloween. We were just amazed. We had gotten so much publicity. I remember Gina saying…we're sitting on a gold mine here.
Tish: That was…we opened somewhere around April, but our official opening was in July. So if it was around Christmas, we were already doing well. Or mostly.
Snooky: We realized then it was a business that we had, that no one else had. Since we were the first. We were the only ones selling that style in all of America. And so we had the jump on everyone. Then all these other "punk stores" started popping up on St. Marks. Stores that had been vintage turned punk, but…we were the only punk "owned and operated" store.
Tish: We were the only ones who were entertainers as well. So we knew everything about makeup. We had a full line of not only extreme make-up but theatrical make-up, so people would come from all over to buy our cosmetics.
Snooky: And Halloween, there would be like, a line out the door. We had to let people in in little bits, because otherwise we would get ripped off. We were known for being the best store to rip off because we were just two women…
Tish: It was terrible layout, too. The door was at that end, and it was long and narrow. It was a little bit wider than this. But it was just really hard to control. Even though we had 5 or 6 people working different stations, you just couldn't help everybody. So we had to have a doorman, and let people in like that, and we had to have them checking all the bags. It was really, you know…
Total crazy.
Snooky: It was. But we just figured everything out as we went along. We started out with one little candy box as our cash register, a Louis Sherry vintage candy box. And we knew we really made it big when we had to get a second candy box for our register in the back. And then Tish found a giant one.
Tish: So then we had three.
Snooky: Then we finally got a real cash register but it didn't really work. It was just this big piece of metal that didn't do anything but basically what the candy box did, just have the money in it. It didn't add or subtract, or give you a receipt, but it looked like a cash register, so we were thrilled.
Tish: Yeah, and you could lock it.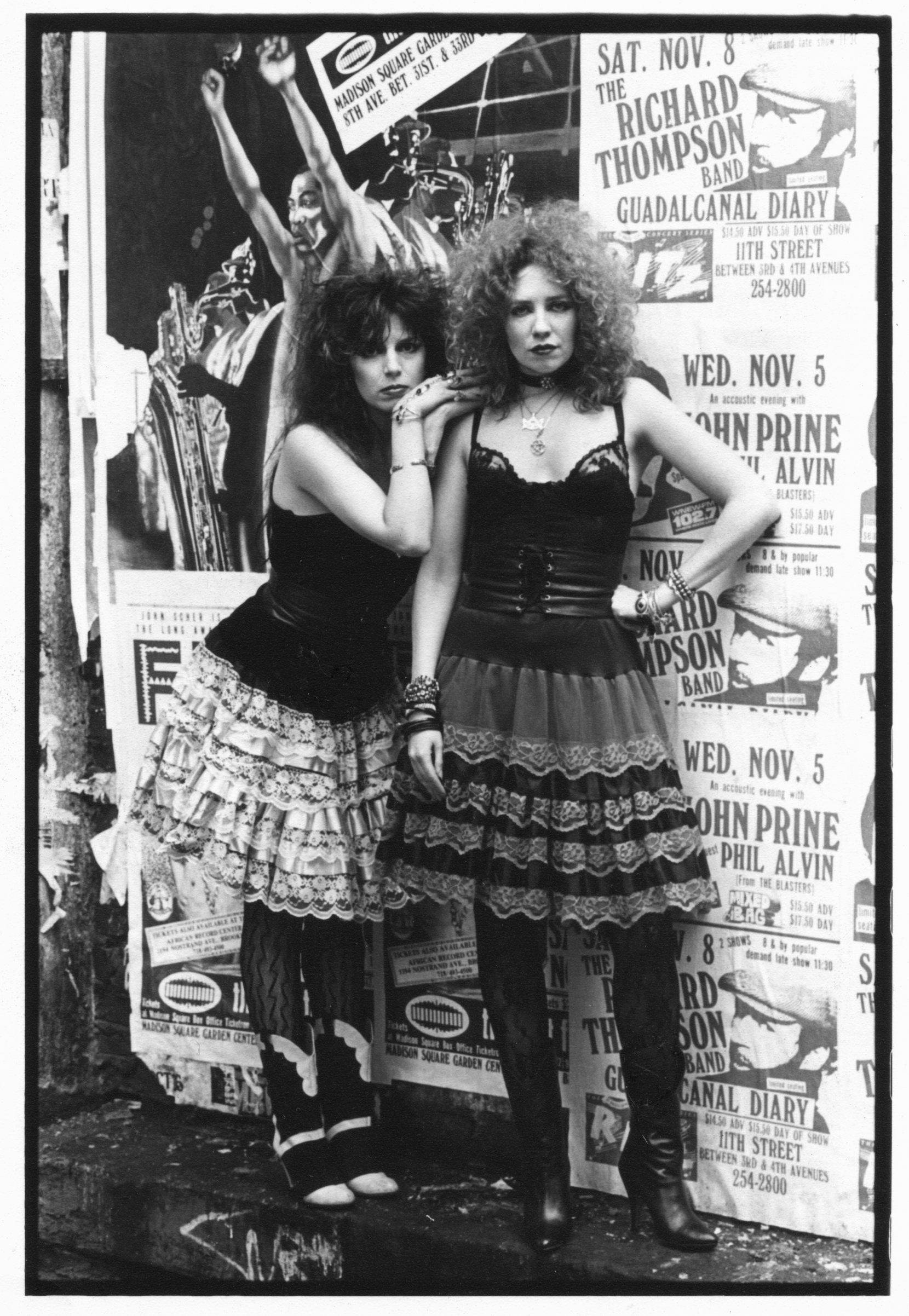 Was it the sort of thing where you always had to be there?
Tish: Most of the time, unless we were out foraging for more stuff.
Snooky: We were almost always there. And we're almost always here.
Sometimes we would sleep there. When the blackout happened in '77, we had to sleep there, to make sure we didn't get ransacked.
Tish: People were looting, so we just slept over, like we were going to do something, other than get murdered.
Snooky: When we were closing the store, we were sleeping there. Because the apartment above us, where Tish had been living was empty, and we'd hear people…
Tish: Squatters.
Snooky: …living there, and I think we heard through the grapevine that they were planning on breaking in.
Tish: And there was a big hole in the floor, too, wasn't there?
Snooky: Oh god, what a nightmare.
Tish: So we'd sleep there, guarding.
Snooky: And it was so cold on the floor, and we had these giant cardboard, packing boxes, I guess they were, and we'd sleep inside of them, like homeless people. And thought, homeless people have the right idea, the cardboard is really warm. But it was scary.
I remember the cat knocking something over, and we were sure the burglars were coming in, and we were like, trying to get out of our boxes.
You had that great sign—where did it come from?

Snooky: Oh, Tish made it.
Tish: The original sign…there was a lightbox, and it had a broken piece of plastic in it. We measured it; Gina and I went down to Canal Street, got a new piece of plastic, I remember coming back with it on the train, and us laughing because we were like, in rush hour, with this thing on the 6 train, and it was huge. It was 6 or 7 feet wide. We got a can of red paint, and I just sat there on the sidewalk, painting our sign.
We had figured we wanted to call the store Manic Panic, our mother had thought of the name, and I just thought, ok, Manic Panic, this is what it looks like to me. I just did the shatter-y logo, that didn't exist back then. Then it became a font. I just did it by hand. It was a little sloppy, but…it was alright. So, that was our sign.
I don't know what ever happened that. It went into storage and then it disappeared.
Snooky: We'll probably have to find on eBay, and we'll have to pay to get it back.
People now often talk about the '80s as one of the St. Marks heydays. Did it feel like something special was happening at the time?
Snooky: It did.
Tish: That whole area was like, the place to be. When people came from other areas, they'd be really nervous, like, a friend of ours said, "Oh, I was so scared when I walked in your store, and you were there and you were Blondie's back up singers, and you were in the Sic F*cks, and you did this and that, and God, I was so scared, but you were so nice to us."
They were really surprised, because you went into the other stores, with no one who had anything to do with the scene, except maybe hanging out, and they would give everybody attitude, and be bitchy to everyone and make them feel uncomfortable and unfabulous. We were the store that wasn't like that.
It never has been our way of doing business—we've always felt like especially the people who were a little…not so fabulous, they should feel fabulous, if they want to.
Snooky: It's just the way our mother brought us up was, to be nice to people, and not be mean.
Tish: We can't be mean to anyone. Unless, you know, they do us wrong.
Snooky: Then forget it.
Tish: Forget it. Hell hath no fury like a Bellomo scorned.
Snooky: But we did know, from early on, at the dawn of punk, we knew it was such a special thing, and such a special scene to be a part of. And it was like, a turning point in the history of music. We felt it and we knew it, and it was just so much fun to be there at the beginning of it. There's never been anything like it, and there never will.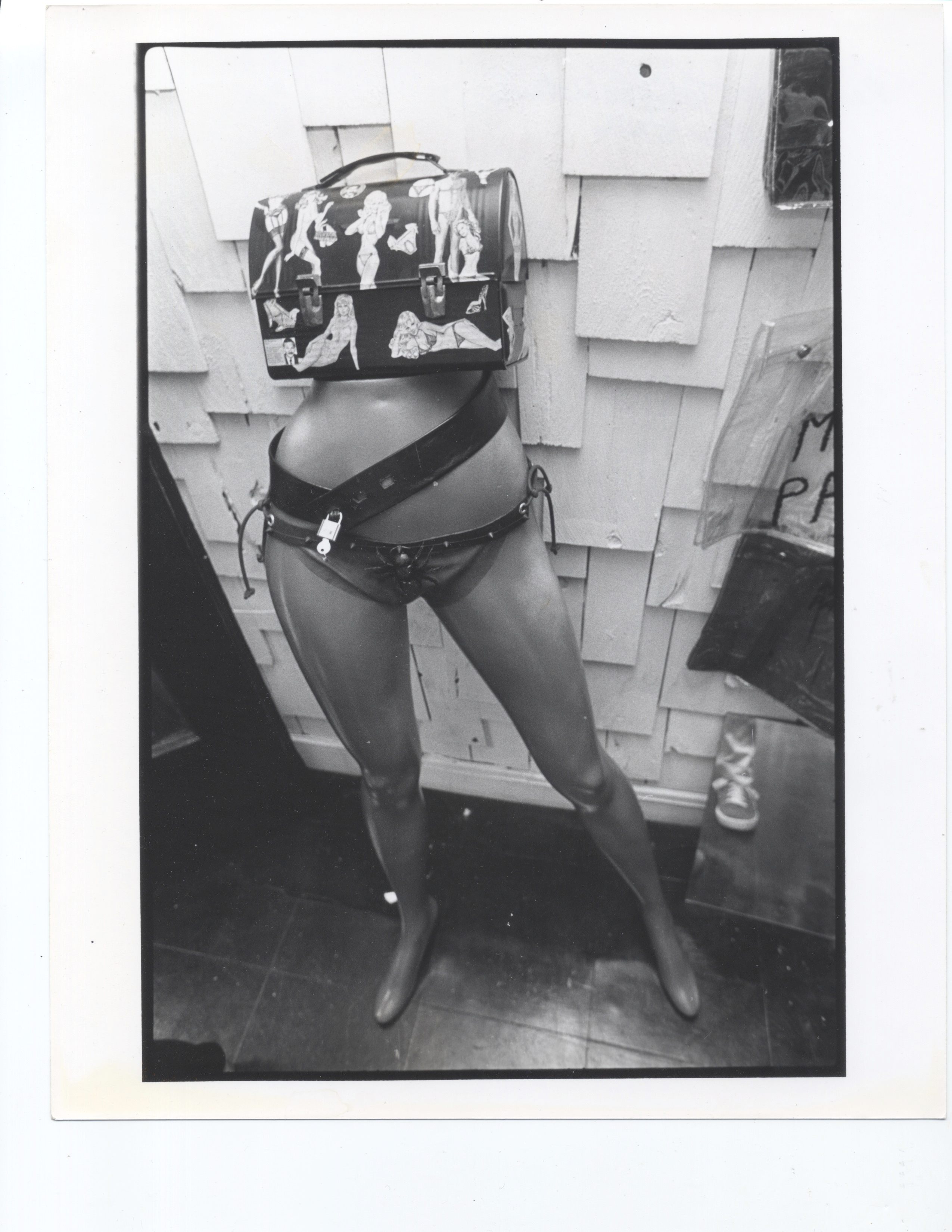 That's about having taste, too—recognizing when something special is happening.
Tish: It attracted a group of people that I think felt just different from everybody else. It was sort of like Close Encounters of the Third Kind, where all the different people from all over the world are, like, playing with mashed potatoes and they end up at the giant mountain. It was sort of like that. Everybody who kind of felt like a misfit or like they didn't belong anywhere, they would feel at home at CBGB at night and Manic Panic during the day.
Snooky: Because everyone was a misfit. Everybody in a punk band was a misfit. We all banded together, and the rest of the world wanted to be misfits with us.
Tish: A lot of them were the same people who laughed at us, all of a sudden wanted to be part.
Snooky: We were tortured for the way we looked.
Tish: It's the same thing with our hair color. When we first started doing beauty shows, people would laugh at us, and now we've got a hundred competitors, and they're acting like it's something new or they discovered it, or something. They're the same people who laughed at us.
What kind of hair shows?
Snooky: We would go all over the world, to like trade shows, and conventions. These companies show their wears. The head honchos at the biggest convention, CosmoProf, wanted to ban us because they said our booth looked like a bordello, you know we made the show look trashy, or something. Then the next year, everyone's stand looked like a bordello.
How did you end up leaving the original store?
Snooky: Our landlord bought the building and didn't renew our lease. So we were month by month.
Tish: This was his introduction. He walked in, he was like the third landlord. No one would ever tell us they were selling the building, even though we kept asking, because we wanted to try to buy it. He walked in, and said, I'm your new landlord, and I suppose you're going to guess that I'm not going to renew your lease. That was his introduction. We had maybe a year left, or less.
Snooky: We just like didn't know what to do or where to go. I guess we were in denial, that we would ever have to leave St. Marks. When it finally happened we were kind of caught off guard, and we just put everything in storage. At that time, we had started doing wholesale, for hair color. We continued doing the wholesale out of my then-boyfriend, now-husband's studio apartment. It was a walk-up apartment in the West Village.
So, tiny, probably.
Snooky: It was a studio, one room, with hair dye up to the ceiling.
Tish: I don't think it was any bigger than this room. It was a different shape but..
Snooky: It might have been smaller…but you know, we'd get these hair dye deliveries.
Tish: Oh, the UPS guy hated us.
Snooky: Oh, he did. We were just doing it ourselves. Answering the phone, taking the orders, packing the orders, rolling the boxes down the stairs, and putting them into my car, driving up to UPS, sometimes trying to find boxes to pack the stuff in on the way, and Tish would be in the backseat, packing the orders, while I'd be driving like a madwoman so we could get to UPS before they closed.
Tish: And they were usually pretty accurate. I didn't screw up the orders.
Snooky: Yeah, we didn't get many complaints! So then, after a year of that, we happened to be talking to someone we knew who had a chain of exercise studios—Crunch! I saw him at a party, and we knew him. And I said, we have all this stuff in storage from our old store, we're doing wholesale out of my boyfriend's studio apartment. He said, oh, well, I'm moving onto St. Marks Place, and opening a Crunch, and there's this little office space that I'm not using, and you could have your store there and sell off your stuff and do your wholesaling over there. And so we moved in there.
Tish: And it wasn't much bigger than this…the same size as this.
Snooky: Yeah! It was. It was a little basement. We were literally underground.
Tish: But at least we were still on St. Marks Place, and we were still down the block from our old space. But the guy upstairs, from Kim's Video, kept throwing our sign away.
Snooky: He hated that our sign was hand-painted. And he'd instruct his employees to take it down the street and put it in the garbage. And we'd have to take it out of the garbage every day. Then he'd take it upstairs, and they'd have to have it behind their counter, and they'd say, oh, yeah, here it is and give it back to us. Finally, he burned it or something because we never saw it again. He tortured us, he absolutely tortured us, because he hated how DIY we were.
When the Crunch moved, we had to move again, over to 9th Street, to this little basement, which had a good vibe, it was Jimi Hendrix's old crash pad and the original La Mama theater started in that basement. We were there for three years, maybe?
Tish: That landlord was nice.
Snooky: Then we moved to Tribeca, to a big loft space…
Tish: Because it wasn't big enough for us, that little basement.
Snooky: Yeah, we were doing lots of wholesale by then. It was a scary basement, another underground place, with these rickety metal steps that people were afraid to go down. You know, you couldn't even see what you were going down into. It was this little dungeon.
So, our wholesale was getting bigger and bigger. We outgrew that space and moved to this big—seemingly, at the time—loft space in Tribeca, and we were there for five years, and when that lease was up, the landlord wanted to quadruple the rent, so we moved out here, in '99.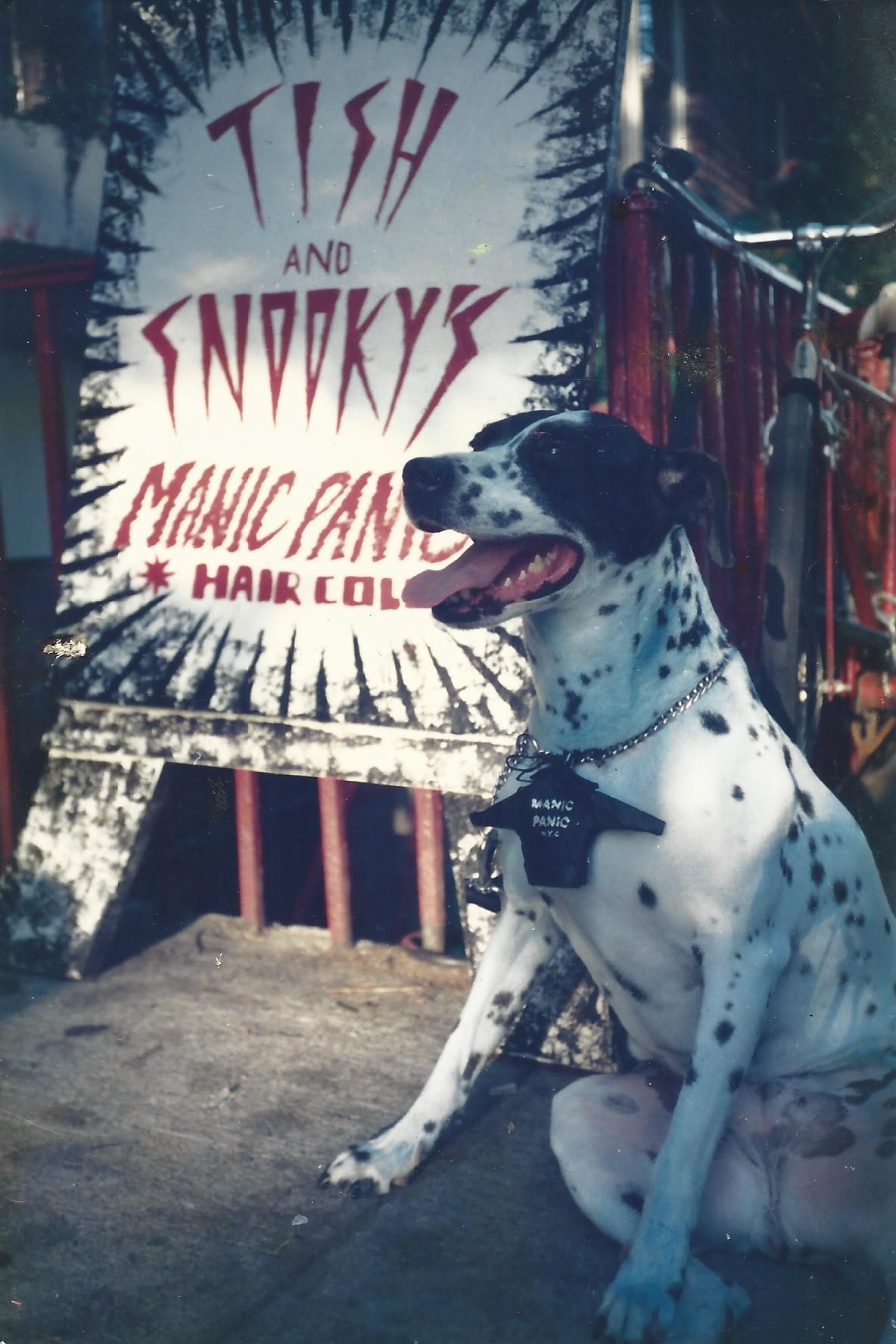 By this time, you were doing a lot of wholesale, mostly with the hair dye…When did it become clear that the hair dye would be the product that would come to define the company?
Tish: I think it was back in the '70s. When we first started wholesaling, we thought, this was it. People were coming in from all around the world.
Snooky: We were the only ones who had it.
We'd go over to England with suitcases full of stuff they couldn't get over there, like vintage sunglasses, and whatever we found.
Tish: Biker rings.
Snooky: We'd sell all that, and with the money, we'd buy all the things they had there that we didn't have here. One of the things was hair dye. I think we just went to beauty supplies or something, and got it.
Tish: We just started bringing it in. We were like international smugglers. We were bringing it in for our store, and people started asking us to wholesale it. We contacted the manufacturer, and we were getting it from them, wholesale and selling it here. Then we just kept getting bigger and bigger.
They weren't supplying us properly. We had a gentleman's agreement with them that we were an exclusive, then we would find boxes that were marked for our competitors and our customers. It got really, you know, they weren't really nice people.
Snooky: Oh, they were horrible. It was one of the worst times of our lives.
Tish: Our mother was dying, they weren't supplying us, they were selling to our customers and competitors.
Snooky: We were in this tiny little basement.
Tish: We thought everything was over, and we had just enough strength to go find somebody to make the dye for us. It turned out that was the guy who originally invented it, and that the guys we were buying it from had stolen the formula. They were working for the inventor at one point, and they had taken the formula and run with it. So we found the original inventor, and he was manufacturing it for us.
Snooky: He said to us, oh, I wondered when you'd be calling me. So it all worked out. Always does.
Is Long Island City a good place for you?
Snooky: It's great.
Tish: We love it. But we know we're out of here, too, in a few years. We're traveling salesman. We still do our dog and pony act. We're coming out with a professional line, and expanding our product line, and looking into licensing our name for products. So it's just expansion.
What are the things that make you guy panic?
Snooky: Someone in the Middle East who pretended to want to carry our line and distribute our line is now using half of our name, Panic, for a line of alternative hair colors. That has put me in such a panic, and I'm just so mad.
Tish: He took one of our competitor's packaging, the exact same packaging, but put our name on it. So it's really like, you know, it's so blatant.
The other things that panics us is people not getting stuff done that they're supposed to get done. Little things like that you can't control.
Snooky: The thought of moving puts me in a panic, because every time we've had to move, we've had a bigger and bigger space, so now we have 14,000 square feet of stuff we've collected over almost 40 years. So the thought of moving almost traumatizes me. It puts me in such a state of panic. I would just love to never have to worry about moving ever again, and never be in that panic mode. It disrupts your whole life, your whole business, it's horrible. The last time we moved it was horrible. That was 17 years ago, and it was not as much stuff as we have now.