This Map Shows 42 Sites of British Suffragette Protest and Sabotage
They've all been officially recognized on the English National Heritage List.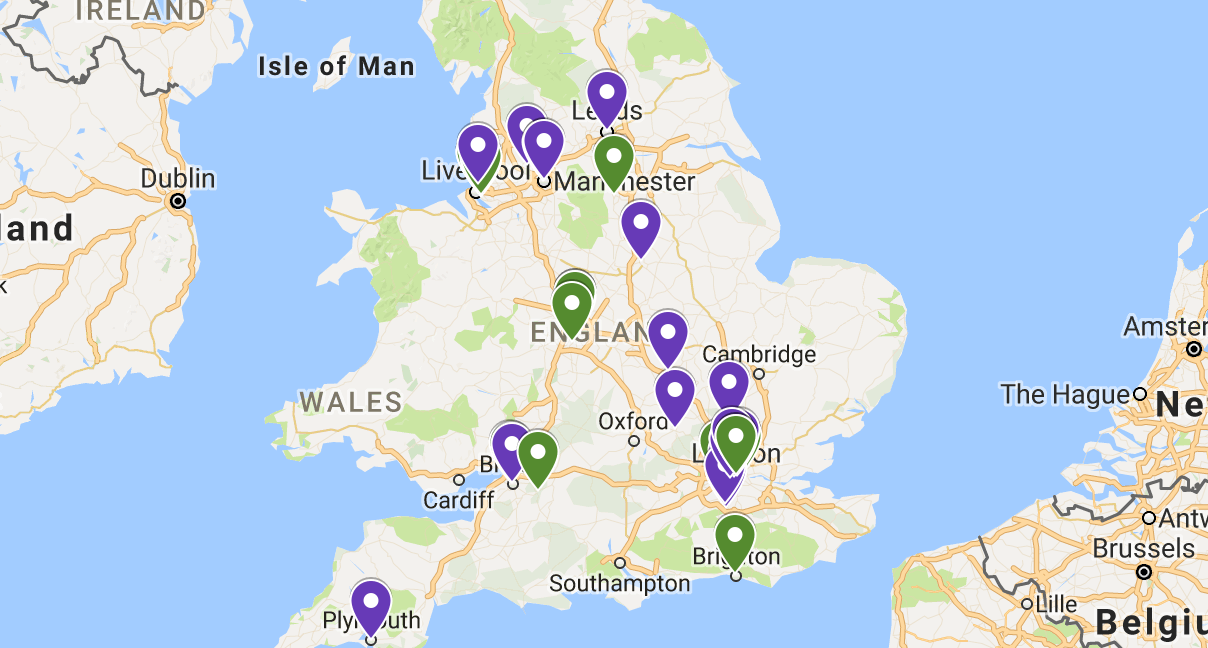 The Grade II National Heritage building on Hampstead High Street, in North London, is exceptionally easy to miss. In part, that's because it isn't a building at all: It's a postbox. Sat outside 23 Hampstead High Street, a mock Tudor building currently playing host to an upmarket French clothing store, this mailbox is like so many others across London. It's hexagonal and lipstick red, under a conical roof almost like a sunhat. A small plaque on the side ("This Penfold pillar box … is preserved as an historical monument") gives a few clues about why you can't use it to post a letter.
In 1914, militant suffragettes from Emmeline Pankhurst's Women's Social and Political Union set fire to the box, by pouring tar and oil inside and setting it alight. A message referring to suffragettes who had been arrested was found nearby. (Mail tampering was a common form of protest in the British women's suffrage movement: "Pillar boxes" across the country were set on fire and the windows of the Newcastle post office smashed with stones.)
Historic England, which runs the country's Heritage List, has recently recognized 41 such sites of protest—tiny historic sparks of resistance that range from places where key meetings took place to spots of skirmish, sabotage, or arrest. The important thing, the organization said in a statement, was making sure women's history was adequately recognized in national records. "Through its HerStories project, Historic England has been working with researchers from the University of Lincoln to address this imbalance and officially recognize suffragette stories that are told in bricks and mortar on The List," they added. "Each site has an important story to tell in the fight for women's rights."
Among those sites are postboxes such as this one; London's Westminster Abbey, where "prayers for prisoners" were used to disrupt services; and Bristol's Victoria Rooms, where the Union employed professional boxers to keep medical students from interrupting a public speech by Pankhurst. (They've all been mapped, in staggering detail, here.)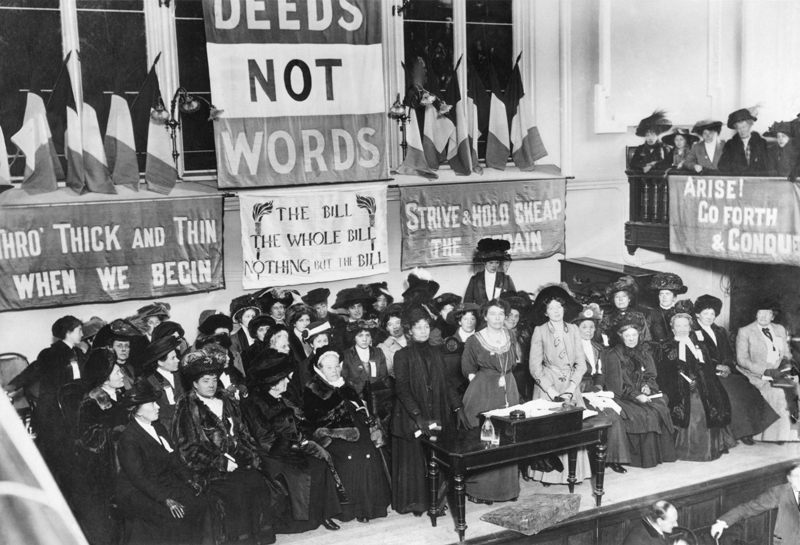 Others have quirkier stories: the Royal Court Theatre, in London's Sloane Square, staged the first ever suffragette-themed play in April 1907. (Unsurprisingly, it was called Votes for Women!) A Birmingham school narrowly avoided being burned to cinders by two suffragettes, who were instead so charmed by it, Historic England reports, that they left a note on a blackboard saying they couldn't bear to set it on fire. In Liverpool, a suffragette hid in the organ loft of St George's Hall for 24 hours in order to sabotage the speech of a local MP the next day. Each one is a testament to the suffragette's policy of "deeds, not words."
The places were already listed buildings, the organization said in a statement, "but until now there has been no record of their suffragette history on the National Heritage List for England." These additions are an attempt to rectify that, and to celebrate the centenary of women first being allowed to vote. (It's worth acknowledging, however, that suffrage was not universal: Only women over the age of 30 who were householders, the wives of householders, occupiers of property with an annual rent of £5, or graduates of British universities were permitted to vote until 1928. In practice, that excluded most, if not all, working-class women or women of color.) Pankhurst's grave has also received an upgraded heritage classification by the United Kingdom's Department for Digital, Culture, Media and Sport.
So, if you find yourself in the United Kingdom, look carefully next time you walk past a postbox. A site of militant resistance may be closer than you think.