The Unconventional Life of Mary Walker, the Only Woman to Have Received the U.S. Medal of Honor
Dress reformer, women's rights activist, and all-around pioneer.
On a summer day in 1866, Mary Edwards Walker exited a milliner's store on Canal Street, in New York, and was promptly arrested. A report the following day stated, "The lady wore a long coat or robe and a pair of cloth pants, and the guardian of the public peace, imagining that there was something wrong about this, and that a lady ought not be allowed to dress as she pleases, undertook to arrest her."
The 19th-century dress reform movement had started 16 years earlier with the "bloomer," a billowing, tapered pant that had been adopted, briefly, by middle-class women as an alternative path to gender equality. The bloomer's popularity was, for the most part, short-lived, largely on account of the ridicule and harassment faced by the women who wore them, but for Walker, a physician, dress reform was critical to women's emancipation.
Consider the typical outfit for women of a certain class in the late 1850s: a chemise and drawers, a tight-fitting corset, a crinoline cage underskirt, petticoats, a dress, stockings, and slippers. The long skirts dragged in the dirt, spreading disease; crinolines were flammable; corsets were constricting; and fabrics were frequently dyed with arsenic. It was a hazardous and uncomfortable time for women's fashion, and Walker wanted to change that.
Mary Walker grew up on a farm in Oswego, New York, into a family of abolitionists who emphasized education and equality. They were anti-alcohol and anti-tobacco, and her father believed corsets were damaging to health. After working as a teacher, Walker attended medical school in Syracuse and graduated, with honors, in 1855. At her wedding in 1856, to fellow medical student Albert Miller, she wore the "reform costume"—a skirt over pants—and she did not follow the traditional vows and promise to "obey" her husband.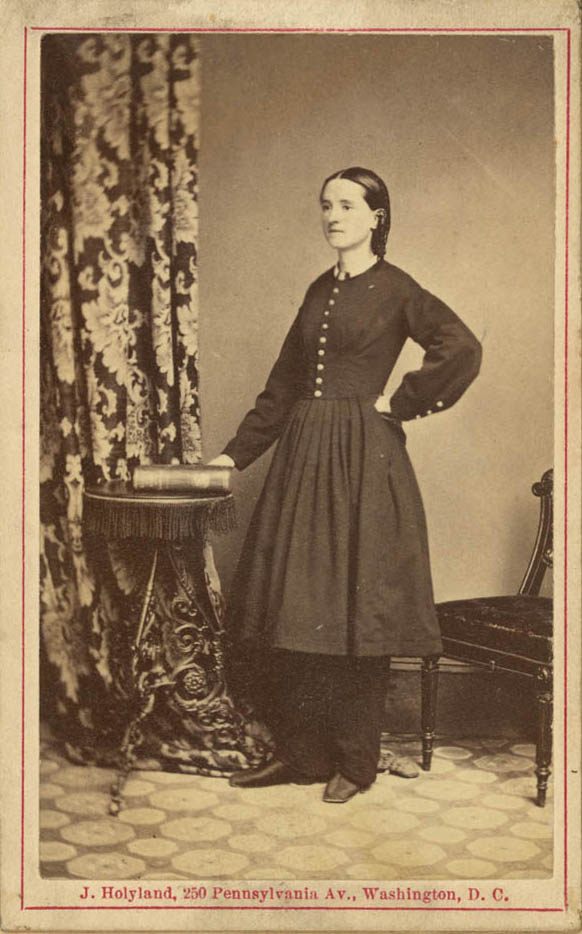 Walker began to lecture and contribute to the reform magazine Sibyl: A Review of the Tastes, Errors and Fashions of Society. She urged women to "go to a smith and have their dressical and dietetical chains severed so they may go forth free, sensible women." Although an ardent support of women's rights in general, dress reform was her priority. "The greatest sorrows from which women suffer today are … caused by their unhygienic manner of dressing. The want of the ballot is but a toy in comparison!"
Unlike other suffragists, Walker argued that women already had the right to vote, on the basis that the words "We the People" are not gender-specific. To her, there was no need to enshrine in the Constitution a right already given.
After the wedding, Walker and Miller established a private practice, but neither that nor the marriage was a success. The practice failed, reportedly, because patients did not want to see a female physician, and the marriage due to her husband's infidelity. She left them both in 1859.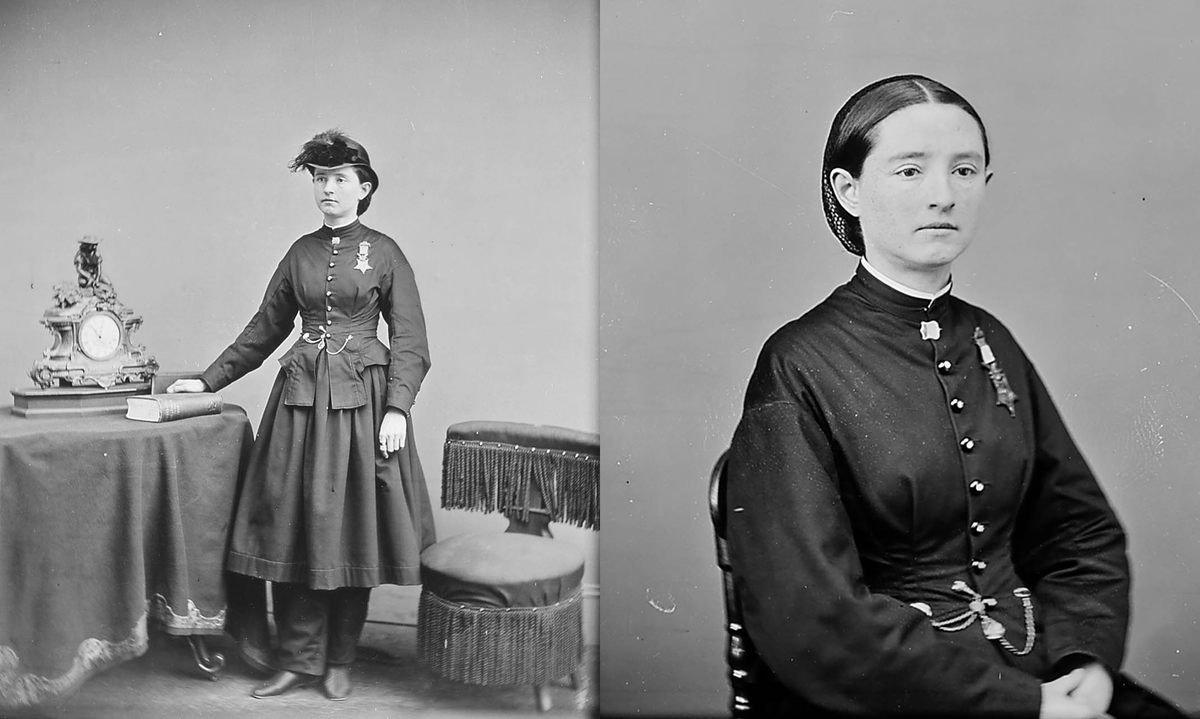 In July 1861, after spending time in Iowa (in an attempt to capitalize on the state's more lax divorce laws), Walker moved to Washington, D.C., where she applied for a military surgeon's contract in the Union Army. She was denied, and instead was offered a position as a nurse, which she refused. Walker continued to petition for a surgeon's role while volunteering as a doctor. In December 1862, the New York Tribune wrote, "Dressed in male habiliments … she can amputate a limb with the skill of an old surgeon, and administer medicine equally as well. Strange to say that, although she has frequently applied for a permanent position in the medical corps, she has never been formally assigned to any particular duty."
Eventually, in 1864, she was assigned as the acting assistant surgeon to the 53nd Ohio Volunteers, an appointment that the director of the medical staff called a "medical monstrosity." She wore an officer's uniform, with small modifications, and carried two pistols. In April 1864, she was captured behind enemy lines and kept at the Confederate prison Castle Thunder for four months, until she was released through a prisoner exchange.
Following the war, Walker continued to advocate for dress reform. She designed a "dress reform undersuit," which, she declared, was a solution "to cruel corsets, tight garters and other underpinnings." She also claimed, dubiously, that the garment prevented seduction and rape.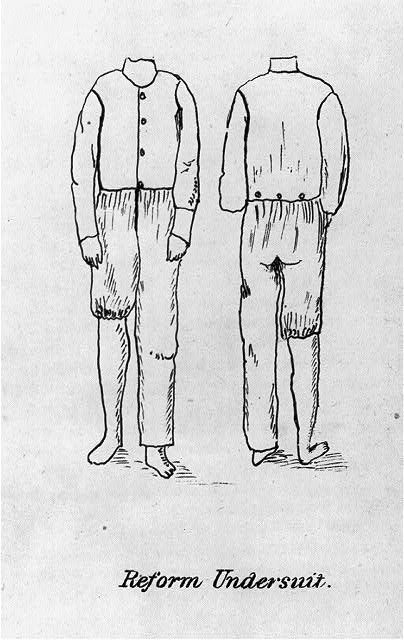 She also traveled to England to state her case to crowds in London and Manchester. In London, her address began "Gentlemen and Ladies," and in the same speech, she said that "she was one of those who thought it was better and easier to live out their own individual lives, and to use the powers specially bestowed upon them, than to live according to other people's notions—to live, in fact, the lives of other persons."
Walker's speeches also drew attention to the double standards women faced. A report from Edinburgh in 1867 noted, "She also thought the press often did not do so much justice to women as they might. They often criticized women severely when they allowed men to pass, saying very little about them."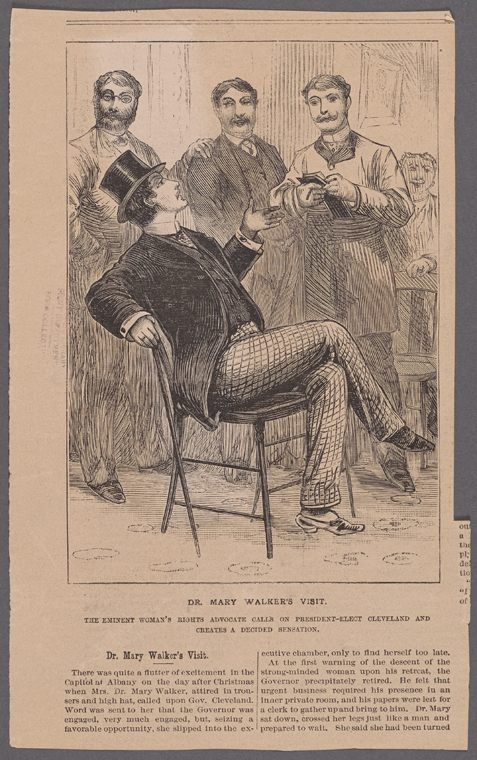 Back in the United States, the suffragists were wary of Walker, both because of her controversial attire and her perspective on the need for a constitutional amendment. For a few years, she lived with lawyer and activist Belva Lockwood. Together with five others, they tried to register to vote, and failed. By the 1870s she had adopted the attire that she would wear for the rest of her life: trousers, vest, coat, and top hat. She was harassed in the street. A woman set her dog on Walker and, on one occasion, she was pelted with eggs. To support herself, she wrote two books, and toward the end of the 19th century, agreed to appear in dime museums—popular but lowbrow attractions.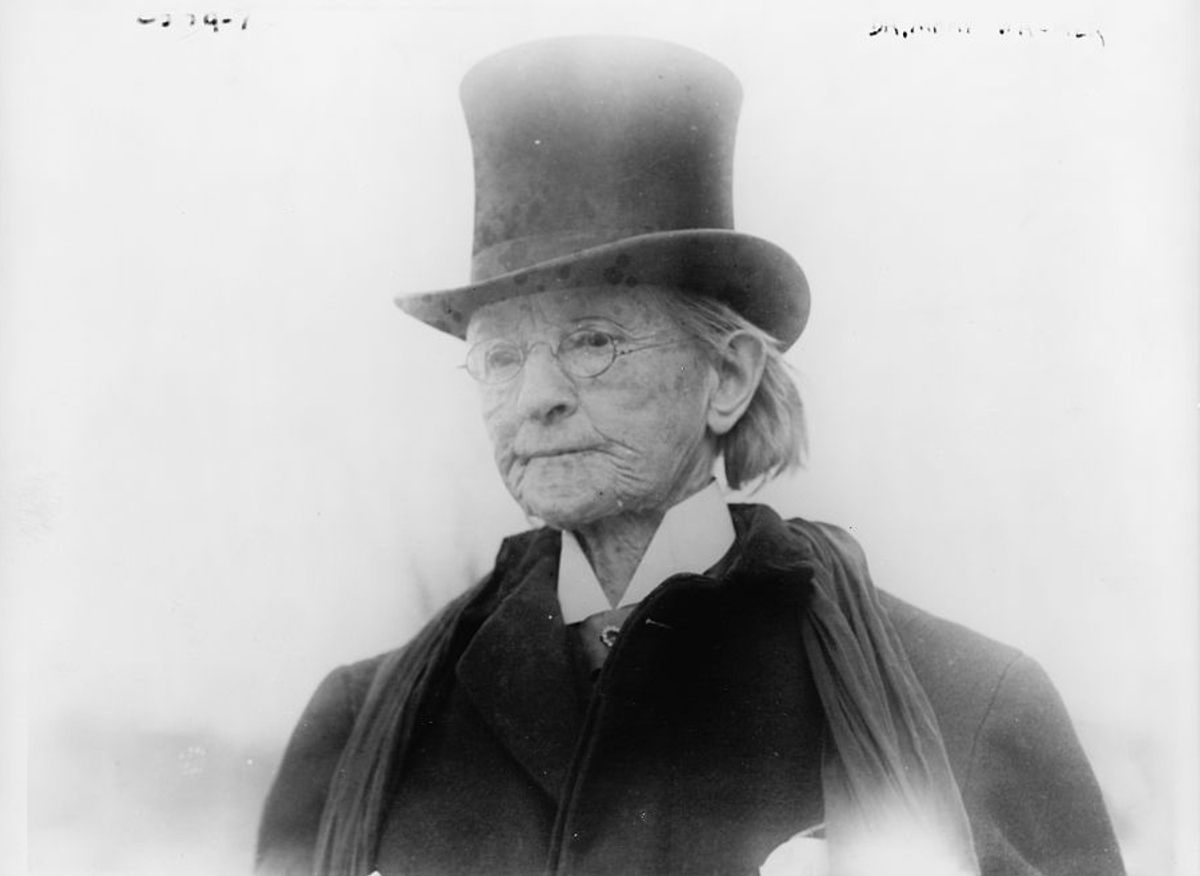 Walker radically challenged 19th-century gender norms. Of her choice of wardrobe, Walker stated, "I don't wear men's clothes, I wear my own clothes." She kept her maiden name, saying "a woman's name is as dear to her as a man's is to him." She argued that the pensions of wartime nurses should equal those of veterans. And, a century before the women's liberation movement, she argued that women should be able to support themselves and receive equal pay for equal work, as well as recognition for their work in the home: "Too well do women know the great mass of men feel that if they earn the money, they have performed nine-tenths of living, and whatever a women does is only of minor consideration."
To this day, Walker remains the only woman to have received the Medal of Honor, the country's highest award for wartime valor, although it did not come without controversy. In 1865, President Andrew Johnson* awarded it to her along with 910 other civilians (all men) for their duty in the Civil War. Walker's citation mentioned her service treating the sick and wounded at several battles, as well as her time as a prisoner of war. But in 1917, a change to eligibility meant that any medal not earned in "actual combat" was revoked. Walker ignored the change and continued to wear the medal on her lapel until her death. Sixty years later, in 1977, President Jimmy Carter restored the award, which is today on display at the Pentagon.
Walker died the year before women obtained the right to vote. She was buried at the family plot in Oswego, in a black suit.
*Correction: This article was updated to correct the year of Walker's medal and the president who granted it.