Massive New $5.2 Billion Panama Canal Opens
A Pyrrhic victory?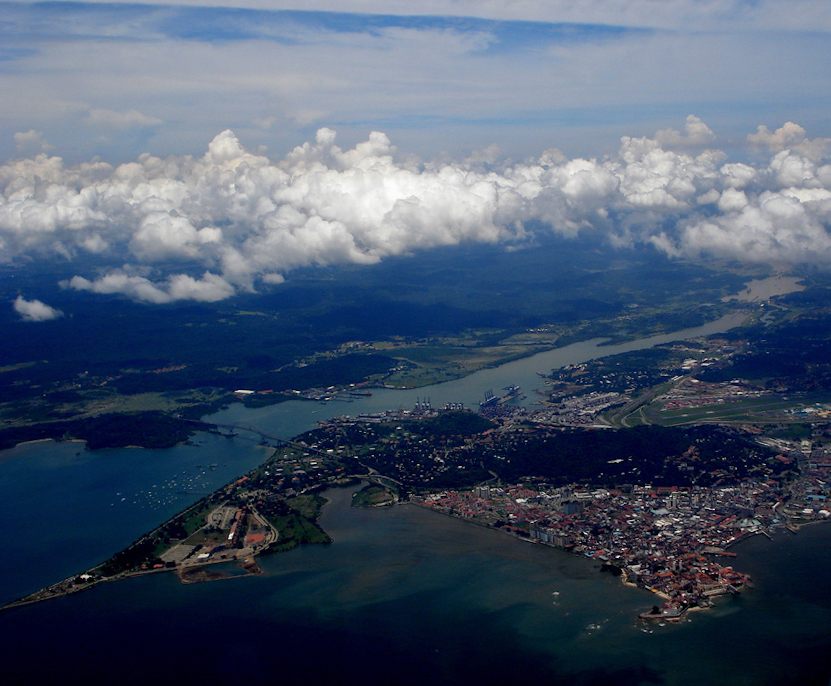 The canal as seen from the Pacific side. (Photo: el.chamilo/CC BY-SA 2.0)
The new Panama Canal has been a decade in the making. 
Originally slated to open in 2014, in time for the original canal's 100th anniversary, the more expansive canal, designed to accommodate massive new cargo ships, ran into a series of problems. Bad concrete, for one thing, and a construction schedule that was as unrealistic as it was ambitious. 
And as the New York Times detailed last week, a rock-bottom $3.1 billion bid from a Spanish company eventually turned into billions more in overruns, eventually costing the country around $5.25 billion in total. 
But the new canal, after years of anticipation, officially opened Sunday, with the passage of a 984-foot monster cargo ship, the Associated Press reported, which successfully traversed the 50-mile passageway before fireworks and thousands of people. 
The ship, a Chinese vessel bound for South Korea, was not the first to pass through the wider canal—that happened on June 9, when a smaller vessel made its way through in what officials said then was a test run. But Sunday's ship was among the first ships laden with cargo, in this case around 9,000 containers, to make the journey.
This canal doubles the old's capacity, and is Panama's play to keep up with competitors like the Suez Canal in Egypt. According to the AP, the Panama Canal accounts for 40 percent of the country's gross domestic product, or around $10 billion in revenues annually. 
A lot is riding on the new canal, in other words: not just a country's pride, but also it's purse.