Medieval Times Is Now Ruled by a Queen
Usually medieval queens were regents, but this fictional character rules independently.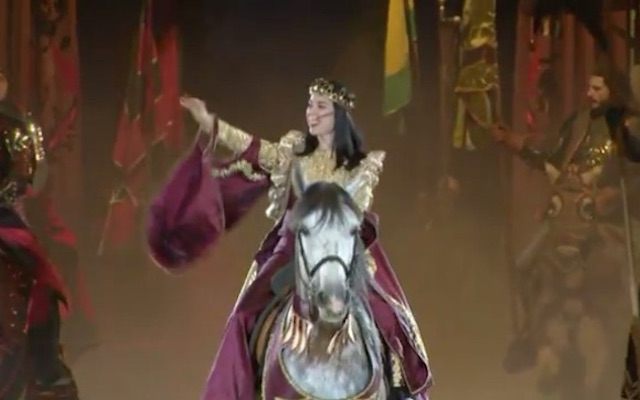 The King is dead. Long live the Queen!
In the fictional king's realm portrayed at the popular dinner theater/tournament Medieval Times, there has been a transfer of power. The king, who, as Atlas Obscura has previously reported, was known as Don Carlos, has been replaced by a queen, Dona Maria Isabella.
Previously, the show featured a princess who stood by the king's side; this new character does not need the help of a man and rules independently.
The leadership of Medieval Times says the new show has been in the works for a few years. "We're pretty progressive, we have female falconers, female horse trainers," the show's creative director told local New York news channel Pix11. The show still lacks a female knight, but now the queen rides into the show on horseback, at the head of the procession, as the host of the dinner. This new version of the show has rolled out at three Medieval Times locations so far.
During actual medieval times, a number of queens did hold power as heads of state, though usually as regents for their young sons. Often, they served as "intercessors, patrons, and cultural innovators," writes historian Miriam Shadis. One of the most powerful and savvy queens of the Middle Ages, Eleanor of Aquitaine, had two husbands, supported some of the major artists of her day, led armies, and urged her son to revolt against his father. Another, Isabella of France, deposed her husband (perhaps by conspiring to have him murdered) and became regent on behalf of her son, ruling alongside her lover.
No such drama has occurred at Medieval Times, a family-friendly show. The previous king "died in his sleep," according to NJ.com, leaving open the path of succession for Dona Maria Isabella, long may she reign.