The Utah Noodle Parlor That's Seemingly All Over 'Blade Runner'
Its neon dragon sign is beloved by science fiction fans and a small city.
Blade Runner, Ridley Scott's neo-noir dystopian 1982 flick, opens with a scene of a near-future Los Angeles in 2019. Just before we meet our sullen protagonist, ex-cop Rick Deckard (Harrison Ford), the camera lingers on an enormous, white neon dragon sign perched on the corner of a building. Its tongue flicks forwards and backwards, inviting hungry people, including Deckard, out of the rain and in for a bowl of hot noodles.
Deckard is sitting for only a moment at the Japanese noodle bar before he's approached by Gaff (Edward James Olmos), an officer that he used to work with. Gaff speaks in a dialect that Deckard calls "Cityspeak," a hodgepodge of several languages, including Japanese, German, Chinese, French, and Spanish.
The dragon sign, a constant presence in Blade Runner, is crucial to the pulpy world where Deckard and other denizens of this futuristic L.A. reside. Yet the neon guardian bears a striking resemblance to an iconic dragon that's presided over Ogden, Utah's historic 25th Street since the 1940s. In a 2007 Blade Runner featurette, the film's production illustrator, Tom Southwell, mentions that he was struck by an image of a dragon in a book of neon art, which inspired the one in Blade Runner. In real life, a neon dragon towers over an Ogden storefront that formerly housed The Star Noodle Parlor, a Chinese restaurant owned by the Ryujins, a Japanese family.
It may seem odd that a neon sign in a small Utah city became a central part of a fictitious, near-future Los Angeles. But Ogden, a place that has bucked conventions since the 19th century, is the perfect locale to have inspired a science-fiction film.
The street where the Star Noodle dragon resides, much like the Blade Runner universe, has always been a mélange of cultures. "25th Street was one of the more ethnically diverse areas in Ogden, historically, in a city that really wasn't known for its ethnic diversity [early on]," says Val Holley, a native Ogdenite and author of 25th Street Confidential: Drama, Decadence, and Dissipation along Ogden's Rowdiest Road. And a lot of that has to do with the construction of the Central Pacific Railroad and Union Pacific Railroads, whose juncture happened to be right in Ogden following a move from Promontory Summit (where the two first joined their rails)*.
Foreign workers, particularly Chinese and Japanese immigrants, and African-American laborers built the railways. From the 1860s on, many of these workers settled in Ogden, whether to construct the railroad, maintain the completed lines, or farm on nearby land. They came despite low pay, discrimination, and exclusionary immigration policies, and they changed the city completely.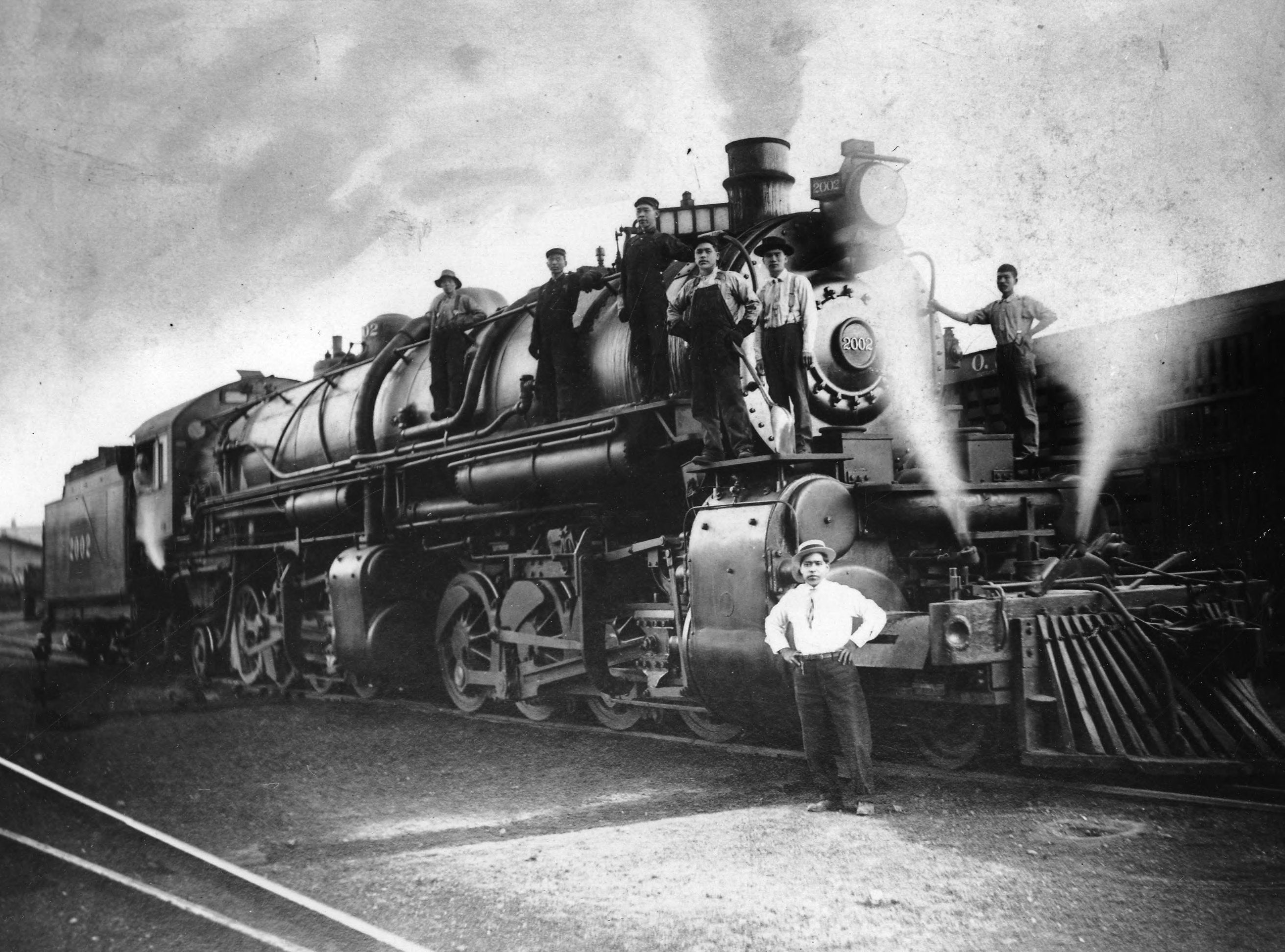 "If Ogden had not lain smack dab in the path of the transcontinental railroad, 25th Street could not have existed," Holley writes. "In its infancy, the city struck visitors as merely a poky Mormon settlement on the stage road into Idaho and Montana. Until the first locomotives steamed into town on March 8, 1869, its future had not aroused public curiosity."
As scores of non-Mormons arrived, investors and entrepreneurs followed. Immigrant families opened their own businesses, especially around 25th Street.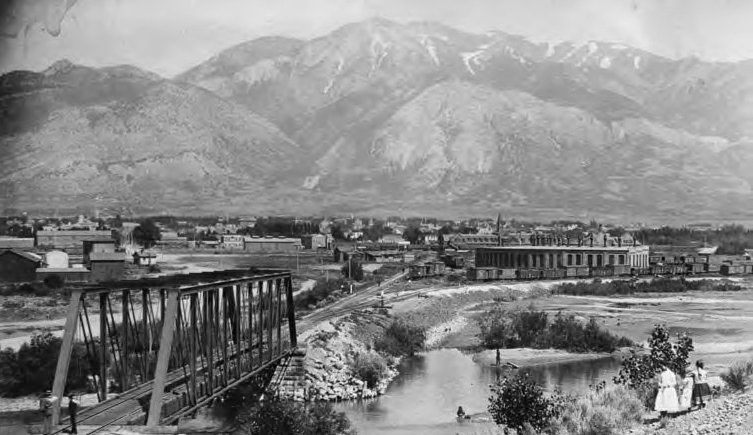 One of those businesses would not only impact the aesthetic of the city, but prove pivotal in transforming neon from an advertising staple into an international art form. In 1920, an English immigrant, Thomas Young, founded the Thomas Young Sign Company, later renamed to the Young Electric Sign Company (YESCO). What started as a humble operation specializing in the likes of gold-leaf window lettering turned into a global enterprise when they began manufacturing neon signs, which they sold in Utah and neighboring states.
The industry was then in its infancy, but when YESCO erected a sign advertising the Boulder Club, a gambling hall, in Las Vegas in the 1940s, it kickstarted a bold new movement: The golden age of neon. Throughout the 1940s, Young Electric made famous "neon spectaculars" for decadent establishments such as the Golden Nugget casino. The company erected the massive "Vegas Vic" sign, too: a waving cowboy that ushered people into the city of sin. It's not hard to see how these rows on rows of neon lights were replicated in the hodgepodge of dragon neon signs, Cuisinart advertisements, and other ephemera that line Los Angeles in Blade Runner.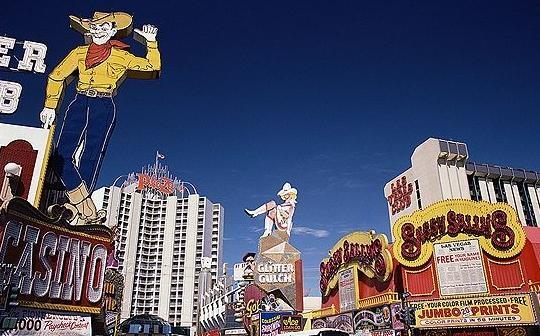 While businesses such as YESCO flourished around 25th Street, its reputation as a hard place within a Mormon desert followed it well into the 20th century. It brimmed with brawlers and gangsters; Al Capone once was said to be prowling Ogden in an attempt to expand his criminal empire and deemed it too tough, even for him. The blind eyes of the police skated over opium dens, brothels, and gambling joints.
David Aoki—the proprietor of Dave's Barber Shop—became the first Japanese citizen to obtain a business license in Ogden following World War II. In an interview with Weber State, he recalls that in the 1940s, around when the Star Noodle opened, "the clientele ran from the top to the bottom, from college professors down to district judges and to the criminal element." But that worked out just fine for him. "I loaned a lot of money out to criminals, but I never got stuck … it was an unwritten law on 25th Street that if you borrowed a dollar you would pay back a dollar and a half at the end of the month."
Much like Blade Runner's Los Angeles, Ogden could be a tough place. The crime, robbery, and stabbings led to 25th Street's nickname, "Two Bit Street." But it wasn't all that bad for many people who lived there.
"There were really no aspects of being in danger there," Shinji Ichida says of growing up in Ogden in the 1940s and 1950s. "Not our parents or us as young kids ever feared getting mugged or kidnapped or anything like that. We just hung out there and watched."
Life on 25th Street was like anywhere else: You made the best of it. For fun, Ichida and his friends climbed over nearby Young Electric's fence, got tubes (yes, filled with mercury), broke them, and used them for spit balls. Max Ryujin, whose family owned the Star Noodle, recalls watching stabbings and shootings as a child. But in the daytime, he would ride his tricycle up and down the street, visiting a number of Japanese businesses, including Roy Nakitani's electronics shop and Uke's Café.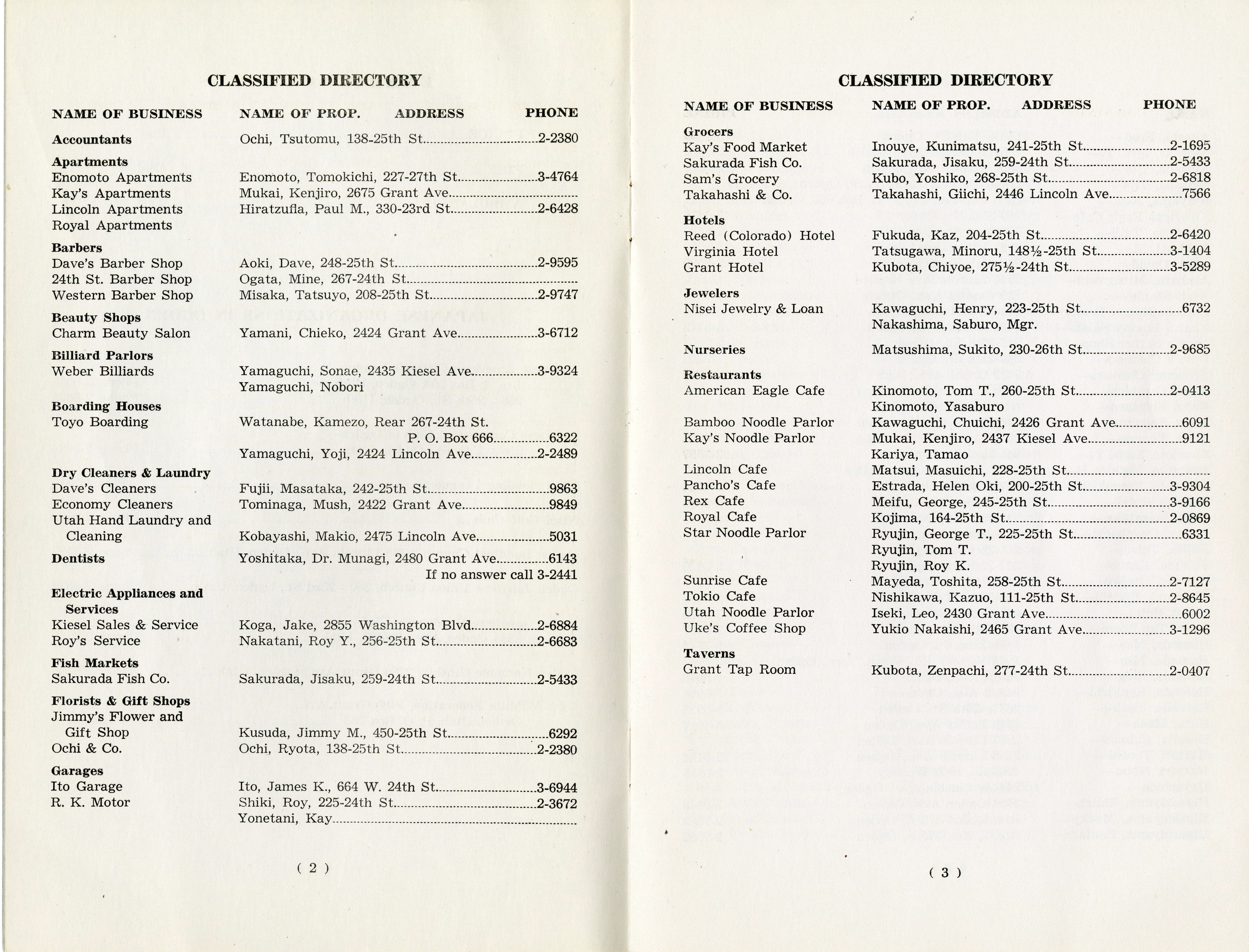 25th Street is hardly a dystopia. It's a beloved place with a community, a fact demonstrated by the uproar that followed the disappearance of the Star Noodle dragon in 2007. The Star Noodle Parlor shuttered its doors that year, following a dream that Max Ryujin had in which his father told him, "It's time to sell the place." Ryujin, who is now a broker working in fair housing practices, sold the property to Fischer Regan Enterprises.
The company planned to restore the sign immediately, but Fischer says the real estate crash of 2008 stymied their efforts. When the company removed the sign from the building's facade, the outcry was loud and clear. Carol Jennings, an art advocate who grew up in nearby Roy, Utah, mobilized fans of the dragon sign to make a community watch program called "Save the Dragon." On Facebook, they posted updates and tracked the dragon when it appeared in mysterious places, including an outdoor lot and a truck driving down the highway.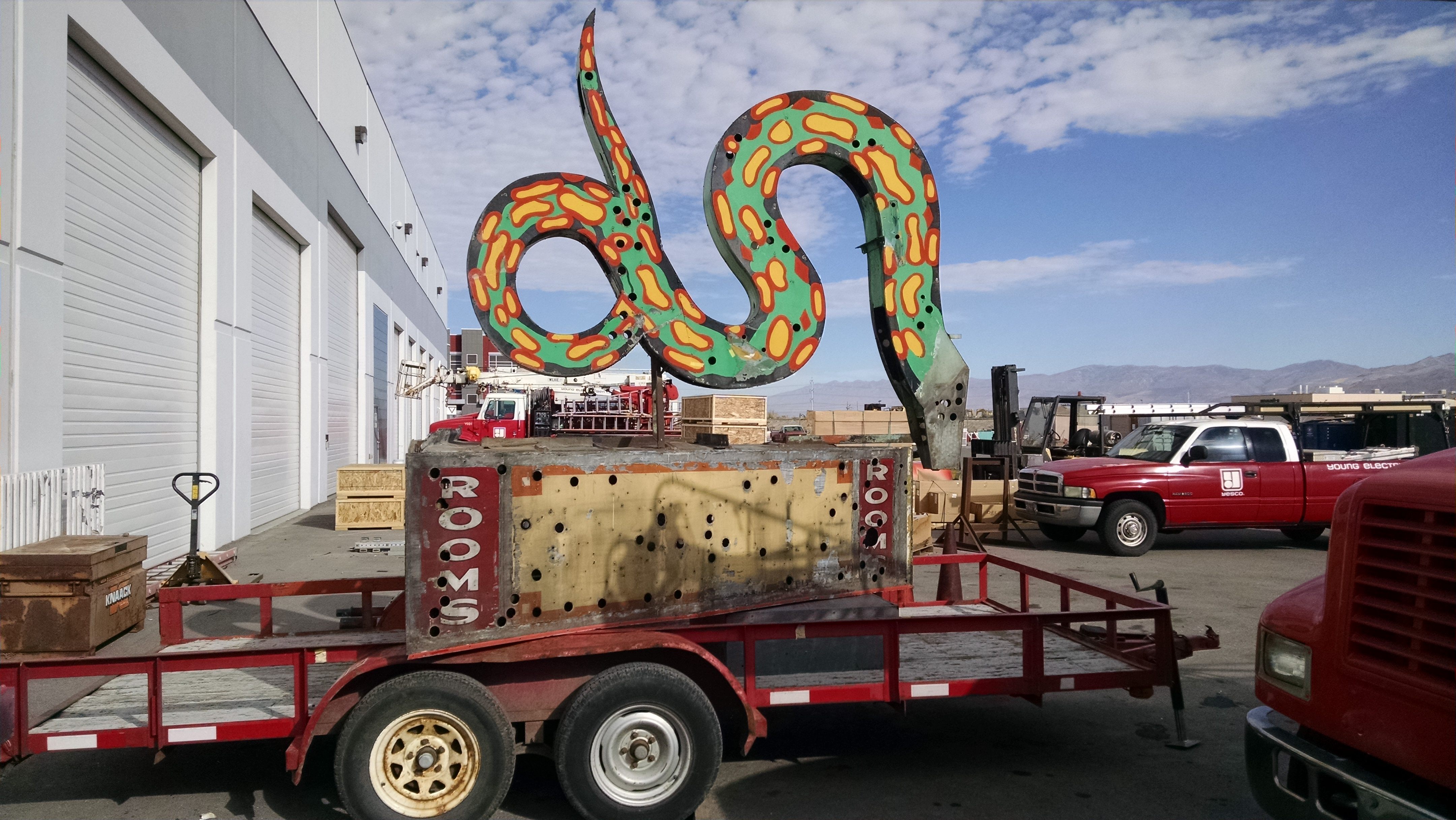 Why so much fuss over a neon sign? "It thrilled everyone cross culturally, I swear," Jennings says. "Everyone has some favorite memory of that dragon. That's why we have such a community attachment to it."
Besides acting as an invitation, the dragon became an homage to the will of a community that soldiered on despite racial discrimination, the horrors of Japanese internment, and economic downturns. In Japanese, Ryujin means "dragon god." "The dragon sign stayed up, because [the Star Noodle Parlor] was one of the businesses that continued on while everything else folded," says Greg Montgomery, Ogden's city planner. "And so not only is it a symbol of the restaurant itself, it became an icon to Ogden."
The fact that the iconic white dragon in Blade Runner is perched atop a noodle bar is the most powerful psychic and psychical link it has with Ogden's own Star Noodle Parlor. Both were a sanctuary for night owls (a particular feat for the Star Noodle, given that Ogden didn't have many restaurants, never mind ones that were open until 2 a.m.). But while the proprietor of Blade Runner's Japanese noodle joint is also Japanese, the Star Noodle, owned by a Japanese family, specialized in Chinese food. At the time, many Japanese restaurateurs saw serving Chinese-inspired fare for American palates as a viable economic pursuit. "It was one of those things where we were Japanese serving a Chinese cuisine, chow mein and stuff," Max Ryujin told Weber State in 2013.
At the Star Noodle, Max's father, Tamotsu Ryujin, crafted the menu to include dishes that Ogdenites craved. "That's why we had a domestic menu with steaks and top sirloins and even oysters and shrimps," Max Ryujin says, "and then we had our standard combination dinners that had chow mein and those kinds of things."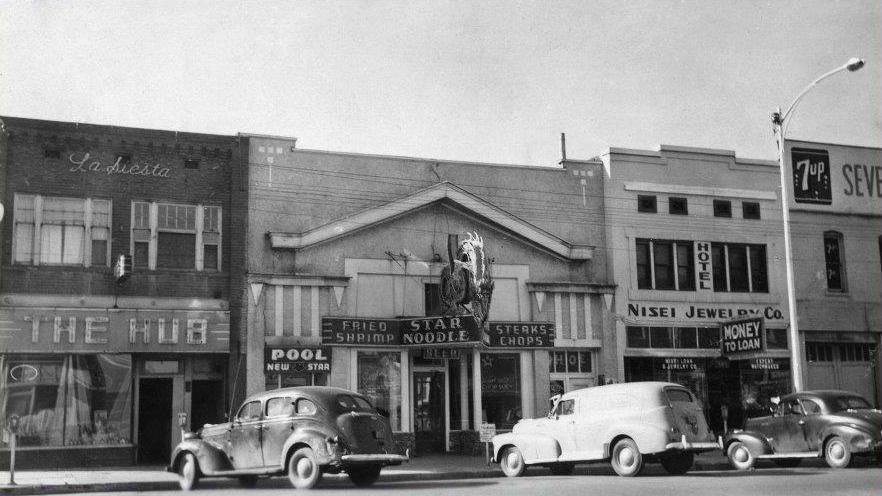 Yet each family invested their personal touch. "In the old days, every restaurant had their own recipe for noodles," Max Ryujin says. Max and his uncle came in several nights a week to make noodles with the kids and their parents, Uki and Tamotsu, from scratch. "It wasn't store bought or anything, and we'd sit and knead all of that and we had to get a special noodle machine from Japan—expensive," he says.
Over its 60-plus years as a business, Star Noodle became a beacon for much more than tasty noodles. And much of that can be attributed to its trusty dragon. "It was brilliant to put that piece of neon on 25th Street," Jennings says. "Because it not only attracted people to their business, but to the entire street." Eventually, Fischer Regan restored the dragon sign with YESCO, the very company that made it. The dragon finally made a roaring return to its home on 25th Street in 2015.
Neon enthusiasts will note that the Star Noodle dragon looks a bit different now. During the restoration, the word "rooms" was discovered underneath a layer of sheet metal, which suggested that the sign had been refurbished from yet another one. The dragon doesn't read "Star Noodle" now, either. It reads "Historic 25th Street." It's a rightful honor bestowed upon a spectacular sign, in front of a bygone restaurant, within a small city whose residents knew it was of the future—long before filmmakers dreamed up a man eating noodles in a futuristic Los Angeles.
*Update 2/1: This article has been updated to reflect information about Promontory Summit and the railroads.
Gastro Obscura covers the world's most wondrous food and drink.
Sign up for our email, delivered twice a week.