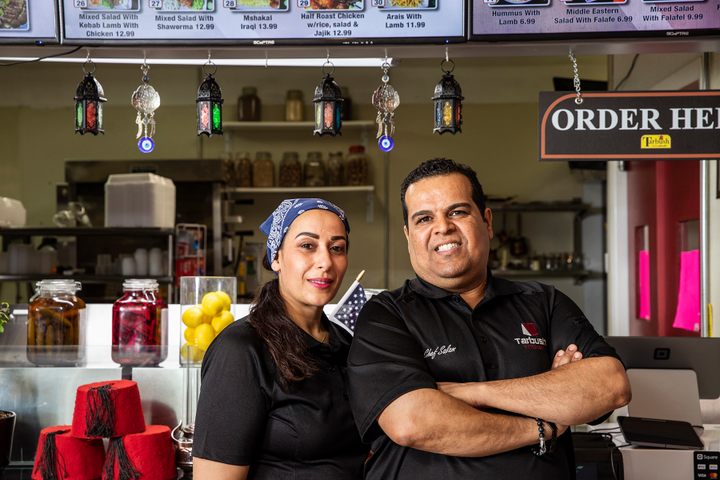 How Boise, Idaho, Became a Sanctuary for Refugees and Their Cuisine
Becoming a "Welcoming City" has been a boon to the region's restaurants.
When Salam Bunyan and his wife, Aseel, opened their Mediterranean restaurant, Tarbush Kitchen, in Boise's Central Bench neighborhood in late 2019, the Iraqi couple already had a loyal customer base. That's because the Bunyans, who arrived in Idaho as refugees 11 years earlier, had been in the food business before: First in 2014, as purveyors of The Goodness Land food stall at the city's International Market. Then, after the market burned down, as the owners and operators of a stand-alone eatery by the same name. "The local community here has helped us many times," says Bunyan. "It's a great thing that you just don't find anywhere in the world."
For many years, Boise diners interested in foreign food had one main option: roasted lamb, chorizo, and other Basque food that is a legacy of immigration into Idaho from that region (in Europe's western Pyrenees) that dates back to the Gold Rush. More recently, though, Idaho's capital city has seen an influx of new restaurants, food trucks, and mobile pop-ups showcasing everything from Middle Eastern shawarma to Ethiopian doro wat. Driven by the city's rapid growth, Boise's food scene is booming. But it is Boise's role as a certified "Welcoming City" for both immigrants and refugees that is changing the dynamics of its culinary offerings and allowing restaurant owners such as Bunyan to shine.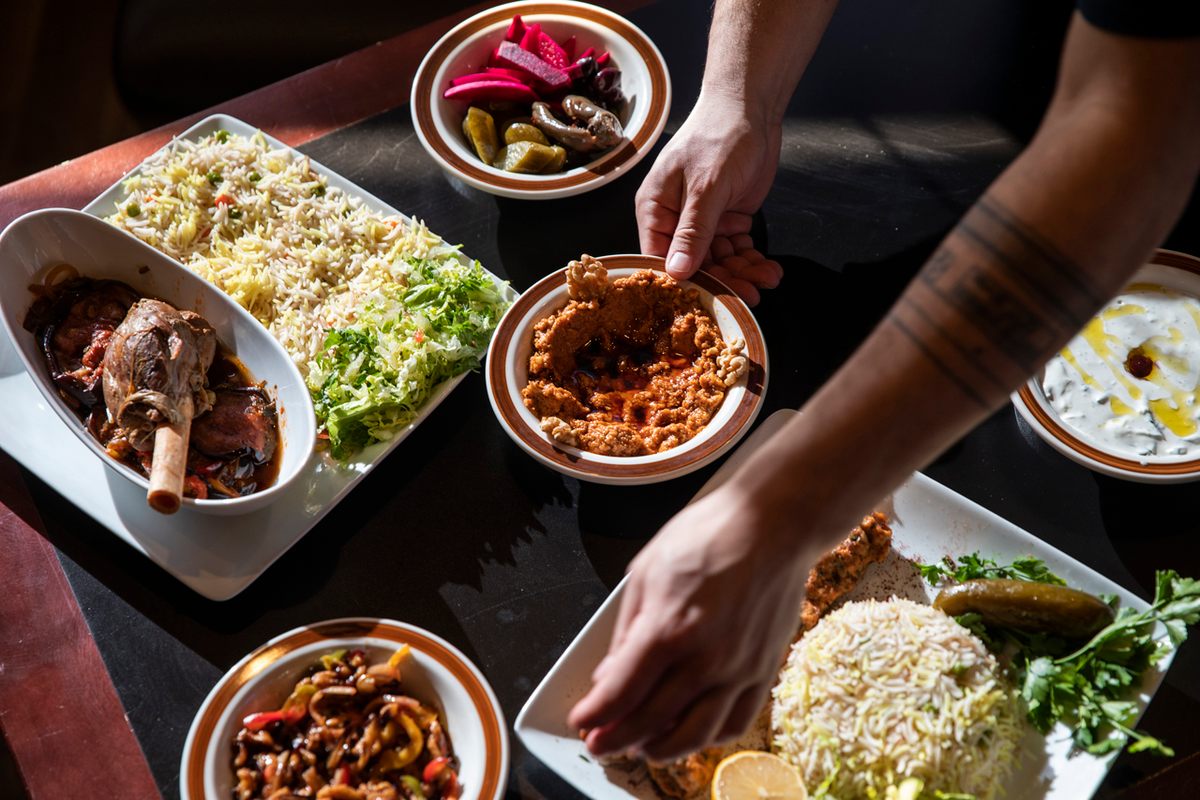 While Boise has been welcoming refugees since 1975, the number of forcibly displaced people worldwide grew exponentially over the past decade, increasing from 43.3 million in 2009 to 79.5 million in 2019. The United States has historically resettled more refugees each year than any other country, of which Idaho receives a relatively large percentage. In 2016 alone—before the Trump Administration cut U.S. refugee-resettlement numbers—the state had the third-highest number of refugee resettlers (1,118) in the country.
That is no accident. "One of the goals of refugee resettlement is to find cities that are big enough to provide some of the social services and opportunities to folks but also small enough that you don't get lost in the shuffle," says Tara Wolfson, director of the Idaho Office of Refugees. "Boise definitely fits that: You can come and kind of navigate without getting lost or overwhelmed, and you can become part of the community." Despite the sizable growth of the Boise-Nampa Metropolitan Area (also known as Treasure Valley), its population of around 750,000 is 25 times smaller than that of New York City's metro area.
To assist both its refugees and immigrants, Boise has established agencies like the Idaho Office of Refugees, which organizes everything from Refugee Restaurant Week (held each October in Boise) to cross-culinary cooking classes taught by "neighbors with immigrant and refugee backgrounds." Neighbors United helps refugees integrate into their community by addressing such needs as housing, healthcare, and employment. Jannus Economic Opportunity helps immigrants and refugees launch and grow small businesses.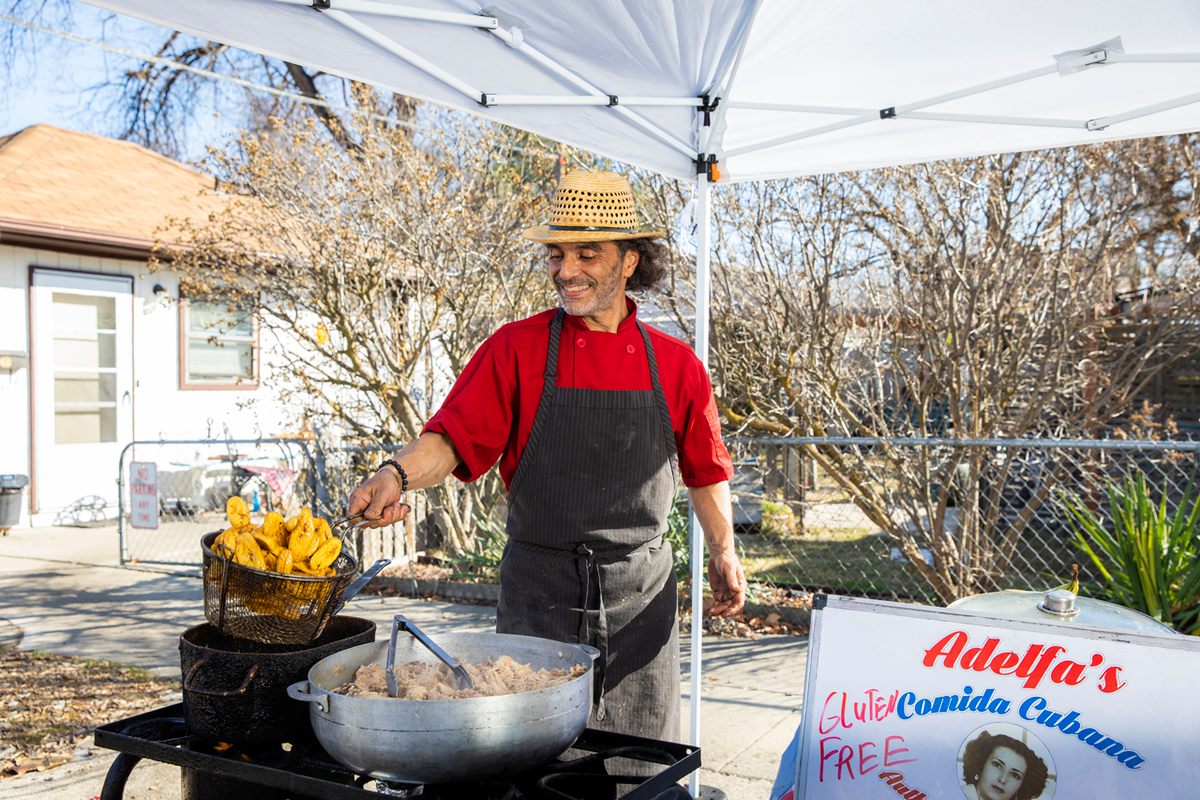 The Bunyans came to Boise in 2008 by way of Syria, where they first fled after Salam's brother became a casualty of the Iraq War. "Every day in Baghdad I worried for my family, my children," says Bunyan. "Finally I said, 'That's it.'" So Salam, Aseel, and their three children went to Syria, the only place open to Iraqi refugees at the time. Once there, they applied for resettlement with the UN Refugee Agency. "When I was told we'd been accepted and that we were going to be coming to Boise, I had no idea where it was," Bunyan says. "There was very little information on the internet at the time, so I asked around. Some people thought Boise was in Canada, others said they'd never heard of it. Finally someone told me, 'Hey Salam, it's a safe place. It's quiet, and the people there are very nice.'"
In Idaho, they were given a case manager who helped arrange medical appointments and childcare, and cultural orientation in the form of a standard eight-month-long resettlement program that included English-language classes, employment services, and minimal cash assistance. "Life here [as a refugee] is not easy initially," Bunyan says. "After going through the program, you have to start working immediately to make ends meet."
Since Bunyan had always dreamed of opening a restaurant, and had worked in five-star hotels in Morocco, Egypt, and Jordan, he started off by using a local commercial kitchen to cater parties. "Then an opportunity to open a stand in the International Market came up," he says of the multicultural market for small businesses, especially those run by refugees and immigrants. "And I said, 'Why not?' We were surprised at just how busy it was."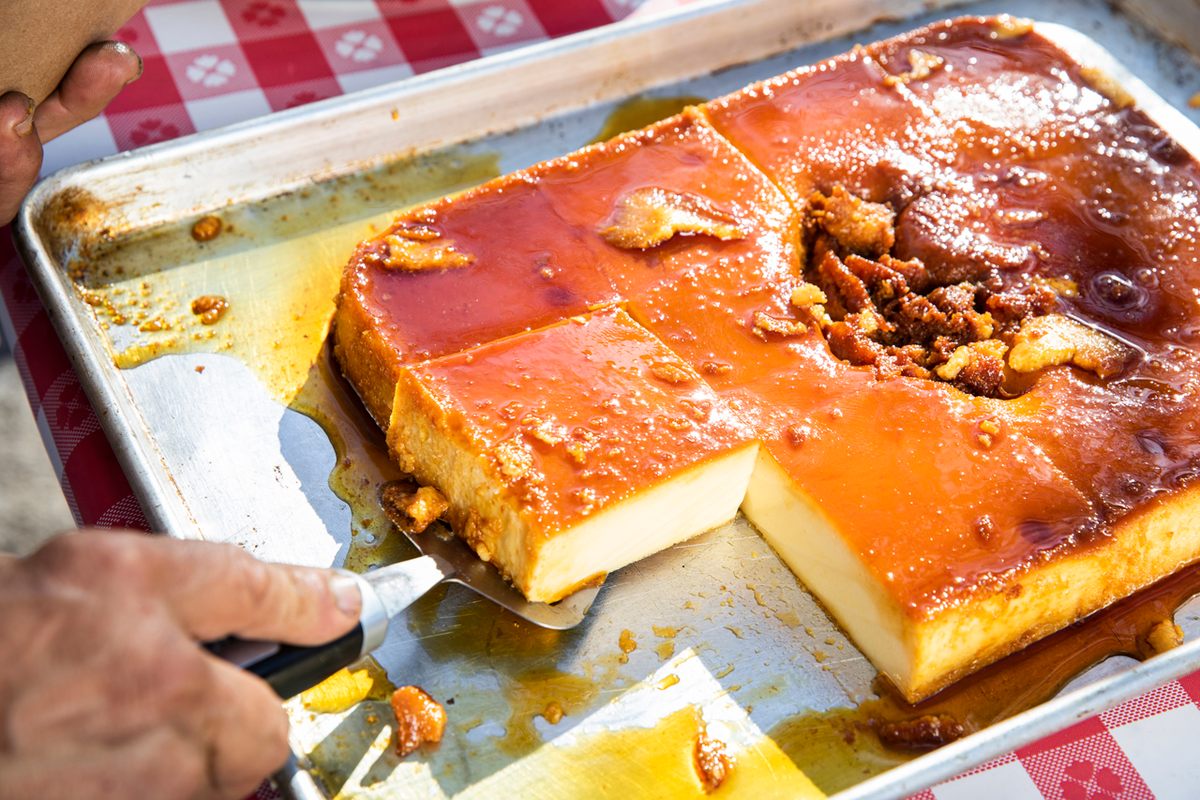 These days Salam and Aseel Bunyan are familiar faces in Boise's international food scene. They work long hours together in the restaurant, whipping up plates of eggplant salad, biryani lamb, and kebab chicken and seating patrons in Tarbush Kitchen's brightly painted dining room among framed photos from Iraq. Occasionally Salam brings out a little more food—an extra few dolmas or another helping of hummus—to a table if he feels they're still hungry. "But I don't charge more," he says. "Most of the people here are my friends." (Salam and Aseel spend their day off with any mix of their three college-age kids, so the bulk of their non-family social time takes place at the restaurant.) Bunyan's image even greets visitors coming through Boise International Airport's immigration and customs, alongside a potato farmer and a skier. "The photographer chose me to represent refugees," says Bunyan. "Making the dream."
The Bunyans aren't alone in turning their dream into a reality. Immigrant- and refugee-run eateries dot the Boise landscape citywide, from West Boise's Capital Asian Market, which opened in 2018 as part of the larger Idaho Asian Plaza (a sort of Chinatown-like shopping center), to North Boise's Kibrom's, which is Idaho's first Ethiopian/Eritrean restaurant. At Sunshine Spice Bakery & Cafe, in Boise's Morris Hill neighborhood, patrons sip strong cups of Turkish coffee and snack on walnut baklava served up by Homeyra, Bahar, Narges, and Khatera Shams, four Afghani sisters who immigrated to Boise to pursue their education. There are also food trucks such as Boise's Machu Picchu Peruvian Food Truck, which dishes out pork-stuffed tamales and chicken empanadas alongside glasses of chicha morada (made from the purple corn of the Andes Mountains).
"There are a lot of people just like me that are doing really neat stuff here with local fare and their own cuisine," says Noel Argote-Herrera, proprietor of Adelfa's Comida Cubana, a mobile pop-up that is actually a 10' x 10' tent with enough room for a propane stove, the day's ingredients, which often includes black beans, green plantains, and beef that Argote-Herrera pre-cooks in a commissary kitchen, and a CD player spinning endless Cubano tunes. "It's so cool to see."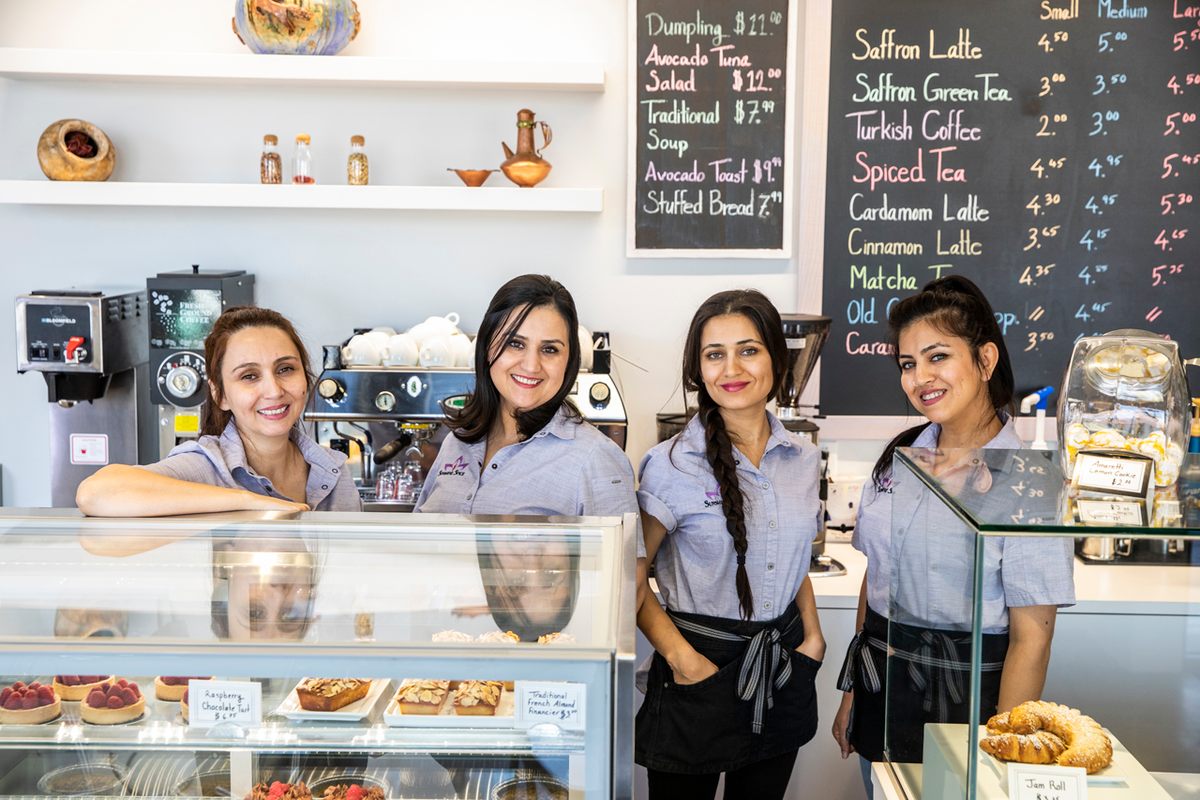 Argote-Herrera was born in Cuba, but he's been living in the United States since 1970. He immigrated to Miami, Florida, before eventually moving to California and ending up in Boise for work. He opened Adelfa's Comida Cubana (named for his late mother) in 2019, and had what he calls eight good months before the pandemic hit. "Many of the festivals that I was going to be a part of were taken away," says Argote-Herrera. "But the city told me, if you have your licenses and your permits, go curbside wherever you can." Idaho's relatively lax regulations allowed Argote-Herrera to do just that.
Now Argote-Herrera dishes out his Cubano cuisine—daily specials that include lechón (pork), pastelito de guayaba (guava pastries), tostones, classic black beans, picadillo (a traditional Cuban dish made with tomato sauce, white wine, raisins, and veggies), and even a Cuban paella—multiple times a week, switching between two local breweries and Boise's North End neighborhood, where he also resides. "This past year especially, the Boise community has made it a point throughout 2020 to come out and support businesses like mine," Argote-Herrera says. "It's been incredible."
Bunyan agrees. "We've been very busy at Tarbush Kitchen," he says, "even through Covid-19."
More than anything, it's Boise's proactive approach to supporting refugees and immigrants that's driving the city's increasingly multicultural food scene. "Boise prides itself on being a welcoming city," says Wolfson. "Here, you walk down the street and people say hi to you." Another strong supporter: Micron Technology, Inc, a leading producer in the field of computer memory and computer data storage whose Boise campus, says Wolfson, "is like stepping into the UN. There are so many languages being spoken, and they thrive on this diversity." While Boise is not immune to the country's changing tides, says Wolfson ("For a while there, America's core values sort of got swept under the rug"), the majority of local residents are doing what they can to help their refugee and immigrant neighbors succeed.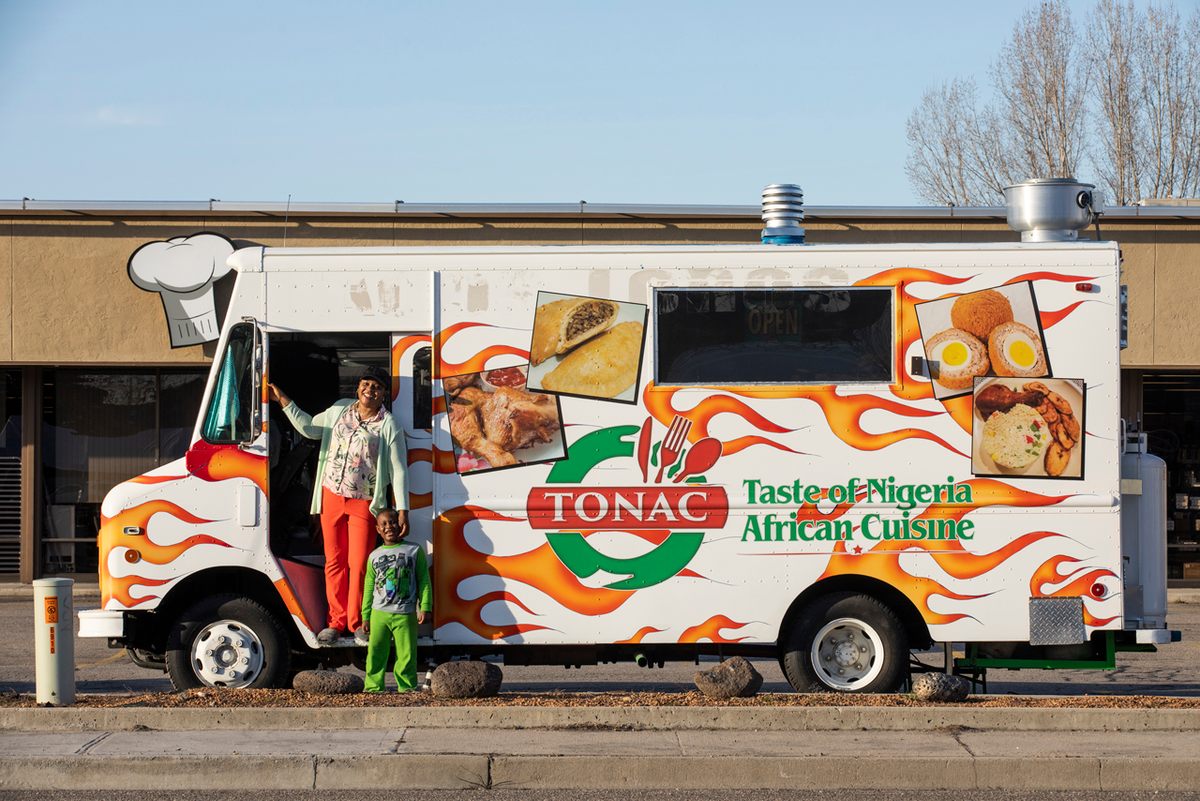 Even before the pandemic, the Bunyans experienced this when the International Market burned down in 2015. (Investigators determined arson was the cause, but Wolfson says they never stated a motive or named a suspect.) It was the community's reaction in the days after that spurred the Bunyans to go brick-and-mortar. "When the fire happened, we received hundreds of donations and flowers to our home," says Bunyan. "You find that all these people love you and love what you're doing. They pushed us to keep going and stay strong."
Now, many of Bunyan's customers are the same people who he and his wife welcomed in those initial days at the International Market. "Within one week of business," he says, "they all returned. It's community support like this that makes Boise feel like home."
Gastro Obscura covers the world's most wondrous food and drink.
Sign up for our email, delivered twice a week.