Meet 'Deadshot Mary,' a 1930s Undercover Cop Superstar
How one NYC policewoman became a media sensation.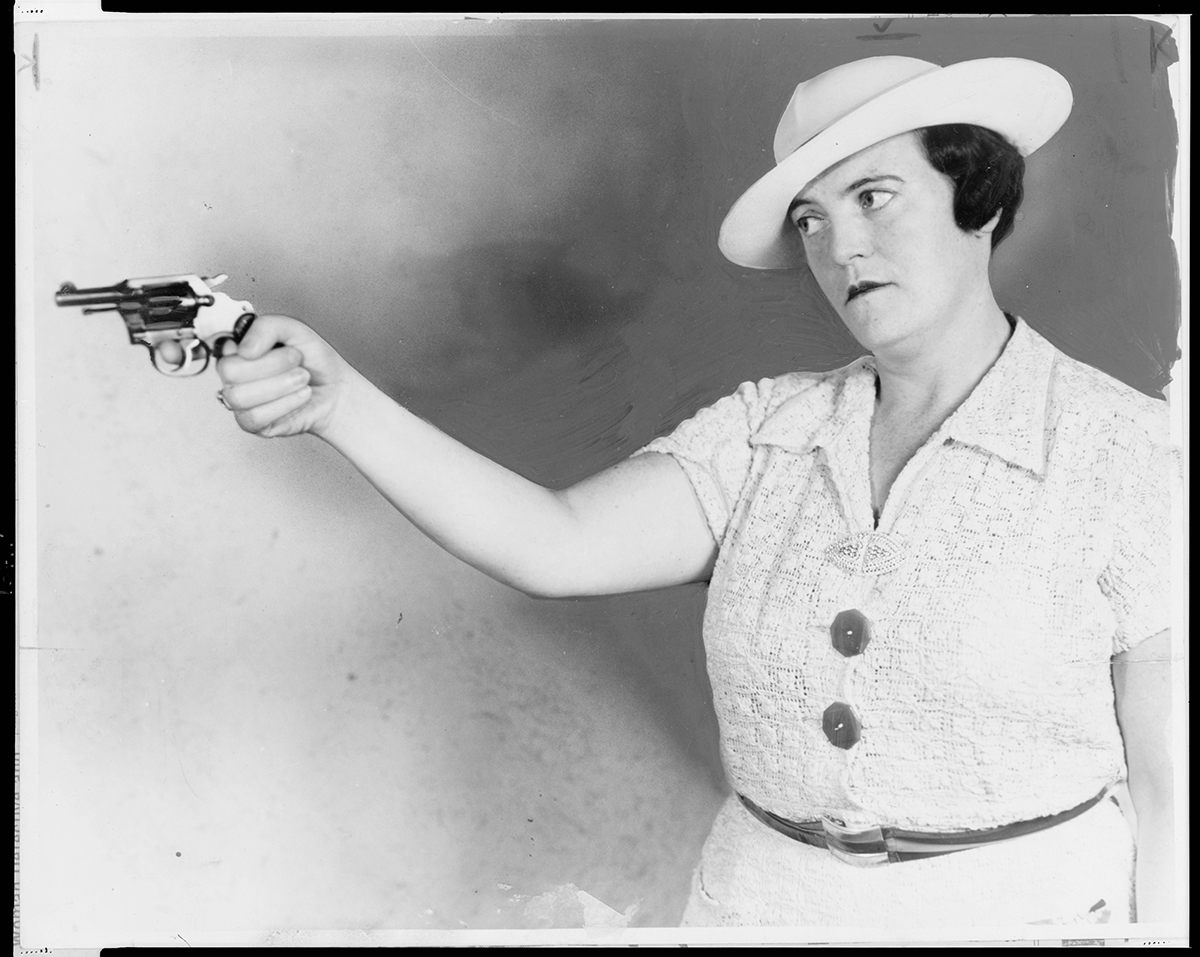 Mary Shanley, New York City detective, photographed in 1937. (Photo: Library of Congress/LC-USZ62-134710)
On June 20th, 1938, pedestrians near bustling Herald Square in Midtown Manhattan were treated to a scene right out of a dime store novel. A well-dressed middle-aged woman was fighting with a man, attempting to subdue him. He pushed her in the face, and she retaliated, knocking him into submission with a swing of her long strapped pocket book. The man was lucky she did not use the gun tucked carefully into the folds of her dress.
The man was a suspected jewel thief, and his captor was an undercover policewoman with the press sobriquet of "Deadshot" Mary. "Well, I got him," she told two patrolmen who had rushed to the scene to help, "and I can take him in myself."
"Deadshot" Mary Shanley was born in Ireland in 1896. Her family immigrated to America, and in 1931, the boisterous and brave Mary joined the NYPD. This was an unusual step for a woman of her time, though not unheard of.
During the first half of the 20th century, policewomen in America often worked undercover, on so-called "women's beats." "They are called upon regularly to trail or trap mashers, shoplifters, pickpockets and fortune-tellers; to impersonate drug addicts and hardened convicts, to expose criminal medical practice, find lost persons, guide girls in trouble, break up fake matrimonial bureaus and perform special detective duty," wrote the New York Times.
For most of her career, Mary would be assigned to the NYPD pickpocket squad. By the time of her retirement in 1957, she would be a first grade detective, with over 1,000 arrests under her belt.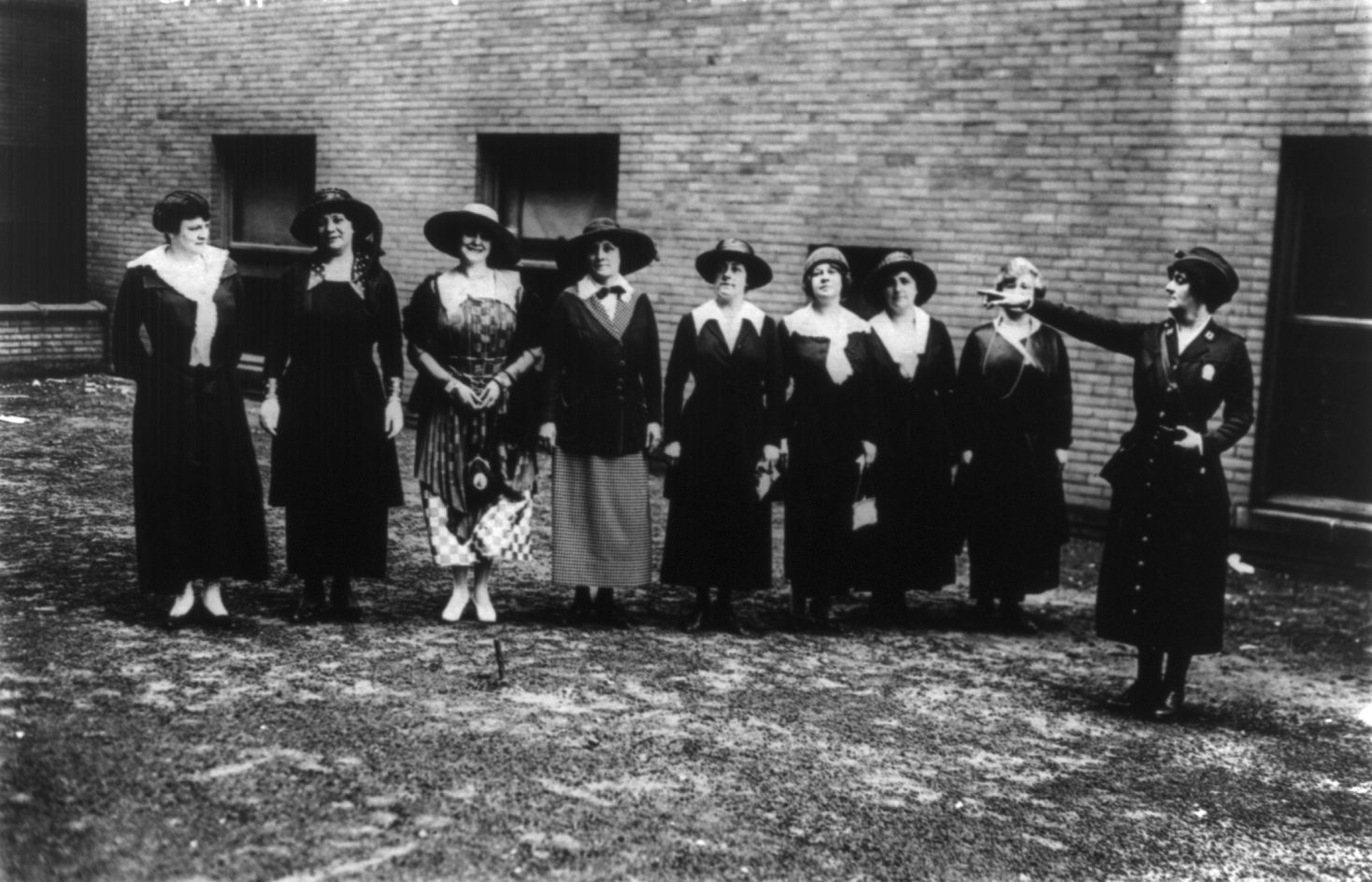 Before Mary Shanley, the New York police women's reserve, 1918. (Photo: Library of Congress/LC-USZ62-53865)
Mary cut her teeth on the force working undercover to catch fortune-tellers who set up storefronts in buildings all across Manhattan. Fortune-telling was illegal at the time, partially because of prejudice against the immigrant communities where it was popular, and partly because it was seen as a swindle most likely to ensnare lonely, vulnerable, white women.
Undercover policewomen would visit the fortune-tellers, and after paying for their readings, arrest them. In 1931, the New York Times reported on Shanley's arrest of a certain ingenious soothsayer named Princess Juniata Flynn:
Policewoman Shanley…unwrapped a striped bandanna handkerchief from the head of the "Princess," revealing a telephone head set resting snugly against her ears. The basket into which written questions were put revealed a false bottom which led to an assistant who telephoned the inquiries to the seer, who would repeat the questions, amazing her clients.
In December 1934, a change came to the NYPD. The 140 or so female police officers on the force were now required to carry guns (the practice had been voluntary before) when they prowled department stores, shopping centers, and crowded entertainment areas. They were issued 16-ounce revolvers, which were half the weight of the guns policemen carried, and were required to take target practice.
"On the practice range in headquarters' basement some of the women have proved more gun shy than others," a reporter patronizingly wrote. "But none has figured in an 'I didn't know it was loaded' mishap. Neither has any hit the bullseye ten times in a row for a perfect 100, though several have broken 80."
A few years later, Mary became the first policewoman in the history of the NYPD to use a gun during a capture and arrest, when she fired into the air while pursuing a racketeer on 53rd Street. Around this time, local papers began to report on her exploits, amazed that a five-foot-eight, 160-pound woman had the strength to subdue grown men, sometimes two at a time!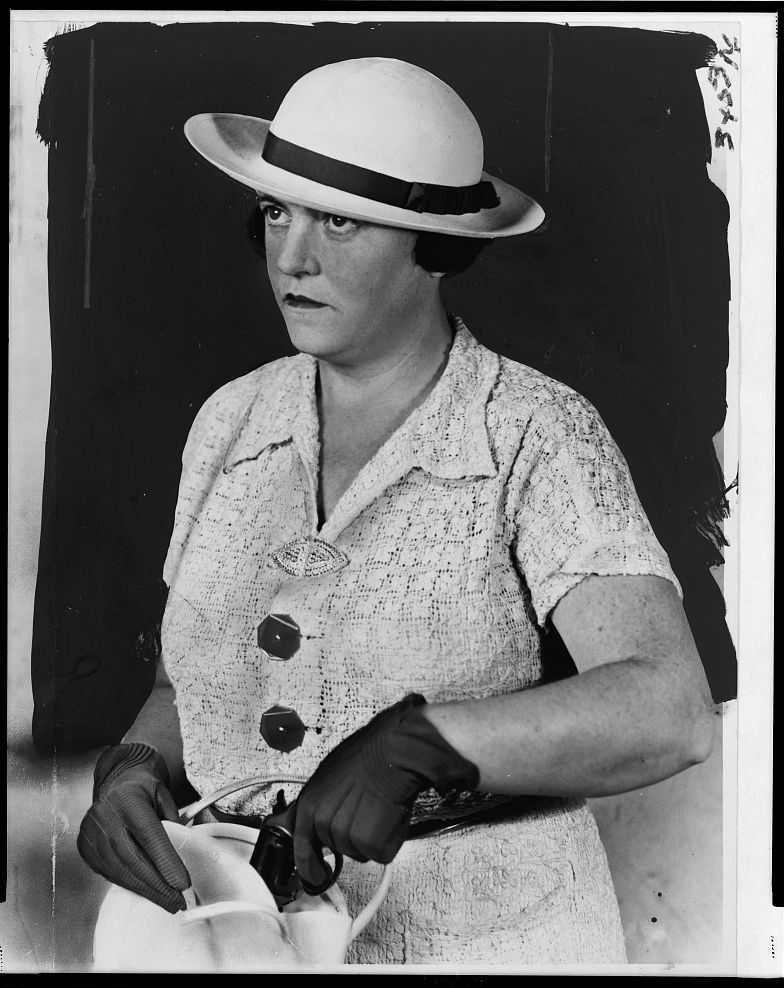 Shanley pulling a pistol from her handbag, 1937. (Photo: Library of Congress/LC-USZ62-134714)
"Mary Shanley ordered two suspicious characters, neither of them weaklings, into the lobby of the Longacre Building in Times Square shortly after 10 o'clock last night," the New York Times reported breathlessly. "They complied, for everything in the policewoman's mien indicated determination–even the firm grasp of her right hand on her service pistol. Searching them in the lobby and finding on them…imitation pistols, she arrested them on charges of carrying concealed weapons."
These cameos in the crime blotters earned her the enduring nickname "Deadshot Mary," as well as comparisons to the legendary sharpshooter Annie Oakley. She became a media darling, sometimes posing for pictures where she looked like a respectable middle-class matron, except for the gun she was pointing directly at the camera. In the Sunday series "Heroines of Today," illustrator Nell Brinkley depicted an idealized Shanley shooting her gun, capturing criminals, and tucked into a stylish bed reading a mystery novel and eating crackers.
Mary also gave many interviews. She told the New York World Telegram that she respected stick-up men, because "at least they pick out places that can afford to get robbed." Overall, she "never felt sorry" for any of the people she arrested. Speaking with the Panama City Herald, Mary described her typical day searching for crooks:
"Detectives assigned to the pickpocket squad aren't given leads," says Detective Shanley, who has red hair and hazel eyes and looks as though she might be a college physical education instructor, "so I start my day by dressing to suit the neighborhood I have decided to work in."

All day long, she wanders through department stores, stands in theater lines, and pushes her way into crowds. Five times a day she reports to the department by telephone. When anyone looks suspicious, she follows him or her, as the case may be. Usually it's a her, for Detective Shanley does her work where there are crowds of women.

"I can usually tell in 20 minutes whether a suspect is legitimate or not. Often when I have a hunch there is something phony about a woman, I trail her a whole day without seeing her try anything funny. If that happens, I trail her home, and then look for her picture in the police files. If I find it, I keep after the woman until I catch her at work."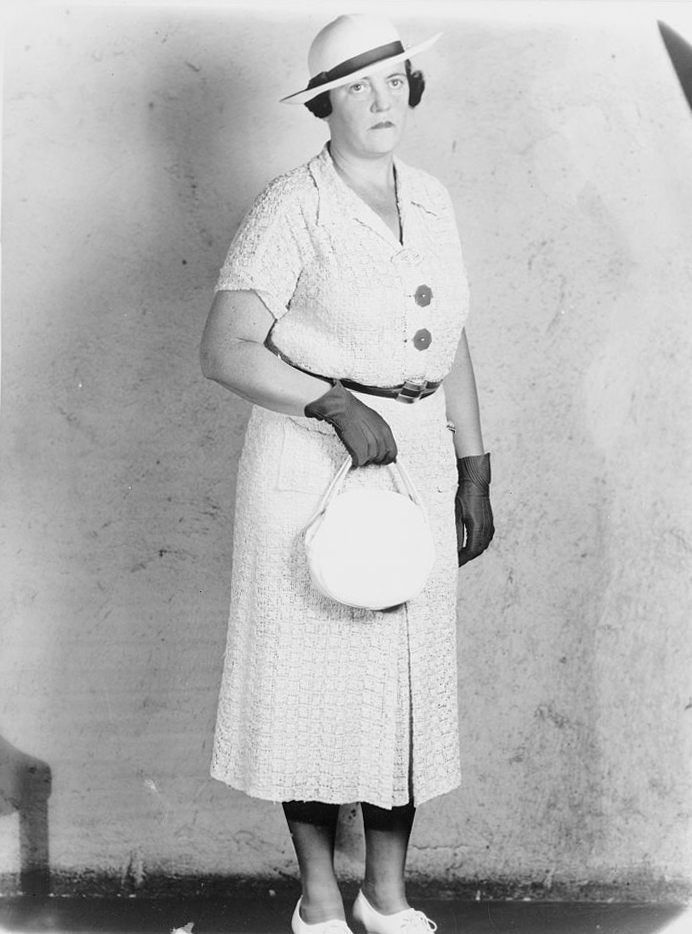 "Deadshot" Mary joined the NYPD in 1931. (Photo: Library of Congress/LC-USZ62-134709)
"She could smell them I tell you," niece Mary Shanley Mullins remembered in the 2006 documentary Sleuthing Mary Shanley. "Macy's loved her. That was a great spot for pickpockets." Sometimes, the policewoman would take her niece to work with her: "I would be a decoy for her. She didn't look like a detective looking for a pickpocket, she was a mother out with her daughter." 
In August 1939, Shanley was promoted to the rank of first-grade detective, only the fourth woman in the history of the NYPD to receive this honor. The year before, the NYPD had offered the first civil service exam for aspiring policewomen. Some 3,700 women took the exam, and 20 were accepted into the Police Academy the next year. There can be little doubt that Mary's recorded feats encouraged some women to pursue law enforcement careers.
According to Mullins, Mary "was not interested in a husband. She enjoyed her life. She had her freedom and her good salary. She was just different. She was very outspoken, very opinionated. She didn't fit in then as well as she probably would now. She was born too soon."
Mary's status as a role model was briefly tested in 1941, when she was suspended for firing her NYPD-issued gun while drinking off-duty in a bar in Jackson Heights, Queens. Mary claimed she had been under a doctor's care after surgery for a job-related injury. She had felt dizzy, ordered a whisky to steady herself and blacked out. Whatever the truth of the story, she was quickly reinstated to her beat.
As Mary got older, she didn't lose her tough edge. In 1950, she was working at a Macy's store in Queens when a 22-year-old mentally ill man burst into the store brandishing a .32 caliber automatic pistol. As customers ducked for cover behind display counters, Mary quietly approached the man from behind, gun in hand, and snapped, "Drop that gun, boy." The gun fell to the floor and the man was arrested.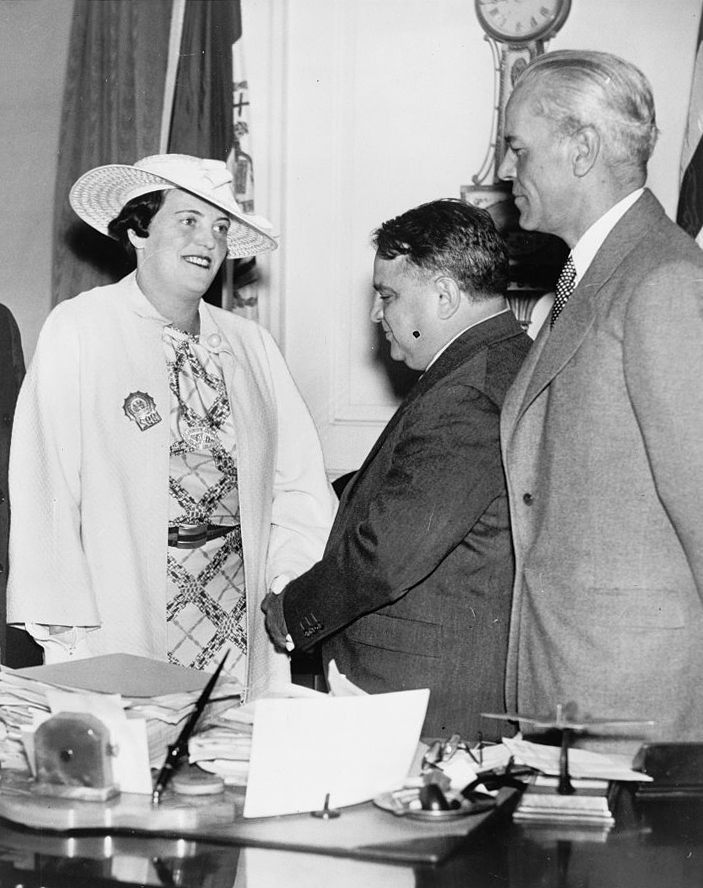 Shanley being congratulated by Mayor La Guardia, 1937. (Photo: Library of Congress/LC-USZ62-134708)
Three years later, she was casing St. Patrick's Cathedral, trailing a woman and man who were stealing pocketbooks at the church altar. When she attempted to arrest them, the woman began to pull and claw at Mary so her partner could get away. Mary fired warning shots to stop the man, terrifying shoppers on Fifth Avenue. This was a signature Mary move–firing her service weapon into the air instead of maiming a fleeing person. (This was before firing into the air became illegal in most states.)
In 1955, a group of matinee theater goers were treated to a vintage Mary arrest. At a screening of a movie called Vera Cruz at the Capital Theater, an undercover Mary noticed a known seat-tipper (a thief who " sees a handbag on an empty seat, tips the seat from the rear with his foot and loots the bag") attempting to steal a woman's unattended purse. At first, the arrest proceeded smoothly:
The suspect accompanied Detective Shanley–she was in her Sunday best, with a pale blue hat and bright earrings lending a gay touch to her gray hair–to the rear of the orchestra. But before she could complete the arrest, the man punched her, broke away and headed down the center aisle. It was at this point that the shots from the Detective's service revolver slammed harmlessly into the floor. Meanwhile, the fugitive did not get far. A retired patrolman, John Duffy…sized up the situation. Dropping the role of spectator, Mr. Duffy grappled with the man and brought him down with no great difficulty.
After a medical check, Mary brought the perp to the station to be booked. "It's exciting," Mary told a reporter in 1937, when asked about her career. "I'd die if I had to go back to working in an office."
Mary retired from the NYPD in 1957, after more than a quarter-century on the police force. She spent the rest of her life in the state where New York Mayor Fiorello La Guardia had singled her out for demonstrating "not only keen intelligence and fine police work but also courage at a moment when courage was needed."
Policewoman "Deadshot" Mary Shanley died at the age of 93, and is buried in Long Island.