This Food Was Once Packaged Military Rations
You can make combat rations look better, but they still won't taste good.
In early 2017, a photographer, a videographer, and a chef whose dad served in the military walked into a bar. Over drinks, Henry Hargreaves, Jimmy Pham, and Chuck George discussed George's military family and the calorie-dense MREs (Meals Ready to Eat) his father would bring home. By the end of the night, Hargreaves, Pham, and George had decided to transform MREs into high cuisine. And document the results.
The sealed pouches of bread, sauce, peanut butter, and crackers in MREs need to last a long time in extreme conditions. Taste isn't the primary consideration. Some soldiers call MREs "Meals Rejected By Everyone." Hargreaves, whose specialty is food art, calls them "gruel." By plating rations as if they came from a Michelin-starred restaurant, the team hoped to highlight the wide gap between "excellent" food and the food given to soldiers.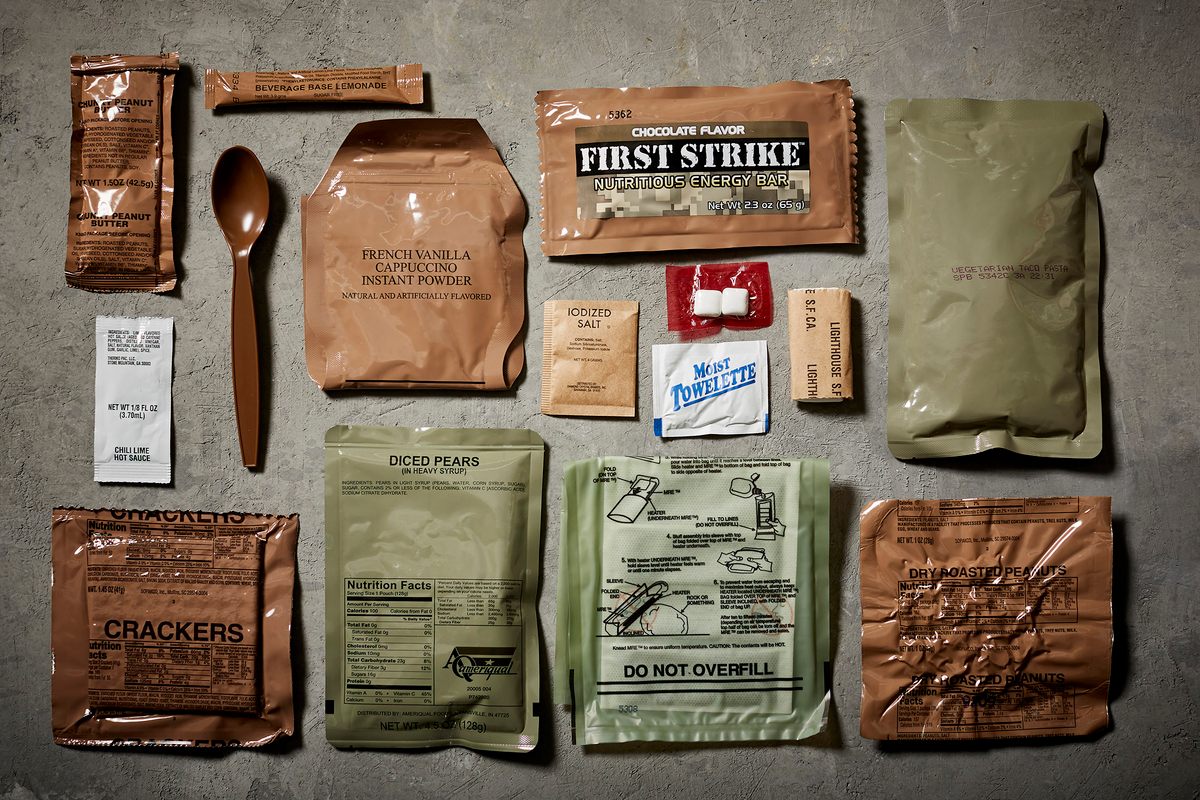 The first challenge was gathering MREs from around the world. Hargreaves says the U.S. frowns on resale of their rations. After all, they're government property. But they found an American MRE anyway—a not-very-tasty sounding meal of vegetable crumbles and pasta with taco sauce. Using eBay and other vending sites, they gathered a collection of MREs from the United States, Europe, and Asia.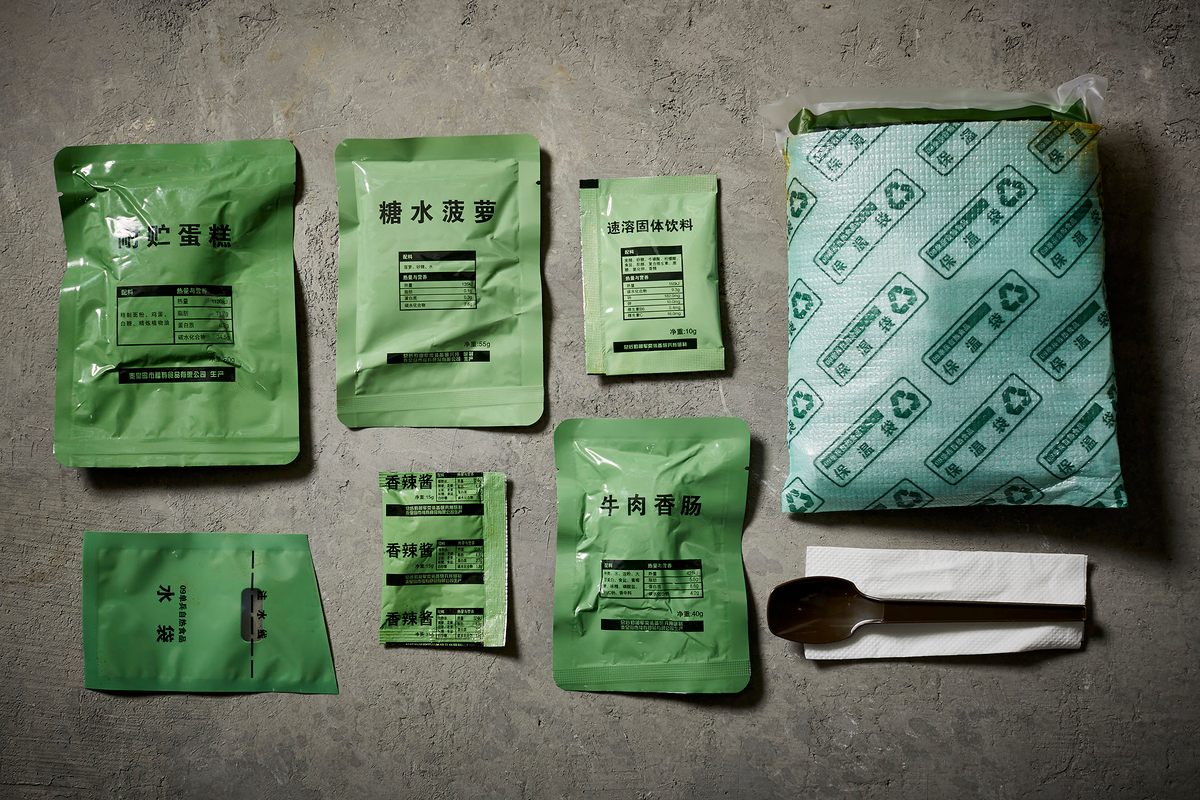 Despite a long search, MREs from countries with smaller militaries such as Hargreaves's native New Zealand were impossible to get. But the team quickly moved on to the next challenge: how to make tins of mystery meat and drink powder look gorgeous.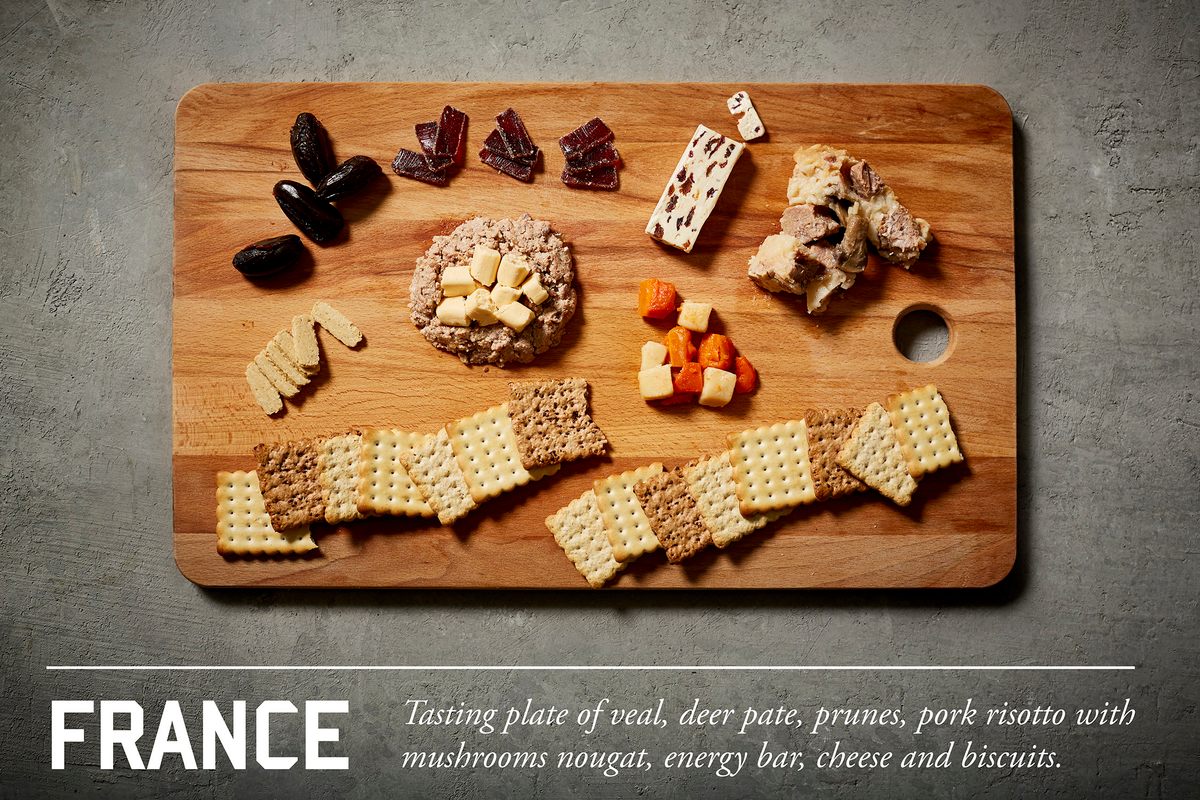 Before they started cooking, the team looked at plate styling practices in the countries of origin for cues. They photographed each MRE in its original packaging, then plated them as an entree and a dessert. But the textures and colors of the foods were difficult to style and photograph beautifully. Unlike the vivid colors fine restaurants use to tempt the eye, MREs tend to be red and brown. Textures are paste-like, all the better to be eaten out of a pouch.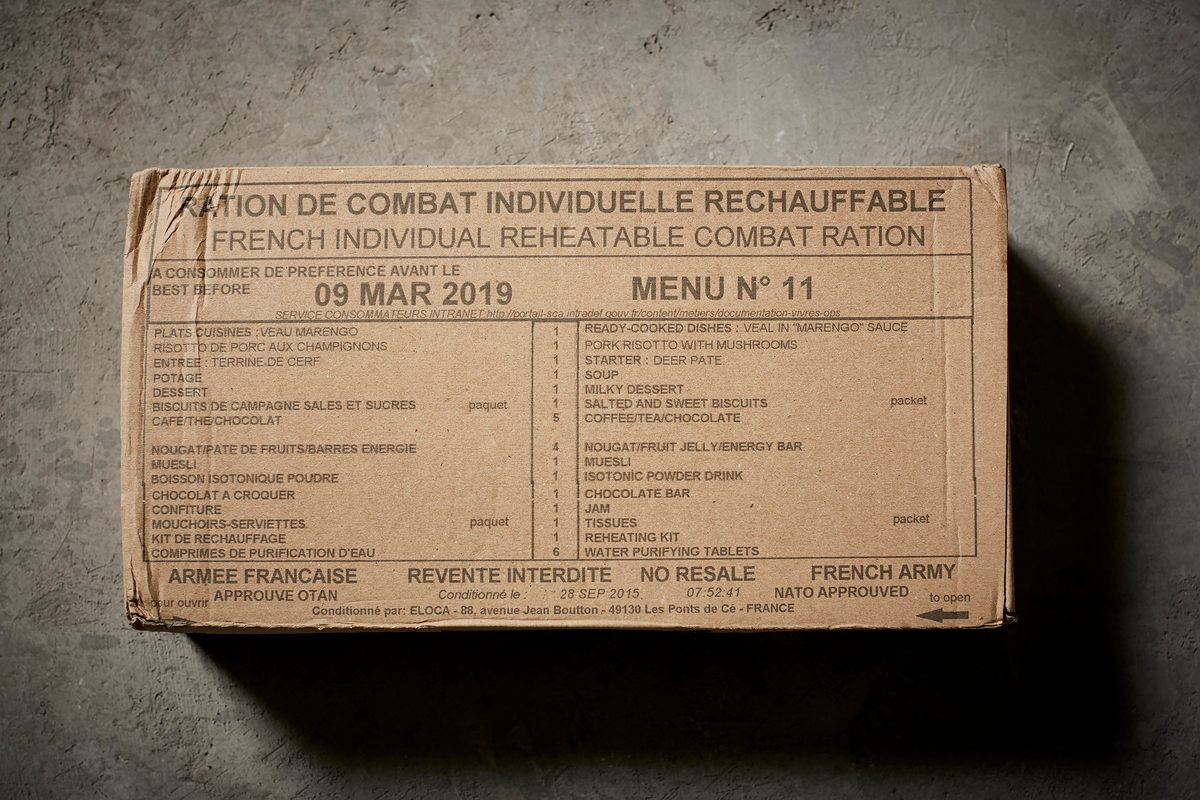 In the end, some dishes look flawlessly Michelin, such as the dessert of pineapple and cake dusted with drink powder from a Chinese MRE. Others, such as the all-American medley of chunky vegetable-taco pasta garnished with decorative plastic, might raise an eyebrow if set down on a white tablecloth.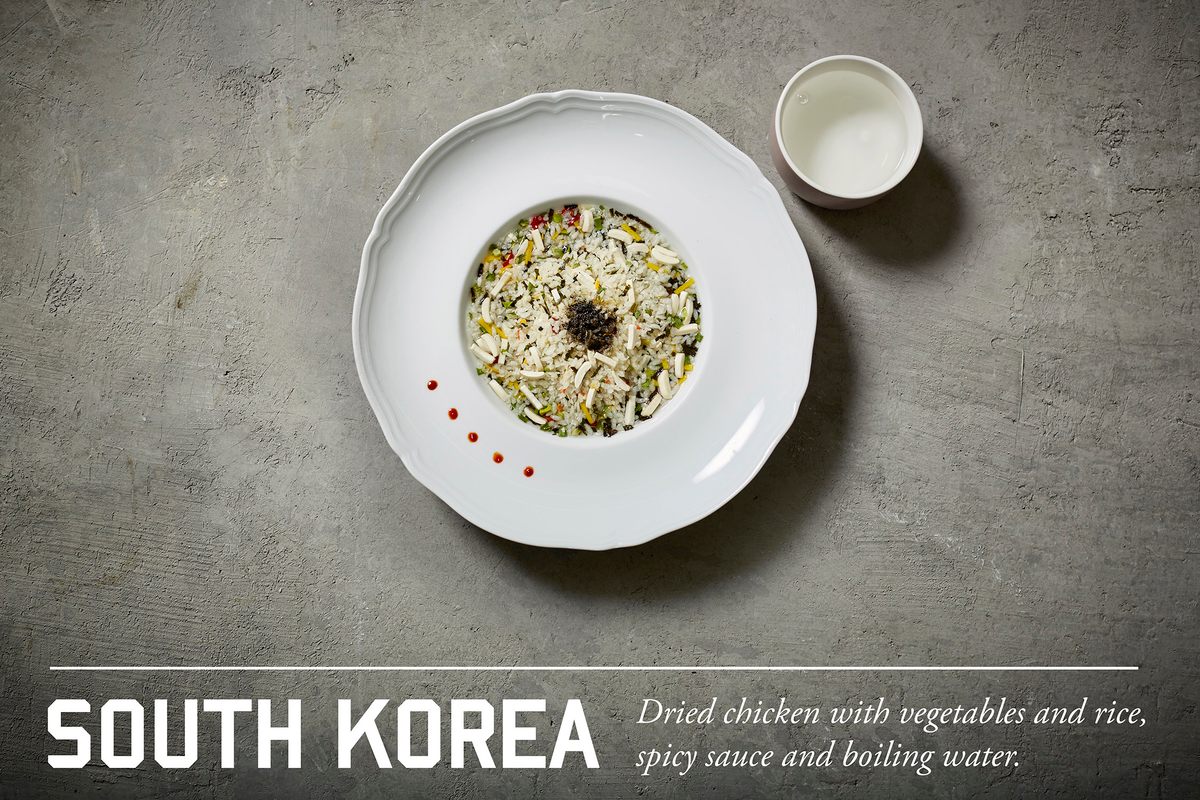 From the Lithuanian energy crystals to the impossibly French tray of veal pate and cheeses, the plates elegantly represent what governments think will best nourish their fighting forces. But I still had a burning question: How did it all taste?
"Basically, all that stuff tastes like dog food," Hargreaves says.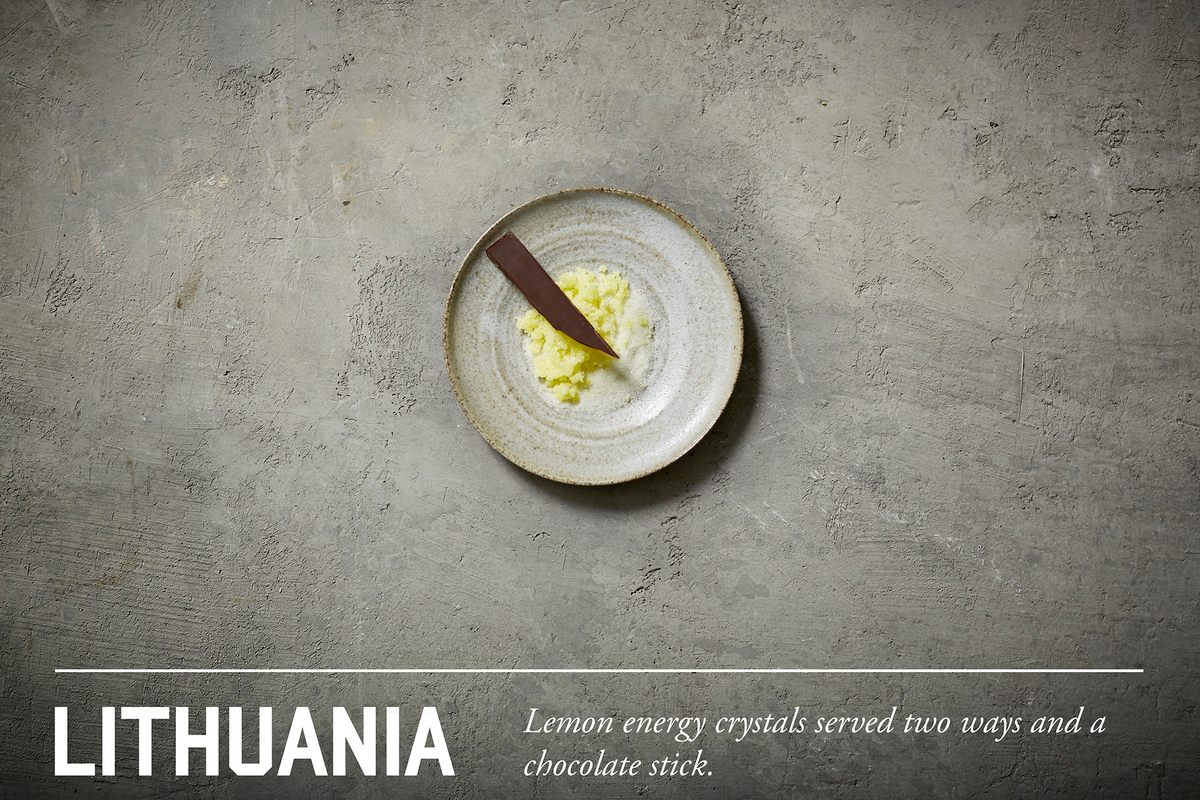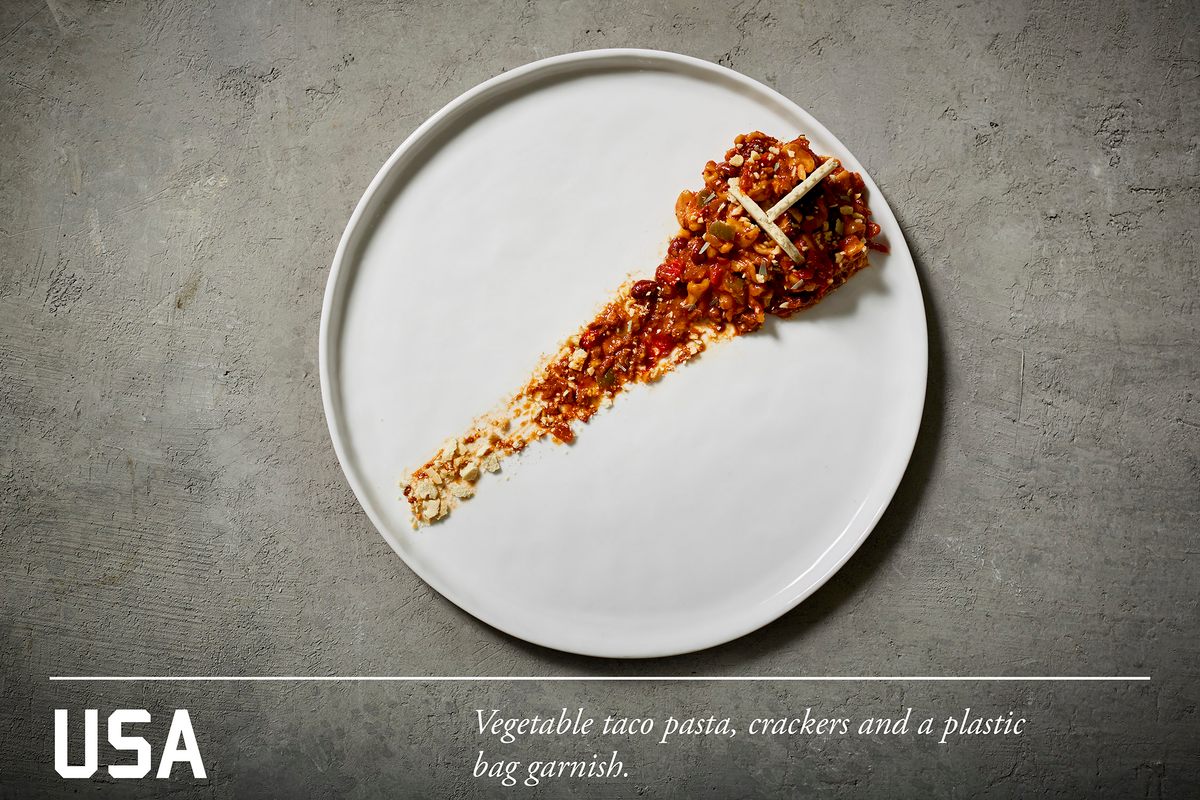 Gastro Obscura covers the world's most wondrous food and drink.
Sign up for our email, delivered twice a week.