A Kiln That Fired Millions of Clay Pipes Was Unearthed Under a Montreal Bridge
Archaeologists recently dug it up—but now they're putting an end to its brief affair with open air.
Since 1930, the Jacques Cartier Bridge has spanned the Saint Lawrence River, linking Montreal with the Île Sainte-Hélène and continuing on to Longueuil. In the autumn of 2019, crews in orange vests and yellow hard hats were working in the shadow of the steel, five-lane bridge, and they stumbled across the remnants of a sprawling 19th-century kiln. Archaeologists say that it once fired millions of skinny, ornate clay pipes that kept Montreal residents puffing away.
The corporation responsible for the bridge and a neighboring one, known as Jacques Cartier and Champlain Bridges Incorporated, had to take stock of what was underground before they could install new drainage ditches, plant some new trees, pave a few pathways, and install some benches, to make the swath of land below the bridge a little cozier and more welcoming. Archaeologists are often called in before a construction project revs up, to consult on what artifacts might be embedded in the soil, and weigh in about how to protect them. In this case, archaeologists suspected that they would come across this huge, old kiln, the largest of its kind unearthed so far in Canada—and they found it, exactly where they thought it would be.
Because clay tobacco pipes were "both fragile and cheap," they are "one of the most commonly found artifacts on colonial and post-colonial settlements in Canada," writes the late Iain C. Walker, an archaeologist who authored more than 20 papers and articles on historic clay pipes, in a 1970 paper in the journal Ontario Archaeology. The pipes were ubiquitous, but easily busted and frequently trashed. Consumers often snapped them up by the dozen, and since they only cost so little, it was no huge loss if they shattered after a single use.
By the 19th-century, clay pipes were mass-produced in England, Scotland, France, and Germany, as well as Canada, Walker writes. The historic garbage still litters the shore of London's River Thames—to the point that when mudlarks canvass the shore for treasures at low tide, the Wall Street Journal reported, the pipes "crack and pop underfoot." Old clay pipes are often traceable to their source, because many manufacturers were in the habit of stamping their name along the stem. "To judge by the frequency of finds, stems marked HENDERSON or HENDERSON'S represent by far the most important marker or makers," Walker writes.
A smattering of pipes marked "HENDERSON/MONTREAL," and flanked by dainty grapes and graceful flowers, have been uncovered in nearby digs over the years. In 2005, Christian Roy, an archaeologist, was working on a dig at the corner of Montreal's Avenue de Lorimier and Rue Sainte-Catherine, and excavated a dump where the factory's workers had heaped anything they couldn't sell. Roy found hundreds of thousands of pipe fragments there, in piles more than three feet thick. There were so many, Roy says, that they couldn't collect them all—but the ones they did salvage are stored in Montreal's archaeological reserve, and are often borrowed by museums.
When Roy tucked in for some archival sleuthing, he found historic tax records, directories, and old maps that revealed that the Henderson factory, founded in 1847 by William Henderson, Sr., had stood on a lot now occupied by the bridge. An insurance map from 1890 even included the pipe kiln itself, as a circular structure about 16 to 19 feet in diameter. "We knew we'd come across it this time around," says Roy. He was hired as a consultant by an engineering firm that worked with the bridge company.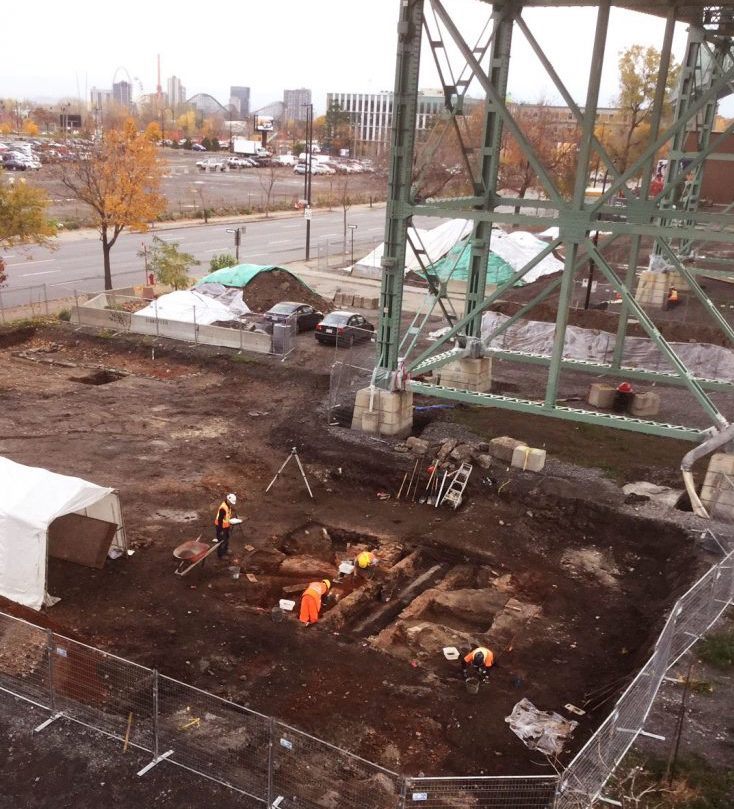 As luck would have it, they found a brick kiln demolished down to its flooring. It's circular, and shot through with narrow chambers. "They're channel-like structures, through which the air would flow into the oven, and other openings where they could put charcoal in to heat up the kiln," Roy says. The Henderson operations were vast: in 1871, the factory's 50 workers, mostly Scottish or Irish immigrants, produced 7 million pipes.
Pipe-making had a long history in the Montreal area. In 1785, a 25-year-old Englishman named Joseph Hadfield—dispatched by a Manchester firm to rove around Britain's colonies and collect debts—visited Quebec, which was then a British property known as the "Province of Quebec." He made note of a location ideal for collecting clay, and thus for making pipes. His reflections, compiled in the book An Englishman in America, were the "earliest known reference to clay pipe manufacture in Canada," according to Montreal's Gazette newspaper.
In the 19th century, the city's manufacturers of clay pipes clustered in the Quartier des Pipiers, whose heart was the intersection of Sainte-Catherine, de Lorimier, Viger, and Dorion. William Henderson's grandsons—two brothers with the last name of Dixon—took the helm of the pipe-making kiln in 1876, according to Jacques Cartier and Champlain Bridges Incorporated. Operations wound down by the 1890s. A forge took the factory's place, and then the land was razed in the 1920s, Roy says, before construction began on the bridge.
The remains of the kiln will go back underground before they get bitten by the Canadian winter. "The mortar between the bricks will fall apart sooner rather than later," Roy says. As soon as water seeps in and freezes, it breaks everything apart." The kiln will be swaddled beneath geotextiles and sterile sand. Eventually, he adds, there may be an interpretive plaque on the site, or an outline laid down on the ground, so visitors can see how big the structure once was. Beneath the bridge, below the dirt, a reminder of the city's industrial past will hang around.