My Mom Grew Up in a Utopian Colony in Iowa
Amana is the tech-savvy religious group that gave us the freezer.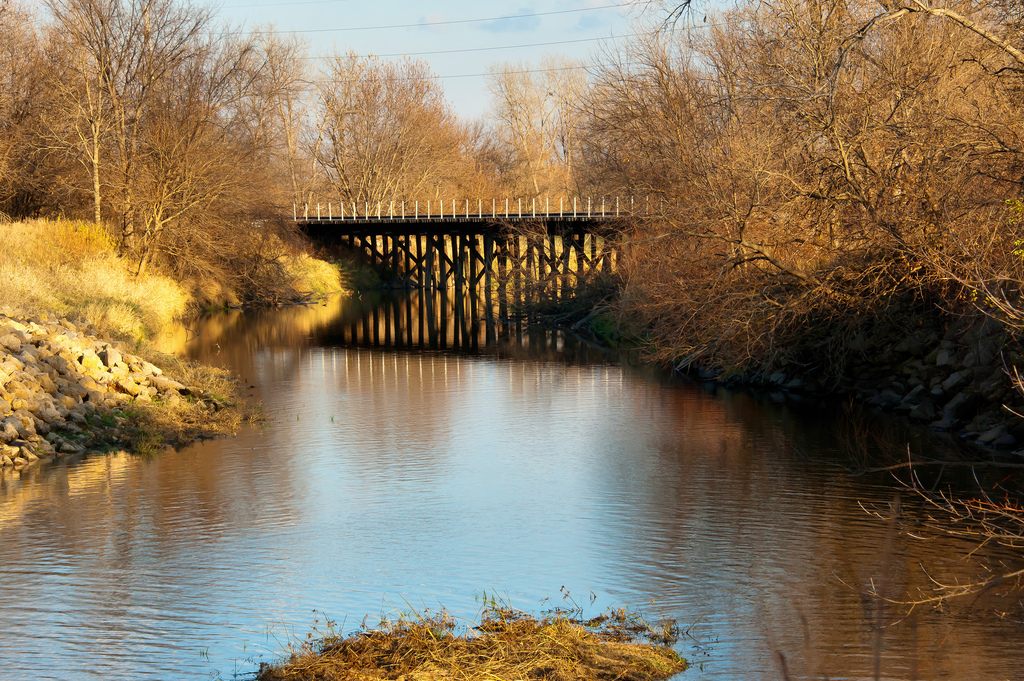 Bridge over Mill Race, the canal that stretches through the Amana Colonies in Iowa. (Photo: Carl Wycoff/CC BY 2.0)

From my hometown of Toronto the drive to Amana, the dismantled utopian colony in Iowa, is 13 hours. I made it often in childhood, stuck in the backseat of my parent's car, running batteries dead in my portable tape player, wondering if the long trip to a weird religious community was worth it.
But always, there was relief after we crossed the Mississippi river into the green rolling hills of my mother's home state. "I feel better once I'm in Iowa," she has said so often that I've come to believe it too. Most familiar of all to her is Amana, where she grew up, and where postcards of our family are still sold in the General Store: my great grandpa in front of a truck circa 1918, cousins hiking by the Iowa river, an aunt sorting cabbages.
If Amana sounds familiar it may be because it's the name of your fridge or microwave. Although the Germanic religious group embraced separatism and outdated fashions in a similar way to the Amish, the Amana Society has always had a comfortable relationship with technology.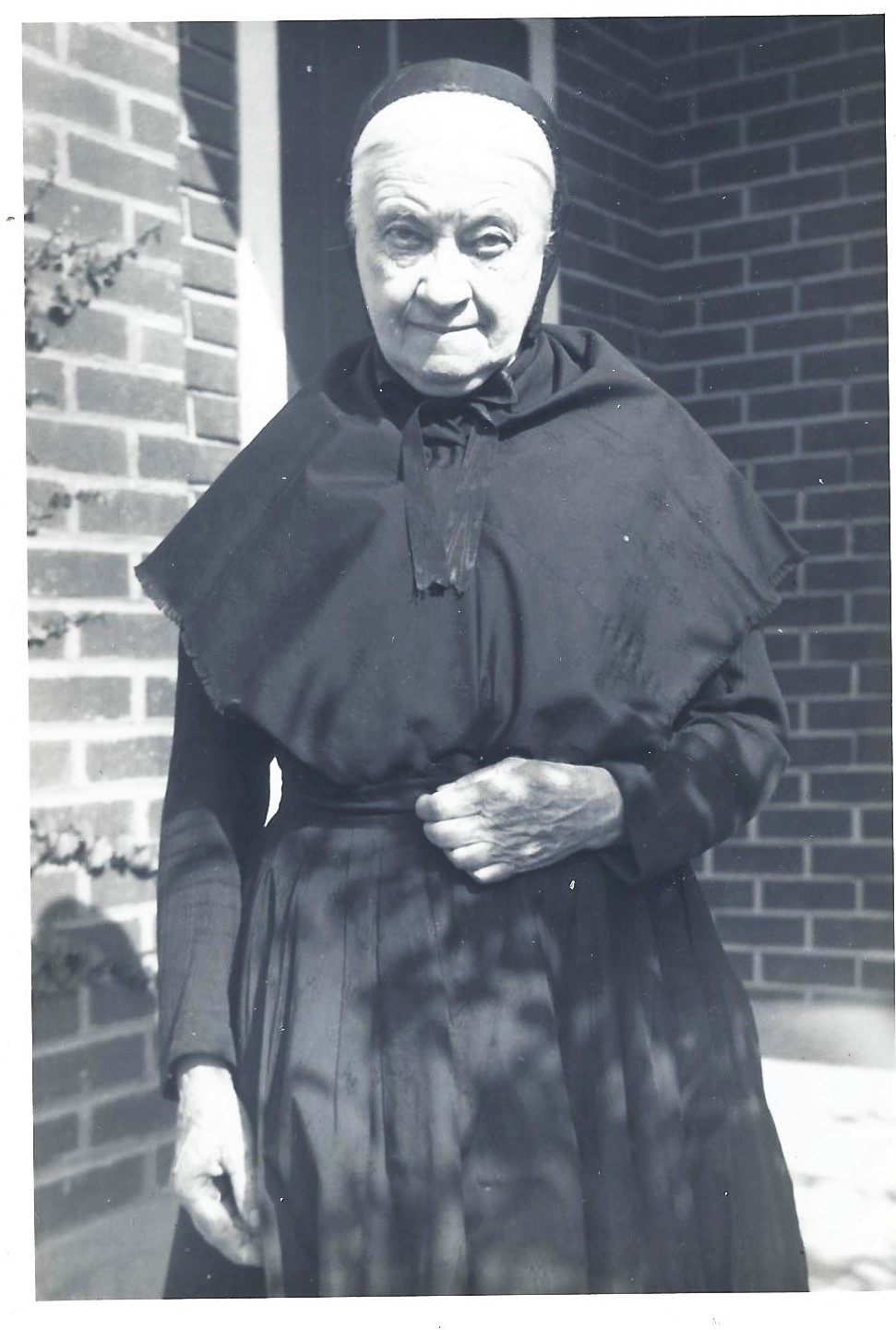 Gordon-Moershel's great-great grandmother. (Photo: Courtesy Ellie Gordon-Moershel)
In 1855, the Amana Colonies were founded by a Pietistic German religious sect called the Community of True Inspiration. The founders were communal pacifists attracted to America for its religious freedom and to Iowa for its fertile soil. This soil was made available by earlier treaties designed to drive out the Meskwaki Nation to make room for white settlers.
The seven villages that make up the Amana Colonies are grids of several dozen to a couple hundred houses surrounded by farmland—except my mother's village of Homestead, which is one long street, "just like Las Vegas," as a village Elder once joked. With a population of just 148, my mother knew everyone.
She grew up in a large brick house in front of the railroad track. Amana homes were built to hold multiple generations, and when my mother was born there were eight people living in her house. Her father, my Opa, served in World War II. He made it home after the war but died a few years later due to complications from the malaria he contracted while overseas, leaving my Oma with two daughters, ages 6 and 3.
"My father died and things were tight financially as a result," my mother recalls, "but we were comfortable because we had the support of the community and this big house."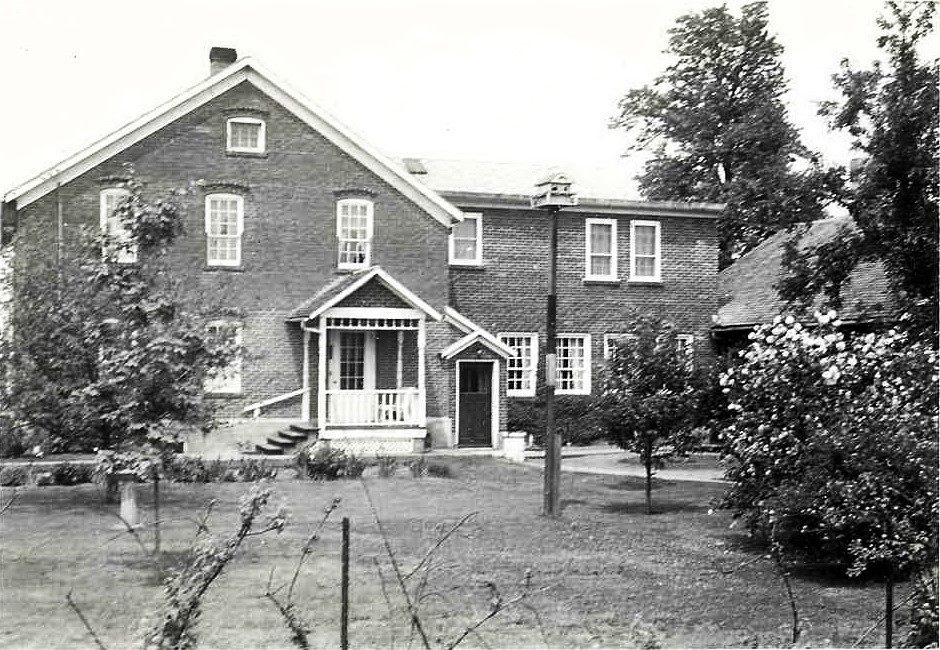 The homestead. (Photo: Courtesy  Ellie Gordon-Moershel) 
The house is a legacy of Amana's communal roots. During communal times members were provided with housing, food, daycare and schooling for children, and a line of credit at the village stores for shoes, clothing and sundries. In exchange, all members from age 14 were assigned jobs in their villages. Farming, wool and calico sustained the community as did their craftwork; handmade rocking chairs and grandfather clocks are still an attraction for tourists.
Not surprisingly the strict uniformity had its downsides. In the communal years the village Elders forbade culture practices that seemed at odds with a simple life in devotion of God. Anything deemed "worldly" was a no go. This included baseball, haircuts for women, and photography.
As isolation from the outside world became harder to maintain, some of the Amana leadership turned a blind eye to certain activities if engaged in discreetly. Covert baseball diamonds were carved out in pastures behind town and these secret baseball leagues even produced a pro-league pitcher, Bill Zuber, who went on to the New York Yankees.
My great-grandmother was one of the first women to cut her hair. "Oh, I was frightened," my Oma recalls, of how her grandfather, a town Elder at the time, would react.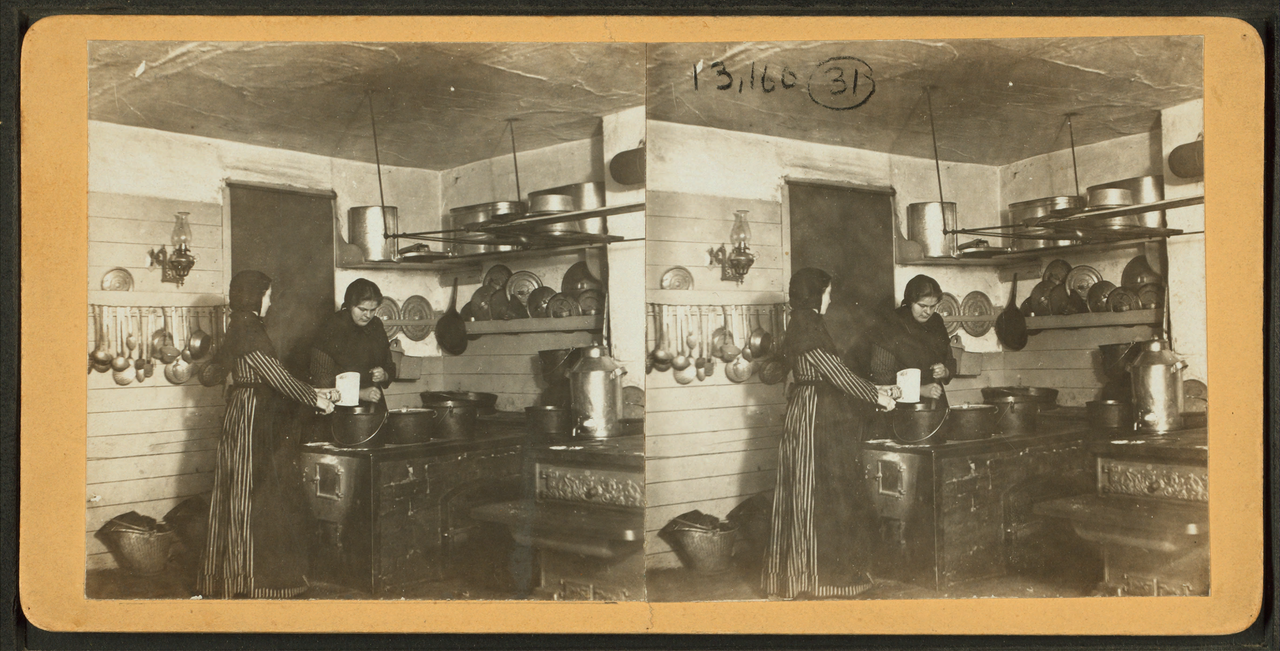 A stereoscopic view of an Amana community kitchen, c. 1907. (Photo: New York Public Library/Public Domain)
The desire for these worldly pursuits are cited as part of what sparked "The Great Change." It was 1932 and the leadership decided, almost 80 years after Amana's founding, to abandon its communal system. Members of the community gained ownership of their homes. The bulk of land and economically viable businesses were consolidated into a new corporation and shares of stock were issued to all community members.
It was decided that the corporation would cover lifetime healthcare costs to people born before 1932 and their children until they came of age. "I realized later that what Amana provided us was socialized medicine," my mother says. "What a blessing that was."
Just after the Great Change, the son of the High Amana General Store proprietor, George Foerstner, began to manufacture beer coolers and frozen-food lockers for farmers. He sold the little business to the Amana Corporation, and soon the company expanded into personal freezer units for the home, introducing the first upright freezer in 1947. Two years later it debuted a combination refrigerator-freezer. By 1954 the company was making air conditioners, too.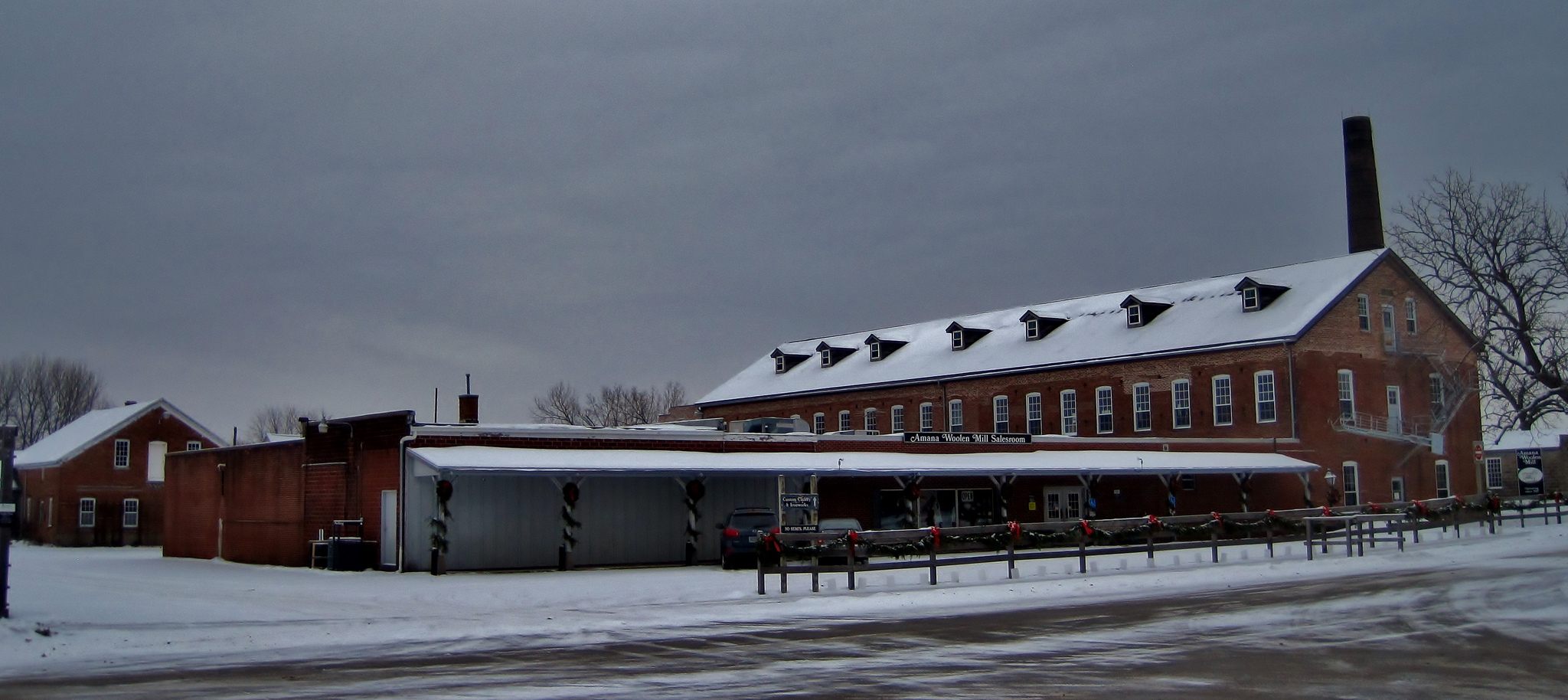 The Amana Woolen Mill in winter. (Photo: Teemu008/CC BY-SA 2.0)
For many years, the name "Amana" was also synonymous with microwave ovens; after being acquired by the Raytheon company, the company became known for a then-novel idea: the home microwave. The invention revolutionized the late-1960s kitchen, and ushered in a new approach to cooking. Amana dishwashers, countertop ranges, and washer-dryers soon followed.
For a long time I thought the Amana appliances had nothing to do with my mother's hometown. It seemed impossible to me that the modest community where my relatives lived could have influence elsewhere. Even now I find it kind of baffling that on eBay you can buy a vintage 1948 poster of Groucho Marx posing with an Amana freezer. (The company is now owned by Whirlpool.)
Even as the community cemented its reputation for technological savvy around the globe, life in town stayed rooted in religion. Services were led by a town Elder, a layperson chosen from the community. "There was no 'I am the voice of God,'" my mother says. "It was personal reflections; they were ordinary people."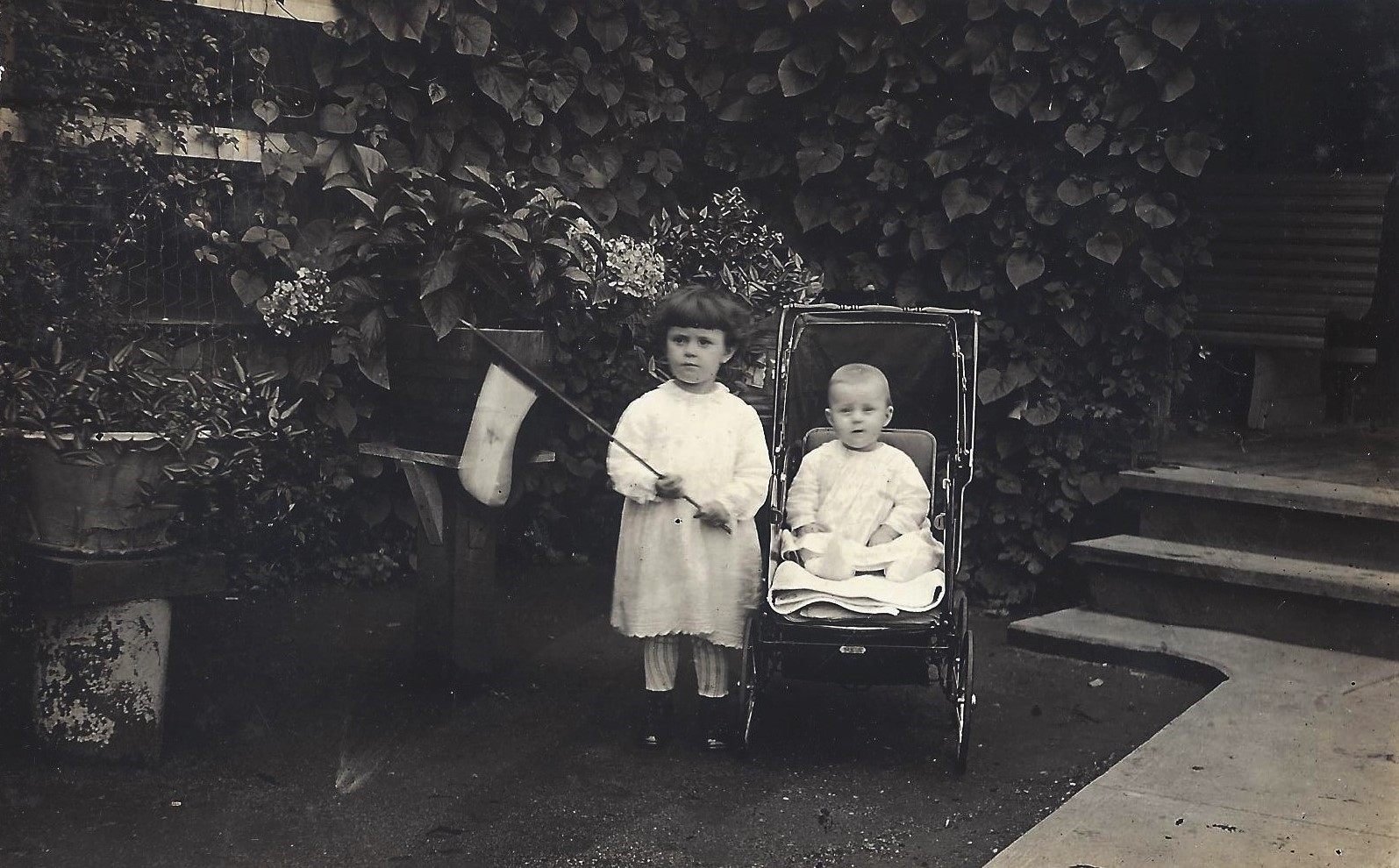 Gordon-Moershel's grandfather and great-aunt. (Photo: Courtesy  Ellie Gordon-Moershel)
The Amana church believed that any follower of God could become "inspired" and used as God's instrument, or "Werkzeug." The last Werkzeug was an illiterate innkeeper's helper named Barbara Heinemann, who delivered divine testimonies that are still read in the Amana church today. Though there hasn't been a Werkzeug since Heinemann's death in 1883, my mother couldn't help but wonder what would happen if she suddenly became inspired and delivered testimony in front of everyone. "I'll be so embarrassed," she thought as a teenager.  
Having had enough of small town life my mother left for the East Coast after high school. I ask her if she's ever felt self-conscious about her roots. "No, no. Not at all," she says without pause. Despite some community shortcomings, like women not being allowed to be Elders until the 1980s, the core Amana belief in striving for equality across the board is something my mother still carries.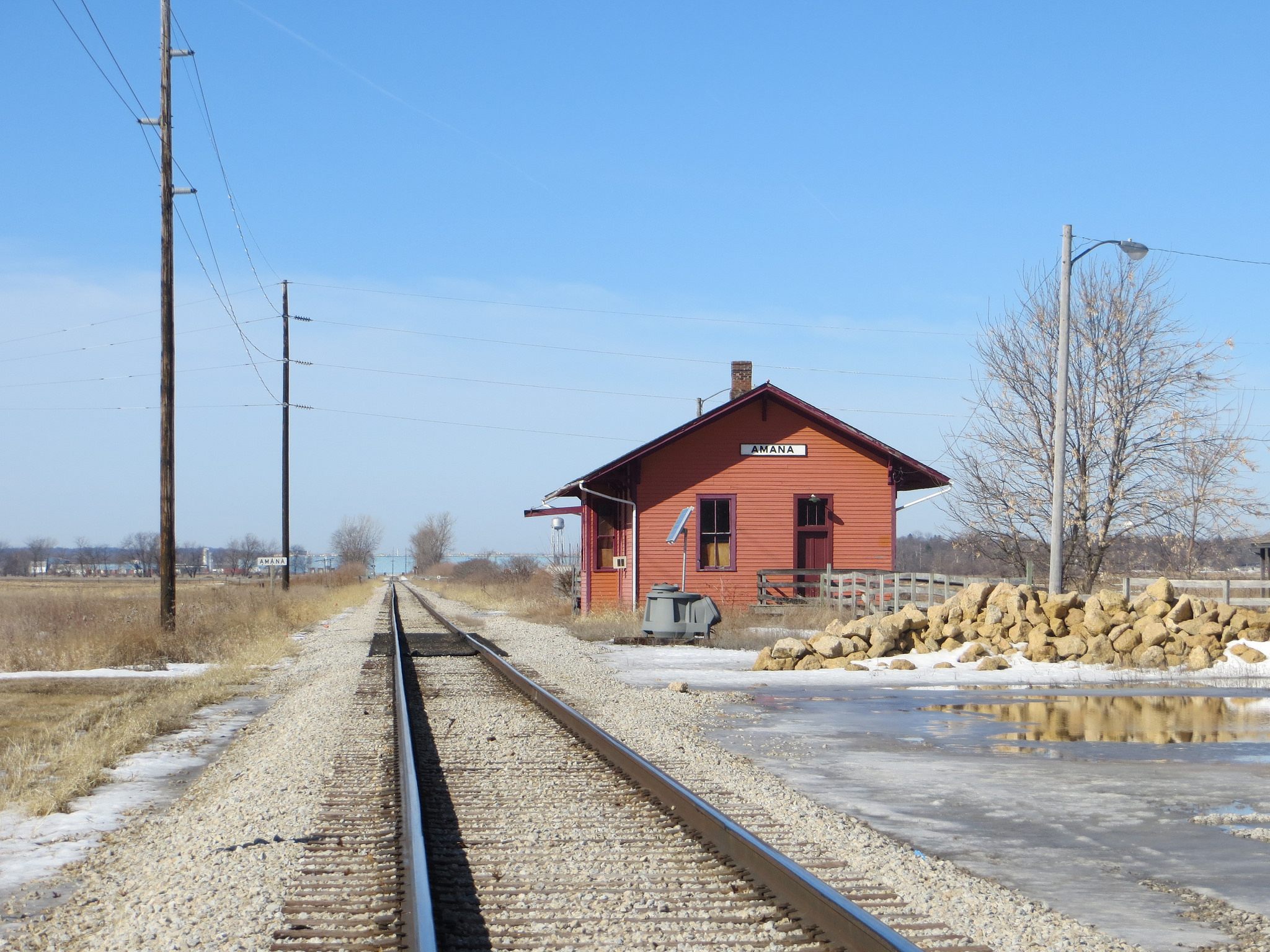 The railroad by Main Amana. (Photo: David Wilson/CC BY 2.0)
Admittedly, part of the reason I asked her is because I used to feel some embarrassment about my family roots in a former utopian community that most people either associate with microwaves, or mistake for the Amish. Now I'm grateful for the simplicity of Amana. My favorite Amana meal is called matte (pronounced "mahda") which uses four ingredients: boiled potatoes, butter, cottage cheese, and sour cream. And, if you're not going on a date later, says my Oma, you can put onions on top.
The resistance to excess and materialism also informs the community's approach to death. Every town has its own cemetery, tucked away and lined by pine trees. Each gravestone is the same: a small, plain, cement marker. There are no family plots. People are buried in the order they die. "Walking through the cemeteries you have a chronological rhythm of the life of that community," my mother says. In the Homestead cemetery her father and Opa happen to be buried next to each other because they died six weeks apart.     
These peaceful graveyards are some of my favorite spots in the Amana Colonies. They are testament to a modest, hard-working group who did their best to provide for all, and ended up giving the world some of its most beloved appliances.