Nelson Mandela's Prison Cell, Through His Eyes
The drawing is one of more than 20 original artworks by the Nobel Peace Prize recipient.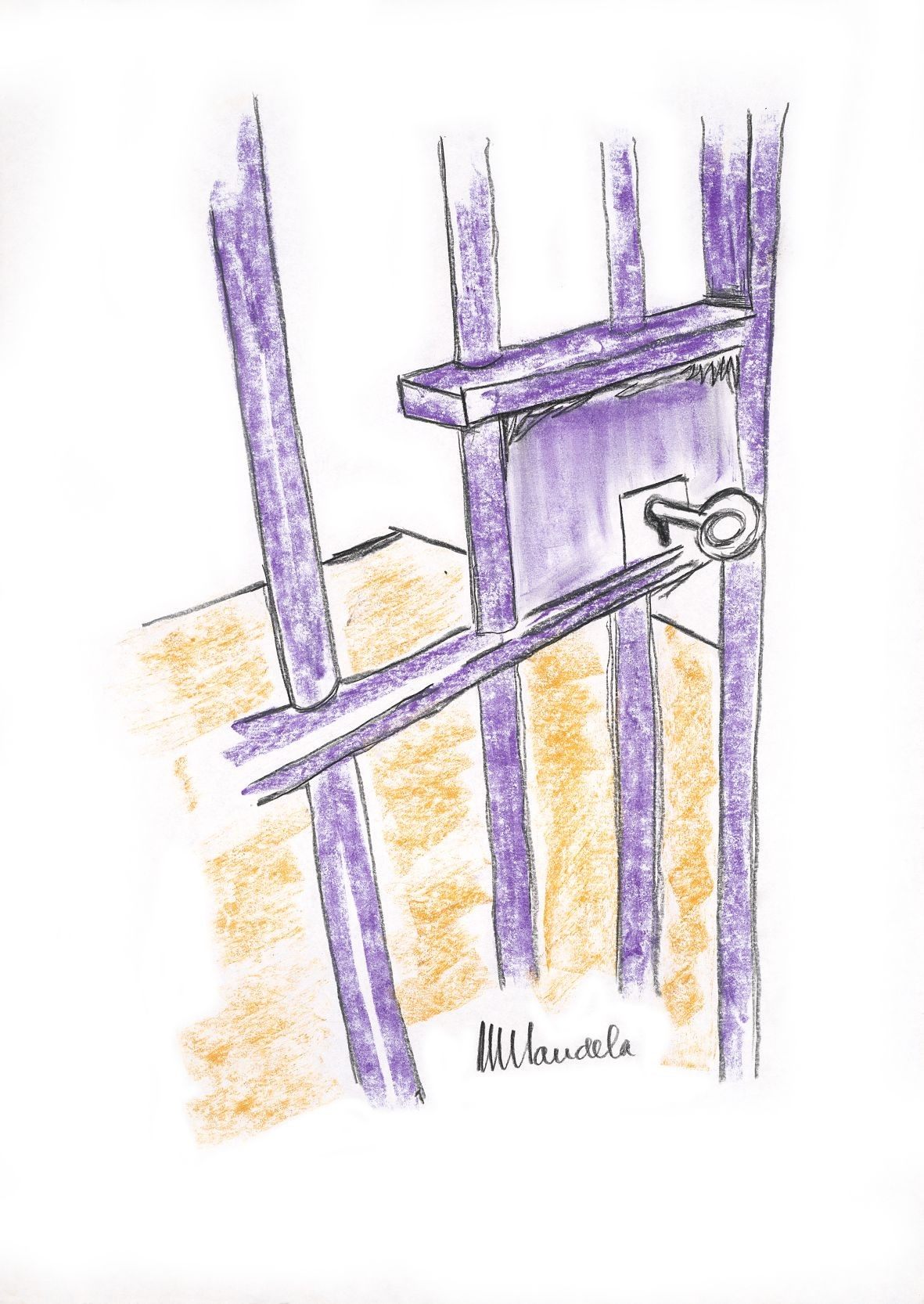 Before becoming the first democratically elected president of South Africa, Nelson Mandela spent 27 years in prison for his efforts to dismantle the brutally oppressive apartheid system. As Mandela sat in his cell, both his mother and his oldest son passed away. He was forbidden from attending either funeral.
But Mandela, it seems, only drew more strength from the injustice he endured at Robben Island, where he was incarcerated for 18 of the 27 years. "Today when I look at Robben Island I see it as a celebration of the struggle and a symbol of the finest qualities of the human spirit," wrote Mandela in 2002, "rather than as a monument to the brutal tyranny and oppression of apartheid." These words accompany a collection of original drawings called "My Robben Island," composed by Mandela after his presidency ended and he took up formal artistic instruction.
One of Mandela's drawings from this period, "The Cell Door," was excluded from that collection and another that followed, but is now front and center as part of Bonhams's upcoming auction of Modern & Contemporary African Art. The wax pastel crayon drawing will be the first of Mandela's artworks to be auctioned, and it is expected to sell for between $60,000 and $90,000.
The drawing frames Mandela's Robben Island cell from the outside, emphasizing the artist's freedom from a space which he was not previously allowed to leave. Giles Peppiatt, Bonhams's Director of Modern and Contemporary African Art, points out that the drawing's focal point is "the symbolic key in the lock, showing hope where previously there might have been none…" Some of Mandela's other drawings provide other views of the prison, including the inside of the cell and the guard tower, shrouded in barbed wire.
In an email, Peppiatt says that Bonhams is selling the piece on behalf of its current owner, Mandela's eldest daughter Dr. Pumla Makaziwe Mandela. The proceeds, he adds, will go to the Mandela family. Dr. Mandela said that art helped her father "come to terms with his history" after his presidency ended; his work makes clear how determined he was to reclaim that history on his own terms.
"It is true that Robben Island was once a place of darkness, but out of that darkness has come a wonderful brightness, a light so powerful that it could not be hidden behind prison walls, held back by prison bars or hemmed in by the surrounding sea," wrote Mandela. "I have attempted to colour the island sketches in ways that reflect the positive light in which I view it." Perhaps that's why the prison bars depicted in "The Cell Door" are not grey, but a tranquil and even regal purple.