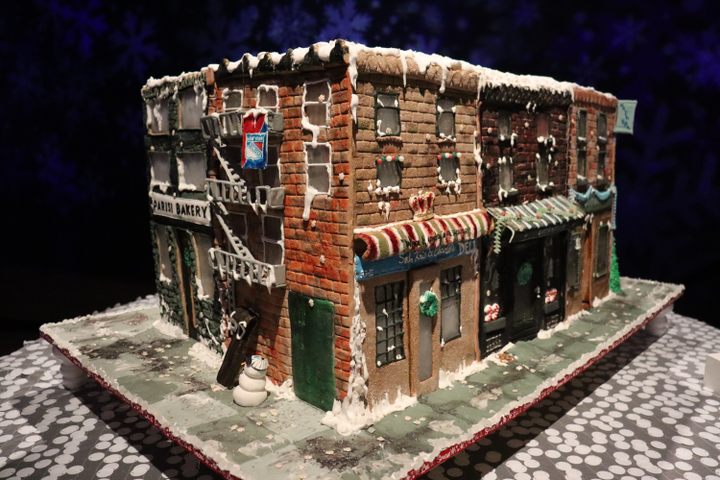 The Bakers Transforming New York's Buildings Into Gingerbread
Not a gummy bear was spared during the Great Borough Bake-Off.
Spread across round tables in a dimly lit room in Manhattan's Upper East Side, New York City lives in sugary miniature. On one table, a Brooklyn brownstone stands with a peppermint trim and snowy frosting; on another sits Queens' iconic 7 train, complete with a Christmas wreath of green gummy bears. These elaborate confections are entries in "Gingerbread NYC: The Great Borough Bake-Off," a competition that challenged bakers from across the city's five boroughs to capture their beloved neighborhoods in gingerbread.
The exhibit is hosted by the Museum of the City of New York. Whitney Donhauser, the museum's director, says that she and her colleagues came up with the idea for the bake-off while looking for a way to showcase the beauty of wintertime New York. "We know that during the pandemic, a lot of people turned to baking," she says. "So what better for us, as the Museum of the City of New York, to think about a five-borough baking competition using gingerbread?"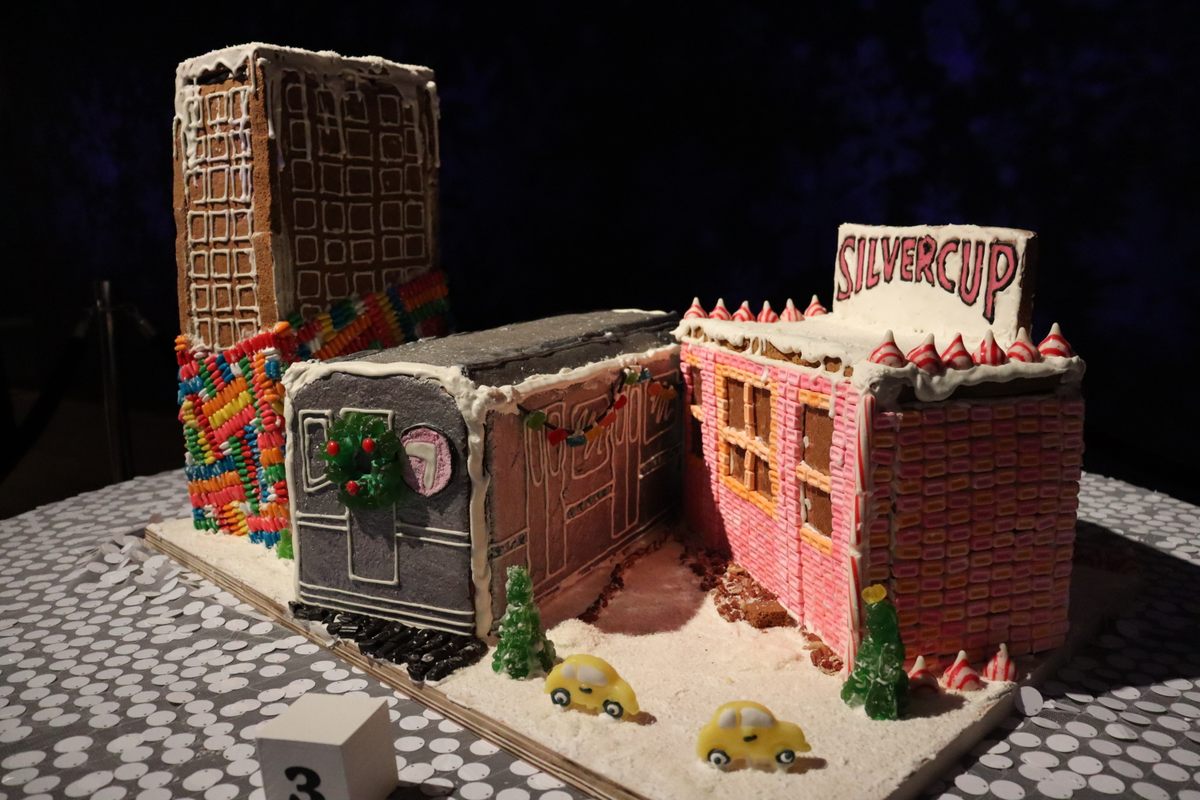 Her team assembled a panel of prominent local bakers to serve as judges. They then selected seven participants, ranging from established bakeries to amateur bakers and hailing from neighborhoods such as Fort Greene, Brooklyn; Long Island City, Queens; and Arthur Avenue, the Bronx.
Until January 8, the seven bakers' gingerbread houses will stand on display in a wing of the museum now filled with the aromas of brown sugar, cinnamon, and ginger. Looking for a submission that was "most representative" of its chosen locale, the judges awarded "Best Borough" to Staten Island–based Bruno's Bakery for its rendition of the iconic orange Staten Island Ferry and 19th-century Grecian Snug Harbor buildings. They gave the award for "Grandest" entry to architect and amateur baker John Kuehn's sugary replica of Madison Square Park, complete with detailed, geometric buildings. Egidio Pastry Shop, based in the Arthur Avenue area since 1912, won "Sweetest" for a self-portrait of their bakery covered in candy canes, sprinkles, and white icing.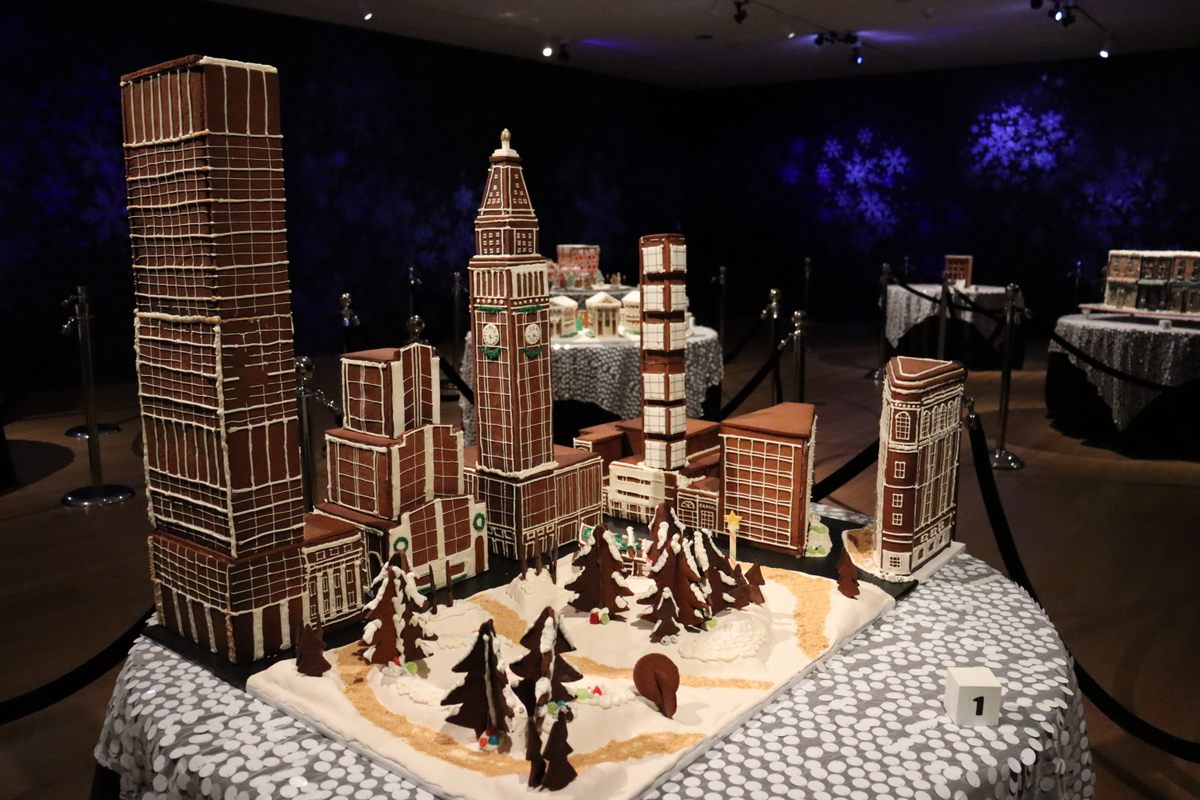 Sherry Kozlowski became the city's first gingerbread champion, taking home the "Best Overall" title for her painstakingly precise city block representing Astoria, Queens, where she has lived for five years. Kozlowski, an amateur baker, crafted the winning entry in her free time outside of her job as a personal assistant. All told, the project took her about 40 hours. The borough bake-off wasn't her first foray into culinary contests, either: She has competed in Food Network baking competitions and recently entered a gingerbread competition in Pittsburgh, for which she baked a Victorian house.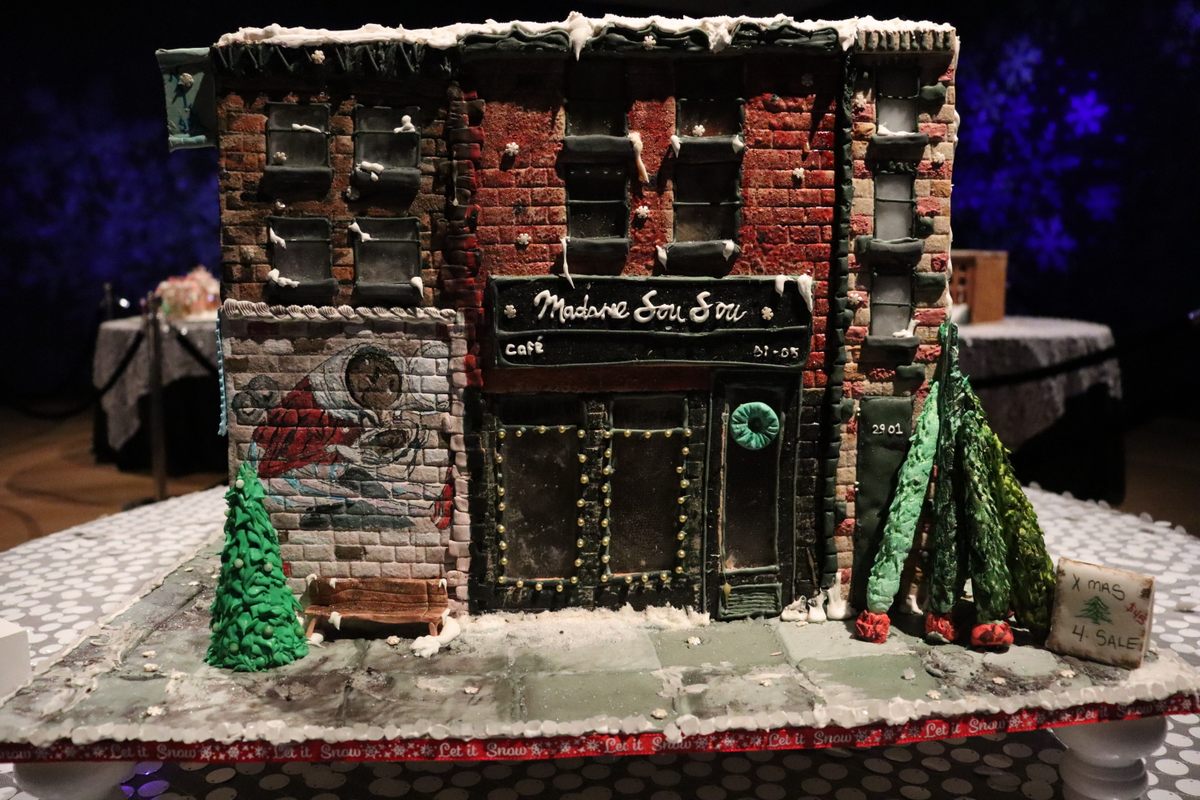 For the Great Borough Bake-Off, Kozlowski created what she calls "a fictitious block" made of her favorite shops and restaurants across Astoria, including Parisi Bakery and Dino's Pizzeria, each replicated down to the finest detail. On the brick wall outside of her cookie-based rendition of Madame Sousou's Cafe, she painted the eatery's trippy coffee mural with food coloring. Kozlowski even bought an edible-ink printer to make Christmas trees and curtains for the block's second-floor windows. Some of the windows appear frosted over because she ran out of time to render them transparent by melting the isomalt that covers them. "I said, 'Well, it's winter anyway,'" she jokes.
In baking her gingerbread house, Kozlowksi faced a classic New York conundrum: big ambitions and limited space. For a month, a six-foot collapsible table supporting a three-foot-wide gingerbread house occupied her entire living room. Her oven fits only half-size sheet pans, so she had to bake the house in small batches over the course of an entire day.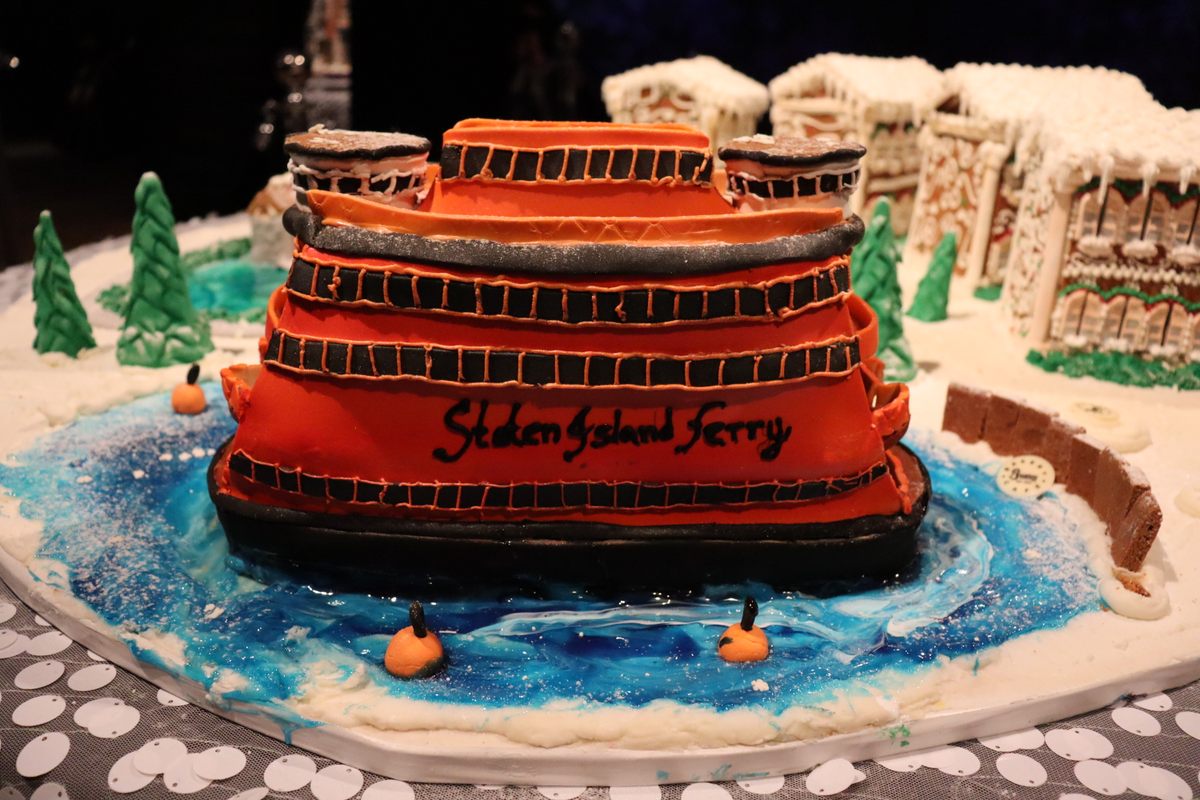 To make walls that would be stiff enough to last for months on display, she used construction gingerbread, a variety that is hard and dry, but still fragrant and edible. Royal icing and melted sugar, go-to binding agents for household gingerbread bakers, could not support the joints of her three-foot-wide city block. "So I did some research, and I found out that I could actually melt gummy bears," she says. "The gummy bears are like rubber cement." She piped the solution into all of her buildings' joints, and so far, they've held up.
Kozlowski says that visitors to the exhibit have told her that they went to the Astoria shops she featured after seeing them in gingerbread form. "I just want people to know that you don't need to come into the city [Manhattan] to do your shopping," she says. "You can stay in a neighborhood and shop small, and enjoy what is right around the corner from you."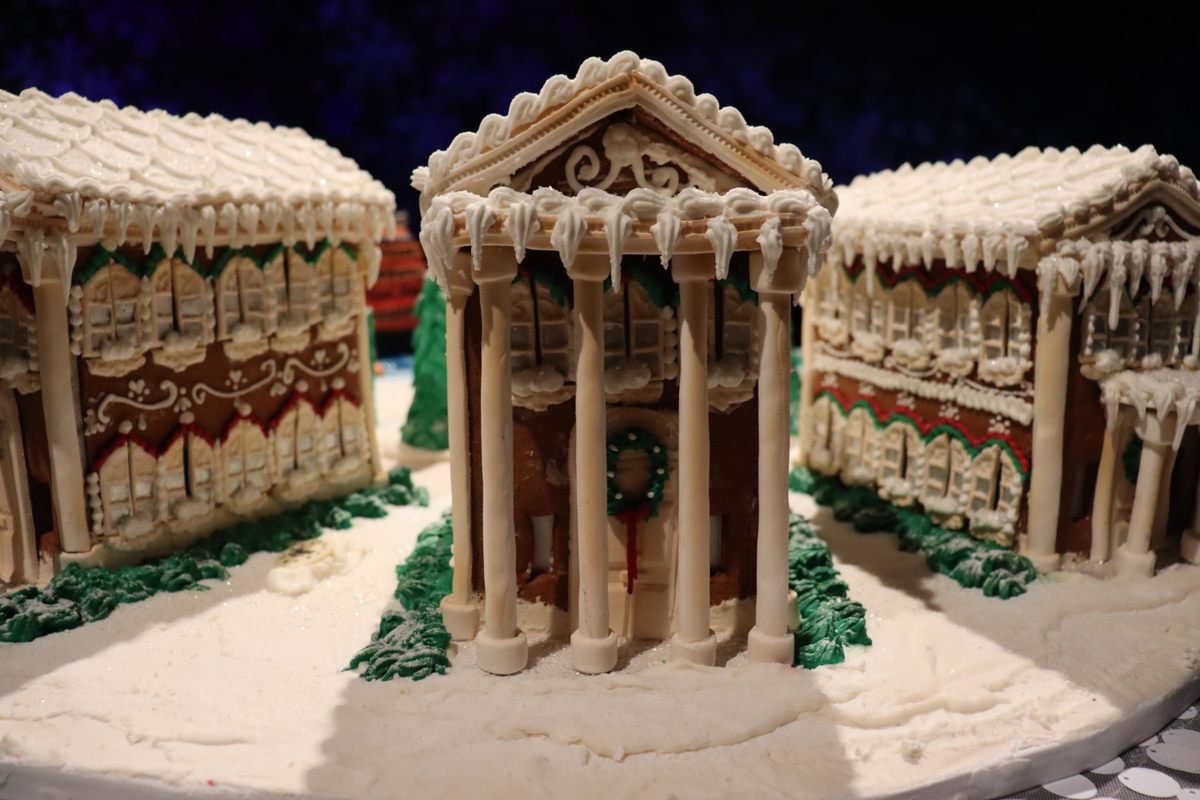 Many of the shops that Kozlowski portrayed have also told her that they were flooded with customers after the competition. When she visited Dino's Pizzeria recently, workers told her, "Oh no, pizza is on us," she says.
For Kozlowski's next project, she has her sights on next year's National Gingerbread House Competition in Asheville, North Carolina. "But that would be an eleven-and-a-half-hour drive with gingerbread in my car. So I don't know if I'm that ready for that yet," she says, laughing. "The half an hour coming over [to Manhattan] from Astoria with that was nerve-wracking enough."
Gastro Obscura covers the world's most wondrous food and drink.
Sign up for our email, delivered twice a week.