The Nixon Dinners That Taught Americans to Stop Worrying and Love Peking Duck
The president's historic trip to China caused a Chinese food boom.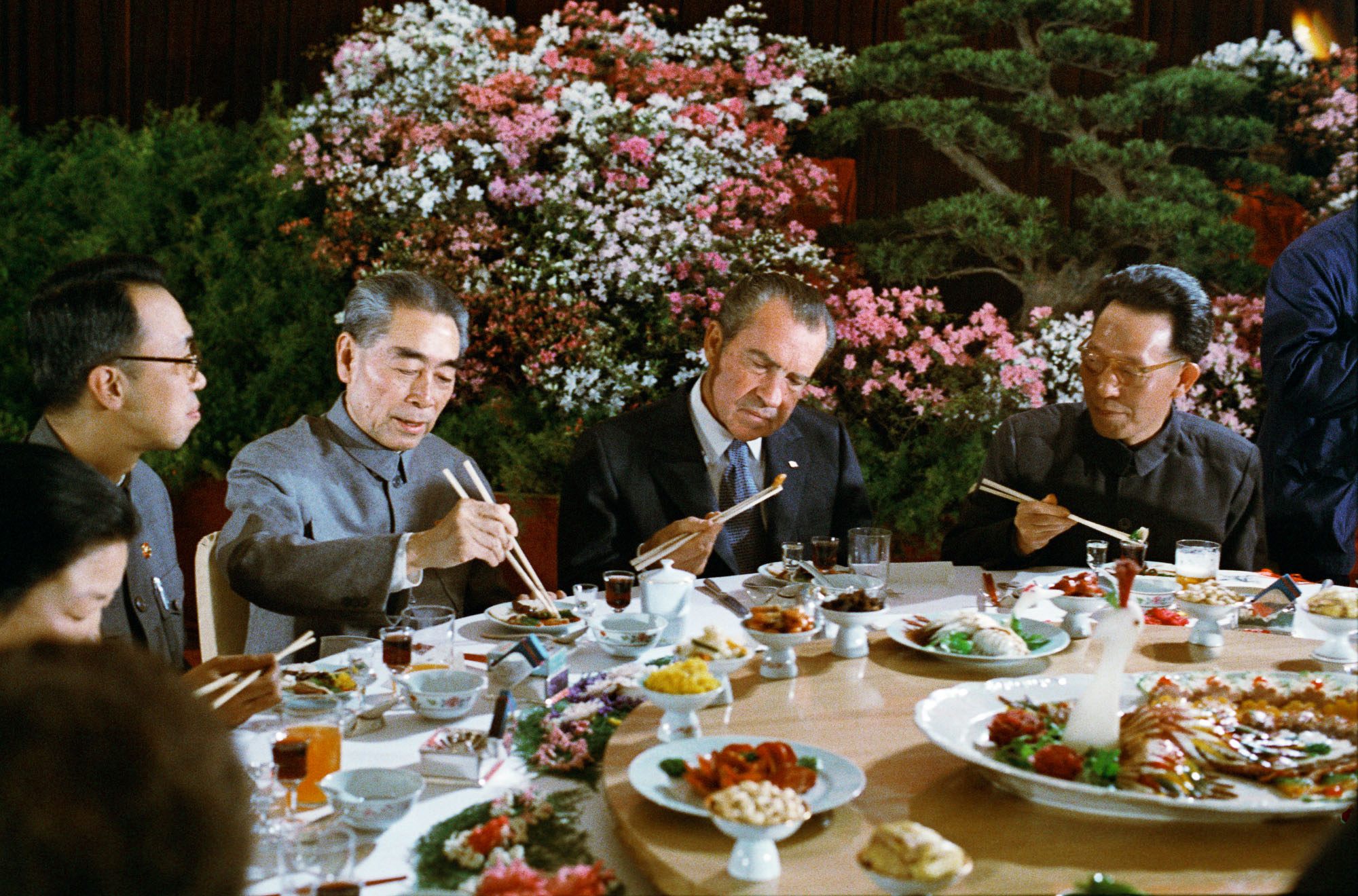 Nixon's unprecedented presidential trip to China in 1972 steadied a rocky diplomatic relationship. In the two decades since China's Communist Revolution, the countries' Cold War relationship had ranged from muted hostility to narrowly avoiding war, and Nixon's trip was part of a carefully choreographed detente. But for Americans following along at home, what the president ate was just as interesting as the speeches. Each night, Nixon toasted Chinese officials with glasses of powerful baijiu liquor, sat down to lavish banquets, and ate dishes that few Americans had ever sampled.
Before Nixon's visit, American Chinese food leaned heavily towards the "American" part of its name. To appeal to Americans, many Chinese chefs slathered dishes with gravy and served fortune cookies (a San Franciscan invention) and egg rolls (likely a New York invention).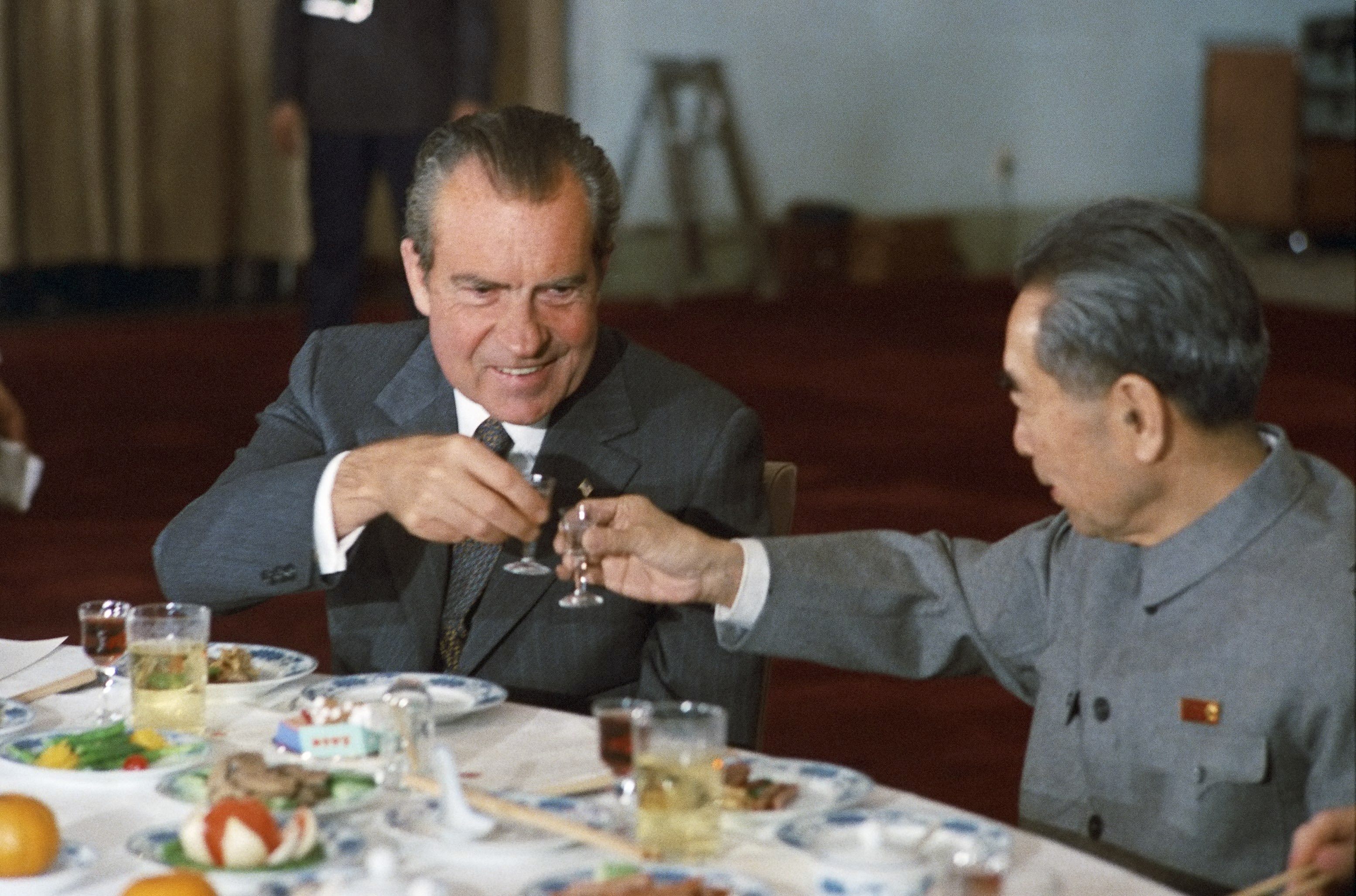 But the constant media coverage of Nixon's week-long trip led many Americans to emulate his culinary adventures. According to Gallup polling at the time, more Americans heard or read about Nixon's visit than any other event in Gallup's history. The banquets were televised and attended by luminaries such as Walter Cronkite and Barbara Walters. (Cronkite famously shot an olive airborne with his chopsticks.) On Nixon's first night in China, the menu featured shark's fin soup, steamed chicken with coconut, and almond junket (a type of pudding). In less than 24 hours, a Chinese restaurant in Manhattan recreated each dish, serving it to curious diners for months after Nixon's return.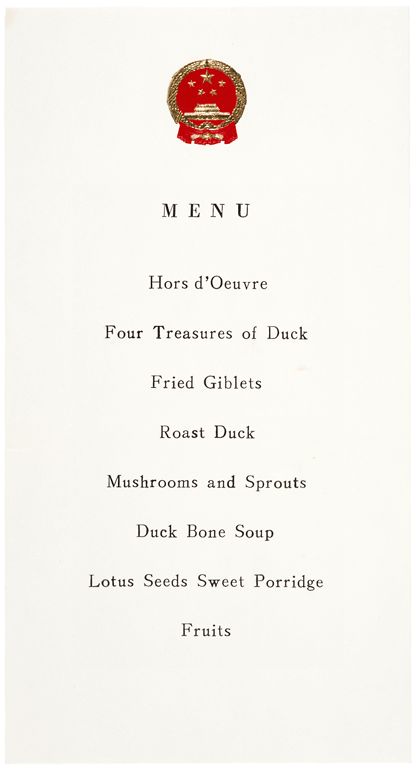 Following diplomatic protocol, Nixon hosted one of the banquets. But a lack of space on the American planes kept him from bringing his own cooking staff. So the Americans brought champagne and California oranges for dessert, and a Chinese staff cooked an almost entirely duck menu for the American-hosted dinner. This was the president's second night feasting on duck, which Nixon later called his favorite meal from the visit.
The publicity led to a Chinese restaurant boom. In a New York Times article describing the phenomenon, the paper listed "the more exotic Chinese cuisines" that Americans could now try, including moo shu pork, sweet-and-sour fish, and, of course, Peking duck. One Chinese-American restaurateur said that when her restaurant first opened, she "couldn't give away a Peking duck." Nixon, she added, was "the greatest salesman for Peking duck. Now many people want it."
Gastro Obscura covers the world's most wondrous food and drink.
Sign up for our email, delivered twice a week.