The Gastro Obscura Guide to NYC Restaurants Delivering Right Now
Branch out, dine in, and save your city.
At face value, this list can help kick down the walls of your New York apartment and let the wider world inside for dinner. With a quick phone call or online order, you can have hand-pulled lamian noodles, Persian beef stew, Indonesia meatballs, or kosher lo-mein delivered straight to your door. You could even order a cocktail or egg cream (or both—no one's judging). On a deeper level, however, this list is far more important: It's also a step toward saving what makes New York City special.
Some of us at the NYC-based Atlas Obscura were born in the city, while others moved here later. However we arrived, it's safe to say it's not the sunset skyline that keeps us here. Nor is it the neon-glow of Times Square or selfies on the Brooklyn Bridge. Our raison d'etre as New Yorkers is something less tangible, less Instagrammable.

We live here to see the breadth of humanity squeezed into five boroughs. To ride the Q train to Brighton Beach, where we can scarf Uzbek-Korean noodles under a TV blaring Eastern European music videos. To take the 7 into Flushing to sit barefoot in the basement of a Hindu temple eating dosas in the midst of monks. To take the J into the Financial District once the tide of commuters has ebbed so we can luxuriate in an underground Russian bathhouse eating pelmeni and borscht in bathrobes.

If we let small, immigrant-owned businesses like these—the lifeblood of this global city—fall victim to the same fate to which so many restaurants around the world seem doomed, the world that is New York City will have measurably withered. It will become a center not of cultural preservation or offbeat obsessions, but one of homogenized franchises, a city without a story.

So, yes, order in from the below restaurants—all pulled from our own database of New York's extraordinary eateries and bars—and bring some wonder into your home. Try something new and skip doing the dishes while you're at it. But do so to ensure that the New York City on the other side of this pandemic is still a city for everyone—for Bhutanese snooker players, for basement barflies with Broadway ambitions, for Persian printmakers who dreamed of becoming chefs, for ambassadors, construction workers, and fishermen. A world of people, in a city we call home.
Note: Many of these restaurants have recently expanded their delivery radius, so don't count anything out because it's not in your neighborhood. Double-check via the links and contact information below to make sure your location is eligible for any service. We'll be regularly updating this list with new restaurants and relevant information as they become available.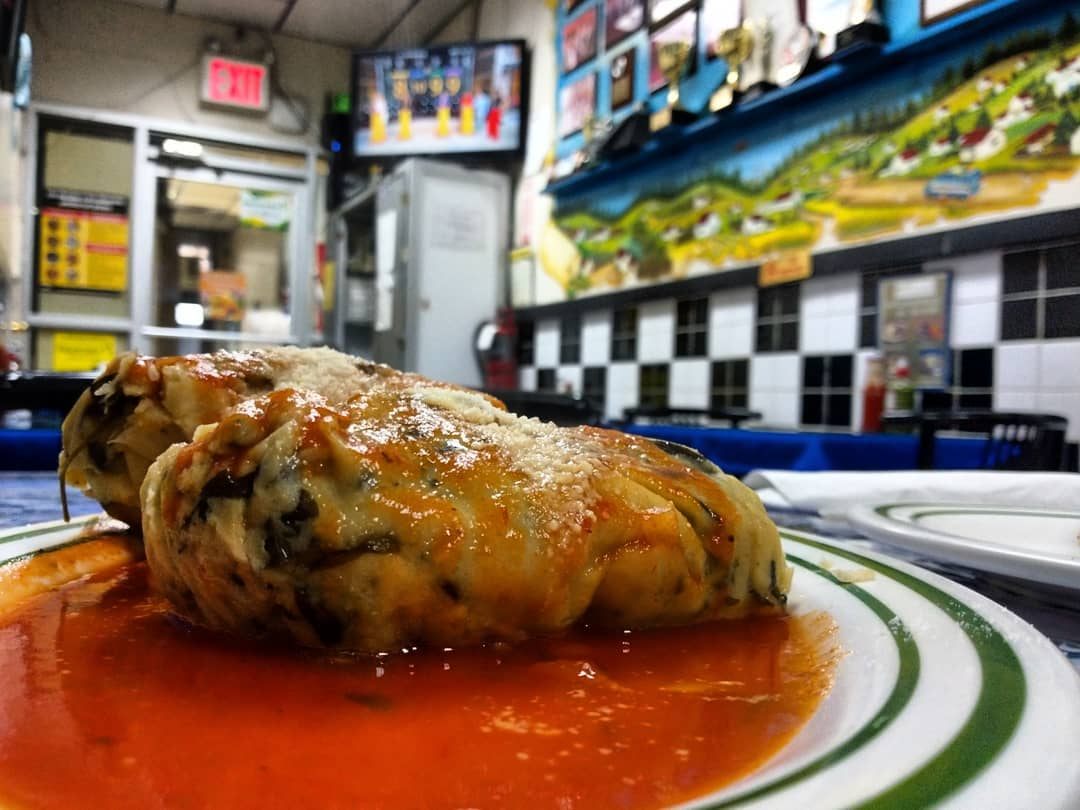 Jamaica, Queens
Craving tamales but your roommates are set on pizza? Luna de Xelajú is your spot. This Queens mainstay triples as a Guatemalan eatery dishing up Central American classics, a bakery specializing in sweet breads and biscuits, and a pizzeria offering adventurous slices. Try a traditional, tangy salpicon (shredded beef salad with citrus and cilantro) or pepian (chicken stew with thick Guatemalan tortillas). Your roommates can choose between macaroni and meatball pizza. How to order: Doordash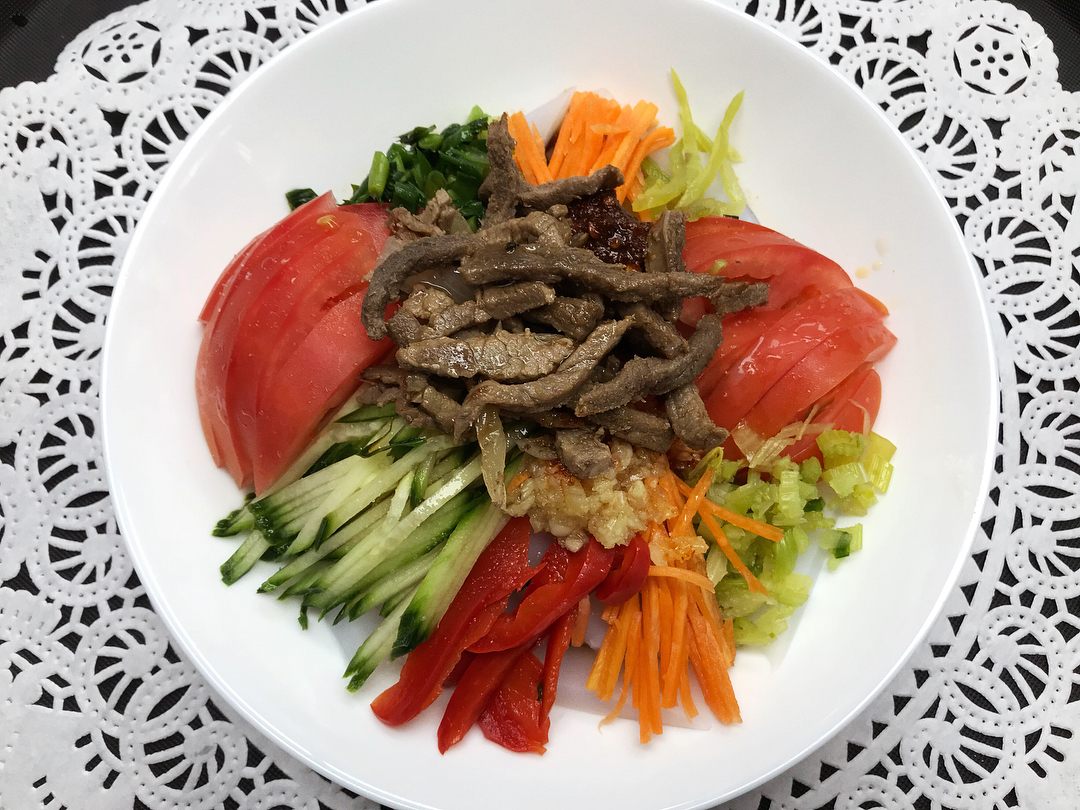 Sheepshead Bay, Brooklyn
Hand-pulled noodle dishes anchor the city's only restaurant featuring Dungan fare, a cuisine that touches on the flavors of Western China, Kyrgyzstan, and historic Muslim recipes. Dishes run from the bitter crunchiness of a pickled carrot salad to the chewy richness of the headline lamian noodles with beef, onion, and cilantro. Pillowy, steamed dumplings called manti are the comfort-food flavor-pouches you never knew you needed. How to order: Postmates, Doordash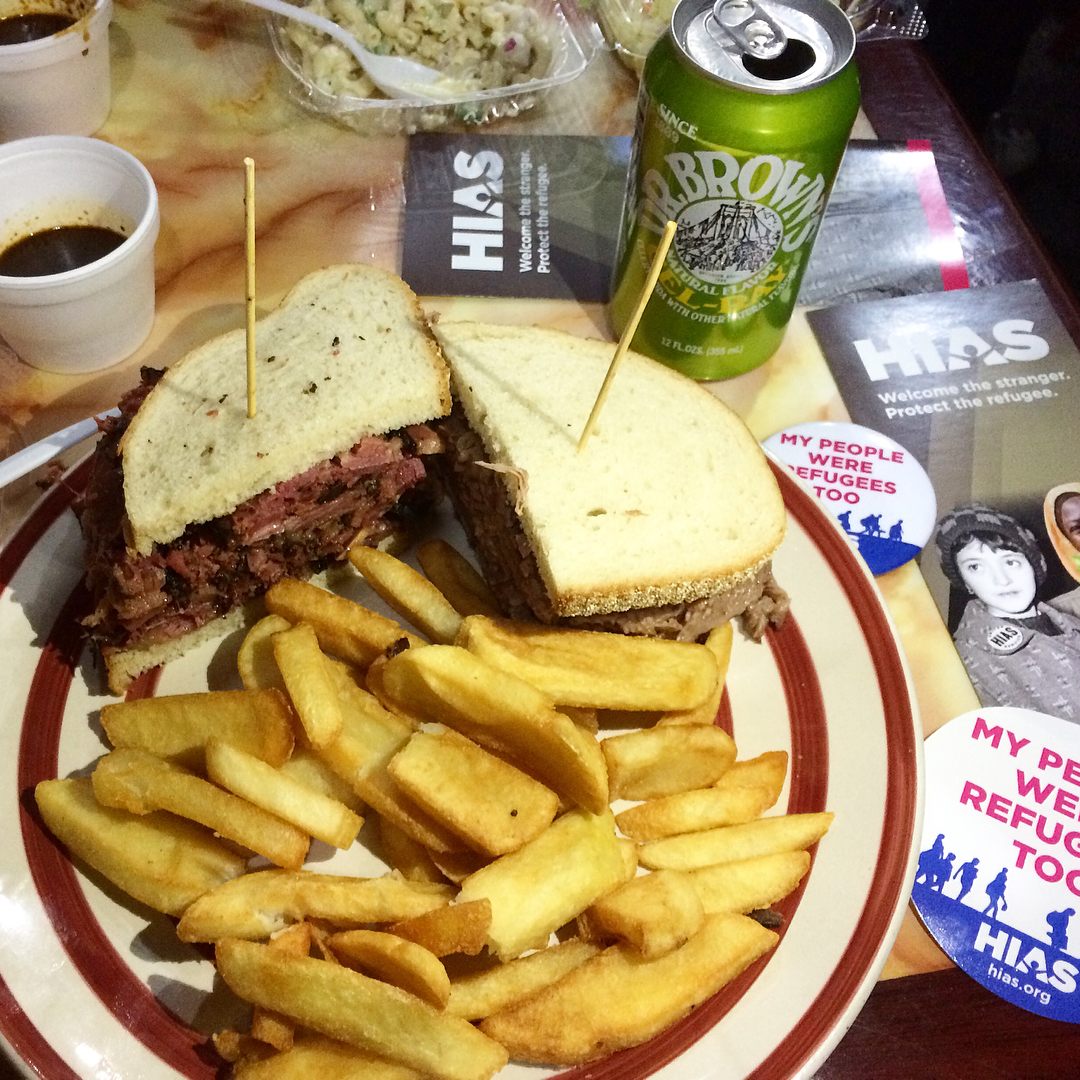 Bedford-Stuyvesant, Brooklyn
Once a kosher Jewish deli, this neighborhood mainstay on a busy Bed-Stuy thoroughfare is now owned and operated by Yemeni Muslims, though the menu hasn't changed one bit. The pastrami sandwich on rye with spicy brown mustard is a neighborhood favorite, but the corned beef holds its own as well. Wait until the storefront reopens to attempt the Triple Decker and get your photo on the wall. If you eat it alone in your apartment, no one will believe you. How to order: Doordash, Caviar, Seamless, Grubhub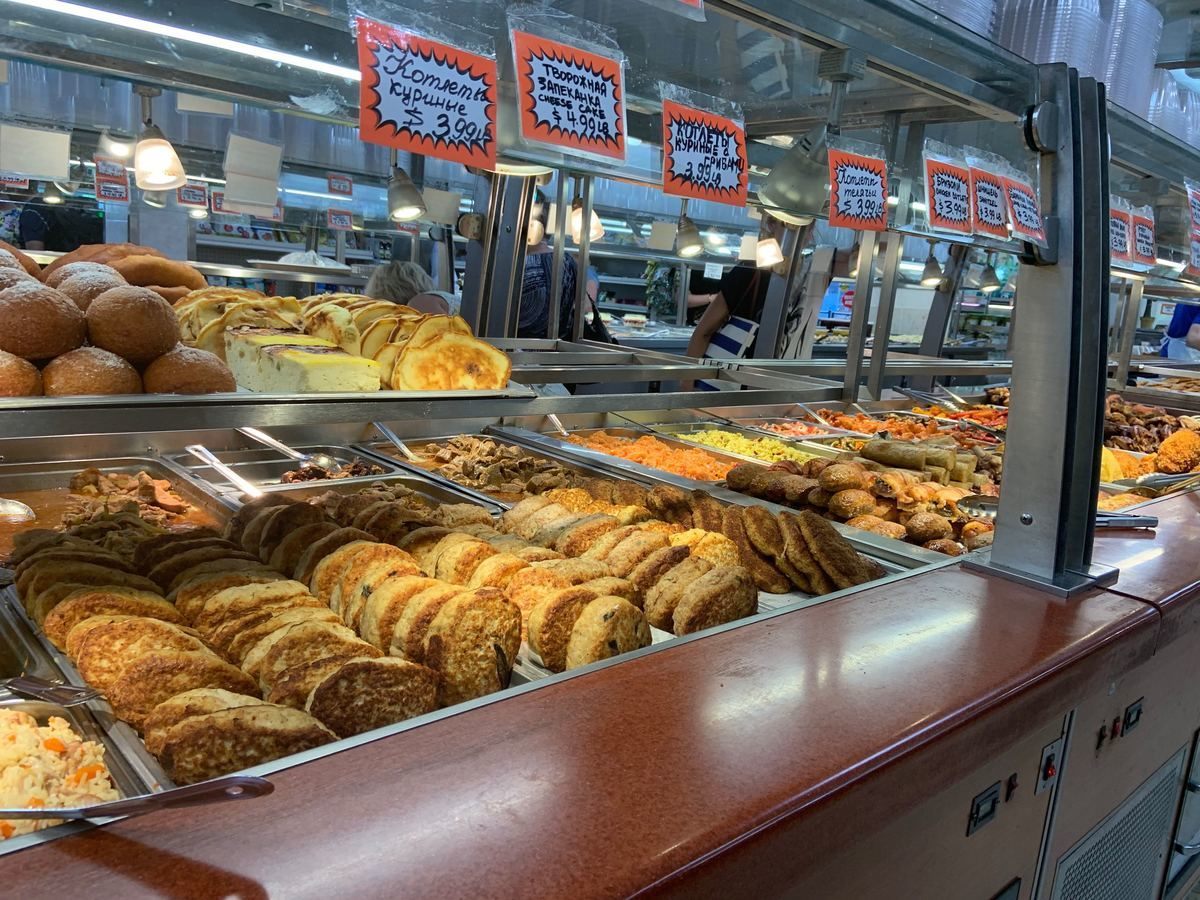 Brighton Beach, Brooklyn
Get the best snacks from just about every Eastern European country delivered to your door for the post-Soviet springtime rooftop picnic you deserve. Blocks from Brighton Beach, this expansive grocer carries regional curiosities, from Georgian tarragon soda to Lithuanian rye bread to Russian pine cone preserves. There's a hot bar with dumplings and noodles and a cold bar with "herring under a fur coat" and the Soviet-Korean morkovcha, with a deli featuring many cold cuts and cheeses you've probably never heard of. (Delivery is limited to Brooklyn with a $100 minimum order or $50 if within the Brighton Beach neighborhood.) How to order: Call 718-769-1700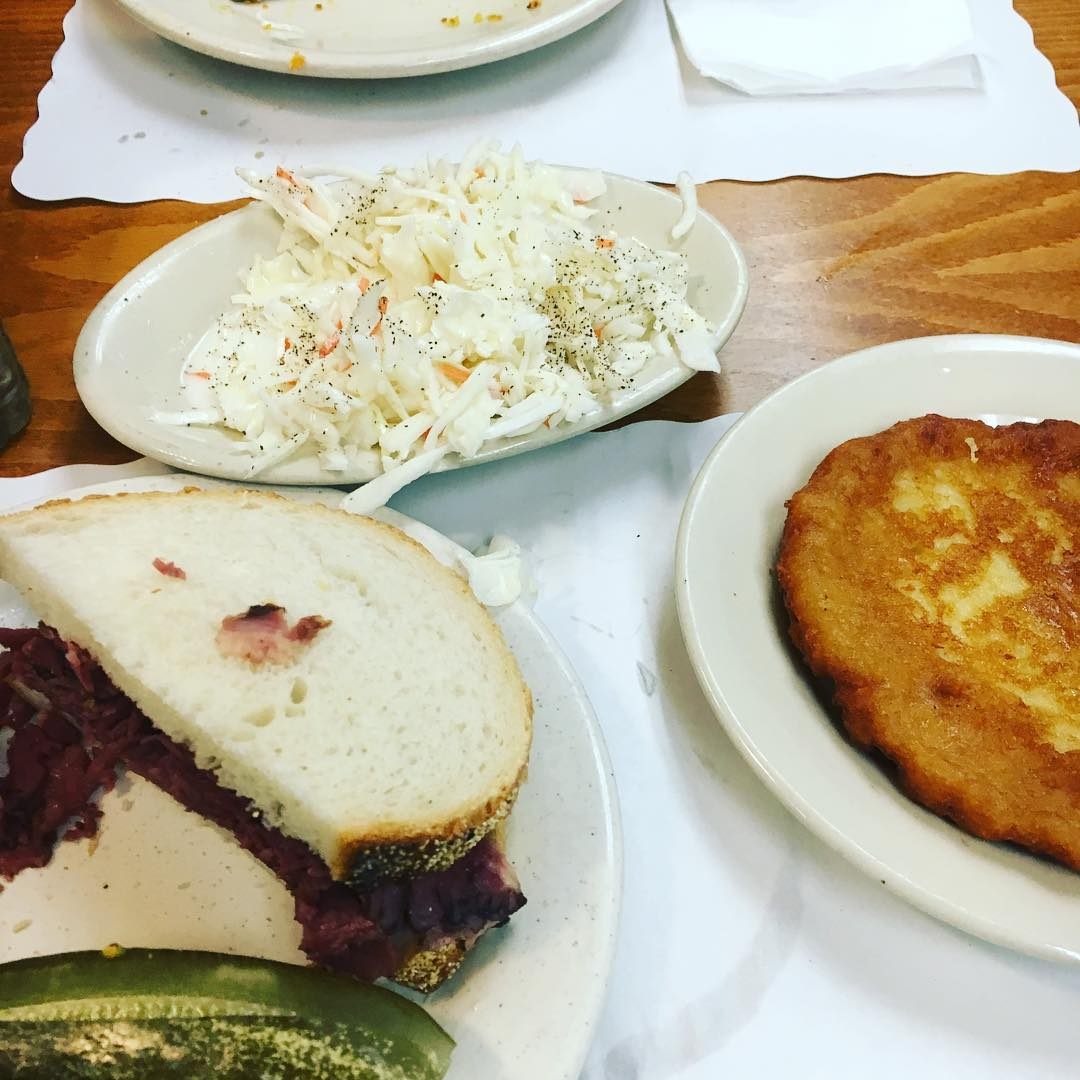 Williamsburg, Brooklyn
This 60-year-old Williamsburg Jewish-American deli is one of a handful of Glatt kosher establishments left in the country. It may also be the only one with such a deep selection of Chinese-American options as well. Take your pick of matzo ball soup, chicken lo-mein, knishes, or sesame chicken. Just don't expect any cheese with it. How to order: Orders2me, Doordash, Postmates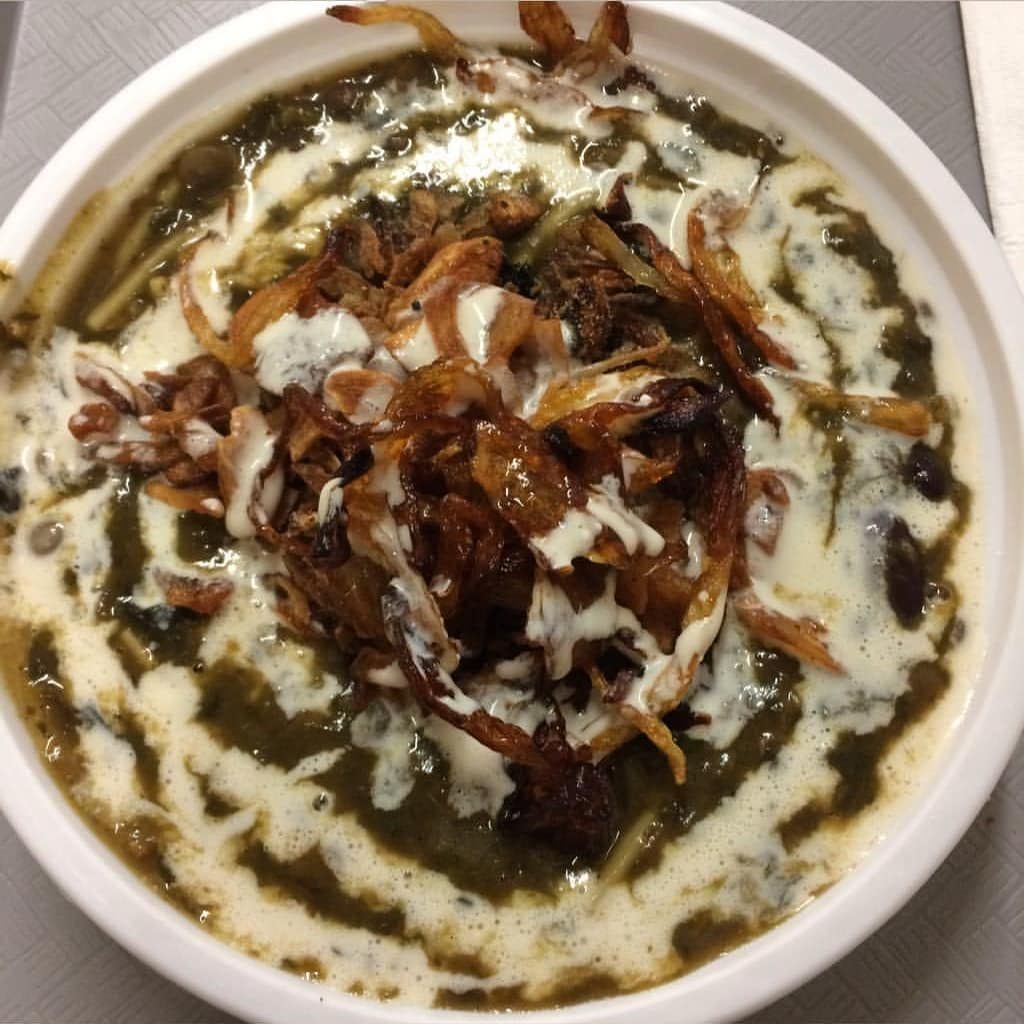 Flatiron, Manhattan
There have been a handful of silver linings to the storm cloud that is COVID-19, chief among them the resurgence of milkmen, drive-in movie theaters, and, of course, Japanese cheese-making. Feel free to add Flatiron's recently shuttered Taste of Persia to the list of coronavirus comebacks: Owner Saeed Pourkay is back in the kitchen, taking weekend orders for delivery. The ash reshteh (bean and noodle soup with mint and yogurt) and gheimeh bademjan (beef stew with lentils and eggplant) that made him an institution are available to order, in addition to new dishes like halim, a Persian oatmeal. How to order: Call 917-592-3467 after viewing the menu on Taste of Persia's website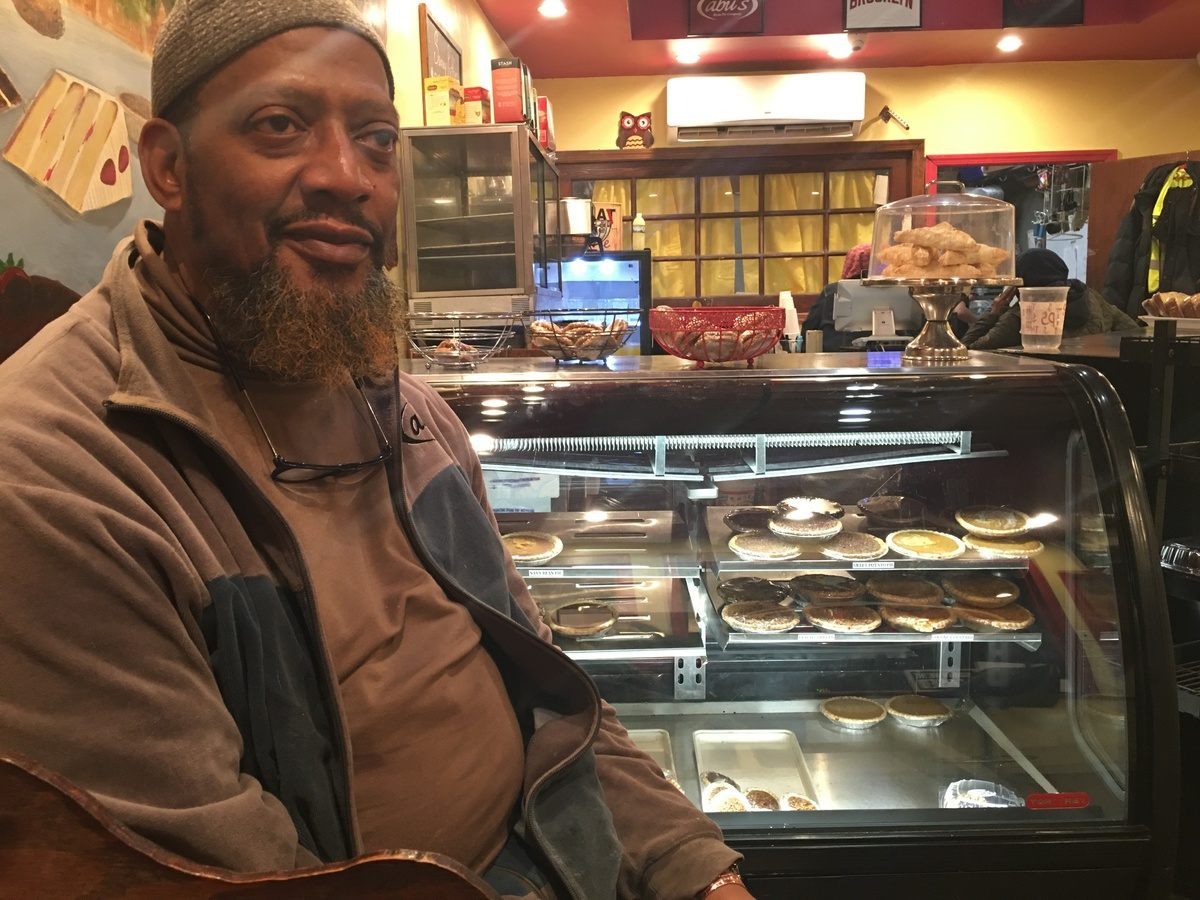 Bedford-Stuyvesant, Brooklyn
If you somehow have something to celebrate during these dark days, there's nothing stopping you from ordering an entire red velvet sheet cake for yourself and your quarantine comrades from this bedrock Bed-Stuy establishment. The bakery was founded by Idris Conry ("Abu"), a born-and-raised Brooklynite and former boxer and school-teacher who brought the Nation of Islam–inspired bean pie to the fore in the early 2000s. The pies come in nine, six, and four inches (for those after a more personal celebration). How to order: Postmates, Doordash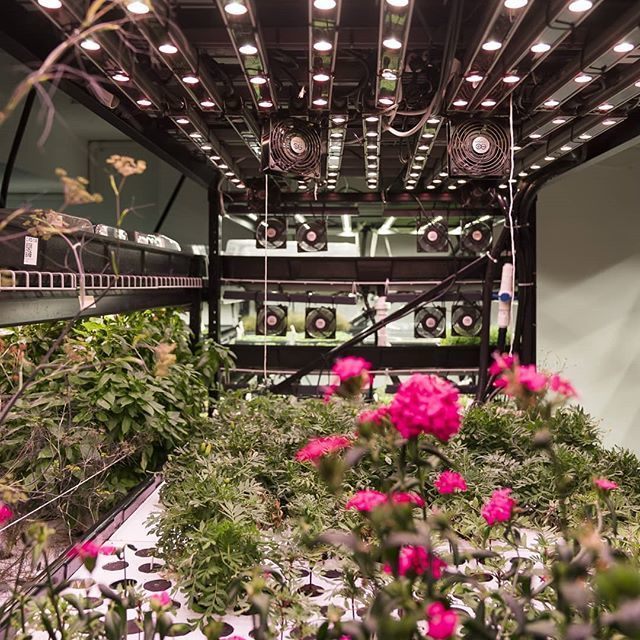 Tribeca, Manhattan
In the days before COVID-19, the leafy greens and herbs grown in this underground, hydroponic, vertical farm located deep below Tribeca would be shipped by bicycle to the city's top restaurants. With restaurants shuttered, they can now be yours at home. Skip the grocery store and still make it haute with their selection of micro arugula, lemon basil, bronze fennel, and much more. How to order: Farm.one's website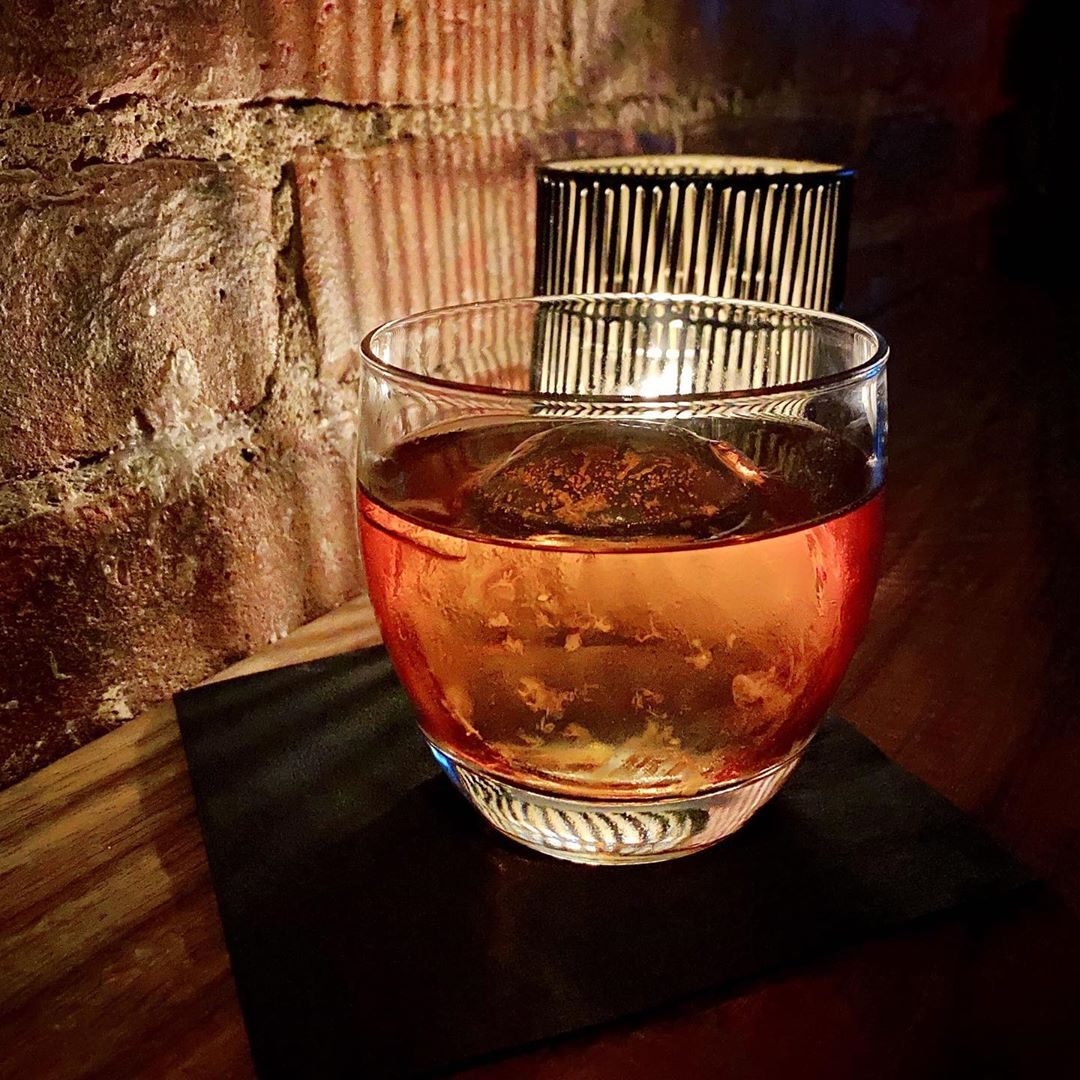 NoMad, Manhattan
If you're reading this from the confines of your home, you're the model citizen New York City needs right now. Keep up the heroics and order the cocktail you deserve from Patent Pending. The bar hides behind a coffee shop on the ground floor of the Radio Wave Building, where Nikola Tesla carried out groundbreaking experiments on radio waves in the late 1800s. Treat yourself to an array of fanciful themed libations like an Emulating Edison (with mulled wine, rum, and bergamot), an Illuminated Manhattan (with campfire whiskey, madeira, and gunpowder tea), or a Flash of Inspiration (with corn mezcal, smoked maple syrup, and grapefruit soda). How to order: Call 212-689-4002 or via direct message on the bar's Instagram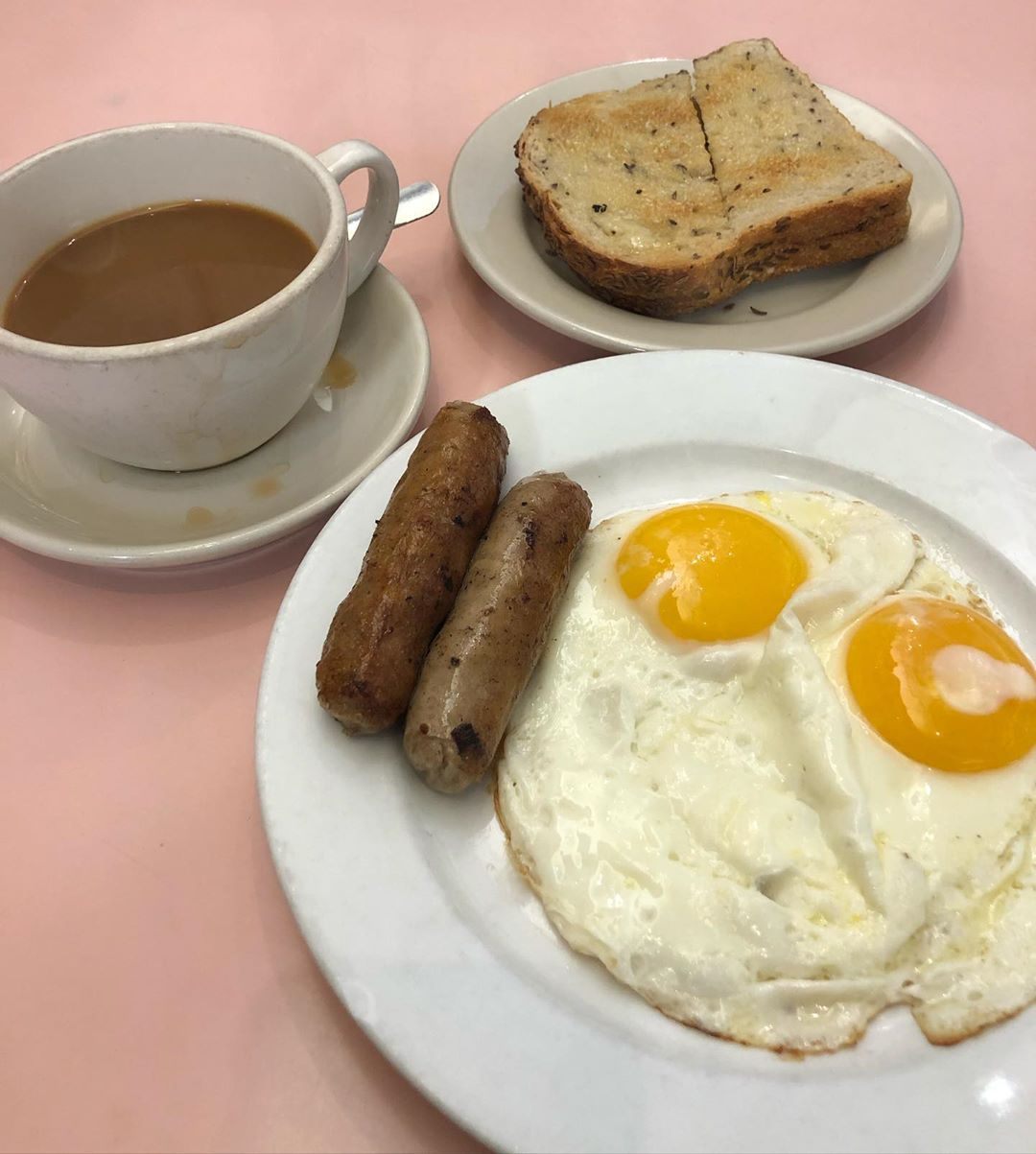 Upper East Side, Manhattan
This Upper East Side relic first opened up shop around the time of the last great pandemic. It's the oldest family-owned luncheonette in the city and one of the last reminders of how New Yorkers lived before Starbucks. Grab an egg cream, a tuna melt, and a malted milkshake to enjoy a taste of yesteryear. How to order: Delivery.com, Grubhub.com, Seamless.com, Doordash.com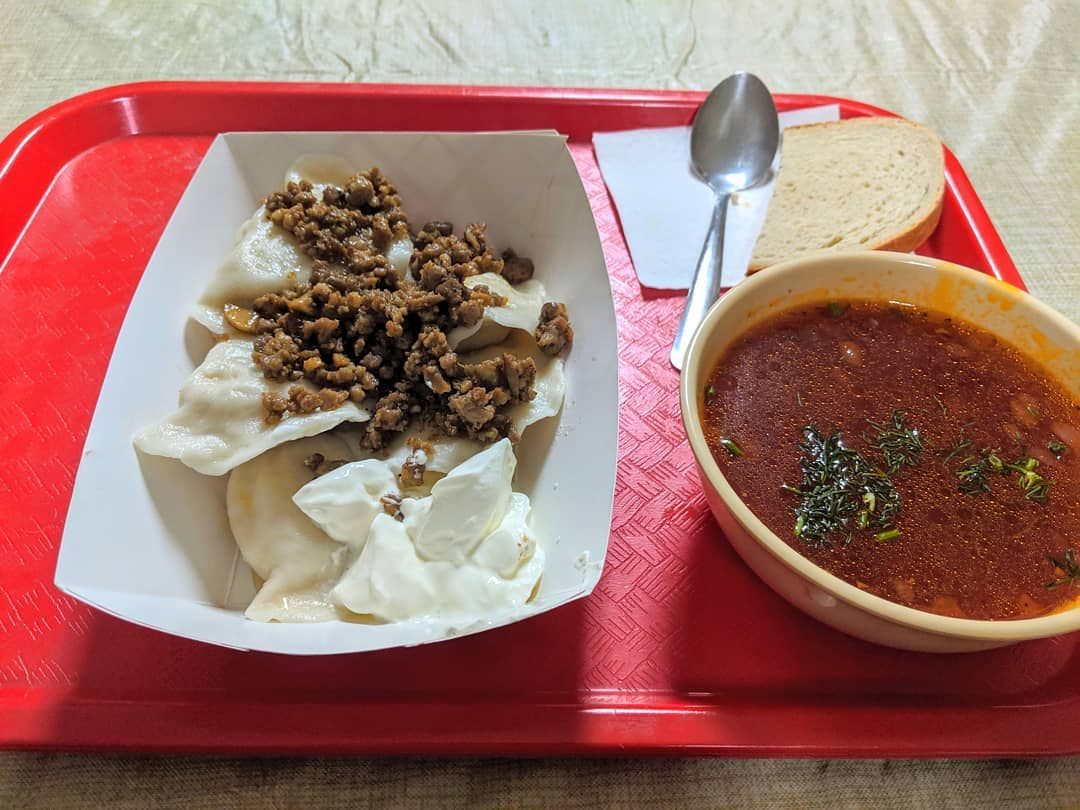 East Village, Manhattan
Bring a tiny slice of the Village's Ukrainian community home for dinner with a handful of dishes from Streecha. While it's typically a dine-in spot for those unwary of wandering into a barely-marked basement, their classic Eastern European fare is now breaking ground with delivery available for those within Manhattan. Orders on offer range from classics like borscht (beef and beet stew), holubtsi (cabbage stuffed with pork and rice simmered in tomato sauce), and varenyky (potato and cheese dumplings). A limited menu is available for next-day delivery. If nothing available today moves you, try again tomorrow. How to order: Call 914-413-9774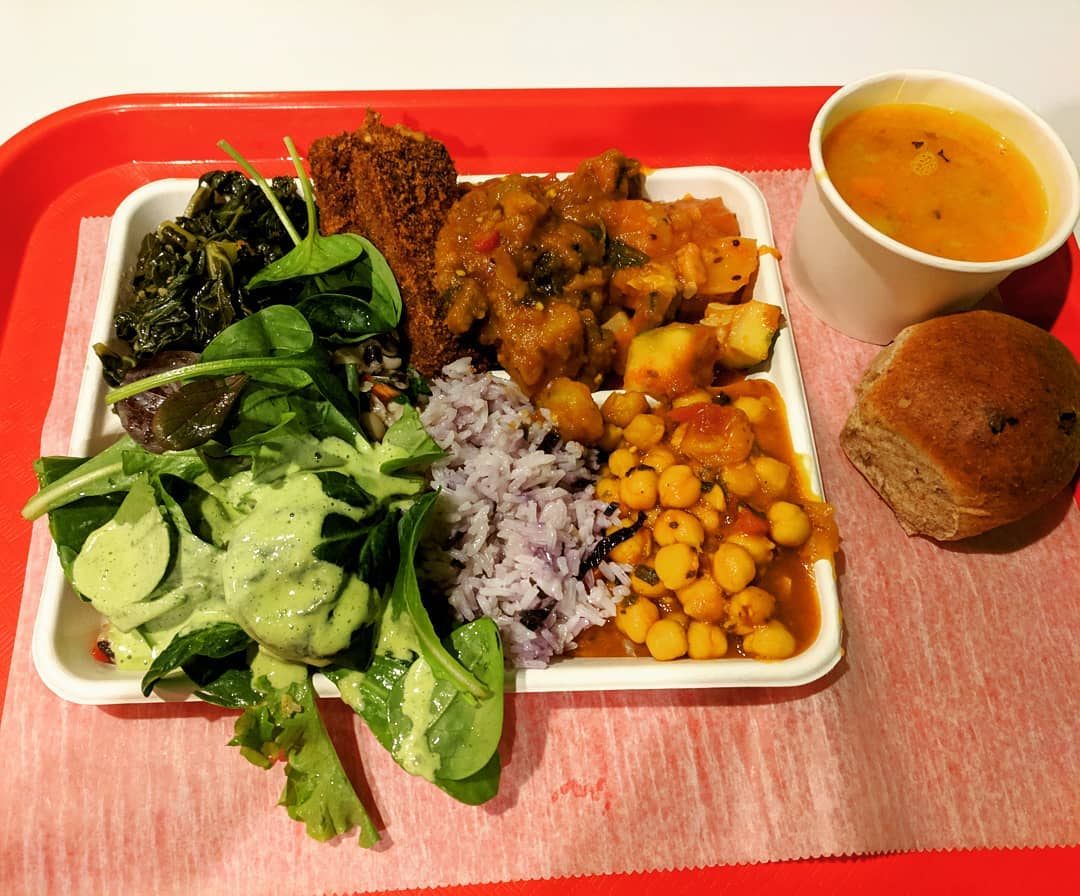 Boerum Hill, Brooklyn
The downtown Brooklyn Hare Krishna temple, along with the basement canteen it shelters, are temporarily closed, but delivery within a small radius around their location is still available for those after a clean and easy vegetarian lunch. Options rotate daily: Be sure to call and ask ahead of time. Typical dishes range from samosas to rajma (kidney bean curry) to kitchari (rice and yellow lentils). The kitchen doesn't work with alliums like onion or garlic (ingredients known to inflame the passions). All the best for those eating where they work, and working where they sleep. How to order: Call 718-855-6714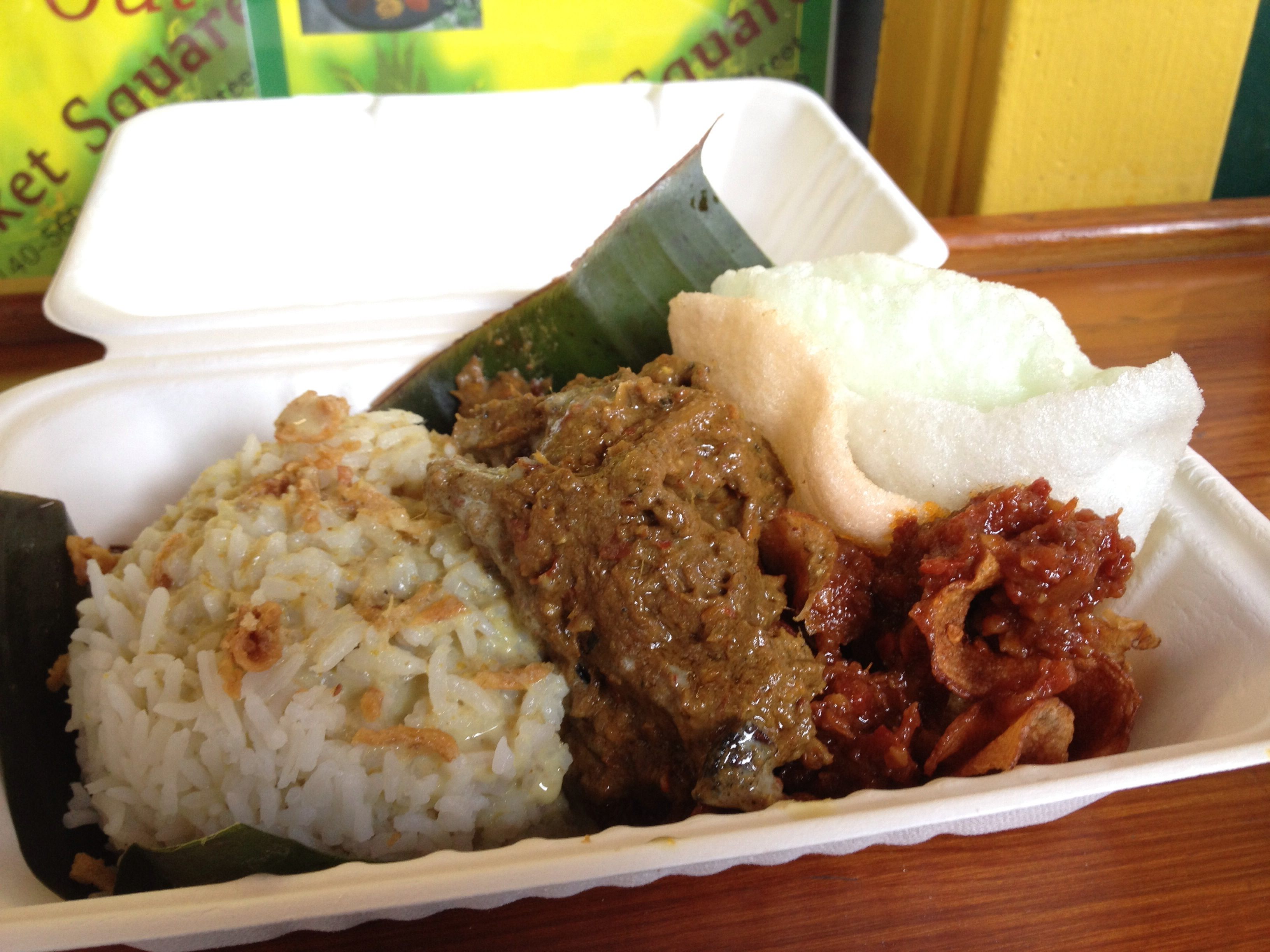 Elmhurst, Queens
There's no telling how Indonesian émigré Felincia "Fefe" Anggono does it all. Since the pandemic reached our shores, the founder of the Indonesian Food Bazaar has been cooking food for healthcare workers at Elmhurst Hospital, writing lengthy, heartfelt prayers to those affected by COVID-19 from her Facebook page, and still managing to offer delivery to several boroughs. Text her on WhatsApp about her daily offerings, which could be anything from beef rendang (spiced beef and coconut milk stew) to nasi kuning (turmeric yellow rice with coconut milk) to bakso (pork or fish meatballs with noodles). Help her continue to help us all. For Queens, North Brooklyn, and most of Manhattan, the minimum order is $50. For Harlem and the Bronx, the minimum is $100. How to order: Text Fefe on WhatsApp +1-347-615-2003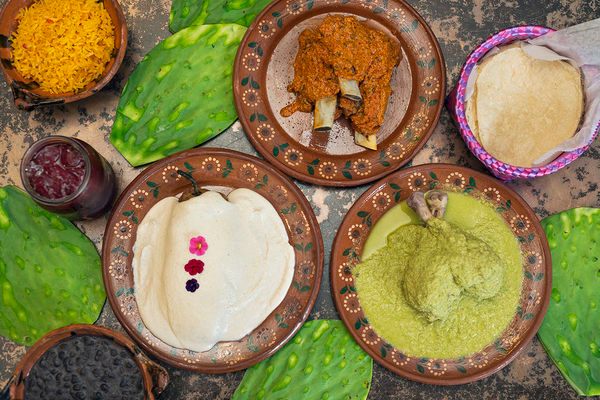 Mott Haven, Bronx
Update 4/20: This article previously included the Bronx's La Morada restaurant, which has since closed. They now have a GoFundMe page.
Update 5/7: La Morada has since reopened and been added back to the list above.
Do you know of any other extraordinary NYC restaurants or bars we missed? You can join the conversation about this and other stories in the Atlas Obscura Community Forums.
Gastro Obscura covers the world's most wondrous food and drink.
Sign up for our email, delivered twice a week.