Obscura Day 2016 is Coming!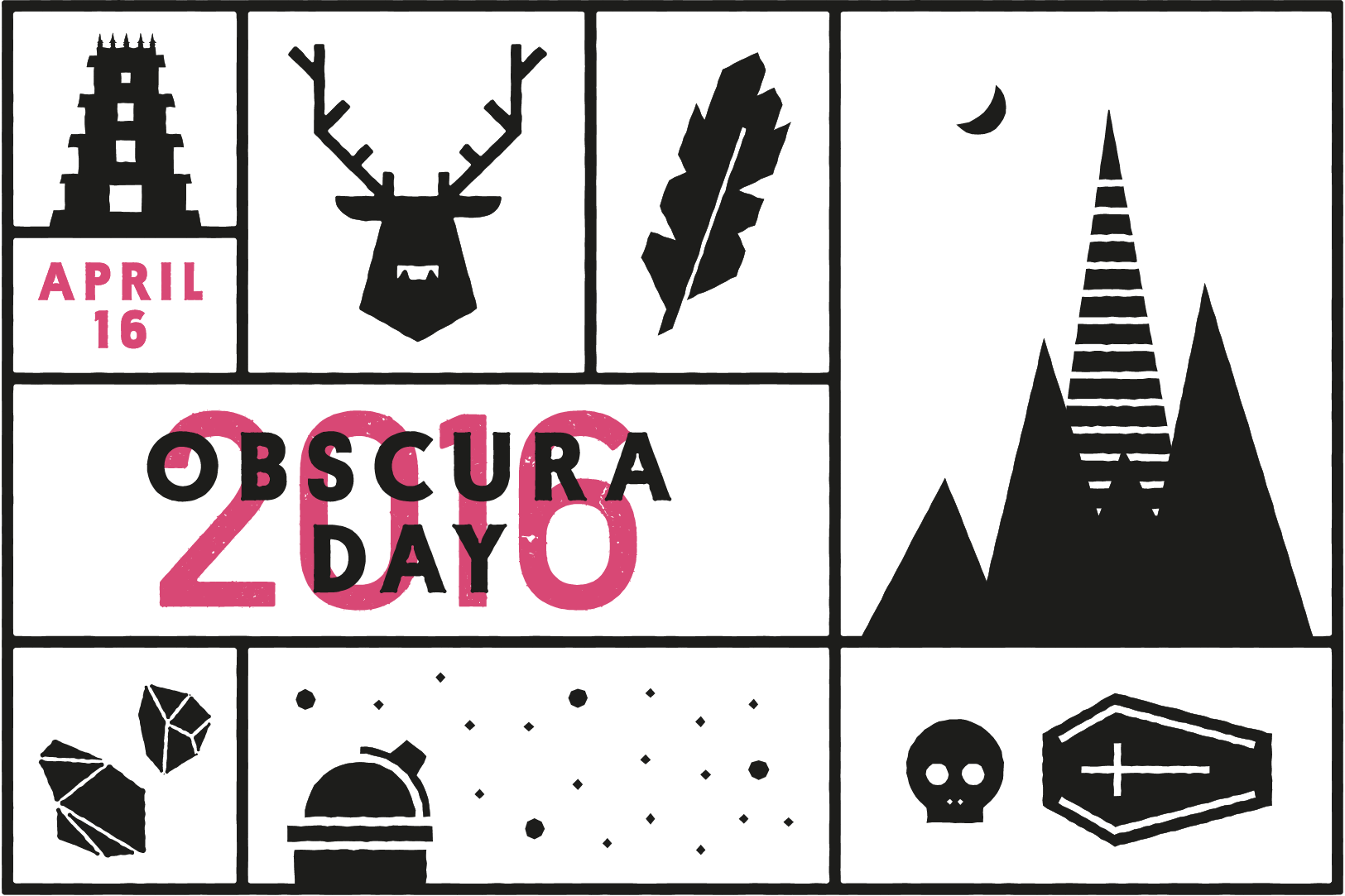 You probably don't have time to sail solo across the Atlantic, or trek 1,800 miles across Canadian wilderness disguised as a man, or find and dig up the first ichthyosaurus skeleton.
But the guiding principle of Atlas Obscura is that we're all explorers. Wherever you are in the world, there's something around the corner that will surprise, delight, and amaze you.
And on Obscura Day, our annual celebration of discovery, we want to help you find that something. On Saturday April 16, 2016, we'll be leading more than 200 unusual, curious, and wondrous expeditions in more than 30 states and on six continents. Obscura Day is a time to visit a hidden treasure in your hometown, or to roam further afield—perhaps to a falconry demonstration in the desert at dawn. Obscura Day is an opportunity for a vigorous physical adventure, like a spelunking trip inside sacred caves in Bali, or a more contemplative one, like a behind-the-scenes tour of the world's finest brain collection. Whether you want to attend one event or ten, Obscura Day is a chance to share an expedition with neighbors, friends, and fellow explorers.
More than 4,000 people participated in 160 events around the world on Obscura Day 2015. They road-tripped old Route 66 in Illinois, cruised on a boat to New York's Forbidden Islands, took in a robot concert at the Robotic Church in Red Hook, went beachcombing at Iceland's Sea Monster Museum. Obscura Day 2016 will be even bigger.
We'll be sharing the full roster of events here in the coming weeks, but here are a few we've already lined up:
… an excursion to the Temple of Damanhur, the underground colossus in Italy that's been called the eighth wonder of the modern world.
… behind-the-scenes access to one of the world's greatest meteorite collections.
… a kayak exploration of the largest accumulation of shipwrecks in the Western hemisphere.
So mark your calendar for April 16. In a few weeks, we'll post a roster of all the Obscura Day events, and a registration page where you can sign up for an adventure near you.
And what if you'd like to lead an Obscura Day expedition? That's fantastic! Thank you! Fellow Atlas Obscura readers have already volunteered to take us to a ruined Utopian village in Boston, on board a U.S. Army landing craft in North Carolina, and behind the scenes at Westminster Palace in London, among other places. If you'd like to help us set up or lead an Obscura Day adventure near you, please email megan@atlasobscura.com.
And where will you find me on Obscura Day? I'll be leading a walk around a ruined Civil War fort hidden in the woods of Washington D.C. I hope to see you there.