America's Only Floating Post Office Delivers More than Mail to Detroit's Ships
For 140 years, the J.W. Westcott Company has been dropping off everything from love letters to pizza to, once, a goat.
Beyond the train tracks on the edge of Detroit, in the water that separates the United States from Canada, Captain Sam Buchanan is in a 45-foot tugboat named the J.W. Westcott II, heading towards a freighter to engage in a delicate, centuries-old aquatic dance.
"The James R. Barker," Buchanan says as he grins and spins the Westcott's wheel, pointing across the water to a giant ship. "I built a 10-foot model of that one." When he's not on this tugboat, he's at his second job as a captain of a passenger boat a dozen miles down the river. At home, he's building miniature wooden replicas of Great Lakes vessels. During the winter, he travels from Michigan to Ohio to work on steamships. Having taken somewhere between 46,000 to 55,000 trips like this, there is perhaps no one else who can so elegantly pull up next to this 1,000-foot behemoth, more a giant steel wall emerging from the water than a ship. Almost immediately, the freighter's crew lowers down a rope into the tugboat as it gently rocks, and a rectangular cardboard package is attached by a Westcott deckhand to be pulled back aboard.
With their engines running, they have to be quick, taking no more than a few minutes to complete the choreography they know by heart. The crew waves goodbye as Buchanan pulls the Westcott away and sounds its powerful horn. It's a warm day on the river, and as the tugboat passes underneath the traffic-filled Ambassador Bridge connecting Detroit to Canada before it docks; it won't be long before Buchanan is out moving with the rhythm of the water again.
But Buchanan is no ordinary riverboat operator: He's captain of the world's only floating post office, one that delivers mail to ships at sea. For more than 140 years, this method has not changed.
The J.W. Westcott Company has served ships carrying cargo that pass through the Detroit River as history has unfolded around it. It's been here since before Henry Ford test drove his first automobile in Detroit. It was present for the rise of Motown Records, throughout the 1967 race riots, and when the city filed for bankruptcy after decades of economic and social turmoil. As Detroit emerged as the epicenter of the 20th century auto boom, the river became the main method of transporting iron ore, steel, and limestone for the industry. Today, the Detroit River retains its title as one of the busiest waterways in the world.
In the 1950s, J.W. Westcott delivered about one million pieces of mail every season, but with the shipping industry and communications technology significantly altered, it's less than half of that these days. The main mailboat used in all deliveries since it was built in 1949 is the J.W. Westcott II, with a backup boat named the Joseph J. Hogan on standby.
Eventually, the Westcott Company's essential role on the Detroit River led them to own the only boat in the country with its own zip code: 48222.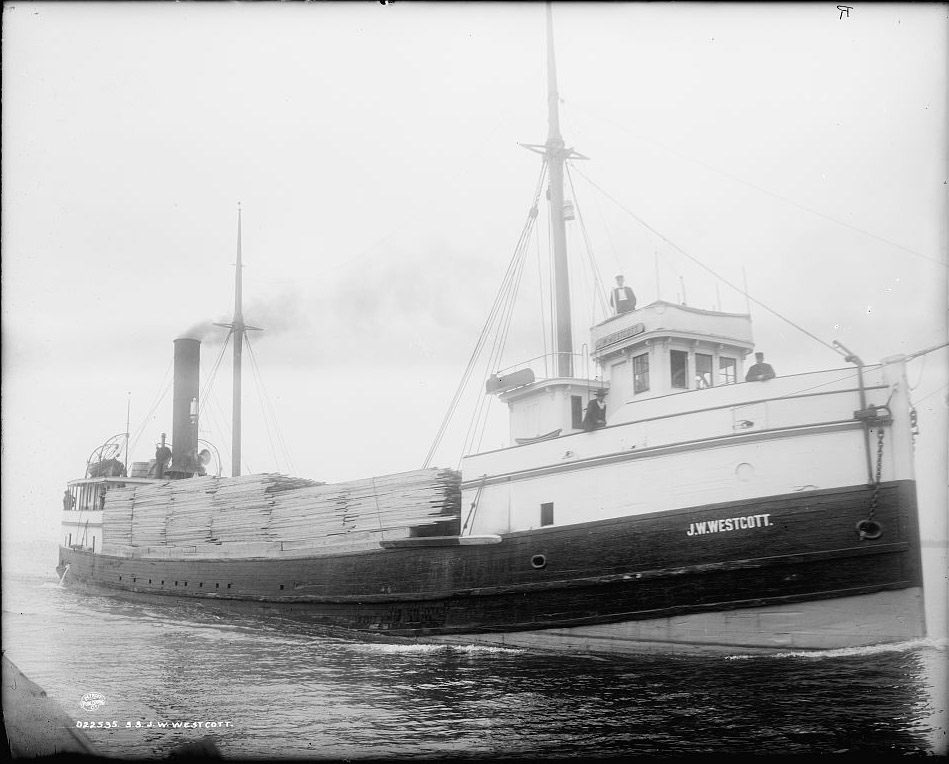 While technically part of the U.S. Postal Service, Buchanan's cargo goes well beyond letters.
It's called the "7-11 of the Great Lakes," open 24 hours, seven days a week from mid-April to December, with three shifts for a bevy of crew members who have one of the most unique jobs in the country.
For the thousands of sailors who spend months at a time on the water transporting coal, iron ore, and stone to ports in the Rustbelt region, the J.W. Westcott Company is also their only connection to home.
Their "mail in a pail" method has delivered everything from love letters, to coffee, cigarettes, toothpaste, televisions, and toilet paper. At some point over a decade ago, hungry ship crews started requesting pizza, and during Ramadan, relatives of Arab-American steel ship workers deliver homemade meals to the Westcott offices. Once, a goat destined for a petting farm came on board, and for more than three decades a woman named Arlene Earl has been delivering flowers to captains and crews on the ships via the Westcott. During a lull in deliveries one afternoon, Captain Ryan Gazdecki told me how he once delivered a mistress to her partner on one of Detroit's nearby islands, while taking the unsuspecting wife back to shore.
"These people rely on us to get them their stuff," says Buchanan in between deliveries. "I go out in all kinds of weather, at all hours of the day to try to make sure that they get it."
At their offices right next to Riverside Park at the end of 24th Street, where Detroiters can often be found fishing during the summer, the Westcott crew sorts incoming mail, communicates with approaching vessels, and passes their down time by teasing each other, making popcorn, and watching hockey.
At the helm of the operation in making sure both mail and meals are delivered to passing ships is Jim Hogan, the fourth generation steering this family business into new waters as the shipping industry has gone through immense change.
Portraits of those who came before him and ran this company line the wall of his office. They are a physical reminder of the timeline that has led to his taking over his family's business, even though Hogan had other plans, and being in charge of a floating post office wasn't exactly one of them.
It was Hogan's great grandfather John Ward Westcott who started this service back in 1874, a man whose own history made him destined to spend more of his lifetime on the water instead of the land.
Westcott's parents, David and Mary Jane, were the first couple married on a steamer in the Great Lakes, and Westcott himself became the youngest captain on fresh water in 1869. It would be just five years later that he would set up a rowboat to deliver messages to ships that passed between Lake Erie and Lake Huron, creating the J.W. Westcott Company.
Westcott initially provided "ship to shore" communications, when, before the advent of radio, ships relied on such messages to know at which dock their journey would come to an end.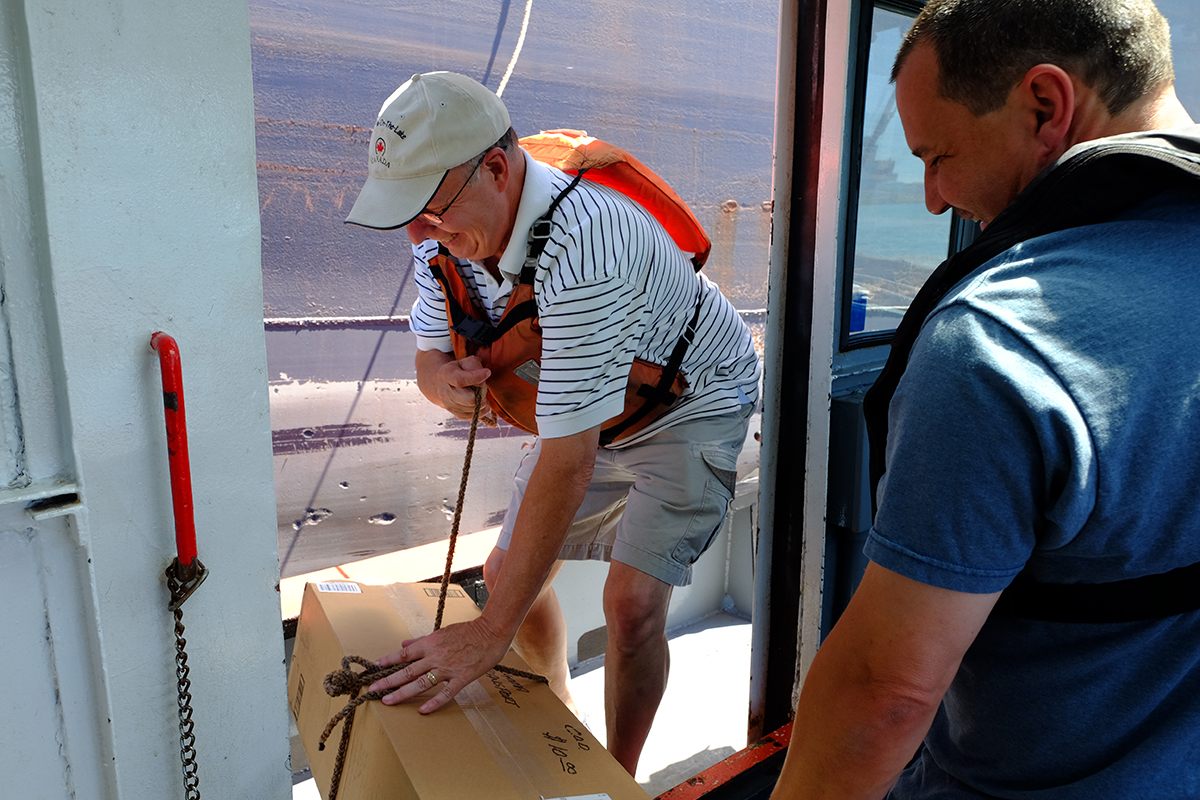 Its survival has largely depended on the bespoke, one-of-a-kind service it offers—Westcott himself called the company "a general wet nurse" for passing boats in a 1914 issue of Illinois Bell magazine. "It notifies all persons concerned of the times and movements of these vessels when in this stretch, especially navigating the dangerous Ballard's Ref and while going up or down the new Livingston Channel," the magazine wrote.
Delivering mail was a natural transition from delivering messages, and though only one location remains today, Westcott opened several more branches at other Great Lakes ports. In 1902, he received some competition from the "Independent Marine Reporting Company," set up by two former employees who had disagreements with Westcott, according to Gary Bailey's 1979 book Westcott: The First Hundred Years. The company didn't last, and in 1948, Westcott signed a contract and became an official U.S. Postal Service mail boat.
"There's no special magic about it; it's the idea that has stood the test of time," says Hogan.
Hogan initially set out to be a teacher, but when his dad called requesting backup, he couldn't say no and signed on as a deckhand, eventually abandoning his teaching dreams and settling into the boating business.
Captain Buchanan and Bill "The Birdman" Redding are the Westcott's core staff. They call themselves the A-Team, and start most mornings together with a bowl of oatmeal and a newspaper, waiting to get the first delivery alert of the day. While the regular post office experience is often a frustrating mess full of long wait times, apathetic postal workers, and the urge to get in and get out as soon as possible, at Westcott, relationships have been cultivated and nurtured for decades between the staff and the ships they service, which means that retired employees and boating enthusiasts drop in regularly and always on cue for chats about the latest news and a cup of coffee.
In the control room, between sorting mail and taking an order for chewing tobacco, discussion turns to disagreements with wives ("I felt the fire coming through the phone") to the best methods to soothe a teething baby ("You get some baby Orajel, put him in a car seat, sit him on top of the dryer, and you'll be good.") Buchanan and Redding both break out laughing. "It's not just driving a boat," Redding says of their day-to-day duties.
When a postal worker comes by to drop off mail, race relations in America is the topic of choice. "They're always telling you who to hate," says Buchanan, who grew up in an ethnically diverse neighborhood. "People need to just get away from this hate," the postal worker says before she moves on for another delivery.
Redding grew up about 35 miles north of Detroit with Hogan. He earned his nickname as a sophomore in high school, but everyone at Westcott still calls him "Bird," even as he's turned 60 years old. In 1979, he was working at GM-owned Pontiac Motors when along with thousands of people nationwide, he was laid off. That's when Hogan asked him if he was interested in working at his family's business.
Since then, he's been a pillar of the Westcott crew and now heads up the control room, where from two large monitors, he sees how close or far incoming ships are and coordinates their mail service. He also keeps a lending library with titles like "Tanker Operations" and "Survival Guide for The Mariner" for crew studying for their captain's license during breaks.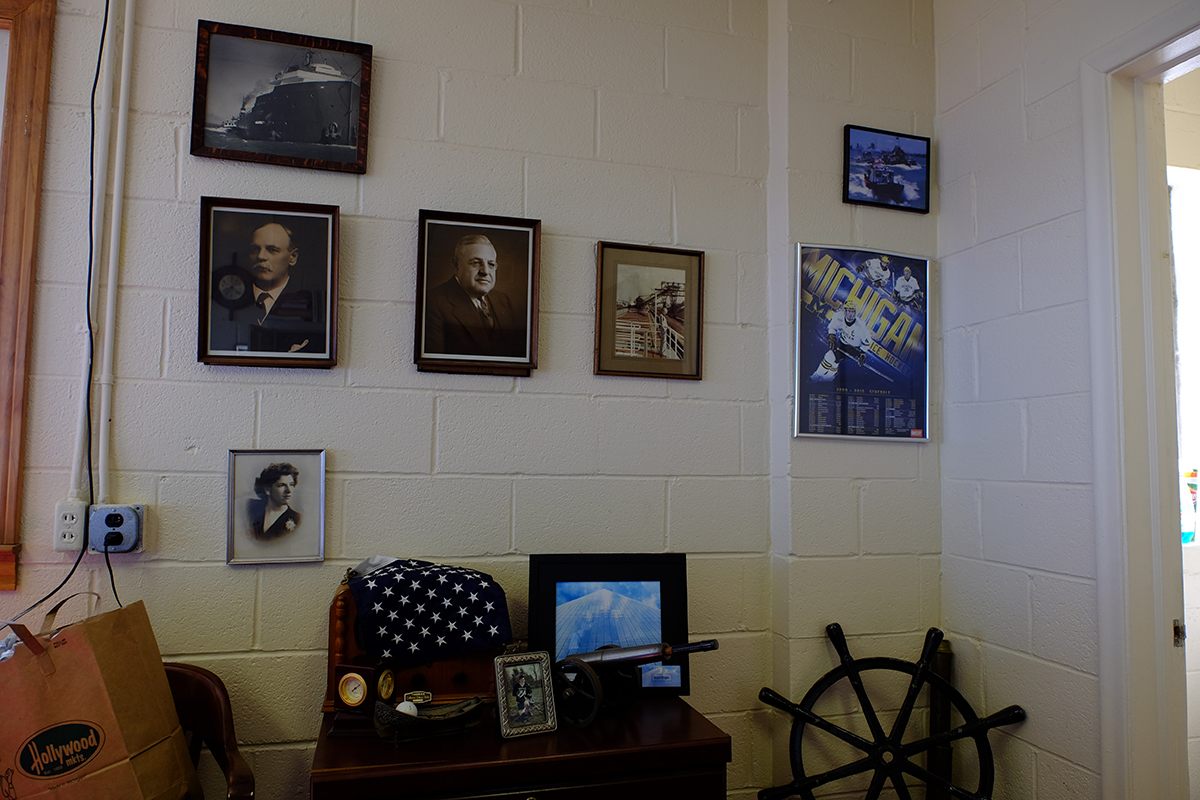 "This is a crazy industry," says Redding while gulping down a kielbasa during a brief respite from a flurry of phone calls. "It's either complete silence or craziness all at once."
As the first point of contact between ships and the mail service, Redding currently sits at a desk. But he used to be captain—and it was on his watch that he introduced Buchanan to the Westcott some 30 years ago, giving him his first ride in the mailboat one day as a teenager in October 1982.
Buchanan was born and raised in Southwest Detroit in a neighborhood many have referred to as a war zone, but one that he just calls normal. "It was an adventure, I wouldn't trade it," he says. "When you're used to it, it's your natural environment, it didn't seem bad to me at the time."
Perhaps those early adventures prepared him for some of the uncertainties of a job on the water. Both Redding and Buchanan have been involved in different rescue operations, having saved bridge jumpers intent on committing suicide, pulled kids out of a sinking boat, and assisted drunk skinny dippers from the river.
"They were some of the only people I have rescued out of the water that said 'Thank you,'" says Buchanan.
---
In the 21st century, J.W. Westcott has had to look at other ways of staying afloat. Changes in the Great Lakes shipping industry, which delivers 165 million metric tons of cargo every year, have impacted the business, and every 1,000-foot vessel being built will replace at least several regular-sized ships. Globalization, the closure of steel mills, and the growing concern for the environmental impact of coal leave an uncertain future for this often-forgotten region in America. If this industry declines, it leaves Westcott in decline, too.
"This is not the glory days of this industry," says Hogan. "There are eight-hour stretches when ships aren't in the area." These days, instead of seeing 45 to 60 boats in a day, only around 15 to 20 are serviced on average.
Things were especially tough during the automotive industry crisis of 2008, when steel production collapsed.
"It was a little scary for a while, we weren't sure in all honesty if we were gonna be around," says Redding. "Our company has survived how many wars, a lot of pretty crazy times, and all of a sudden we were looking at this as man, maybe this is it."
The car industry rebounded and things began to stabilize at J.W Westcott, too, but the company had already begun to diversify.
They added a pick-up and delivery service for ships that order a variety of groceries. They also conduct pilot changes for saltwater ships, which means that when foreign vessels come into the Great Lakes system, a U.S. or Canadian registered pilot must be on board to help guide the ship through the region.
"This new generation of ship owners and operators are coming to know us as quite a bit more than just the mailboat," says Hogan. "I think we were forced into that due to technology."
Indeed, technology has changed the way of life for this floating post office, especially when it comes to mail and the drop in the volume of letters they receive. In the sorting room at J.W. Westcott, the pigeon hole compartments used to be full of mail. Now many of them remain empty.
"Nobody wants to wait on anything anymore," says Buchanan. "Back in the good old days you would see girls kissing the envelopes and putting perfume on them and you're thinking about how intimate that is, and now, nothing is really intimate anymore."
Buchanan doesn't have much time to reminisce as a call comes in for a freighter heading down the river just as his shift is finishing up. He jumps off the desk he was sitting on, puts on a life jacket, and carries a mail sack outside, ready to get back on the water.