One of the 100 Desks in the U.S. Senate Chamber Is Full of Candy
A certain Republican has a sweet secret.
Hershey products from Pennsylvania are among the sweets stashed in the candy desk. (Photo: Bev Sykes/CC BY 2.0)
Here's an unusually sweet political secret: one of 100 desks in the U.S. Senate chamber has a drawer full of communal candy.
The "candy desk" has been a proud political tradition since 1965, when California senator and former Hollywood song-and-dance man George Murphy began keeping sweet treats in his Senate desk drawer. Murphy shared his candy stash with any senator willing to stop by his back-row spot on the Republican side of the chamber.
Murphy departed the Senate in 1971, but his candy desk lives on. Conveniently located right next to the Senate's eastern entrance, the desk is currently occupied by Pennsylvania senator Pat Toomey, who accepted the title of candy desk custodian in January 2015.
His pun-laden press release referred to the "Mounds of responsibility" involved in candy desk duty and assured he "campaigned for this assignment on the platform of life, liberty and the pursuit of Peeps."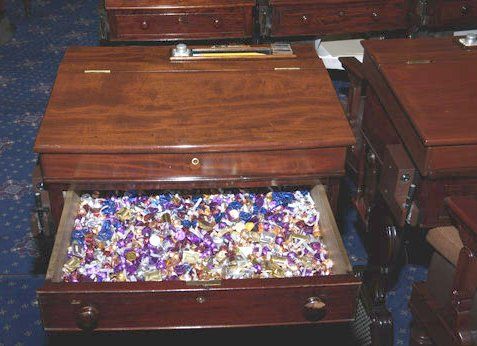 The candy desk's multicolored offerings. (Photo: Public Domain)
When senators take over the candy desk, they use it as an opportunity to promote sweets from their home state. Toomey has thus far stashed the drawer with the pride of Pennsylvania—Hersheys bars and kisses, along with Hot Tamales, Twizzlers, and Three Musketeers bars.
The previous custodian, Senator Mark Kirk from Illinois, supplied Milky Way bars, Jelly Belly beans, and Snickers chocolate, all donated from suppliers in his state.
Other former keepers of the candy desk include presidential hopefuls John McCain and Rick Santorum, whom the Pittsburgh Post-Gazette described as a "prolific candy distributor." When Santorum left the Senate in 2007, Craig Thomas, a Republican from Wyoming, inherited the special desk.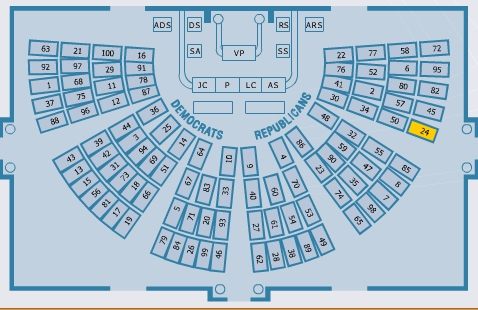 The location of Mark Kirk's candy desk is highlighted in yellow. (Photo: Public Domain)
As the Wall Street Journal reported at the time, this caused a bit of trouble—Wyoming is not exactly known for its high-volume candy production, and Thomas had to compete with the outgoing Santorum's Pennsylvania-sourced snacks. Wyoming-made "moose doodles"—chocolate-covered almonds shaped like deer droppings—were the suggested star product.
Though the candy desk has always been located on the Republican side of the chamber, Democrats are welcome to cross party lines when those 3 p.m. snack cravings hit. Yet talk has emerged in recent years of another candy desk having been established on the Dems' side. Last year the Post-Gazette reported that Democratic senators had been slipping cash to West Virginia senator Jay Rockefeller, who made bulk candy purchases on their behalf. Rockefeller, however, departed the Senate in 2015.
With him gone, the official candy desk on the Republican side is now the main option for snack-seeking Democrats in the chamber, a sweet and rare symbol of bipartisanship.
Object of Intrigue is a weekly column in which we investigate the story behind a curious item. Is there an object you want to see covered? Email ella@atlasobscura.com
Gastro Obscura covers the world's most wondrous food and drink.
Sign up for our email, delivered twice a week.