Only the Vatican Has More Christian Relics Than Pittsburgh
St. Anthony's chapel is home to some 5,000 important relics.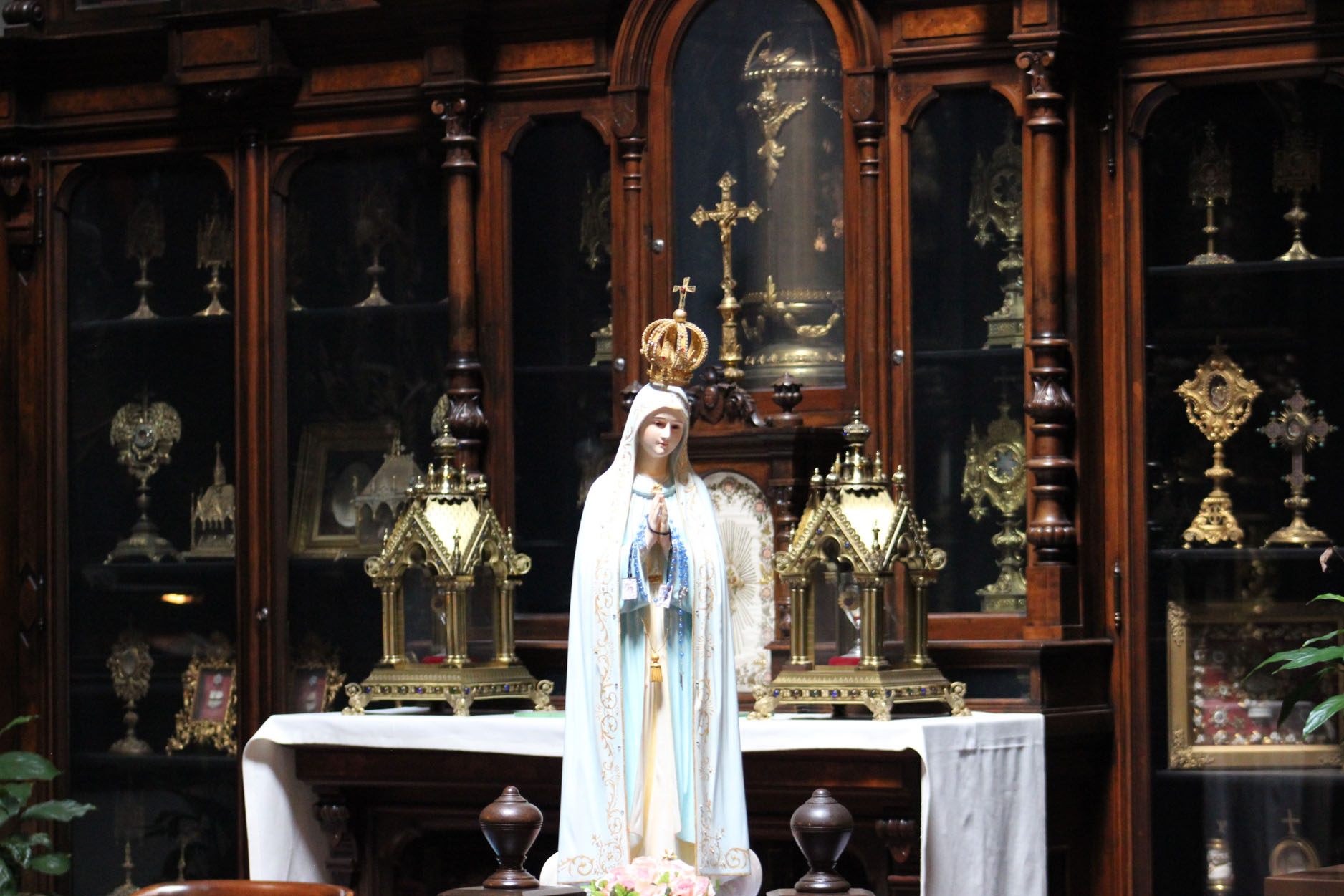 Troy Hill, population 3,000, is situated on a small plateau overlooking Pittsburgh, Pennsylvania. It's a historically German, but quintessentially Pittsburghian, neighborhood characterized by cozy row houses, gritty neighborhood bars, cool new restaurants, and lovingly decorated front porches bedecked with Steelers flags and flower baskets. But there is more in Troy Hill than meets the eye.
At 1704 Harpster Street sits St. Anthony's chapel, which houses the second-largest collection of Christian relics in existence after the Vatican. Within the greige brick facade are the bones, blood, teeth, ashes, hair, and personal belongings of the holiest members of the Christian church: the apostles, saints and martyrs. There are approximately 5,000 relics in total.
Inside the church, the eye is first drawn to a ceiling painted with religious symbols and names and then to tall walnut cases displaying hundreds of metal artifacts behind glass. There are miniature metal churches, monstrances, chasses (caskets), and medallions pinned to burgundy velvet. Each ornament contains a tiny, mysterious particle, tied in red embroidery thread and sealed with wax, which can be viewed through a clear glass or crystal aperture. There are what look like fingernail slivers and jagged pieces of porous grey bone. Some hold bits of cloth stained with drops of dried brown liquid.
The word relic comes from the Latin relinquere, or "to leave behind." The relics at St. Anthony's are mostly first or second class, which means they are the physical body parts of a saint, an item that came directly in contact with Christ, or an item worn or frequently used by a saint or martyr. These relics are investigated and certified by the church hierarchy and thought to be genuine.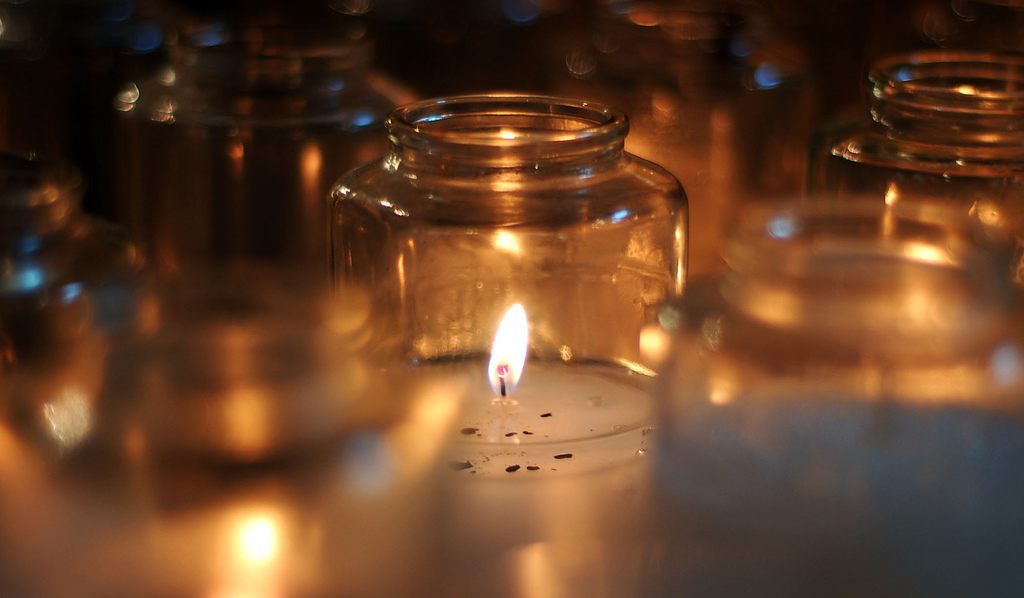 Some of the most astounding relics at the chapel include: 22 splinters of the True Cross, a thorn from the Crown of Thorns, a splinter from the table at The Last Supper, the skull of St. Theodore, a tooth from St. Anthony, and pieces of bone from all of the Apostles.
While the practice of relic collection was always a part of early Christianity, by the Middle Ages it had become an obsession. Relics were fought over and protected by monasteries, churches and the nobility—not just for spiritual reasons, but for the social prestige bestowed on their owners and the economic boost that resulted from pilgrims who travelled to see them and pray to the saints in their presence.
Relics are considered so valuable that they're encased in protective vessels called reliquaries. Depending on the time period, owner, and region, reliquary style can be as simple as a plain oval frame or extremely complex with filigreed metal, embroidery, beadwork, and precious stones. Once sealed, they are never opened. Even a crack would cast doubt upon their venerability, explains Carole Brueckner, chairperson of the St. Anthony's Chapel Committee and tour guide.
Most of the reliquaries at St. Anthony's are hundreds of years old and fine examples of artistic craftsmanship in the service of religious belief. One rare example: a gold-leafed, cathedral-shaped calendar reliquary that holds a relic of each saint on his or her holiday, one for every day of the year.
The largest reliquary, in the shape of an altar, holds relics from 700 venerable members of the church. According to Brueckner, this piece inspired the structure of the chapel's own display cases. In the Catholic faith, the church is believed to be one body, and the hundreds of relics within the miniature cathedral may act as a visual corollary to this concept.
Most stories that accompany the relics are equal parts gruesome and amazing. A pair of skulls wearing elaborate golden headdresses are from the companions of St. Ursula, a group of 10 Christian virgins who accompanied the British princess Ursula on a pilgrimage to Rome in the fourth century. The legend goes that their ship landed in Cologne, Germany, just as it was being attacked by the Huns. The companions were beheaded and St. Ursula was killed by an arrow.
St. Anthony's was built in 1880 by Father Suitbert Mollinger, a wealthy Belgian aristocrat who attended medical school before becoming a priest. He was sent by the Catholic church to Pittsburgh in 1868 at the age of 40, where he became the first Pastor of Holy Name Diocese. According to Brueckner, "It was a big culture shock for him. He was mostly placed here because he spoke German and most people were German." Mollinger brought many gifts to the community: a campaign for child literacy, his own formulas for medicinal compounds that were dispensed free of charge at the local apothecary, and enough money to build a rectory and convent. He also brought the collection of (at that time) 2,000 relics.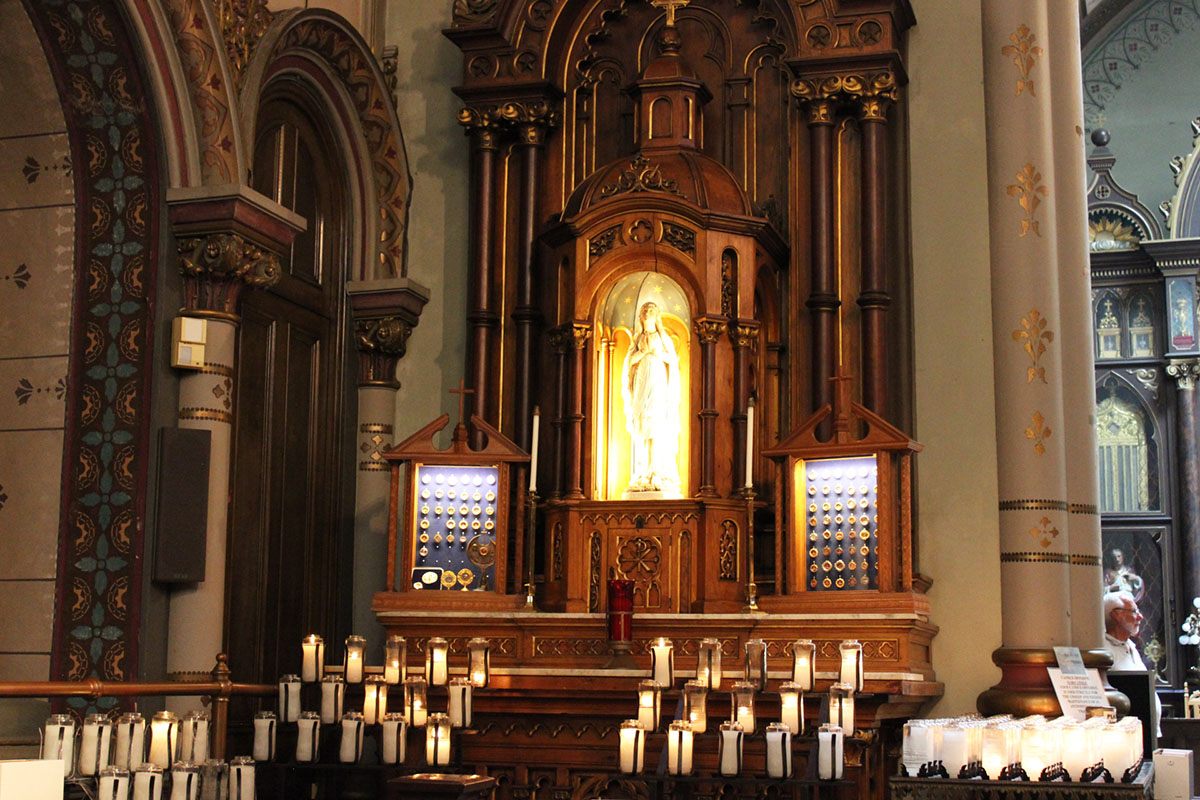 During the mid to late 1800s, the political and religious upheavals of the Kulturkampf in Germany and the Unification of Italy resulted in churches being looted and their reliquaries either smashed or sold for their precious stones and metals. Father Mollinger was given many relics to bring with him to the United States for safekeeping, and the collection continued to grow. To store the relics, which were overflowing from side rooms and the rectory, he used his private wealth to construct the chapel, a 30-by-30-foot structure in a Victorian meets Romanesque style. The reliquaries are still arranged to his specifications.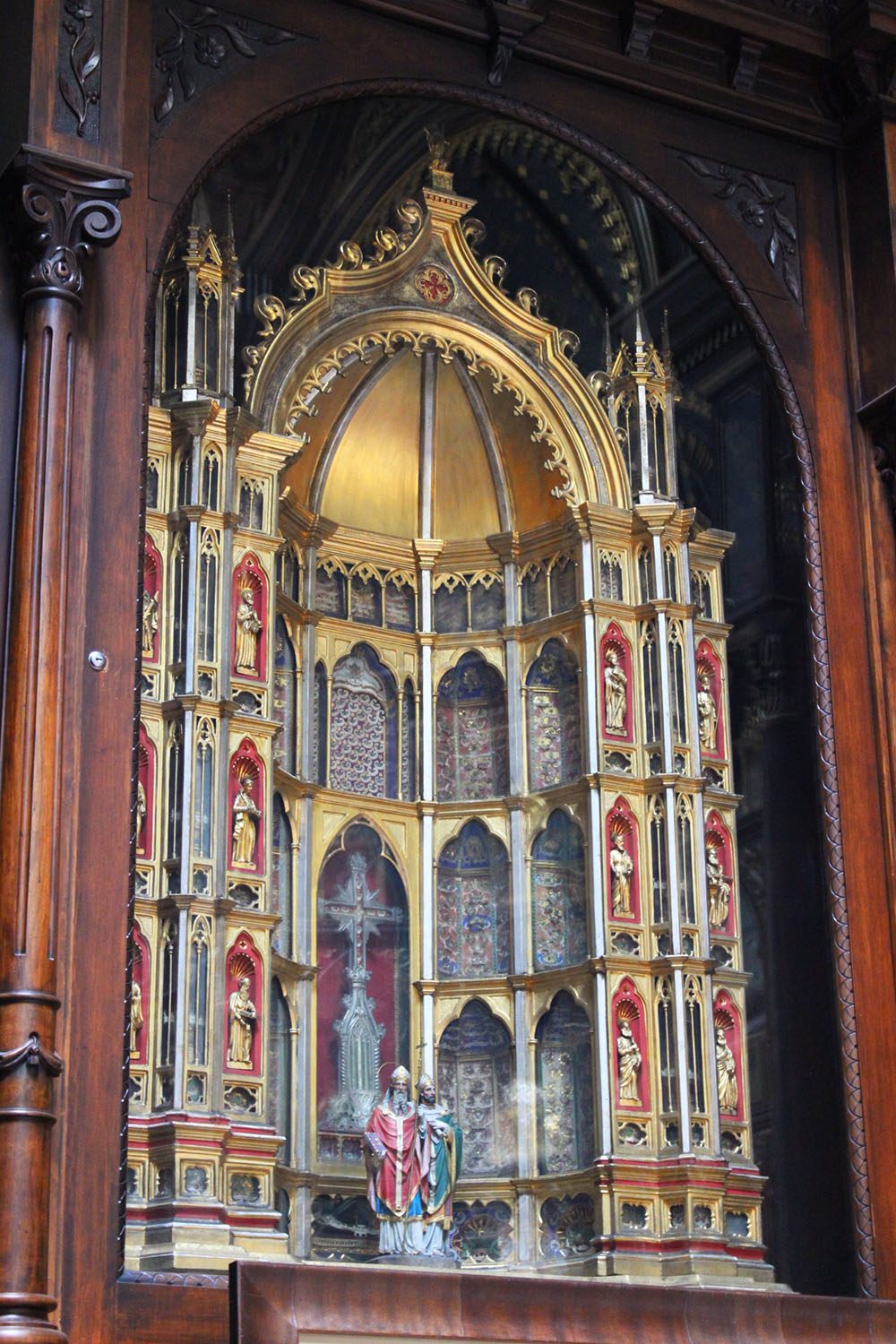 Mollinger was known internationally as a faith healer. Although he used his medical training, he prioritized the spiritual, invisible power of faith to heal illness. According to Brueckner, he "would bestow a blessing with one of the relics he had acquired. Many times the blessing turned into a healing." St. Anthony's offered cures for both spiritual and physical ailments. The relics, in accordance with Catholic doctrine, were not believed to possess magical powers, but were more than just mementos or remains. They were a spiritual link between life and death, and man and God. Their presence helped visitors achieve a stronger spiritual connection to the divine, in a similar way that visiting a loved one's grave might make you feel closer to them.
Brueckner, a lifelong resident of Troy Hill, notes the many stories of healings told by older generations. Toward the end of the 1800s, the tiny neighborhood hosted thousands of pilgrims every week; at the time, however, record-keeping was not a priority. In 1892 the original chapel was expanded to include a nave with beautifully carved life-sized statues of Christ's walk to the crucifixion. The same day the new addition was dedicated, Molilinger collapsed. He died a few days later, on June 15, 1892 of edema.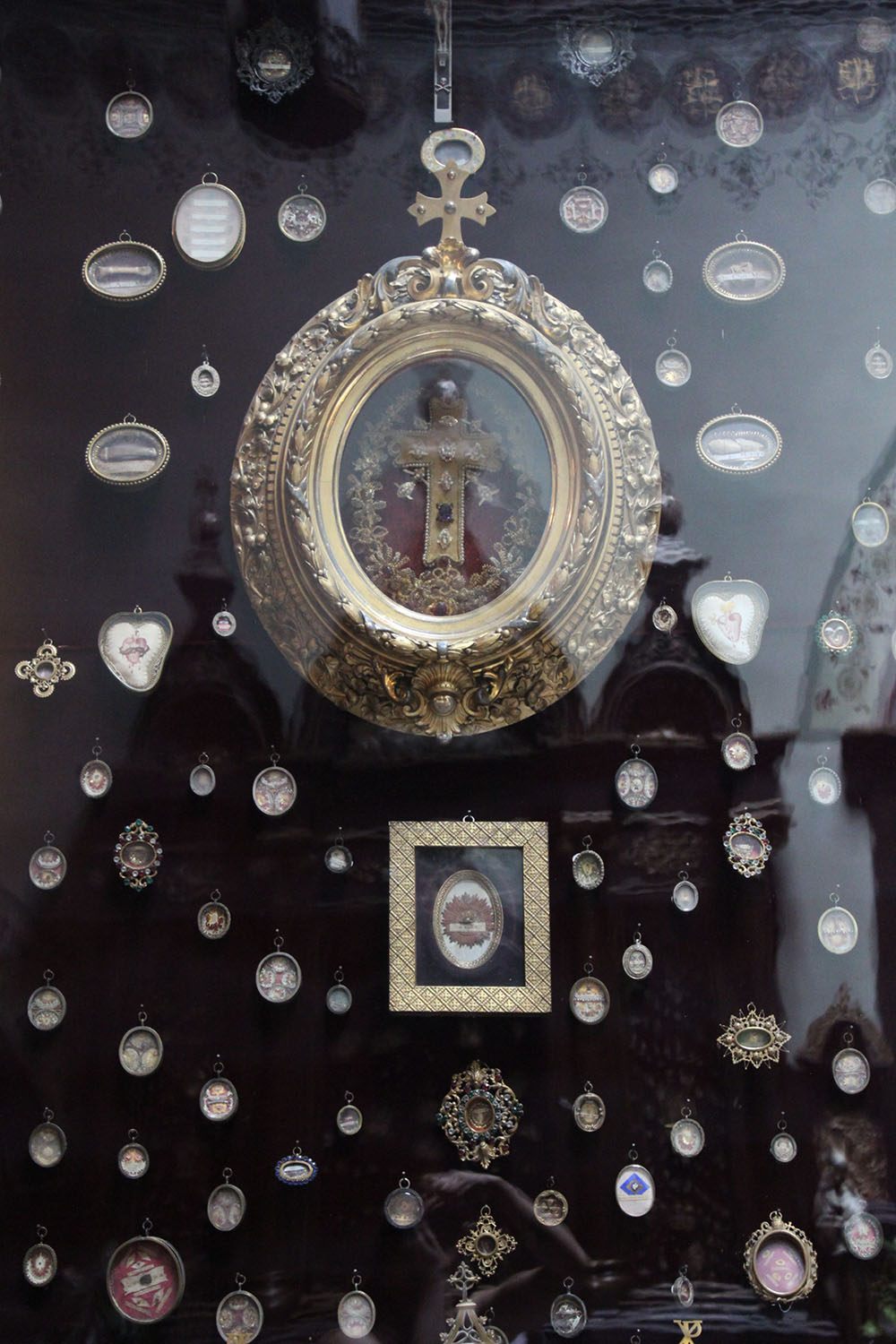 After his death, the private chapel was left to the parishioners, but since Mollinger was the main draw for crowds, it fell into obscurity and without the funds for maintenance, was nearly condemned in the 1970's. It was saved by the community; parishioners and sisters from the nearby convent raised enough money to restore the chapel to its former glory.
Stories of faith healing and St. Anthony's continue into present day. According to the Pittsburgh Post Gazette, in 1999 Jill Chadwick was 24 weeks pregnant when she felt a sharp pain in her abdomen. She was going into premature labor. Chadwick's mother visited St. Anthony's where the pastor, in a highly unusual move, lent her a relic—a hair from the Canadian priest Frederick Janssoone. Chadwick prayed to Fr. Janssoone in the hospital, secretly holding the relic to her abdomen.
Alone later in the delivery room, Chadwick saw him sitting next to her. She notes, years later, "His eyes were bright and he smiled a huge smile and gave a slight up and down nod of his head. I recall him sitting in a chair to my left, legs crossed, hands crossed in his lap … it still brings tears to my eyes." She also remembers a sense of well-being and quiet, despite being in a busy hospital. Her newborn baby astounded doctors with his quick recovery and soon was in good health.
You don't have to be a religious person to believe that the line between body and spirit is opaque but permeable, which is made clear when one feels the effects of an illness or tragedy. The relics at St. Anthony's appeal to all the senses in a concrete way, but the "eyes of faith" are what the chapel, like very few places in the world, enables: the ability to see what is in front of you and beyond, to put your trust in faith.