This Fraternity of Frenchmen Is Reviving the Beloved Pâté-Croûte
A foodie brotherhood launched a world competition dedicated to their favorite meaty pastry.
When four friends in the French culinary capital of Lyon started a brotherhood dedicated to pâté-croûte in 2009, this once-beloved charcuterie had fallen from grace.
In medieval France, cooks baked seasoned loaves of ground meat inside pastry cases. These savory pies were dubbed pâtés, and their tough dough was not meant to be eaten. Instead, the pastry helped keep its contents fresh. Over the 17th and 18th centuries, edible, butter-based crusts came into fashion, often filled with whimsical, rich fillings. The famed 18th-century gastronome Jean Anthelme Brillat-Savarin lovingly described his mother's 32-kilogram pâté-croûte, containing 15 different meats and flavored with pistachio and truffle. But these days, most French people get their pastry-enveloped terrine from the deli section of the supermarket.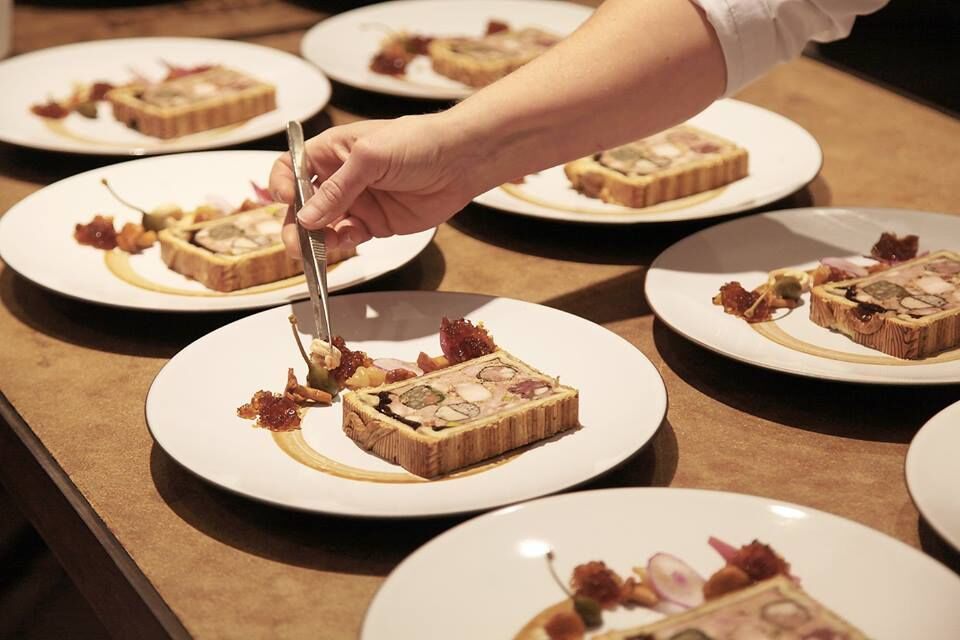 Some see that as a disgrace for the noble pâté-croûte (or pâté en croûte, for those outside the Rhone Valley). "Industrial producers completely massacred the product," says Gilles Demange, one of the co-founders of the Brotherhood of Pâté-Croûte. "To such an extent that restaurants refused to serve it anymore."
Demange first came up with the idea of a brotherhood while enjoying pâté-croûte in a restaurant kitchen, one of the only places the gastronome could get his hands on a good pâté. Then, he invited fellow aficionados Arnaud Bernollin, Audrey Merle, and Christophe Marguin, president of Lyon's Toques Blanches, an association of top traditional chefs and pâtissiers, to join him in promoting pâté-croûte as a cornerstone of French gastronomy. In 2009, they launched the World Championship of Pâté-Croûte, welcoming charcutiers from around the globe to strut their stuff in front of a jury made up of award-winning and Michelin-starred chefs.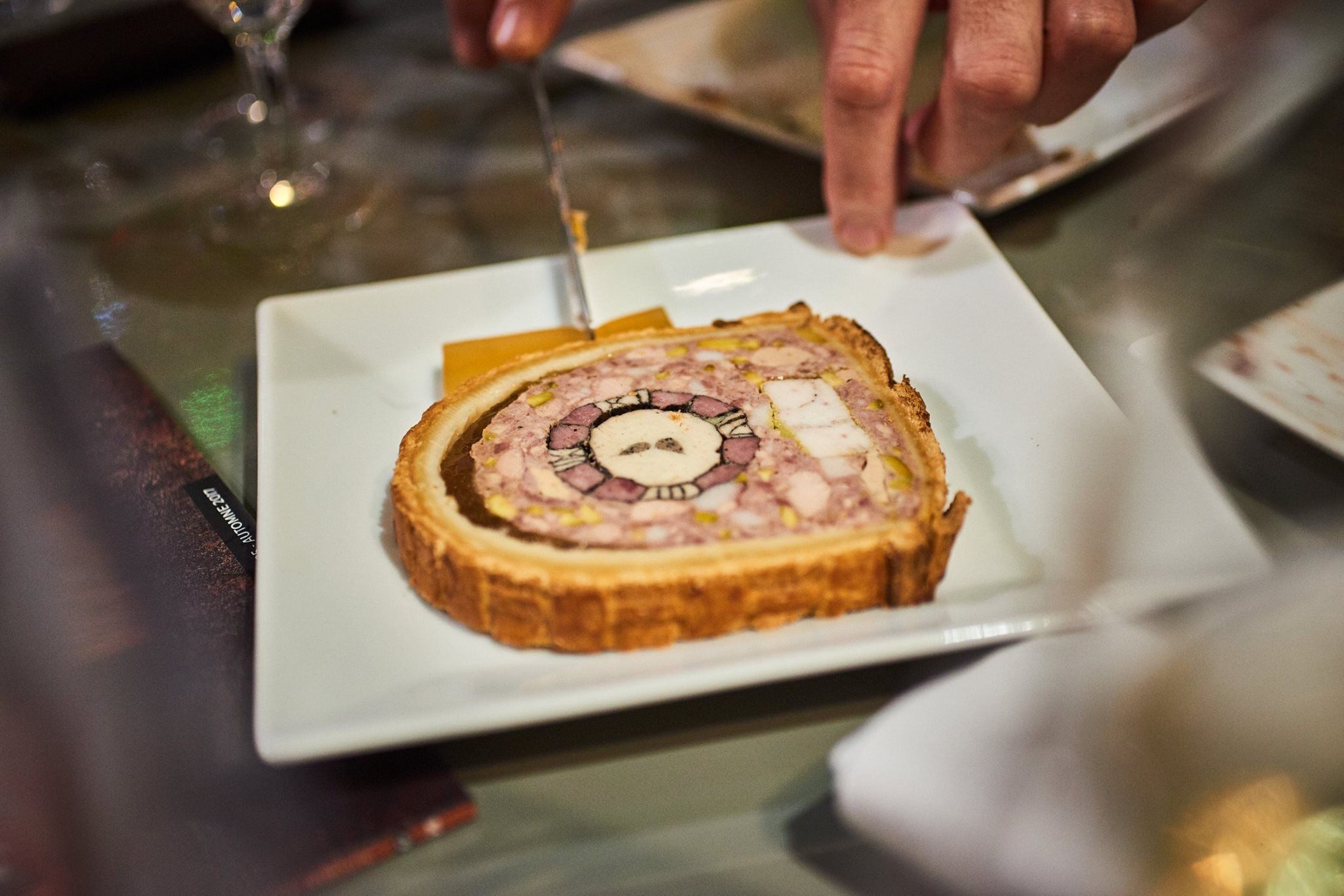 An industrial pâté-croûte contains synthetic aspic, preservatives, and little by way of texture or flavor. But it's no surprise that most people seek out a shortcut. Pâté-croûte is an endeavor, taking four days and a range of skills to make, from the laminated puff pastry, to the seasoned terrine, to the long-simmering gelatin. The dish exists, explains Demange, "at the intersection of the talents of pastry chefs, charcutiers, and chefs."
Each year in December, not far from Lyon, the jurors blind-judge the pâtés. They focus on tastes and textures, of course: a crispy dough, a flavorful filling. But aesthetic is also important, and it's where many winners stand out from the crowd.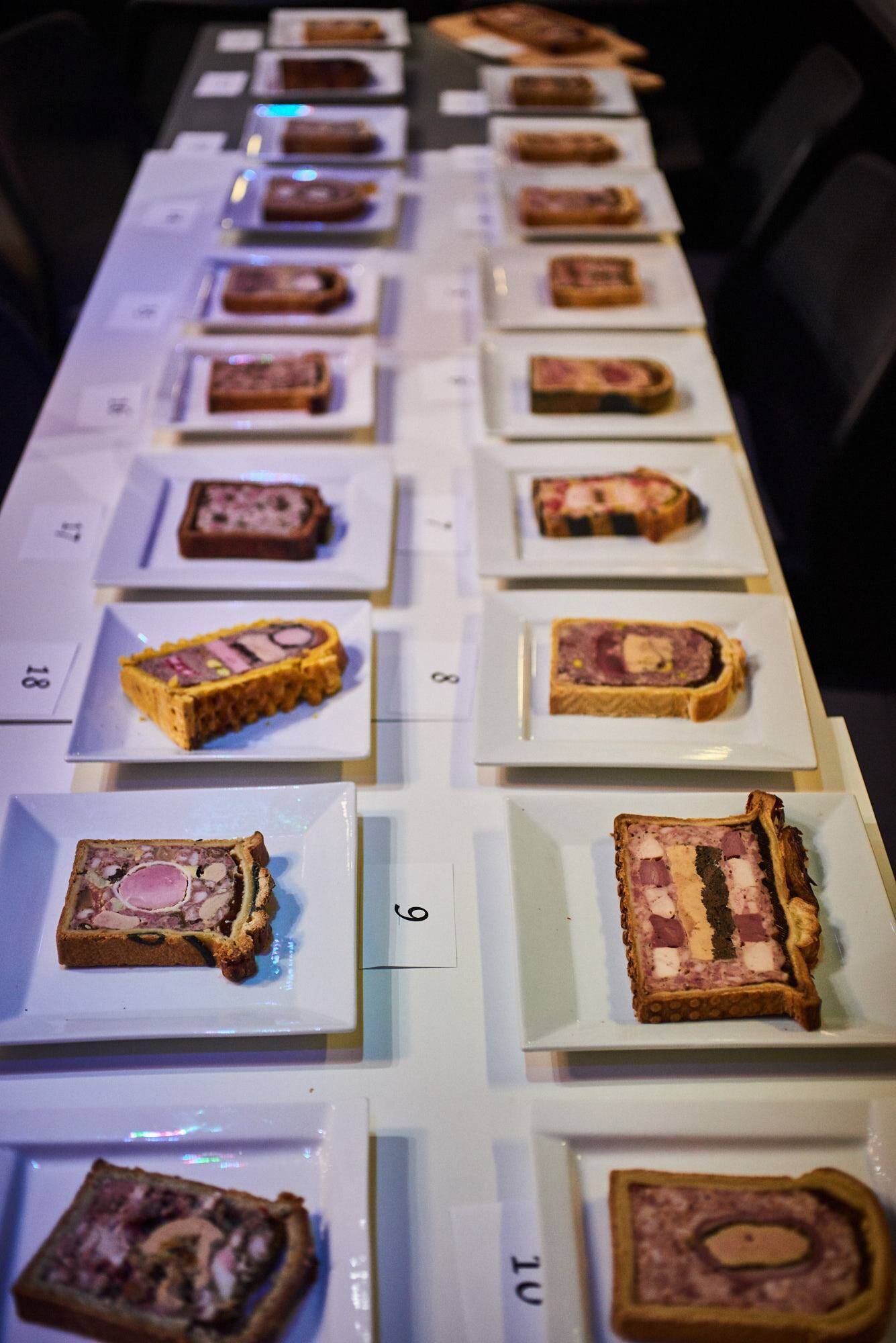 The ideal pâté-croûte should have a crisp puff pastry that is neither too thick nor too thin, encasing a meat filling that is rich and flavorful but never too fatty. Separating the two is a jelly-like aspic, which not only keeps the meat from oxidizing, but also keeps the crust and filling separate during baking. "The aspic is essential," says Demange. "Because when you cook something in a dough, the filling shrinks. So there's going to be air in between. If you don't fill that with something, with aspic, the meat will leak into the dough, and the dough will become soggy." And since the butter-based pastry and fatty filling are quite rich, the aspic also adds an essential lightness to the finished pâté.
One of Demange's all-time favorites over a decade of the contest was a 2012 pâté made by Yohan Lastre, owner of Sans Apostrophe, a shop specializing in pâté-croûte. Lastre's wife Marion, an artisan woodworker, created a special mold that allowed him to decorate the outside of his pork, chicken, Challans duck, veal, rabbit, pigeon, and foie gras pâté with a design of black mushrooms.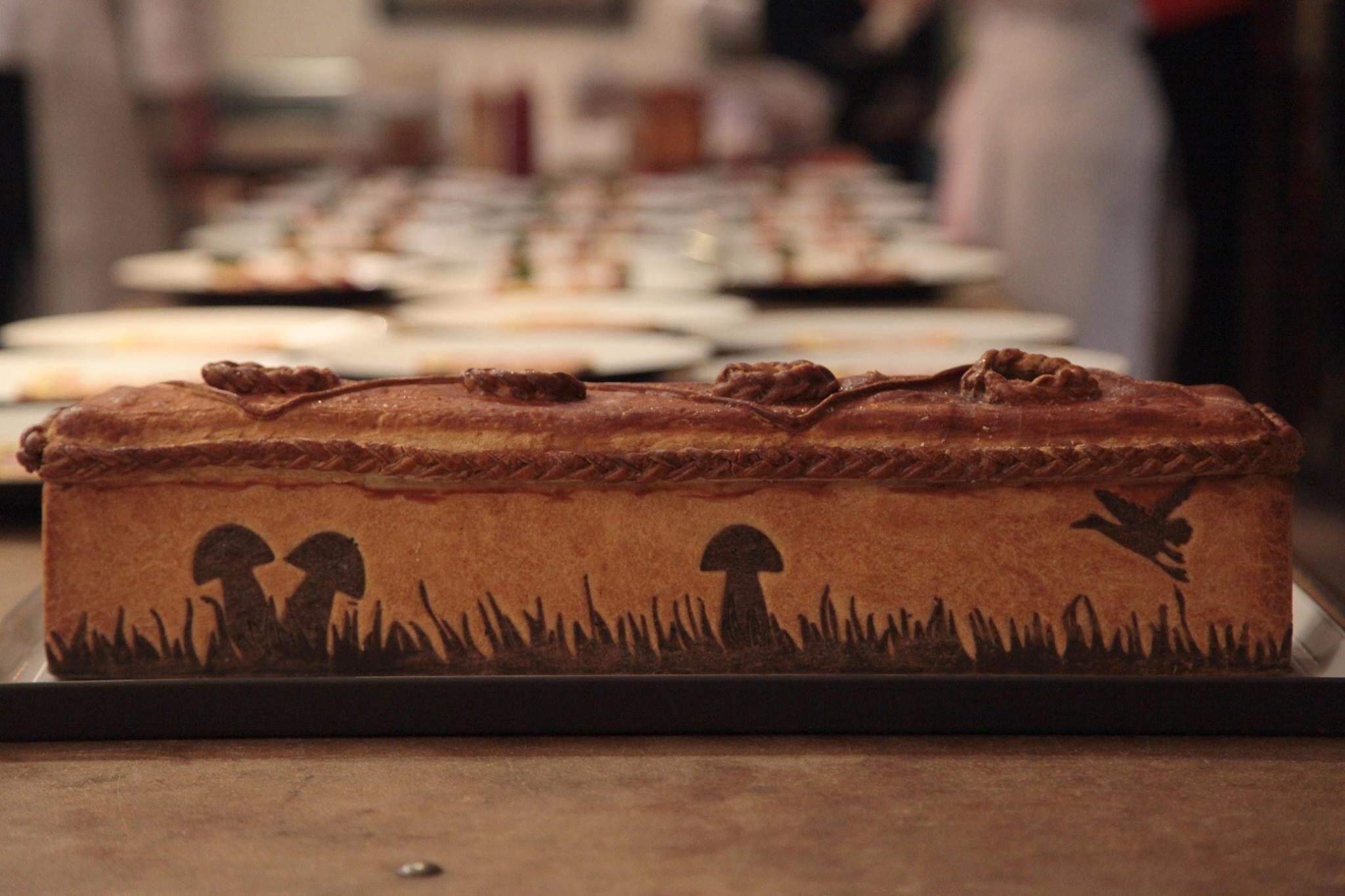 The 2018 winner, Daniel Gobet of SoGood, a high-end delicatessen near the Swiss border, believes that his pâté came out on top thanks to his precision. He forewent fancy decorations, focusing instead on achieving a perfect glaze on his crust, a technique that took him a year and a half to perfect. It was the ideal way to finish off the recipe that he spent four years concocting: a combination of Bresse hen, Barbarie duck, foie gras, veal sweetbreads, and a duck jus reduction.
For Gobet, detail was everything. "I dissected each ingredient, one by one," he says. "I worked with different flours, different butters. I chose a little foie gras producer, a little duck producer." While his efforts paid off, it wasn't easy. There's difficult dishes, he says, "but pâté en croûte is really its own thing."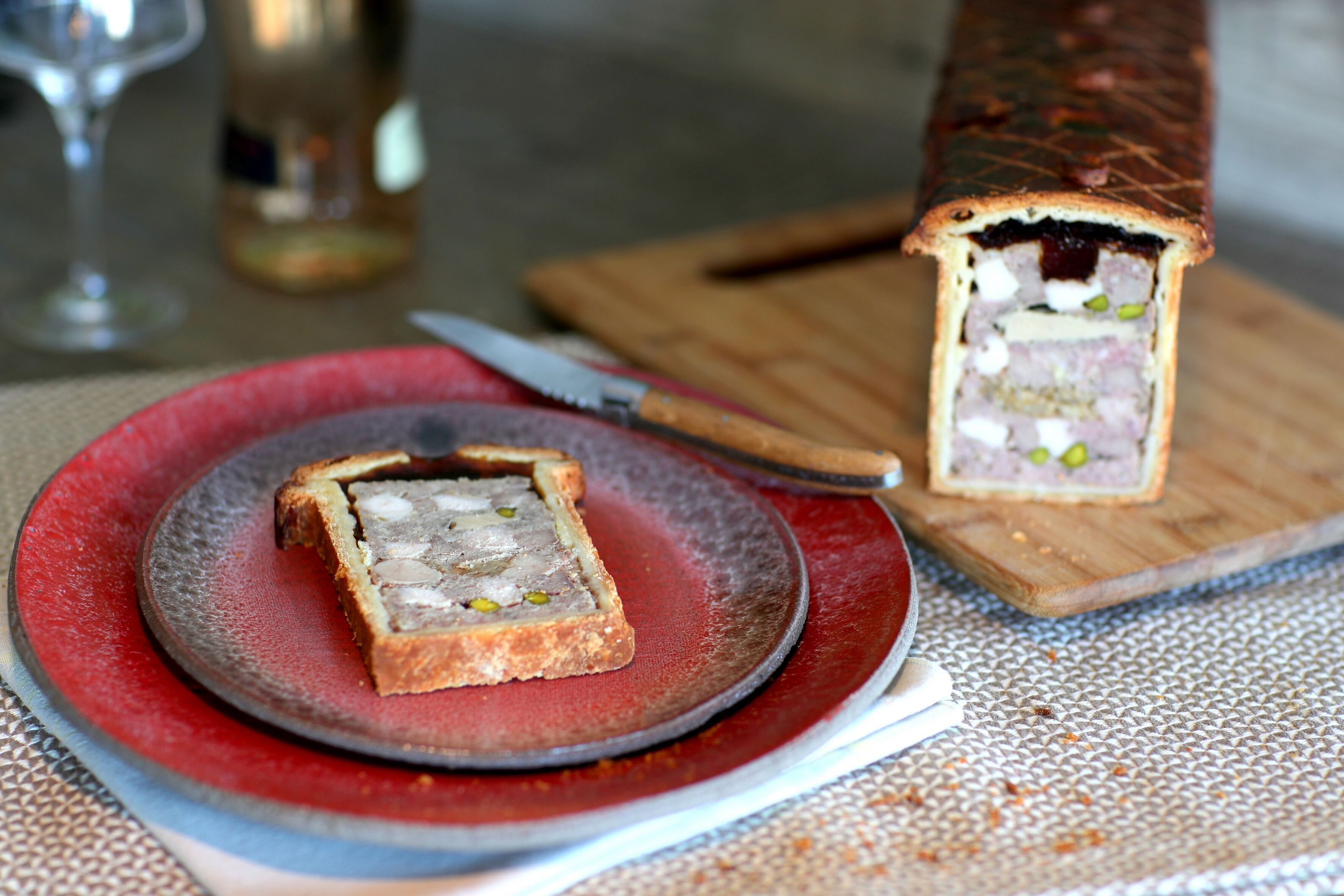 Since the World Championship of Pâté-Croûte was first established, the dish has skyrocketed in popularity in France. Pâté-croûte now appears on the menus of Michelin-starred tables such as the Pré Catelan and the Bristol. It was even served by chef Alain Ducasse at a state dinner shared by presidents Emmanuel Macron and Donald Trump in 2017. "That was unimaginable before," says Demange.
Since 2013, when two Japanese chefs first made it to the final round, the contest has become a true world championship. Selection rounds now take place in both Japan, as of 2015, and the United States, as of 2016. Japan saw 70 entries this year, and three of the top four pâtés in 2018's contest were made by Japanese chefs.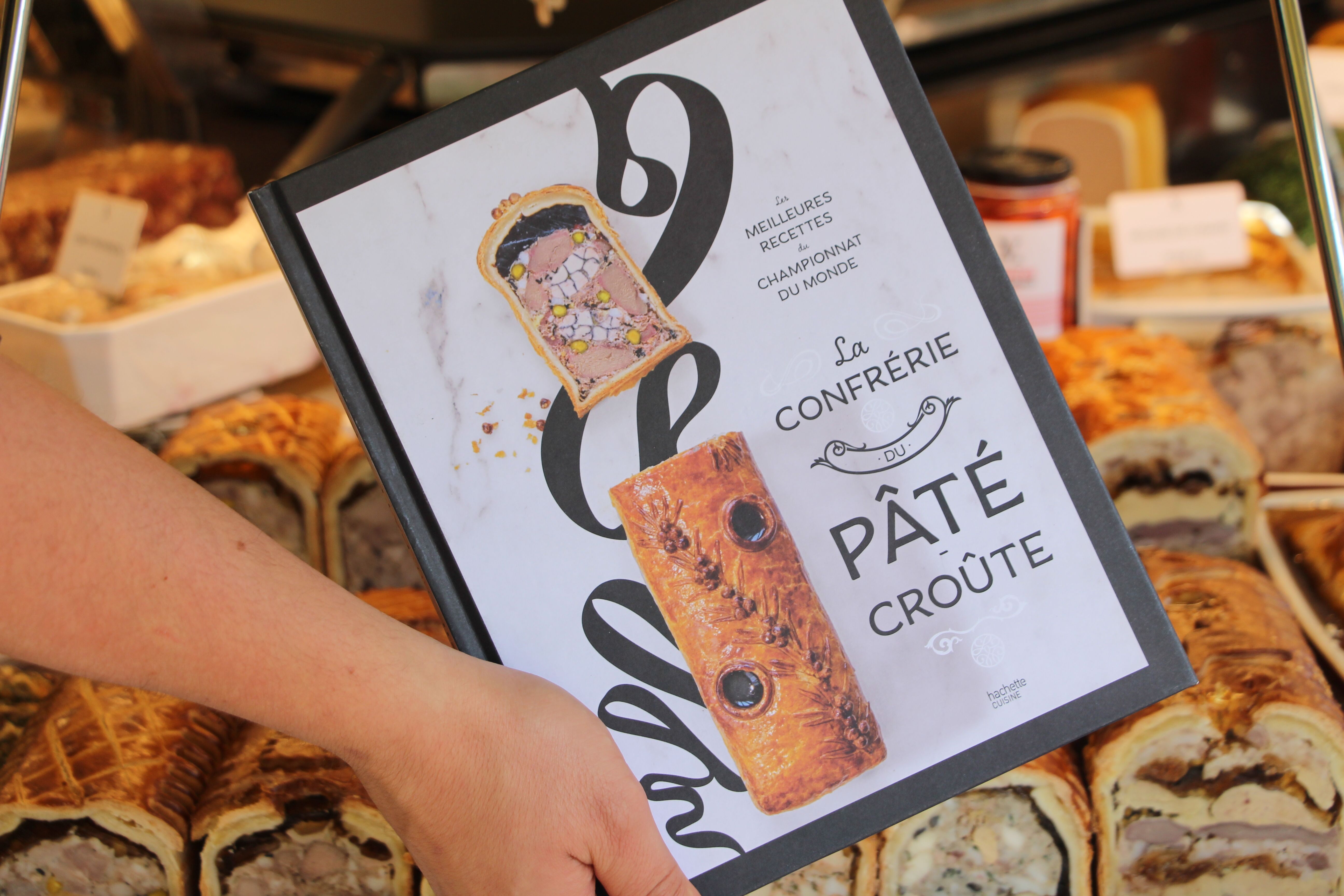 But pâté-croûte is still evolving in its native land. Gobet now makes 10 different kinds, including a bouillabaisse-inspired version for the Martinez Hotel restaurant on the French Riviera. And in Paris, Franco-Vietnamese chef Céline Pham developed a bánh mì-scented pâté-croûte for top charcutier Gilles Verot's five Parisian shops. Plus, the top recipes from the last 10 years of the Brotherhood of Pâté-Croûte's contest have been united in a beautiful book, to be re-released in December.
"We couldn't have done this with another dish," says Demange, of the contest and pâté-croûte's new popularity. "It really has an incredible potential."
Gastro Obscura covers the world's most wondrous food and drink.
Sign up for our email, delivered twice a week.