Unseen 1960s Photos of London's East End
A hidden archive of glorious Kodachrome, rediscovered.
We don't know a whole lot about the life of the amateur photographer David Granick.
We know he was born in Stepney, an area of London's East End, in 1912, as the eldest child of Anne Rabinovitch and Jonah Granick. Sometime when he was in his 50s, we think, he started to photograph the broader neighborhood where he'd grown up. He must have been a pretty precise person: each image included a date and an exact location. And we know that before he died, in 1980, he arranged to have his slides donated to Tower Hamlets Local History Library & Archives.
Beyond these basic details, though, there is precious little information available about Granick. Even his work—consisting of more than 3,000 Kodachrome transparencies—remained largely unseen for over three decades. That didn't start to change until early 2017, when the East London photographer Chris Dorley-Brown first glimpsed Granick's work at the Archives.
"I was completely blown away by these pictures," says Dorley-Brown, of the first time he saw Granick's slides. "I had always suspected that there was a great color collection of East London photographs taken during this era."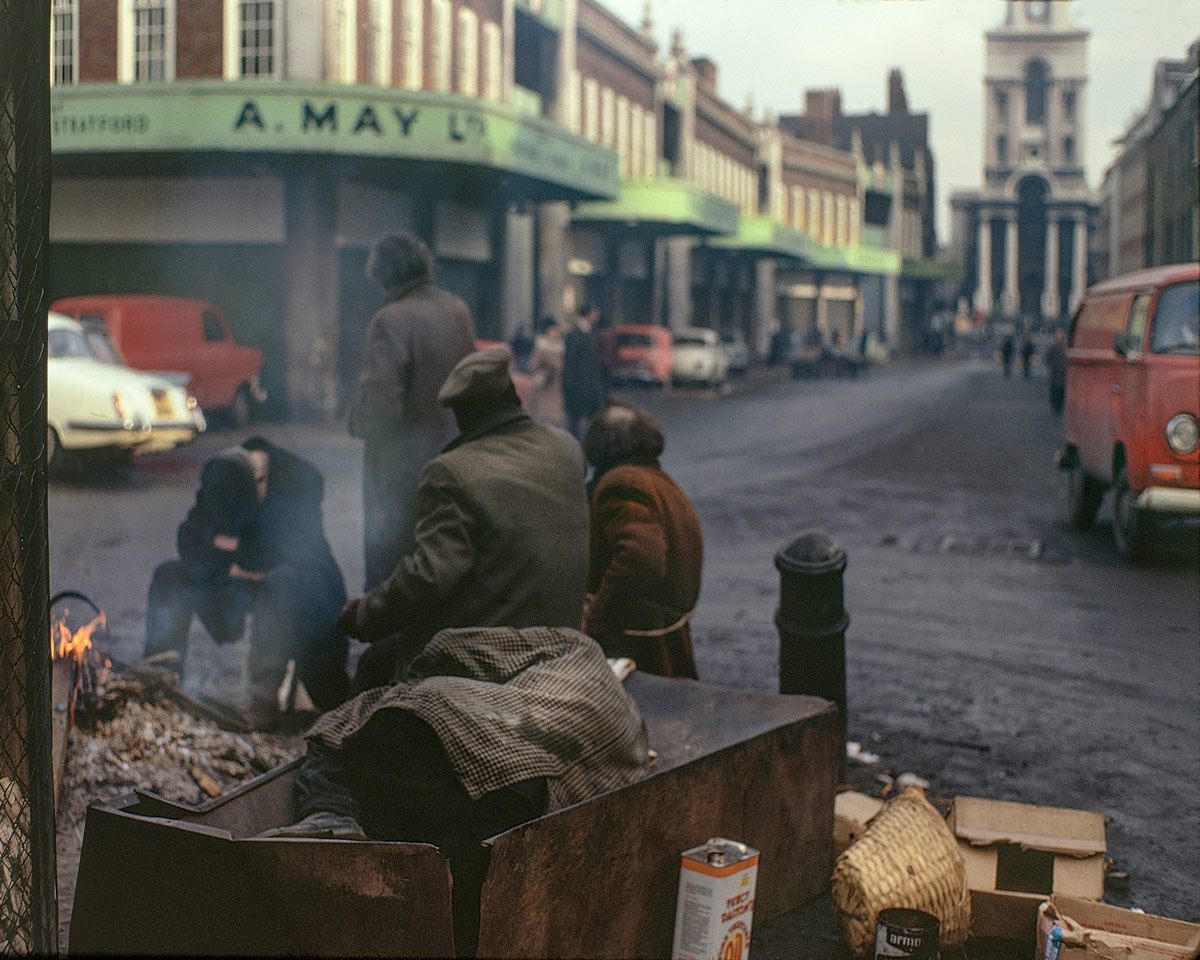 Dorley-Brown had long been fascinated with the post-war East End, and particularly its depiction in color film. "Granick was an amateur," he says. "He shot these pictures to illustrate talks he gave to local history groups, and I think that is what makes them so alluring. There is no 'professional' agenda here. They are impressionistic, personal. He knew the territory and how to photograph it from an insider's perspective."
This territory—which has no official boundary but lies, broadly, east of the City of London and north of the Thames —experienced brutal bombings during World War II, particularly the docklands. Some of this damage is visible in Granick's photographs, 20 years after the war had ended. "The East End was changing rapidly during these decades," says Dorley-Brown. "The area was very run down. My feeling is that Granick wanted to preserve this melancholic post-war mood, so it's really the last glimpse of a lost paradise. I can imagine that this was his motivation."
This mood is conveyed by both the tones of the Kodachrome film Granick used, as well as his stylistic choices. "The lighting and compositions are very precise," says Dorley-Brown. "There is such care in the decisions he made, what to include, what to exclude. London is quite chaotic visually, not an easy place to photograph well."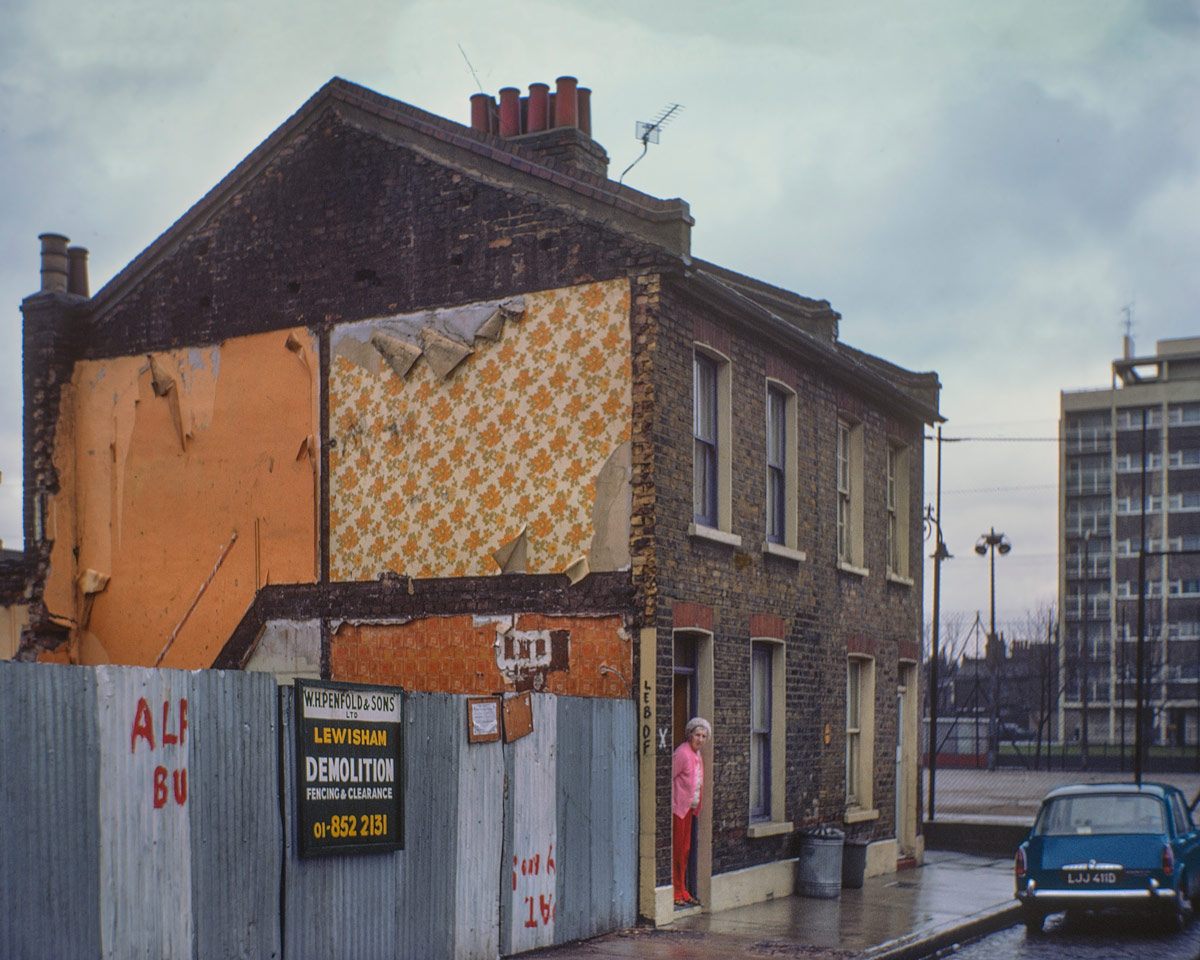 Nearly all of Granick's work was shot on Kodachrome 64, a type of color film that has now been discontinued. "The rarity of archival color pictures is what makes these so unique," says Dorley-Brown. "Thank God he shot on Kodachrome, it's so stable that they are as good as the day they were shot and it digitizes very well."
In one photo, a derelict house stands under the then brand-new, 17-story Stifford Estates in Stepney Green. In another, an elderly woman in a pink cardigan pauses in her doorway; the house next door has been demolished, but its floral wallpaper is still visible on the side of her house. Another shows a man pulling a horse and cart along Three Colt Street, pointing at the camera. Behind him is the steeple of a 17th-century church, St Anne's, and a crane.
"The emergence of these pictures is very timely," notes Dorley-Brown. "The speed of development in East London [today] is out of control. Locals are being priced out of the area. These images remind us what could be lost."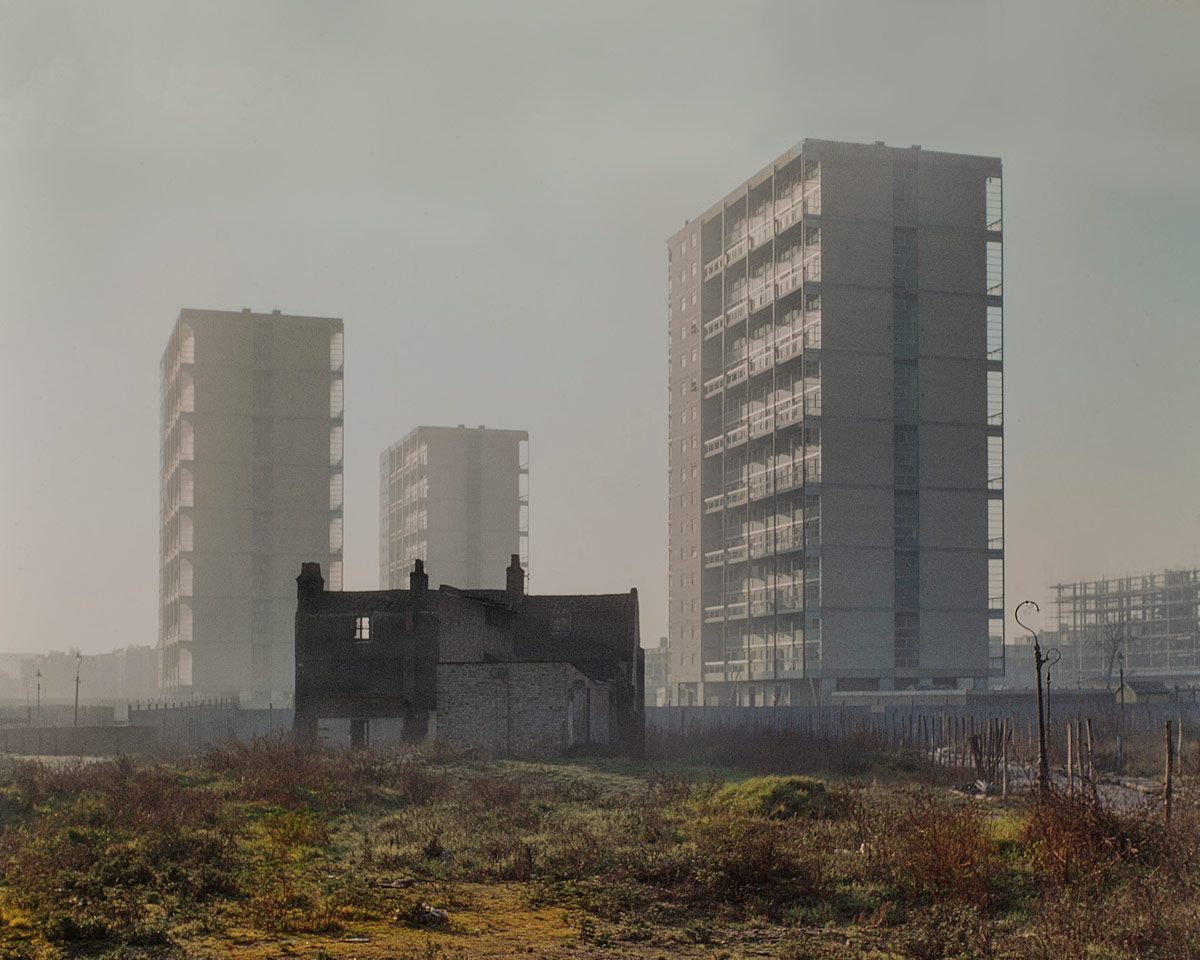 The publication this month of a book based on Granick's work, The East End in Color 1960-1980, coincides with an exhibition of some of the photographs at the Archives' building on Bancroft Road—the very same building where Granick's slides were originally donated in 1980. Dorley-Brown wrote the introduction to the book, and in it, he sees the world Granick captured on the cusp of change:
"…the photographer knows he's getting the last shots of those wharves, steamers and warehouses before they are replaced by imagined hotels and marinas, the proto-blueprint for the new world dominated by leisure, tourism and heritage replicas. These post-dockland utopias are soon to be upgraded into big business steel and glass, craven monuments of late capitalism. The future was in a distant haze, just around the corner."
Atlas Obscura has a selection of images from the book, published by Hoxton Mini Press; the exhibition is open through May 5, 2018.