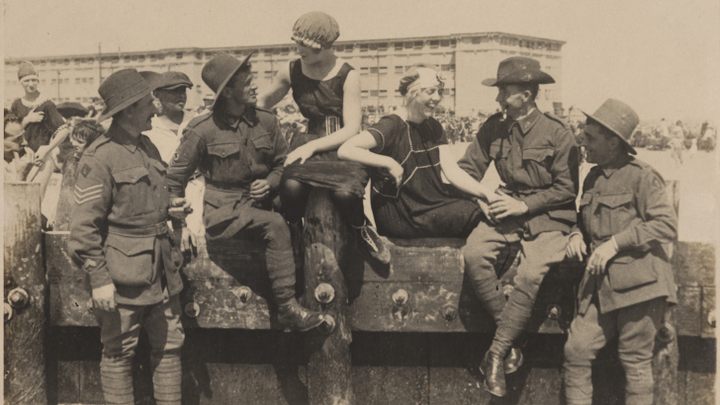 How World War I Turned Soldiers Into Tourists
A new exhibit reveals the wondrous sights service members found away from the trenches.
The image would look right at home on Instagram: a group of seemingly carefree young men in uniform flirting with two fashionable women on a sunny summer day on New York's Brighton Beach. But the photograph was taken more than a century ago, during World War I: a moment of joy in a period now remembered for relentless tragedy.
"These photographs turn what we think we know on its head and open our eyes to the humanity in a time that was inhumane and catastrophic," says Lora Vogt, a curator at the National WWI Museum and Memorial in Kansas City, Missouri. The museum recently debuted Snapshots, a new exhibit featuring 300 images captured by service members and others. The photographs, drawn almost entirely from the museum's collection, offer a more complete picture of life during the conflict, Vogt says. "Their lives are not that one battle we end up studying in history textbooks. These images fill in between the lines and give history life and vitality."
The men on the Brighton Beach boardwalk were probably on vacation. They were soldiers in the Australia and New Zealand Army Corps; some 500 had been furloughed to the United States after the brutal Gallipoli campaign in Turkey in 1915 to await redeployment to Europe. In the meantime, they could just be tourists.
World War I was not the first conflict to be captured on film—early photographic technology captured stark images of the Civil War—but it was the first to be documented so widely by the rank and file. By 1918, the last year of the war, an estimated two million Kodak cameras had been sold. "These images give us uncensored, unvarnished insight into what the real experiences were," says Vogt. "Not a historian's version of the experience, not the government's version, not the military's version, but just that of one individual."
Some of those individuals chose to photograph the horrors of the battlefield, while many others took the same type of snapshots that fill any social media feed today, full of friendship, frivolity, and wonder. Service members sent overseas to fight were also travelers discovering a whole new world. The Eiffel Tower! The Sphinx! The Grand Canal!
The museum's archives are a tour of the world through the eyes of these young people. Sometimes, they stopped to take the same iconic picture we angle for today, from the same vantage point. "People of a century ago were captured by the same images of beauty that we are today," Vogt says. "We are really not that different than them."