The Beloved Pie Shop in an Amish and Mennonite Vacation Town
Modest clothing stands out in a beach town. So does amazing pastry.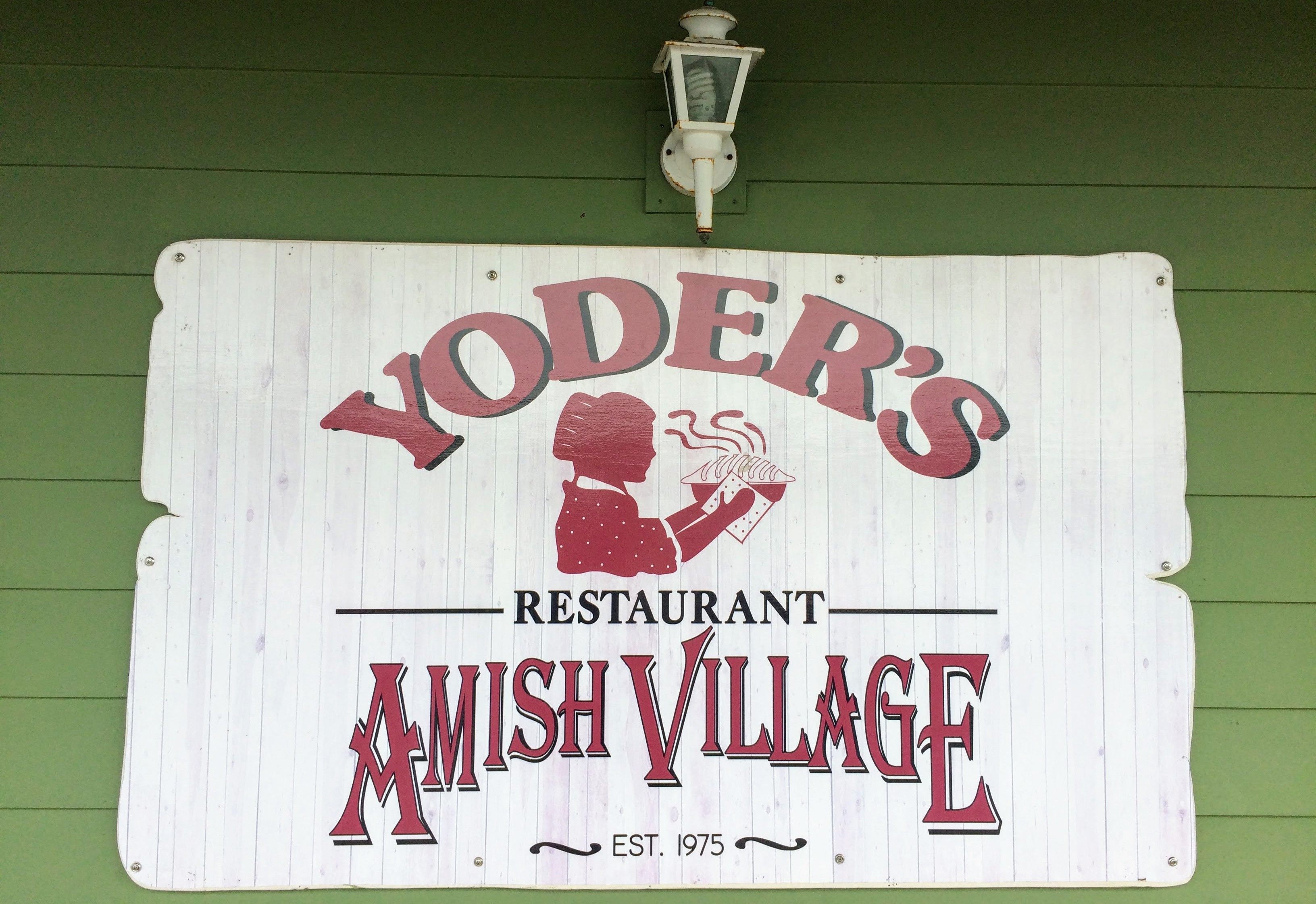 On a sunny Saturday afternoon, two Amish-Mennonite women wearing pink and blue gowns and white kapps (prayer coverings) cruise down palm-studded Bahia Vista Street on oversize tricycles. They're headed to Yoder's Amish Restaurant and Village in Sarasota, Florida, a popular spot for fried chicken and homemade pies.
Out front, long lines snake around the corner. Cars in the Yoder's parking lot have license plates from all over the United States. Amish and Mennonite families stand beside tourists from Miami to Manhattan. Yoder's is in Pinecraft, a Sarasota neighborhood where the Amish go to have fun in the sun. Since the 1920s, it's been a gathering point for Amish and Mennonite snowbirds, who stand out in their anachronistic attire (think modest dresses and suspenders) among the laid back beach crowd. Yoder's sweet promise of delicious pie plays a unifying role, bringing together these disparate populations.
Inside, the bustling diner mixes homestyle country decor with hints of beach and Bible kitsch and vintage Florida postcards that wrap the perimeter. A wooden "Homemade Pies" sign hangs prominently at the entrance, alongside several pie-related awards and accolades. Waitresses in Amish gowns and blue aprons dash between booths, but the real star is a glorious, spinning display case of pies.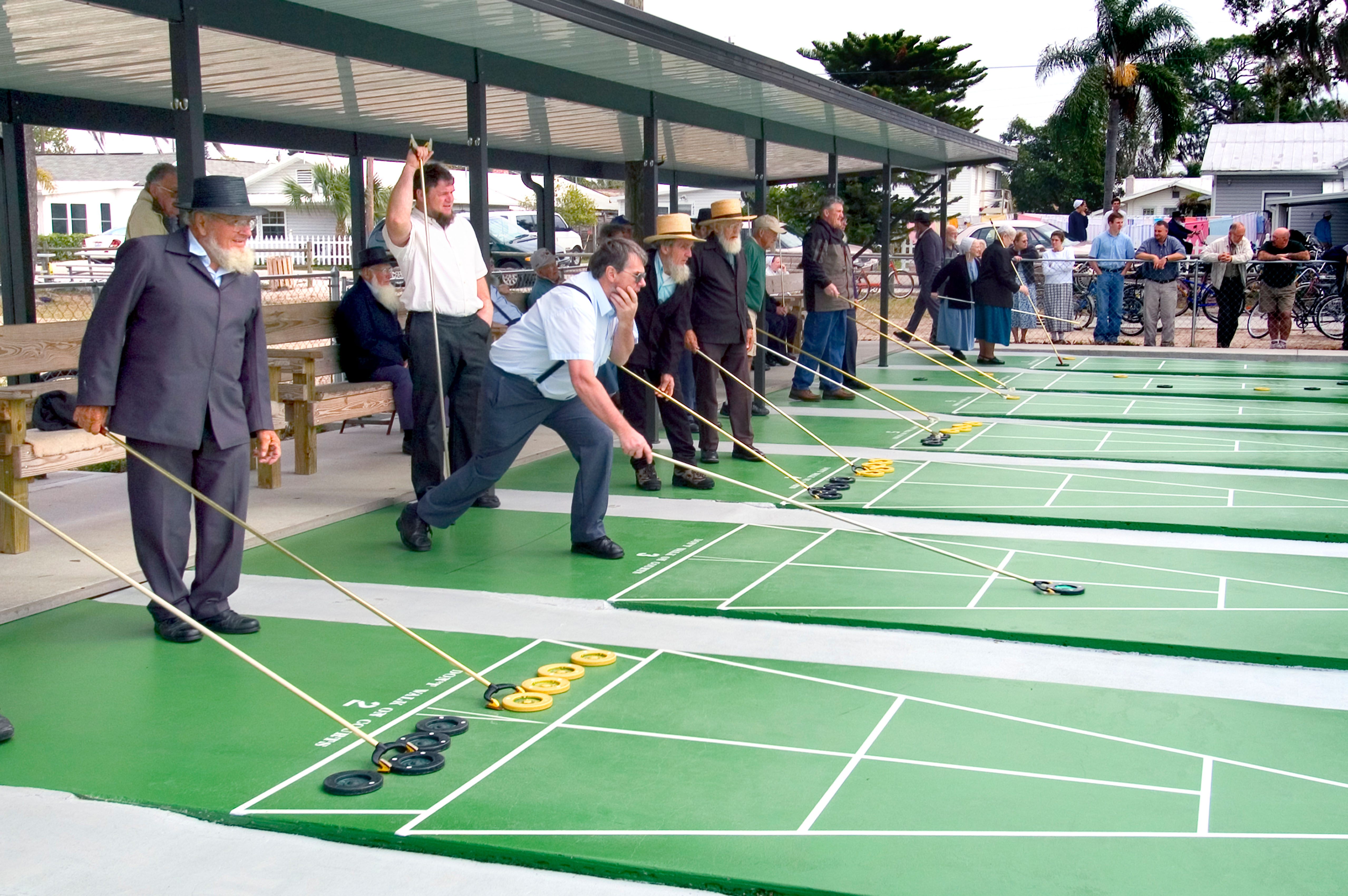 Yoder's bakers make up to 100 fresh pies a day of at least 25 different varieties. The chocolate peanut butter cream pie is an avalanche of fresh cream cascading over globs of chocolate, dusted with peanut butter and mini-chocolate chips. Sun-lit sweetness bursts out of the double-baked red raspberry and tangy strawberry rhubarb pies. The Florida key lime pie packs a tart punch with citrus blasts softened by a dollop of cream.
Amos Yoder, the 84-year-old brother of founder Levi Yoder, warmly greets fans at the door with family lore. "Well, ya see, my brother Levi came out here in 1973 from Indiana on doctor's orders to help out with his Parkinson's," he says. Levi Yoder joined a growing community of Amish and Mennonite snowbirds who've had a continual presence in Sarasota since the 1920s, when pioneers first came to grow celery. It was a bit too soggy for celery, but they stayed for the sun.
The Amish and Mennonites are known for their simple living, plain clothes, and opposition to modern technology, as well as their Anabaptist, pacifist beliefs. They continue to speak traditional Pennsylvania Dutch (alongside English) and follow strict religious and cultural customs, making a living in the modern world through agriculture, woodwork, and culinary arts. In chilly Amish country, the Amish and Mennonites ride horse and buggies. In Pinecraft, they opt for tricycles. Four to five Pinecraft Pioneer Trails buses leave daily from Ohio and Indiana between October and April.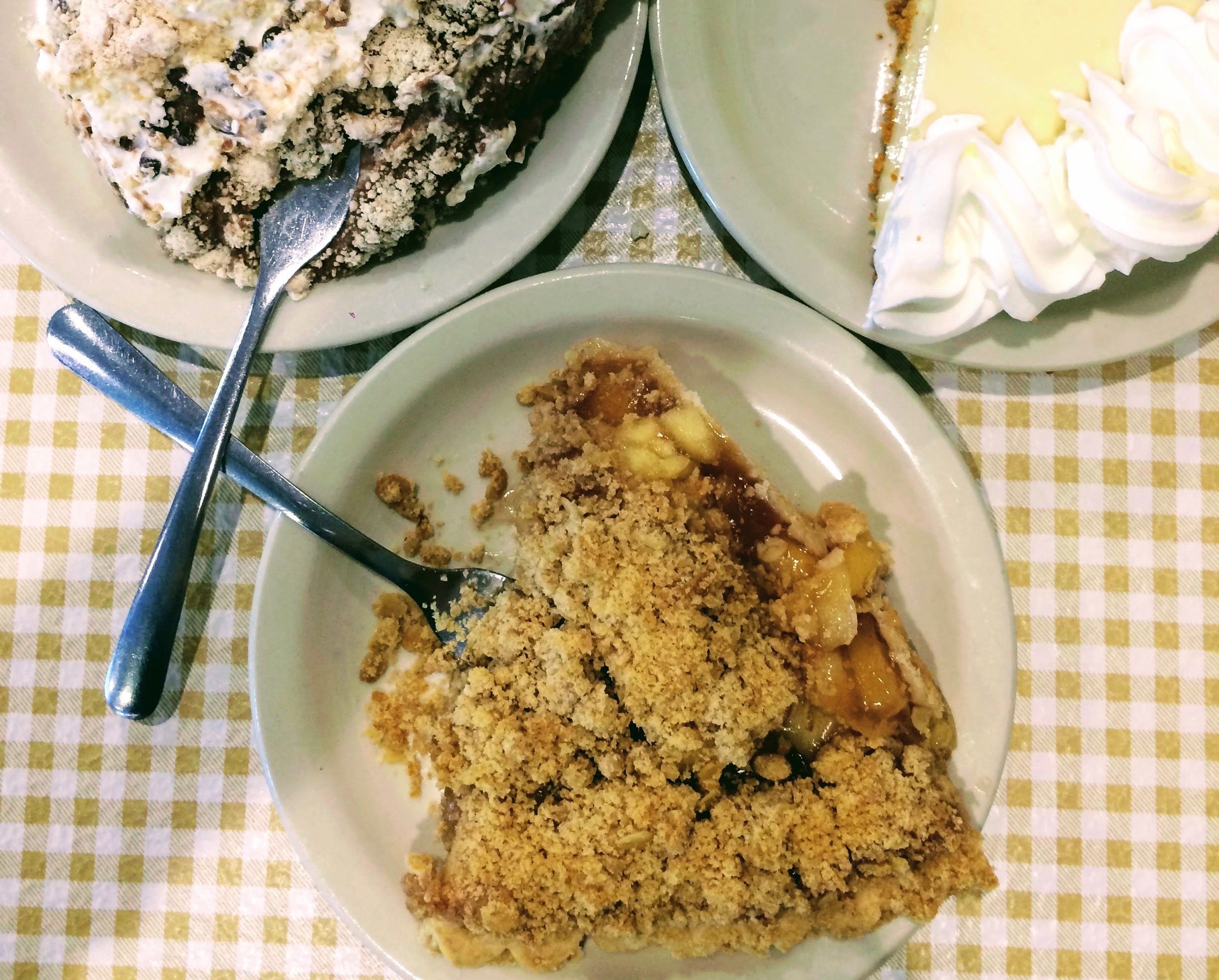 The shuffleboard courts in Pinecraft Park are popular; Miriam, who traveled 21 hours by bus from Indiana, tells me that it "sort of gets into your blood out here!" Her playing partner adds that she enjoys live music and that "fish fry's draw at least 1,500 people to the park."
In 1975, when the economy tanked and jobs were scarce, Levi surprised his wife Amanda Hochstetler Yoder when he came home and announced, "I opened up a restaurant on Main Street. I need your recipes!" Yoder's became an overnight success and eventually moved into a bigger space on Bahia Vista. Pie became big business and a standout at the restaurant.
When Yoder's first opened, Levi and Amanda baked 25 Thanksgiving pies for friends and family. In 2017, Yoder's produced nearly 9,000 pies in a major operation that began three weeks before Thanksgiving. "It's a blast," says general manager Becky Battles, who has worked at Yoder's since age 14 and married into the Amish-Mennonite community. "We literally hire two refrigerated trailers and fill them up with crusts, pies, puddings, and whipped toppings." Battles and her team of 20 stay up for 72 hours producing pies while reminiscing and reuniting with friends who fly down for the pie-making jamboree. Her eyes light up: "Three ladies come just to top and clean strawberries."
A reigning champion of Sarasota's yearly pie contest, Yoder's flaky, buttery pie crust recipe is top-secret. "The only recipe unseen even by our chefs," Battles explains. "No one else makes it except our head baker, Steve, because he's a member of the family."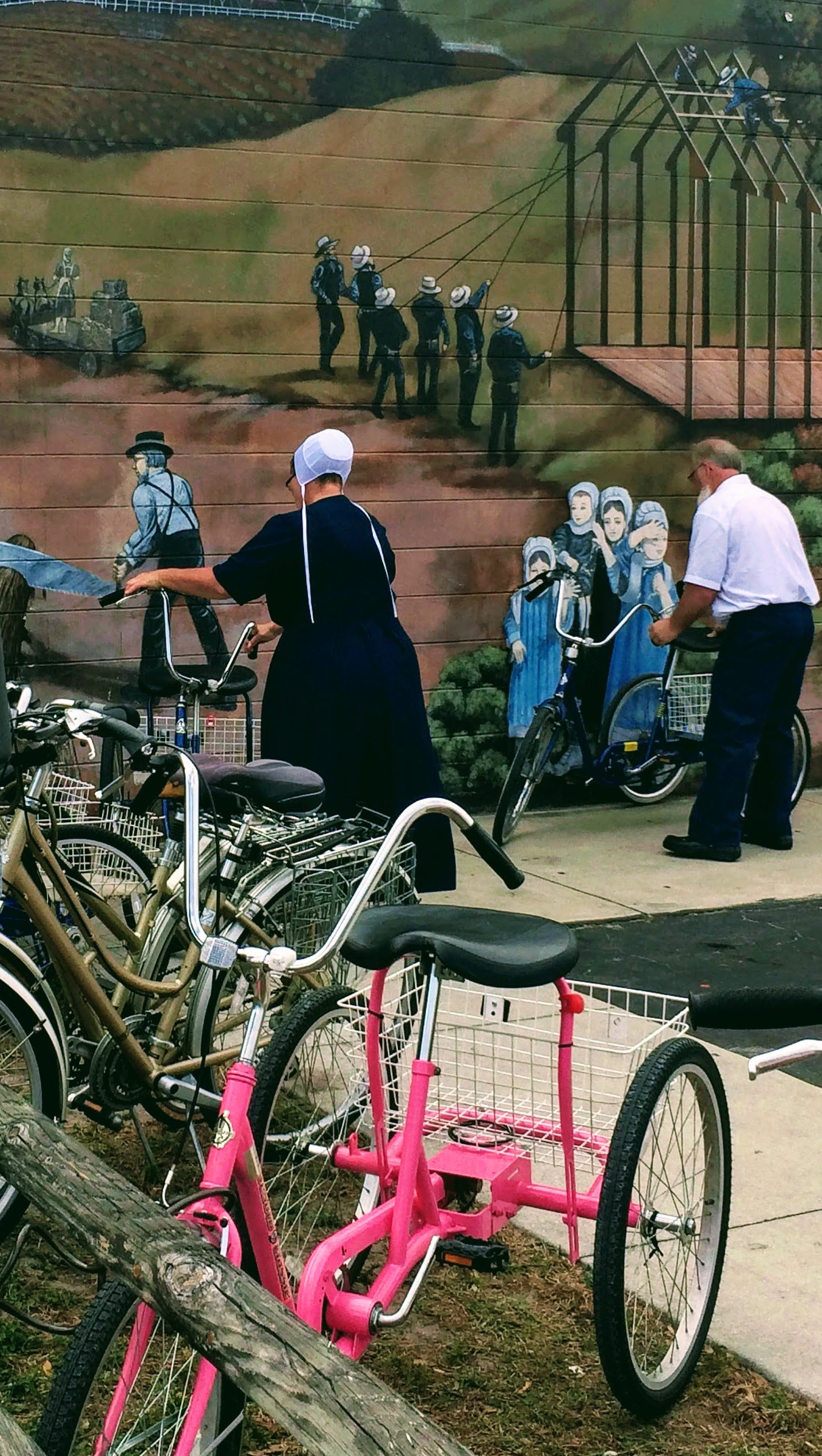 Yoder's is indeed a family affair. When Levi and Amanda passed away, their children inherited the establishment and then passed it onto their grandchildren. Yoder has now expanded into a village of 150 employees who run a restaurant, gift shop, deli, and produce market. The gift shop sells jams, jellies, and trendy tees that feature the famous Pinecraft tricycle ("It's how we roll") and the mathematical pi symbol ("I love Pi").
Yoder's Restaurant and Amish Village is a central meeting place for Pinecraft's Amish and Mennonite families as well as visitors who rock in handmade wooden rocking chairs out front or picnic in the community gardens that feature murals of Amish country life. Battles says there's no need to pay for marketing because "Yoder's is like one big village. [And] our pies speak for themselves."
On any given day, the Amish gather in the bustling diner alongside glamorous Jewish grannies from Manhattan and sun-tanned couples exploring the Gulf of Mexico. Everyone is united by a mutual love for pie. After the last slice, visitors are welcome to rent a tricycle and roll alongside the Amish through the sun-soaked, palm-studded grid of bungalows and trailers. Or stroll to nearby Pinecraft Park, where the Amish women at the shuffleboard court in women-only Lane 8 will happily play a fierce game with anyone who asks, talking life and pie until the Sarasota sun goes down.
Gastro Obscura covers the world's most wondrous food and drink.
Sign up for our email, delivered twice a week.